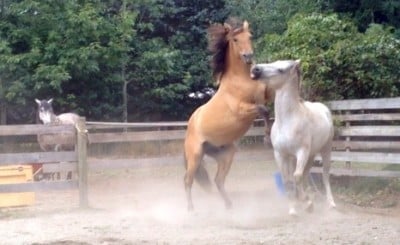 When I rescued a herd of 3 siblings – they share the same father – from slaughter, the two young colts were not gelded. Montaro was 2 years old and had already bred a mare or two. His half-brother Jax was 18 months, didn't know he was a stallion yet, and still made the "don't hurt me, I'm a baby" face. This is where they flap their mouths open and closed, quickly, and it signifies to other horses that they're still very young and not a threat to anyone.
My plan was to try and keep them as stallions until they had finished growing. Montaro was such a stellar, solid character I hoped I could keep him a stallion forever.
The other side to this story is that prior to rescuing these 3, I had been thinking about breeding my Andalusian mare, Zorra, but I wanted her to have a natural, unrestrained, breeding experience. I had found a gorgeous Canadian stud whose owner was open to facilitating this.
And then Montaro arrived. And Zorra come into heat. And Montaro started plowing down fences to get to her. So fate took over.
I let them be together for a couple of days, hoping that would alleviate the fence destruction – one night I had my whole family out working until 10 pm to put an additional line of electric fence on top of the wood fence – and I captured some of their beautiful courtship on camera.
I was struck by how much variety of movement and nuance there was in their courtship. From stillness, to a dead gallop. From tenderness to roughness to playfulness. But always consensual. I found their dance stunningly beautiful:
Can you just feel the weariness in Zorra in some of these pictures? The poor girl was wrecked! But notice also, the shots where Montaro wanted to take a break and eat for a while, she would go over and nip at him to get him going again. At the time these photos were taken, they had already been together for most of the day. In some of the photos, you see Montaro has mounted Zorra, yet his penis is not descended, nor erect. Whether this is because he is exhausted, or losing interest, or both, I don't know.
At one point, I separated them to give Zorra a chance to rest and recover – her rear fetlock joints were swollen from where Montaro's front legs/hooves would knock the outside of her ankles as he slid off each time. She was not happy to be separated from him though and 24 hours later (after Arnica cream and cold hosing), I put them back in together as I felt her emotional distress was greater than her physical injury. Talk about suffering for love!
Here's something else I didn't understand about stallions before: A stallion will not be kept occupied and content with just one mare. It is his biological imperative to breed EVERY mare in the vicinity. So Montaro lost interest in breeding Zorra after a few days, and turned his attention to his half-sister and the band of 7 mares in the neighboring field!
By that time I was on fence repair #5 and even the electric reinforcement was not sufficient to deter him from attempting to bust through. Sadly, I had no other option, and called the vet to have Montaro and Jax gelded.
Interestingly, no matter how much they wanted to be together, Montaro was just a little short for Zorra, she also would move away whenever his 'thang' started poking at her (we teach our horses move off pressure after all). However, I was speaking with an older German woman who had seen many horses breed naturally in her youth and she said neither of these things are obstacles if the mare really wants to breed. Her feeling was that Zorra was not ready.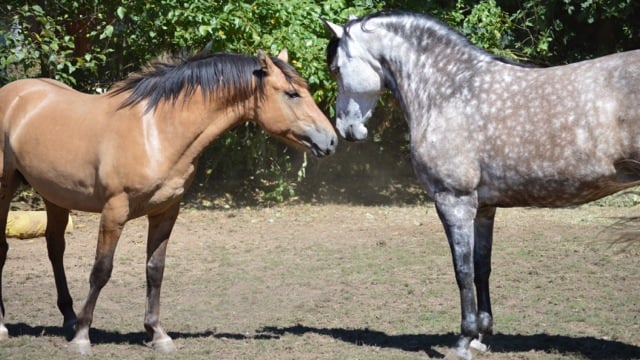 So fate decided there would be no foal – and in light of the surplus of horses going to slaughter, I can't say I'm sorry about that. Not that any of mine ever would, as I have covenanted with my horses for life, and made provision for them in my Will. However, I think it was not just special, but, right that Zorra got to experience passion, her sexuality and natural expression in this way.
I had also researched equine vasectomy (Section-Ligation-Release or SLR) as I wondered whether I could leave Montaro a stallion in all but reproductive capability, so my herd could enjoy a more natural existence with the semblance of breeding/mating. However, without the loss of his testosterone (from his scrotum), he was not going to stop destroying fences!
Perhaps if I was on my own land – instead of boarding on someone else's property – I could have talked to Montaro about whether he would prefer to live in a smaller enclosure (with 8-10 foot high wood fence with 14 gauge steel electric reinforcement) for a few years to see if he could settle down over time and be able to respect fences. But that option was not available to me.
A friend of mine has a stallion who lives side-by-side with her mares, with only a 3 strand regular electric fence in between and he is fine. But he is also older, so a lot more mature. When the mares come into heat, she simply moves them one field over. Her stallion can still hear, see, smell them, but he does not even attempt to go through the fence to get to them. She has also taken him to clinics and shows and he is very well behaved at all times.
When I first received Montaro, I researched the Internet looking for ANY information about natural ways of keeping a stallion. But the only information I could find was about breeding stallions penned up in the inhumane stall and tiny paddock setup. If anyone has any stories to share of ways they've seen (or heard about) that worked – to either keep a stallion with a herd, or on the same property, but with a good quality of life, PLEASE share them in the Comments section below…
The only story I heard was from the owner of the herd of 7 mares on the neighboring property. He laughed when I told him I had a stallion coming and wished me good luck. He said, "Yeah I tried that once and nothing could hold him – not even an 8 foot fence topped with electric wire. So I had to have him gelded." Snap. 🙁
VIDEO: Beautiful, Natural, Unrestrained Stallion & Mare Courtship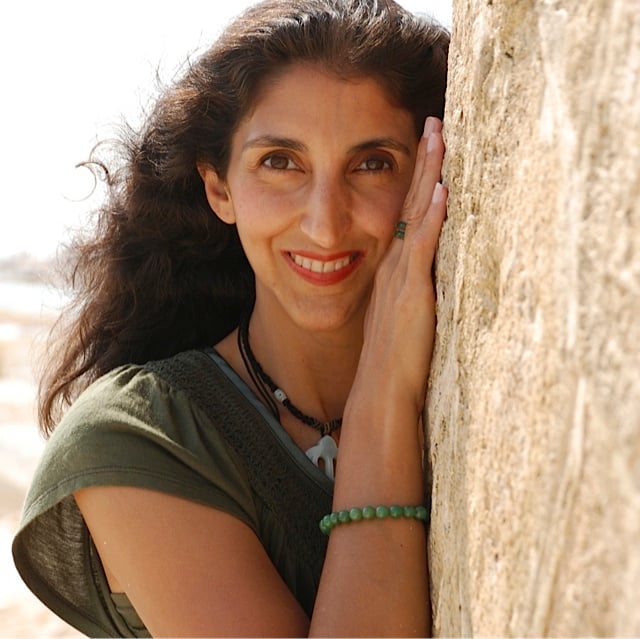 Jini Patel Thompson is a natural health writer and Lazer Tapping instructor. She began riding at age 2 in Kenya, and got her first horse at age 8 in Alberta, and so continues a life-long journey and love affair with these amazing creatures.