A reader once asked me: "If you can communicate through energy (telepathically) to your horses, why do you need to use body language, force or pressure etc. to get them to do what you want, and why do they sometimes not listen to you? Just wondering because if you could tell them everything via thoughts, there would be no need for anything else. Not hating or disagreeing with you, just want to know!"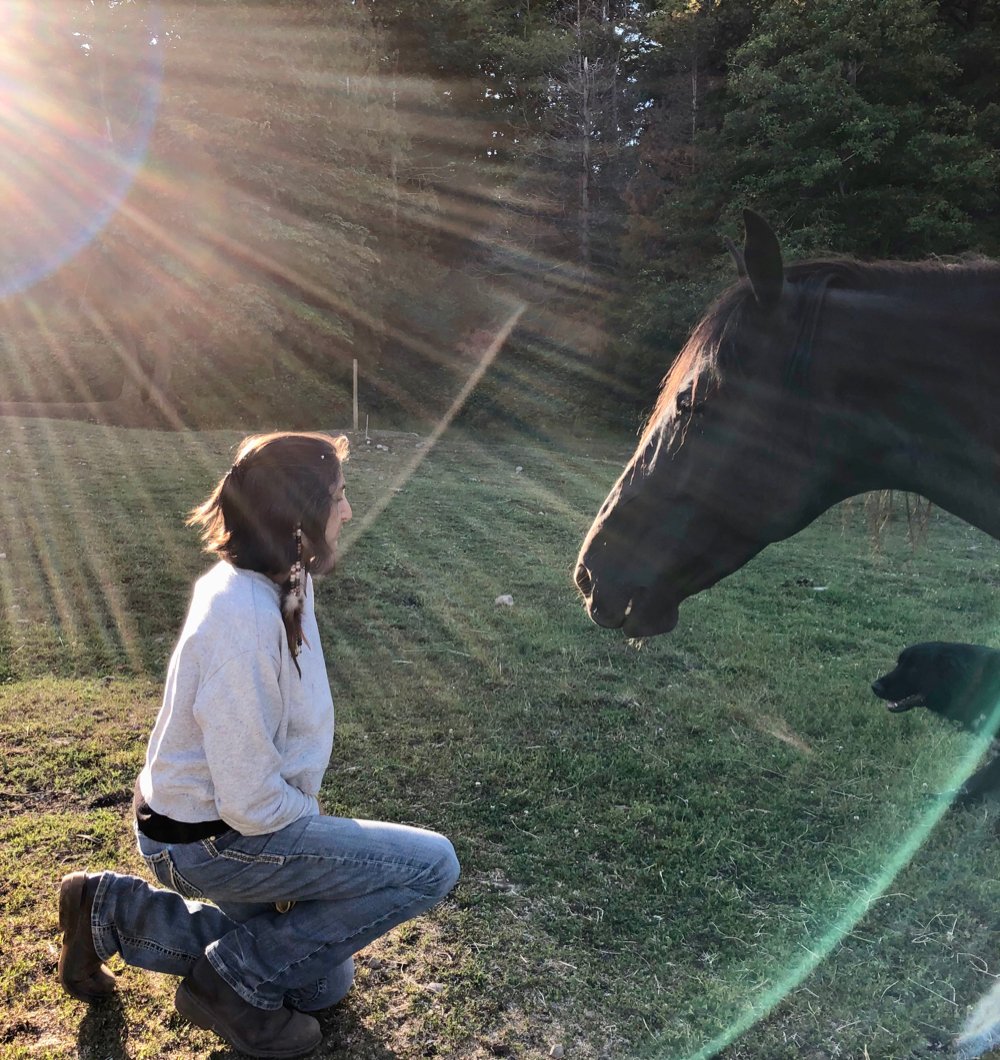 I adore juicy questions like this! But before we can even get into the nuances, we have to take a look at communication in general.
Is spoken language da bomb?
As humans, we naturally think that spoken communication is the "gold standard". That it is the most clear, the most accurate form of communication. This is a good part of the reason humans have historically viewed animals as "dumb creatures", because humans have a patterned, spoken language of recurring sounds, that are symbolic of fixed meanings. And most animals do not.
Just in case you think our spoken language is stunning in it's accuracy and efficiency, go ahead and play a game of 'telephone' or 'whispers'. You know, where you have a line or circle of humans and you say a few sentences to the person next to you, and they tell the person next to them, and so on. Then the last person repeats, out loud, to the whole group, the few sentences – and everyone roars with laughter as they compare it to the original few sentences.
Here's another one – tell someone a story and then listen as they tell their friend the story. Or tell something juicy that's sure to be shared many times (gossip) and then find out how your tidbit morphs over the next week.
So even though we think we are saying one thing – what the other person is hearing can be completely different. A brilliant way to illustrate how wide the gap can be between what we think we're saying/communicating and what another human is hearing/interpreting, is to try this exercise:
Stand with your back to your friend, who has a pencil and paper. Now try to direct your friend, using words only, how to draw a layout of your backyard, or your living room. Describe it as accurately and precisely as you can, using this amazing tool of spoken language. Now turn around and see what your friend has drawn. Click here if you'd like to try this yourself right now! Scroll down her post to where it says EXAMPLE and then grab a pen and paper and follow the instructions.
Okay, so now that we've explored some of the limitations and inefficiencies of spoken language… shall we take another 4 pages to talk about the inefficiencies of telepathy and body language? Or, can we just agree that any system of communication has pros and cons…?
It's not either/or…
So that's why I find the most efficient, and most trustworthy, form of communication is the combination of verbal, telepathic, and body language all together.
I find that animals naturally communicate this way too. Even if their sounds are subtle, or they are being silent, they are usually using telepathy and body messaging together.
Having said that, there are times when I do use only/mostly telepathy. I say "mostly" because as an integrated being, I'm sure my body is always telegraphing the pictures in my mind in some way or another. And animals are far more skilled at perceiving minute or nuanced body messages. So even though I think I'm just standing still, sending pictures with my mind, my body is no doubt speaking clearly as well.
And then there's the whole concept of energy… chi, ki, prana. Ki is a very clear messaging/communication system too – and often operates in tandem with physical body messaging.
I've watched/perceived Montaro, from 50 feet away, raise his head, send his ki out, lift his leg to begin walking – and already 2-3 horses are moving away from me to clear a path for him. As he comes closer, the only other physical sign I perceive is an ear flick. But his ki is like an arrow slicing through air, or the prow of a ship parting the waves. And the other horses have already peeled off to either side in response to his ki.
So I don't think communicating – with my horses or anyone else – is an either/or scenario. We are all an interdependent ecosystem, and the better we can get at communicating effectively, the better our world will run. And the better and stronger our relationships will be.
How this benefits humans
Here's an example of how Montaro's lessons on combining ki with body language created so much more peace and efficiency in my home. I have a 19-year-old son and almost all his friends live in townhomes or smaller homes. Our house has half an acre with a huge workshop at the back that they have dubbed The Shed. So guess where all the lads hang out?
My challenge is to walk into The Shed of blaring rap music, haze of cannabis smoke and empty alcohol bottles everywhere at 3 am and tell 10 huge testosterone-laden males that it's time to shut 'er down and crash or head home. Just little ol' me.
I start running As Above So Below as I walk towards the Shed, clockwise first to build my ki, then counter-clockwise to extend it out around me. I open the door and stand inside the Shed and well to the right of the door – leaving a clear, open pathway to where I want them to go (body language, messaging). My ki is grounded and sunk into the earth. My voice is calm and strong. I unplug the music and speak in low tones, "Ok guys, time to shut it down, let's go." as I gesture with a relaxed, open palm to where I want them to exit. My body is at an angle to them, my breathing is deep and slow.
I am not bossy, not confrontational, not militaristic. I exist solely in the place of IT IS. Dead calm, dead certain, no possibility of any other outcome. The lads laugh, joke and shove each other. My son argues with me, gets aggressive verbally, challenges me with his body language (squares up to me, pushes into my space). I simply angle away from him and continue stating calmly, that it's late and time to sleep or leave. My arm continues to extend towards the way out.
Within a couple of minutes, his friends step in and ask my son to stop, they pull him away from me, they say, "C'mon guys, enough, let's go." They apologize to me as they file through the door. I say, "No worries." Five minutes later, the Shed is cleared and locked up for the night. I head to bed, still calm, thanking the divine for sending me Montaro – how would I possibly have the skills to navigate things like this successfully without him??
What does telepathy look/feel like?
Today I had an interesting experience with the herd that felt mostly telepathic to me… I got all 11 feed dishes ready in the tack room – which took me quite a while as I was adding herbs, ground flax, flax oil and Vitamin E this time. So the horses had been waiting with building anticipation. However, I had put special herbs in there for Posa, so I wanted her to have her feed in the enclosed paddock area by herself. This would ensure no one would eat hers, or push her off it before she finished.
So I came out of the tack room when all the dishes were ready, and closed the door behind me. The horses clustered around me, following closely. I walked into the enclosed paddock alone, latched the gate behind me and sat down on the chair I keep in there. The higher ranking horses were all clustered around the gate, as 11 pairs of eyes looked at me.
I said, out loud, to the horses (as I sent them matching pictures in my head): "I would like Posa to come in here to have her feed. No one's getting feed dishes until she's in here. So I'm just going to wait here until you guys figure out a way to make that happen." And then I sat quietly, continuing to send them pictures of what I wanted.
Within 3-4 minutes, the lead horses (Montaro, Aude, Jax, Juno) all stepped well away from the paddock gate, opening up a wide clear path from the barn to the gate. Baby Posa walked calmly down the pathway they had created, as she neared the gate, I got out of my chair, opened the gate and held it open as she walked calmly through, on her own. None of the other horses crowded the gate, or tried to follow in behind her. Well. Alrighty then! Feed time 🙂
In an instance like that, an observer might be able to detect some body language or messaging going on. But I'm not sure how my body language alone could communicate such a specific plan.
One could say that was just a lucky coincidence, but I manage the herd all the time with no halters, ropes, sticks etc. Many times I give them my idea or request and through a combination of body language and telepathy (putting words, pictures, or thought packages in my head), they show me a much better idea. Actually, it's usually that way!
I'm sure everyone reading this can tell a story where their horse communicated something noteworthy using a combination of body language, telepathy and possibly sound…
Telepathy Versus Body Language Communication with Horses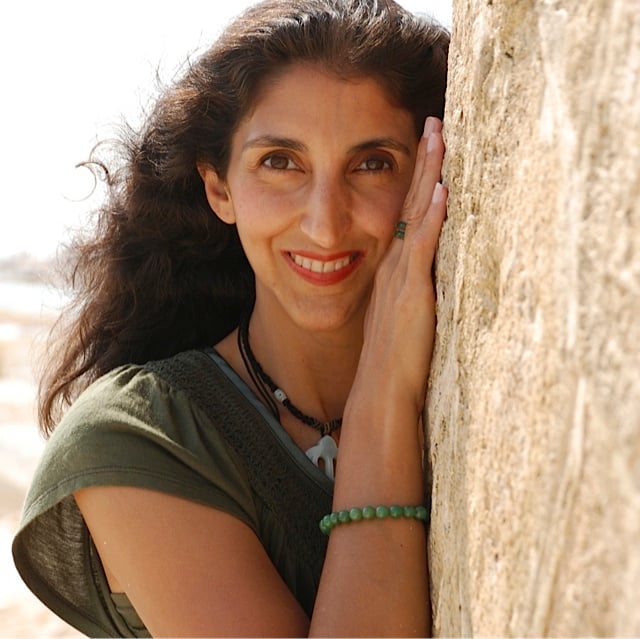 Jini Patel Thompson is a natural health writer and Lazer Tapping instructor. She began riding at age 2 in Kenya, and got her first horse at age 8 in Alberta, and so continues a life-long journey and love affair with these amazing creatures.