I talk a lot on here about listening to my horses – and pretty much doing what they say, because they usually have better ideas, or greater wisdom than I do.
But just as we have both spiritual and physical bodies, the horse is both a spiritual and physical being. In my experience, when the horse is communicating from its spiritual self, it's pretty straight-forward and that's where they're usually the teacher and I'm the student.
However, when the horse is primarily (because of course there's some blending of selves) operating from their physical, logistical self – that is where I sometimes need to take the lead. Perhaps I have greater knowledge of constraints, or laws, legalities etc that they don't understand, but are critical to our safety or ease of existence. For example, they may not understand that they can't go on the landlord's lawn and eat his grass – even though it's not illegal, it will make our daily existence crappy if our landlord isn't happy.
In cases like that, I will become dominant (as gently as I can!) and I will use some pressure to assert my will and get the horse to do what I believe is necessary. If you've had horses for any length of time, then you know that horses are dynamic characters and it's not just all love and peace, all the time.
While I always strive to listen to the horse and discern the message they are giving me through their behaviour, that doesn't mean I always agree with what they're saying. And it doesn't mean that the message is always about a me (a mirror). For example, Xadaa (Kaliah's foal) is a very stroppy, fierce personality and she's also a strong communicator. That's all fine and although it can be challenging for me, I love and accept her the way she is.
What's not okay is when she expresses her displeasure or annoyance by kicking at a human as a first-line, "normal" way of communicating. So she hasn't simply amped up her messaging because no one's listening to her, she's using kicking as her primary language and as the first message she's sending. Likewise with biting, or slamming someone into a wall, or clipping a shoulder. Those behaviours don't bother many horses, but they are very hurtful to a human body.
So I need to send her an equally strong message showing that kind of communication is not okay – she needs to use other methods to communicate. In this video, I try to use our normal quiet communication, but she is not interested, so I switch to using pressure to communicate to her that kicking at humans is not okay:
I do always question myself after an episode like this, and I also check in with the horse later on and the next day to see if what I did was okay, or if it damaged our relationship, or if I need to do things differently, etc. And I certainly apologize where needed.
I also feel really uncomfortable videoing or sharing stuff like this – because it is so easily misconstrued and I don't want anyone to think it's okay/normal to use a whip! This was a rare, extreme circumstance – and to understand it properly, you also have to know all the surrounding factors and details. Which brings me to my next point…
Confirmation from the big guy
The really interesting thing is that about 2 weeks after this event, the horses were all clustered around the barn and paddock as I came out with a wheelbarrow full of alfalfa to distribute. If you've watched this video, you'll know that Montaro (as the herd guardian) almost always helps the person distributing alfalfa by keeping the other horses away and giving you enough space to maneuver, etc. But this day – with Xadaa near Montaro and with a front row seat to the action, he behaved in the opposite way.
Montaro rushed in at me and tried to pull some alfalfa out of the wheelbarrow. Normally Montaro will move away with a chin jut, or finger point, but this time I had to use the whip to get him to back off. He also made me escalate my ask with the whip (just like Xadaa did in the video above). And then as he leaped away from me, he kicked out at me!! What?!? In the heat of the moment, I responded purely from gut instinct and I drove him further away and right out of the barn while shouting at him, "No! Absolutely not! Not okay!" As I drove him away, the other horses thundered out along with him, and I was left with a peaceful, empty paddock.
I took a deep breath and dropped my energy. As the horses (mostly Montaro) have taught me, energy rises up and becomes fierce for the correction and then poof, you drop it to the ground, it is forgotten. You don't hold it and walk around scowling, or hurt that he could have 'betrayed' you, or holding a grudge to really drive home the punishment. Those are all human constructs and they are lower-level behaviours/energies that have no place in a herd, and no purpose.
What I did remain alert to, was why Montaro had behaved like that… what was the purpose? What was the message? Who was the lesson for – and what even was the lesson?
As I moved about the barn for the next hour, I began to notice that the quality of Xadaa's energy had changed completely. The defiant, obstinate, somewhat aggressive Xadaa was gone. Instead her energy was light and much more peaceful and open. I felt safe standing closer to her, as I asked her to move over so I could get the wheelbarrow by, or close the slow feeder lid. It didn't seem like she was personally insulted at being asked to move anymore, but now realized that it's just part of the logistics of keeping their home functional.
It came to me in a flash that Montaro's purpose had been for him and I to put on a show for Xadaa! As the herd guardian/leader (who Xadaa worships and follows around like he's her dad) Montaro wanted to show Xadaa that everyone – even he – had to respect the rules of safety for humans. That even he – if he kicked out at a human – would be fiercely disciplined. And that is how it should be.
Would Xadaa have continued to be difficult and somewhat aggressive without Montaro's teaching? Perhaps. But he sure solved the problem quickly and enabled Xadaa to transition to a much happier, freer state of being and attitude towards life with humans.
Montaro showed Xadaa that even with him kicking/threatening me, I would not back down and he would be driven away. He has made me practice this skill over the last two years! Every so often, I would be out in the middle of the field (note: nowhere to run, no trees, nothing in my hands) and he would come thundering towards me at a dead gallop, he would say, "BRING IT! Or you're going down." Gaaaaaah!!! And I would have to root myself, bring my energy up and flow-direct his charge around me to avoid being knocked to the ground. He knocked me down once at the very beginning and that's how I learned that a small clip to the shoulder by a running horse is enough to send me spinning off and wind up splayed out on the ground.
For two years, both Montaro and Jax would randomly charge me in the field – training me to bring my energy up, diverting their charge to the side of me, from a pure, focused place of this MUST happen so there was no room for fear to exist – only pure laser focus with that singular objective. So Montaro could choose me to give the demo for Xadaa – not one of the barn help – being confident that I would be able to perform my role.
You could call this a nice, neat little story that I made up in my head to fit the occasion… except that Xadaa's behaviour shifted completely and has stayed shifted. Yes, she will likely always be fierce, directive and assertive. But she is now also more mutually respectful and decent.
These highly sensitive, spicy horses can be a challenge to be in relationship with if you don't understand their nature. Or if you try to use 'training' to change their core personality. But at the same time, you have to set some safety boundaries for yourself – because they are so expressive and assertive. And when they're foals, they really don't understand that normal horse behaviours can cripple a human. It's a fine line to walk and we have to give ourselves lots of compassion as we muddle through – and be prepared to apologize as needed! Jax went through a phase around age 2 where he was similar to Xadaa. So giving them space and time to be themselves, and to mature to where they can actually handle their sensitivities (which can make them angry) is essential.
When & How I Use Pressure with Horses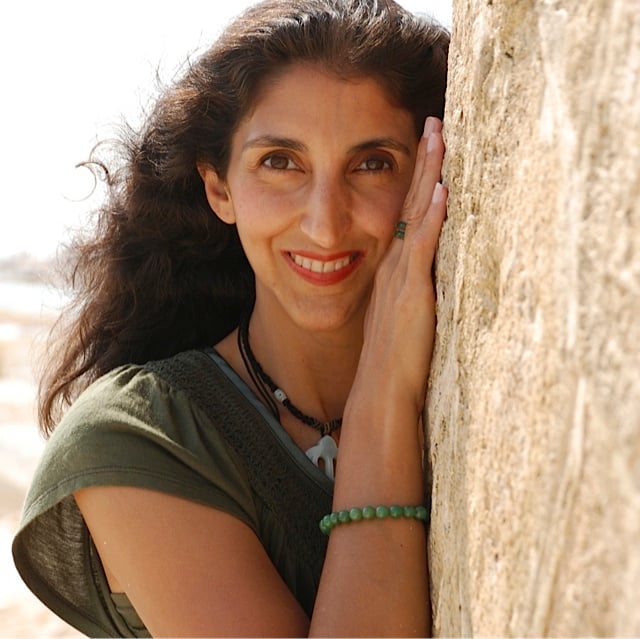 Jini Patel Thompson is a natural health writer and Lazer Tapping instructor. She began riding at age 2 in Kenya, and got her first horse at age 8 in Alberta, and so continues a life-long journey and love affair with these amazing creatures.