I created a painting around the theme of Expectations & Insanity. And then I asked my horses to show me more about these concepts – so my Belgian/Fjord asked me take him onto 20 acres of unfenced land – unhaltered, no ropes, nothing. Wait, what??
About 8 acres of the land where I board my horses is fenced. The back 20 acres is only fenced along one side out of four. And the last time my horses escaped (before I reinforced the fence) the neighbour at the back of the land threatened to call the SPCA if all 4 horses were not off her land in one hour. I was in Mexico at the time. So yeah. Just a wee bit of stress.
A month ago, I erected a corral-pen area just in front of the gate that leads to this unfenced section of land. This is designed to give me a 'holding tank' where I can have just one or two horses in the pen, close the pen gate, then open the fence gate to the back 20 acres. This means I can easily and non-stressfully separate 1 horse from a herd of 5 who would all LOVE to go back there!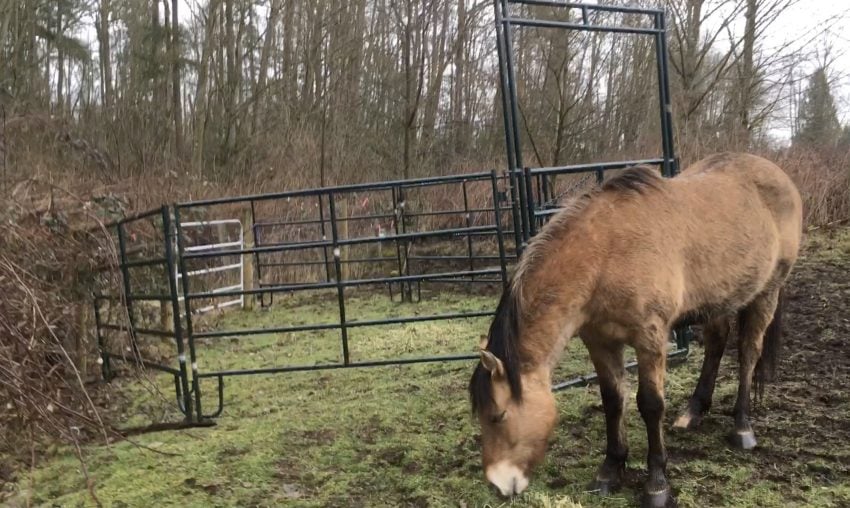 This means I can take just one or two horses on the trails back there and work on leading skills, or just hanging out in a new space and seeing what 5-Minute Fun experiential learning wants to emerge.
Sounds like a good plan, eh? But first, let's backtrack a bit and talk about that painting…
The 100-Word Game for the Subconscious
A couple weeks ago, I had some friends visiting from Europe and we did this art game I love. Here's how it works (and then you can do it too!):
1. Pick two numbers between 1 and 100. Trust that whatever two numbers you pick have significance for you, at this time.
2. Look up your two numbers on this list of 100 words/phrases and see what you get (e.g. #32 Expectations and #11 Insanity)
3. Create a painting based on your 2 words/phrases. This is where you have to allow yourself to go really loose-brain and just slap down whatever occurs to you.
I usually do this game with friends, so that automatically puts a 2 or 3 hour time limit on the painting; which also serves to keep anyone from thinking too much, or planning, criticizing etc. I mean, who can do a good painting in only 2 hours??
So now that everyone is freed from the pressure or expectation to produce good art, and everyone has permission to just slap down a bunch of crap… the subconscious is now free to play!
So here's what I painted (I used watercolor, chalk pastel, and conté pencil):
I just painted everything by feel. And then when I looked at it after I was finished, I interpreted the painting this way: The bright happy colors shooting up are my expectations… which soon meet with limitations… and this leads to the dark, swirling insanity of chaos. But even within the insanity/chaos, you can see kernels of my original vision or hope (which produced the expectations). So, in this way, expectations (for me) just lead to insanity! I am far better served by increasing my intention (vision), whilst loosening my attachment to outcome (expectation).
And don't worry, stick with me, I'll soon show you what these paintings had to do with trusting my horse!
My friend Jenny chose the words Blood and Freedom – and this is what she painted (she used watercolor and acrylic):
She interpreted her painting this way:
"The white dots are white light, light represents freedom to me as it carries and illuminates the truth. I also interpreted the blood as my bloodwork results being out of range; treat this and it will bring me freedom and allow my light to shine. I love singing, and being on stage is where my soul shines, so funny that both you and Ian [my husband] saw a curtain with lights. Perhaps it is singing that will provide the final healing aspect for my thyroid and blood work – leading to freedom."
After creating these paintings, we headed out to my barn to feed the horses and do the chores. As we drove out there, we set an intention for the horses to bring us a deeper understanding of our artwork and their messages.
And out at the barn…
As we drove up the barn road, 4 of my 5 horses were standing in the paddock, looking down the barn road towards us – all except Montaro. Right away, this was strange, because Montaro is top dog in the herd and almost always holds this prime position as I drive in:
But not today. I went looking for Montaro and there he was by himself, towards the back of the field. He flashed me a picture (in my mind's eye) of him and I going into the back 20 acres together. But he wanted to be unhaltered and completely at liberty. Oh boy. Three separate directions he could take off in… nasty neighbour at the back… what if he didn't want to come back to the fenced part for hours? What if I couldn't catch him again and had to drive home leaving him in the unfenced area overnight??! And so on.
Well, in part two, I'm going to tell you everything that happened back there and how it all worked out – in detail, with a video. For now, I will tell you that Montaro and I disappeared into the back 20 and the other four horses lost their minds – to the point where I was worried they were going to attempt to go through the fence. Thank god they executed perfect skids and sliding stops right at the fence line, instead. Whew. They didn't even want the loose flakes of alfalfa Jenny and her fiancé had put out for them in the barn. They just tore into the barn and right back out again.
While I was experiencing the significant challenge of giving Montaro complete freedom – with no expectation of how this was going to go, but just really hoping it would all turn out well in the end – Jenny was experiencing the full visceral franticness of the herd as Montaro left them and disappeared from sight, to a place they all really wanted to go too!
The aspect that made the biggest impact on her was how upset the other horses were – and how fully they expressed their anxiety and their feelings about being left behind. Jenny said, "It linked to a memory that came up, when I was young, of feeling abandoned. How perhaps this body memory was carried in my blood and causing my thyroid stuff."
Jenny is a very gifted healing facilitator; certified in EFT, hypnotherapy, NLP, and Herbal Medicine – so she knew she needed to heal this forgotten childhood trauma. A trauma she hadn't been given permission to really feel or express at the time it happened. Seeing how upset the horses were and how expressive they were of their feelings plugged her back into that memory and the realization of how much she'd repressed her own feelings/experience at that time.
She said, "Perhaps this experience and singing again (something she had allowed critics to choke off in her) will lead to freedom… or healing this trauma would mean I will sing more."
For my part, I had a very powerful experience of trusting Montaro – with no expectations as to how it would go, or what the outcome would be. Allowing for the possibility of chaos, or disaster… or not. My challenge was to set my intention/vision upon trusting Montaro. Trusting in our relationship. And let the rest go. Montaro basically invited me to experience a representational microcosm of my painting!
I remember reading once that the key to moving out of the Victim position was through strengthening your intention and lessening your attachment to the outcome – doing both simultaneously. So you get your vision, your intention really strong – and let the rest go. You trust the universe for the outcome. This is what Montaro invited me to experience – which I will tell you about and show you next week.
The very cool thing about asking our horses for more information about an issue or concept, is that they give us a visceral, felt experience of that. Knowing or understanding something in your brain is worlds away from knowing it in your bones and cells.
We may not know what they're teaching us when it's happening – or even that they are teaching us something – but in hindsight, it can all become clear. We just need to open to the experience and bring awareness to the meaning behind the behaviour. If we set an intention or request for what we'd like to know or experience before we join our horses in their space, that often makes interpreting the meaning much easier – because we have already walked into the dynamic with awareness.
The 100-Word Game is another useful tool for bringing hidden patterns, beliefs, or information to the surface and it's also a really FUN thing to do with friends. Don't worry if you don't have much art stuff – children's crayons, pencil crayons, markers, or paint trays work just great. Some chocolate, tea, or snacks and voila! Life doesn't get much better than that 🙂
*Read Part Two here
When Your Horse Asks: Do You Trust Me?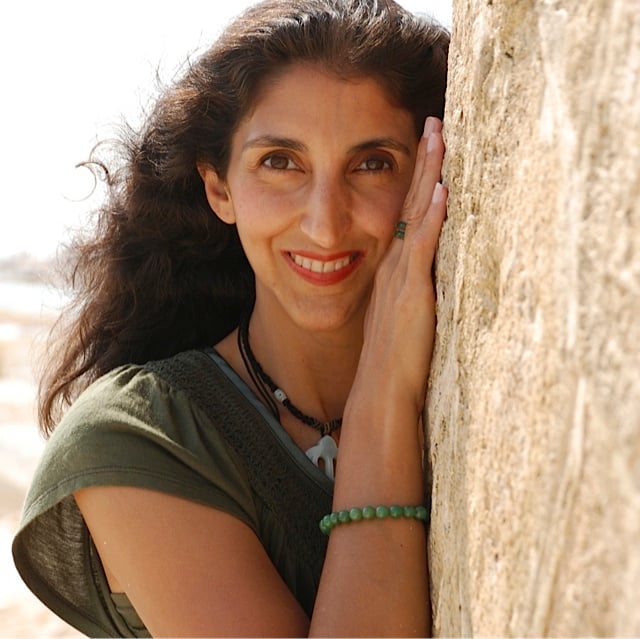 Jini Patel Thompson is a natural health writer and Lazer Tapping instructor. She began riding at age 2 in Kenya, and got her first horse at age 8 in Alberta, and so continues a life-long journey and love affair with these amazing creatures.