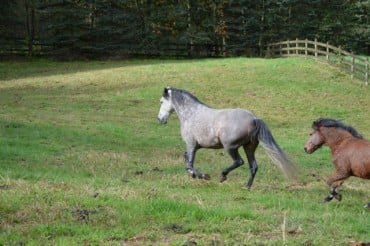 ~ Updated in 2019 ~
These are pictures of my set-up, where I am self-boarding my horses on a friend's property. There are 4 acres of fields here, and three horses (I could go to a maximum of 4 horses) so I have enough land for a "sacrifice field". And that way I can keep them on pasture year-round in this super rainy Pacific Northwest climate. BUT, what am I going to put on their paddock surface to create a paddock footing with adequate drainage?
In this front area I call the "paddock" are their water tubs and 2 walk-in shelters, each with it's own slow feeder and rubber mats. I will leave the back field open for them through the winter until May/June and let them trash it with their hooves and manure. Then I will harrow this field (leaving the manure to bake in the hot sun and kill all bots, eggs, parasites etc.) and move them to the field next to it. Where I will leave them for the entire summer and winter, let them trash it, etc. By the time the following May/June rolls around, the harrowed field will be rejuvenated and I'll flip them again. And repeat, ongoing.
BUT the paddock area in front of the shelters is going to get a lot of traffic, and will quickly turn into a mud pit. So I want to lay down some kind of surface footing that will encourage water drainage and help keep my horses hooves drier, so we can avoid thrush and other hoof problems that are common in this rainy climate. The question is: what should I put down on the surface of this paddock; what drainage materials will work best and not cost me crazy money?
If you don't care about the how's and the why's and the research and you just want the solution fast, then here's what I recommend after not only turning this area into a dry paddock – but also after increasing my herd to 11 horses, moving to another property, and creating a dry paddock there!
Create a Dry Paddock in even the Rainiest Climate
After five winters in the Pacific Northwest rainforest, with 3-11 horses, here's what I've found works best:
1. Clear all soft organic soil, grass, down to the compacted subgrade soil. You can use this scraped-off earth to create a nice hill for them to climb/play on in their pasture, which will also create an area of high ground to stand or lie on during winter.
2. Now lay a layer of large, flat rock (3 inches wide or larger) on top of the compacted soil.
3. Next, on top of the flat rock, spread a 4-6 inch thick layer of 3/4 inch minus gravel
4. Lastly, spread a 3 inch thick layer of crusher dust or 1/4 inch minus smooth edge gravel. I prefer the 1/4 inch minus smooth/rounded edge gravel.
If ordering crusher dust, it's best if you can get a look at it, to make sure it is just rock fines and doesn't have clay or sand-dirt particles in it. Usually it's okay, but one year (same supplier) the crusher must have had clay in it because it completely packed down and stopped drainage from happening!
Tip: When spreading the top layer of crusher dust or 1/4 inch gravel, I have it spread 6-12 inches away from all the walls or sides of the paddock. This concentrates it where the horses will actually be standing/walking. It will naturally get pushed out to the edges over time anyway. This way, I'm not having to shovel it back in to the center as it builds up along the edges (where it's wasted).
If you have all your rock and gravel delivered and on-site, a guy with a Bobcat can get all 4 steps done in a day. I prefer the smaller tractors since they can maneuver better around posts and corners – so there is less hand-finishing work for me to do. Don't worry about timing everything to occur on the same day. I usually have my gravel delivered 2-3 days before the Bobcat/tractor guy arrives as my horses love playing on the gravel piles!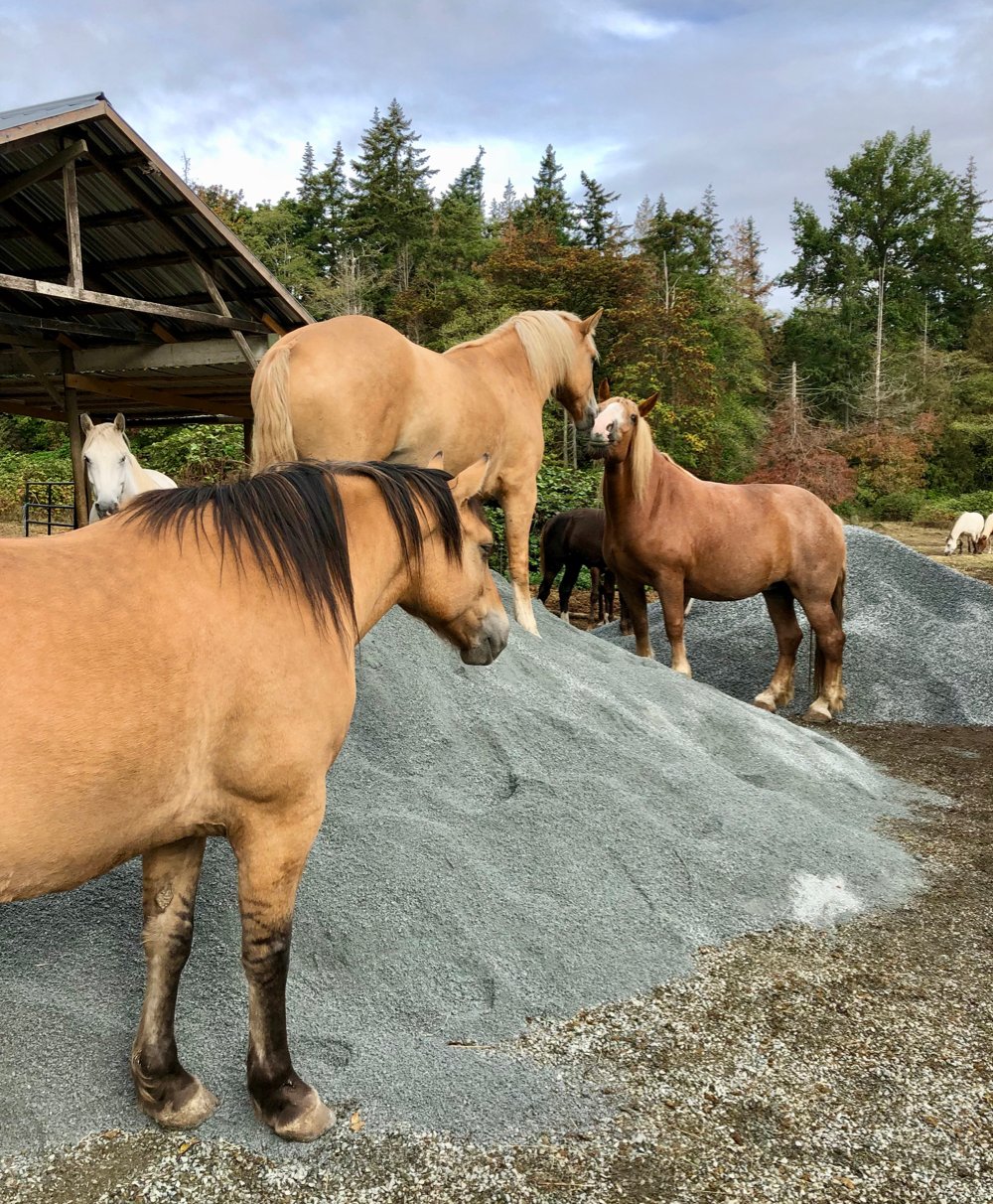 Okay, now that you know what to do… I'm going to tell you about all the options available. I'm also going to tell you about the things I've tried that didn't work so well for me.
Which Paddock Footing Materials are Best?
This is a debate which could go on a long time, so I'm just going to summarize the various positions here and give some examples.
One herd owner I know used a mixture of various sized gravel, sand, and crusher dust. But she said she wouldn't use the crusher dust again, since it packs down like cement. Crusher dust is gravel that has been crushed to the size of 1/4″ or less. It can also be called quarter minus, or flume sand. However, on the flip side of that argument, here's what a Farrier has to say about why she prefers crusher dust:
"As a farrier, my favourite footing in this area is crusher dust. My clients have a rubber mat outside and they feed off of that. If the hay does get on it, it isn't like sand for colic concerns that I've ever heard of. It keeps their feet in the best shape of all the footings I've dealt with. Be aware that there are different types of "crusher dust" and the type that sets up very firm is what I prefer. The other stuff is too loose and just moves out of the way like pea gravel. It would probably be fine in a drier climate but on the Wet Coast, it isn't ideal.

Hog Fuel

Sand tends to overwear the feet but of all the footings for paddocks, it tends to be my second choice because at least their feet stay dry.

My least favourite footing is hogfuel and I'd probably have them stand in mud over hogfuel because when hogfuel is new, it is very acidic and it etches out the sole of the foot, leaving the foot more vulnerable (I've seen hooves so bad on it that a hoofpick can poke through the sole easily. I've also had a few that you had to be careful even with thumb pressure because that was enough to poke a hole through the sole.). As the hogfuel ages and the acid leaches out, it turns sloppy and is a fantastic host for bacteria so again, another problem to deal with."
The most common concern about using crusher dust – which is just tiny, crushed gravel – is whether it will be too sharp for the hooves. But again, after researching, I think that's an issue of the existing surface, how much is used, and what the resulting footing is like. The same Farrier I quoted above also says:
"It locks together and makes a very firm surface with just enough give to allow for maximum traction. It isn't something the horses prefer to roll in but give them options on a rainy day and they will stand on it over most other footings. Because it packs down fairly solid, it doesn't have the big pointy bits that are inclined to puncture and lead to abscesses. That said, you pretty much have to see the different types and as was mentioned by someone else, you have to know how the surface below it will effect it. If you are putting it over mud, you aren't going to get the positive results that many of us see with it. Sometimes you have to do some research into what to lay down below it.

I'd highly recommend going to look at farms that offer to let you see theirs and take a good hard look at their horses feet. I have seen improvement in hoof quality in every foot taken from hogfuel or mud and placed on crusher dust and comparing it to the sand options, it is still a better hoof. That said, there have been some crusher dusts surfaces that while I feel they are an improvement over hogfuel or mud, are still not "the best". If you are already starting with fairly hard footing underneath, crusher dust may not be your best option but on the Lower Mainland and Fraser Valley [of BC, Canada], it is rare for it not to be an improvement."
One thing everyone does seem to agree on, is that if you are using crusher dust or pea gravel, it's best to scrape off the topsoil (mud) first and get it down to the hard soil surface, then lay your footing.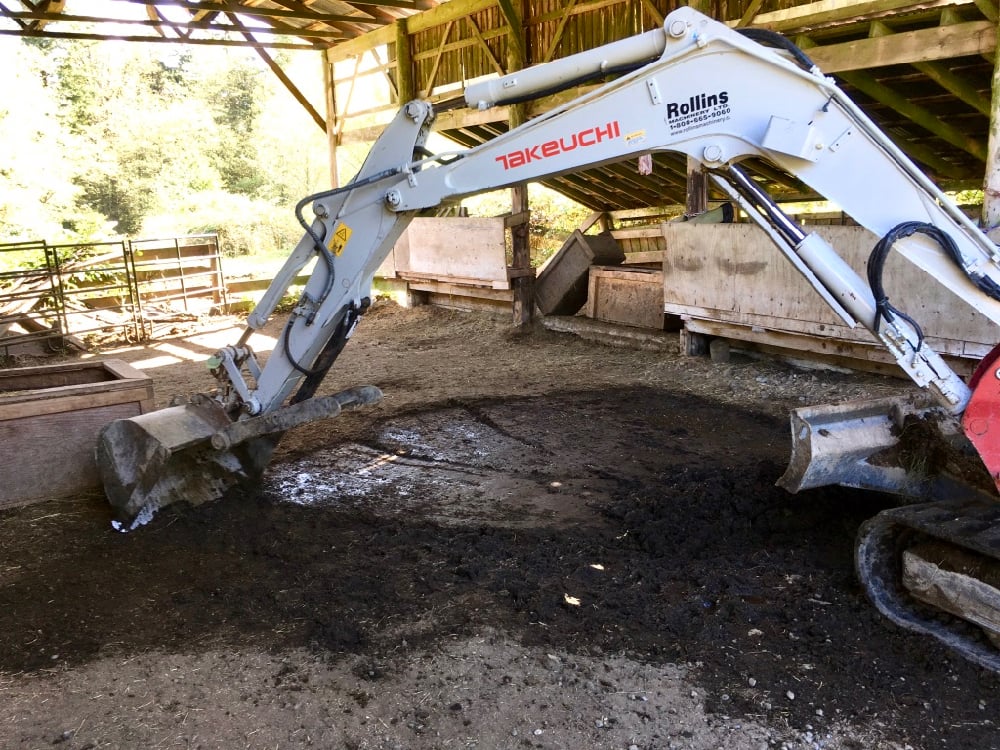 For the people that love crusher dust, they seem to love it because it packs down hard and forms a cement-like surface that doesn't sink into mud. But as I pointed out above, examine the crusher before you order it, to make sure it is just crushed rock fines and doesn't contain any clay particles. It is the clay that especially packs down so hard the water will not drain through well and just runs off the surface.
However, depending on the surface you lay the crusher dust on, it can also mix easily with the mud and be gone by the next rainy season. I know several stables that just dump fresh crusher dust on their paddocks every year to replenish the surface – because they didn't follow the steps I outlined above, they just dump the crusher right on the earth.
When I called a local nursery that sells everything (pea gravel, crusher dust, limestone, sand, mulch etc.), they told me that the Cloverdale Racetrack uses limestone gravel for their track. They said it packs down better than pea gravel in the rain, there are less of the tiny stones to get stuck in the horse's hooves, and it's easy to shovel manure off of. They also recommended I use 6 inches of it.
A number of articles I've read on this subject suggest using a minimum of 3 inches of footing (surface drainage material), or to use the same depth your mud gets to. So if your paddock usually turns into 5 inches of mud, then use 5 inches of footing.
What if There is No Hard Soil?
The big problem you get in many (most?) parts of the Pacific Northwest and the U.K., is there there is no hard compacted soil, or shale, or rock beneath the topsoil! A friend of mine who builds roads in the Vancouver area – and whose father builds horse arenas – told me that you can go down 6 feet and you still won't hit any kind of hard soil or anything that would provide a barrier to your gravel sinking away.
He suggests you lay down 3-inch rock first to provide that hard layer and then put your gravel on top of that, or you will just have to dump the same amount of gravel every year, year after year, because it just keeps sinking.
The Royal Paddock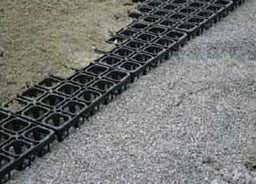 After consulting with herd managers, researching the Internet and commercial companies who provide paddock footing services, the premier way to create the absolute best paddock drainage surface seems to be this: First dig down 4-6 inches, then lay Geo-Textile fabric to cover the area.
Next, lay a specialized plastic draingrid on top of the Geo-Textile fabric, then layer with sand and then a 4-inch layer of 5/8 inch minus pea gravel and top with a 3-inch layer of 3/8 inch minus limestone gravel, or crusher dust.
If it's your own land, or you have lots of cash, this solution makes perfect sense. But in my case, I'm self-boarding on a friend's property and I just don't want to sink that much money into someone else's property. However, I also want to do as much as I can to make sure my horses don't get thrush in their hooves this winter.
Two Layers of Footing/Drainage – Different Sizes
If you don't have the budget to hire a tractor to remove 6-12 inches of soil, what is a cheaper alternative that is still likely to work well? Dr. Ann Swinker (professor of Equine Sciences) says:
"Ideally a two layer footing system works best when working with gravel. It consists of a coarse aggregate base and a finer cover layer. Neither of these materials work well alone. Coarse aggregate does not compact easily; many voids may result leaving the surface uneven and difficult for livestock to walk on. The finer material compacts easily but will move under heavy traffic. When the two materials are used together, the fine material fills in the voids left by the coarse material. The result is a durable, all-weather surface that is acceptable for animals."
Now, keep in mind that Dr. Swinker's advice is not tailored for a heavy rainfall area. So yes, it will work in this climate (I tried it) but it will only work for one winter. The next winter, you will need to add another 4-6 inches of 3/4-inch minus gravel. If you were to follow Dr. Swinker's advice, you could use pea gravel 0r 3/4-inch minus gravel on the bottom and crusher dust on top (crusher is really just tiny gravel with gravel particle dust), or limestone gravel and crusher dust, or limestone gravel and sand. However, you don't want to use sand if your horses are going to be eating on the surface (can cause colic if ingested). But if your horses have slow feeders in their walk-in shelters, that is not an issue.
When choosing gravel, pea gravel, or limestone gravel, most experts say you should get crushed rock particles no larger than 3/4-inch, or they are not comfortable for the horses to stand on. However, if you can get them small enough (usually 3/8″ – 5/8″) to filter through the tines of your manure fork, that will make scooping poop much easier and reduce gravel wastage. This may seem like a small point, but trust me, it makes a huge difference to the time spent scooping manure AND the loss of expensive gravel that gets tossed out with the manure.
How Much Drainage Footing to Order?
The one thing you notice when you're trying to price out gravel or crusher dust, is that pricing tends to be in cubic yards. Luckily there is a super easy way to convert square feet to cubic yards:
1. Multiply the square footage (length x width = square footage) of your paddock by the depth of gravel you want. BUT your depth must also be in feet, not inches. So 6″ = .5 feet, or 3″ = .25 feet.
e.g: 500 square feet x .5 feet depth = 250 cubic feet
2. Divide your answer (cubic feet) by 27 to get the number of cubic yards you need.
e.g. 250 cubic feet divided by 27 = 9.25 cubic yards
And that's how much you need to order!
Here's a full list of inch to feet conversions so you can figure out the depth of gravel you want for your calculation in step #1 above:
Converting Inches to Feet:
1 inch equals .083 feet
1.5 inches equals .125 feet
2 inches equals .167 feet
2.5 inches equals .208 feet
3 inches equals .25 feet
4 inches equals .33 feet
5 inches equals .417 feet
6 inches equals .50 feet
My First Paddock Experiment
So now that I have all the information needed to make a good decision about what is the best paddock surface for horses in a wet, rainy climate… it's time to look at what I can afford!
My big constraint with my first horse boarding set-up is that it is not my own land and so realistically, I could be kicked out at any time. This seriously impacts my decision-making process. So instead of implementing what I know would be a great solution, instead, I'm trying to figure out the most cost-effective way of making sure my horses don't get thrush and can maintain healthy hooves through this year's wet, rainy Winter and Spring. I'm less concerned with the following years, since I may not even be there.
Since I have not prepped the paddock surface and the gravel will be dumped straight on the grass, I decide to order 39 tons of 3/4 inch minus gravel from Fraser Valley Aggregates. I'm concerned that if I use crusher dust or a smaller gravel, it will be easily churned into mud before the winter's over. Here's what 3/4 inch minus looks like and it costs me $700 including delivery: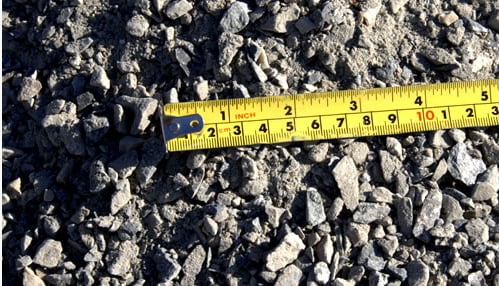 The truck arrived and dumped both loads of gravel near the shelters.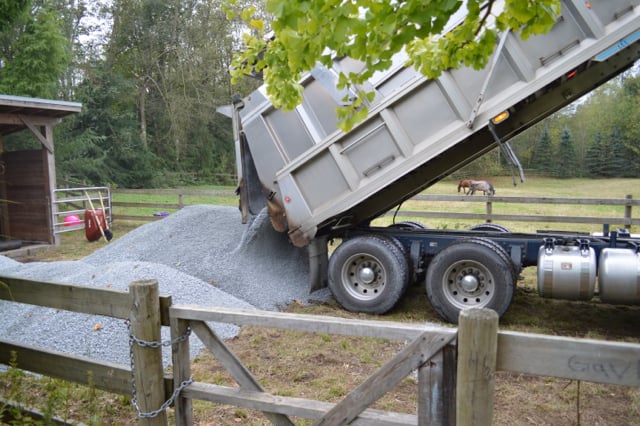 I thought I could get a few friends out and spread the gravel using rakes, but when I looked at the size of the piles and realized how heavy the gravel was, I decided to hire a local farmer to come spread it for me.
NOTICE I ended up calling a guy with a tractor anyway! If I had known I would need him, I would have had him spend 30-60 minutes removing that topsoil/grass layer first, before spreading the gravel. Wouldn't have cost much extra, but would have greatly extended the life of the gravel I ordered. Live and learn!
Here's what it looked like after the two truckloads of 3/4 inch gravel was spread out: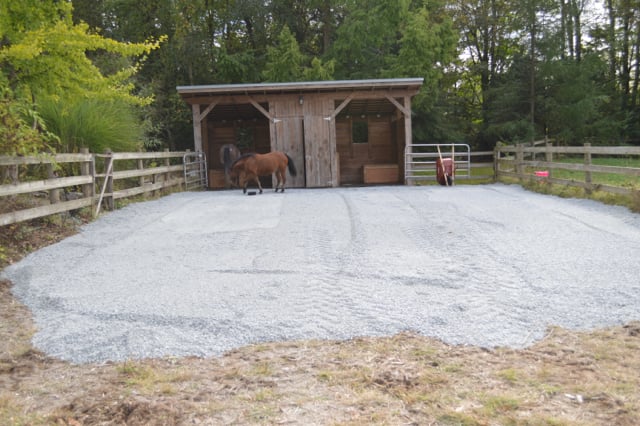 I was happy with this for a few days, and then I started fretting about the fact that there really wasn't much room for them to move around and exercise, yet stay on the gravel. Then I thought: What if they get a thrush infection and I need to keep them completely off mud… I won't be able to do that without cross-fencing the paddock!
The farmer who spread the gravel for me suggested I try a load of crusher dust from Upper Fraser Valley Trucking next time – he thought it would be a better surface, even spread directly on grass. So I called them up and ordered 45 tons of 1/4 inch minus crusher dust with squared edges (not sharp) and had that spread on the remaining half of the paddock. That cost me $840 including delivery.
Here's what the 1/4 inch minus crusher dust looks like on the paddock:
And here's what the 3/4 inch gravel looks like on the paddock: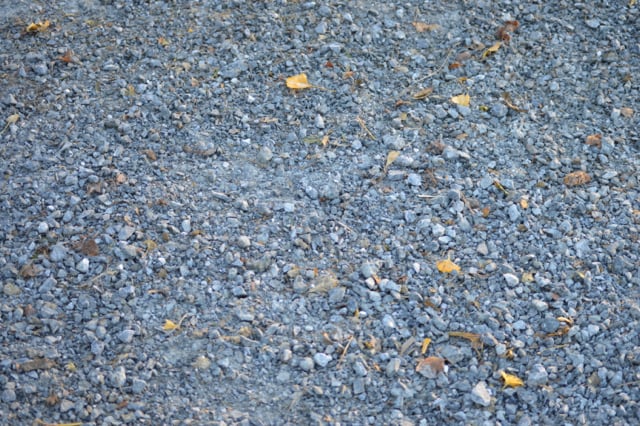 I figured this would be a really good test to see which gravel held up best under the horse's hooves during the rainy season, because I had them side-by-side for direct comparison!
Here's all the things I did not anticipate, so you can benefit from my learning curve:
1. As you can see from the 2 photos directly above, it is much easier to rake all the leaves off of the crusher dust. With the gravel, the rocks are often larger than the leaves, so the rake ends up gathering the rocks and the leaves are left behind. The larger chunks of rock are also easily caught in the rake, so you end up dumping a lot of the gravel you just paid money for, out with the leaves – which does not feel good! Remember that you need to remove all organic matter from the surface of your gravel to ensure it is kept clean and can drain properly. If you let any organic matter build up, it will break down into soil/mush which will defeat the whole purpose, as your horses will now be standing on a wet surface.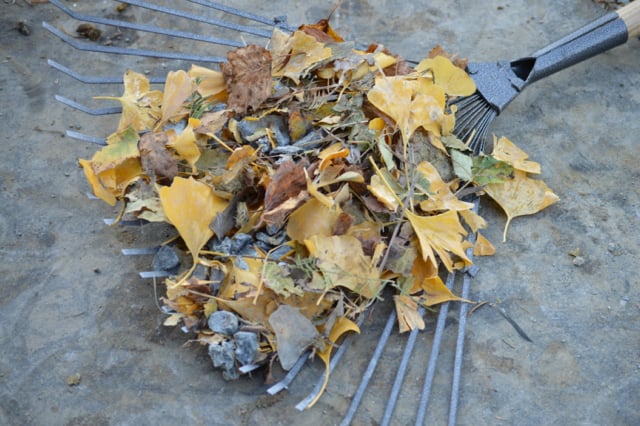 2. The same problem occurs when you shovel manure. The 3/4 inch gravel gets stuck in your manure fork and you end up throwing away a little bit of your money every day when you clean the paddock:
3. The whole idea of having a gravel or crusher dust top layer is to prevent wet organic matter (soil, grass, hay, leaves, manure etc.) from coming into contact with your horses hooves, and then to facilitate the drainage of rainwater away from the surface, so your horse's hooves stay drier. So you cannot leave any of this organic matter sitting on your gravel, or else it will quickly break down into a mucky layer that defeats the whole purpose. Manure and leaves also break down quickly in the rain, so you must clear them off your gravel daily. This is really labor intensive – and I totally did not anticipate the amount of leaf raking I was going to have to do!
The Winner: Gravel or Crusher Dust?
In hindsight, even if I could not afford to remove the topsoil and lay down the proper layers first, I should have dumped 3/4 inch minus gravel directly on the grass (at least 3 inches) and then dumped 1/4 inch minus crusher dust directly on top of the gravel (at least 2 inches deep). Here's why…
In the middle of the worst rains of winter, the 3/4 inch gravel has the best drainage and keeps the surface drier, even during a full day of rain:
On the same day, here's what patches of the 1/4 inch crusher dust look like – you can see how the mud and soil underneath has been churned into the crusher dust. On a full rainy day, these patches fill with standing water – there is no drainage: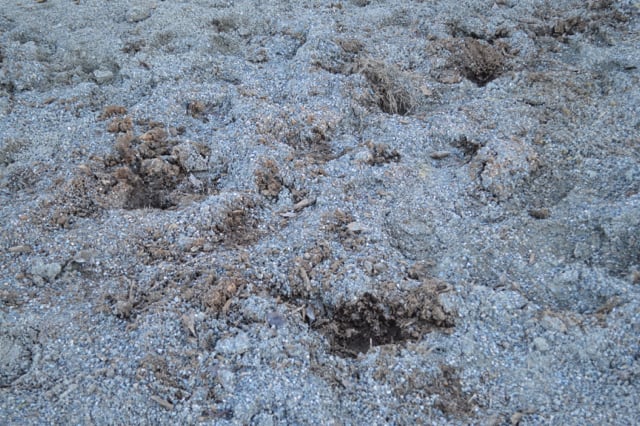 So why not just use the 3/4 inch gravel? Well, because of the difficulties cleaning the manure and leaves off it (detailed above) AND the horses will not lie down on the gravel, but they love to lie down on the crusher dust. Good sleep is an important part of a happy, healthy horse. However, later experience taught me that depending on the type of crusher dust, and how hard the ground is when properly prepared, the horses won't lie down on it anyway – so this is an unknown factor.
Another consideration: the dust particles in the crusher dust work themselves deep into your horse's mane and coat. Not only does this make them very hard to brush clean, but the particles are super fine dust that occasionally irritate the horse's eyes and are certainly not healthy for you or your horse to be inhaling.
Next time, I would want to examine the crusher dust and see which supplier's contains the least amount of dust. Or, I will try to find just 1/4 inch minus with smooth edges, or 3/8 inch minus smooth gravel with no dust – that would be ideal.
What does minus mean, when referring to gravel? It simply means that the particle size of the gravel is guaranteed to be less than the measurement. So 3/8 inch minus gravel means that the largest particle size is 3/8 of an inch and all the gravel in the load is guaranteed to be 3/8 inch or smaller.
How Did The Paddock Hold Up Over The Year?
Well, I laid the paddock footing in August. By February, all the horses hooves were still in great condition (they are also fed low sugar hay, which makes a huge difference to hoof health) and the surface was still in good shape.
But by April, the area around the slow feeders was wet and mucky. Even though we moved some gravel over from other parts of the paddock, the gravel had sunk down into the soil all over, so there wasn't much left to scavenge.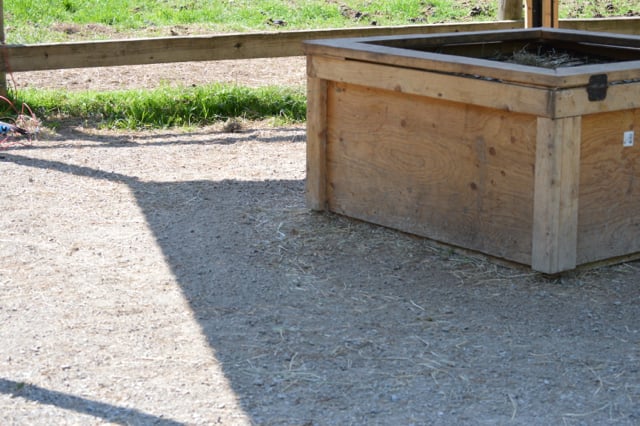 By May, you can see that the paddock surface is pretty much toast – the grass is growing up from underneath and the gravel has almost disappeared from sinking into the soil – and the entire thing will have to be re-done again in August for approximately the same cost ($1800 total).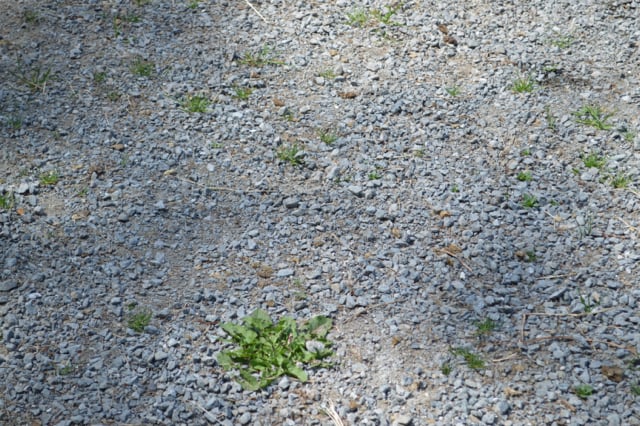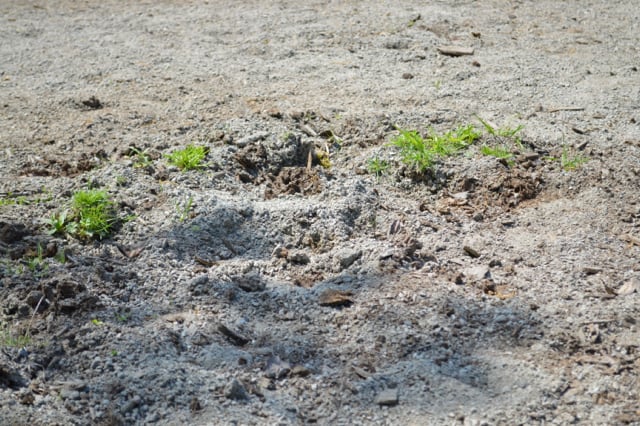 Oh, and even though I added a new portable shelter for them, so they could stand outside to eat, this rain cover did not prevent the gravel from sinking into the ground around the slow feeders by April; just from the wear and tear of their hooves – without any rainfall on it.
In my opinion, in this rainy climate, not removing the topsoil down to the firmer layer and then putting down a layer of large, flat rocks (at least 3 inches wide) is throwing your money away. The gravel and/or crusher dust only lasts one season and so you have to pay out the same amount every year. If you do it right the first time, you may only have to do it once (as long as you keep organic matter off your paddock surface).
What About Geo-Textile Cloth?
Just before we close, let's talk about geotextile cloth, which many paddock experts recommend using. In 2018, I did an experiment with laying the geotextile cloth down on the compacted subgrade soil, instead of the 3-inch rock layer, in a new section of my horses paddock area. Then I added the layer of 3/4 inch gravel, and then a layer of crusher dust.
I was interested to see if it would work, as a woman had written in (who also lives in this Pacific Northwest climate) to tell me that it's never worked for her horses. And unfortunately, I have to report that my experience has been similar. I think the punchiness of horses hooves disturbs the gravel so much, that all that needs to happen is for them to punch through to the geotextile in a very small spot and then that quickly enlarges. And then the cloth gets moved around by their hooves.
I tried it in two places – under a shelter with 4 inches of gravel (3/4 inch minus) and then 2 inches of crusher dust. And in a paddock entryway with 8 inches of gravel/crusher. Both areas were destroyed in a couple of months once the rains started – the cloth was either sticking up all over the place (the other woman said her horses would then grab it in their teeth and pull on it – we just cut it off), or it had disappeared into the muck.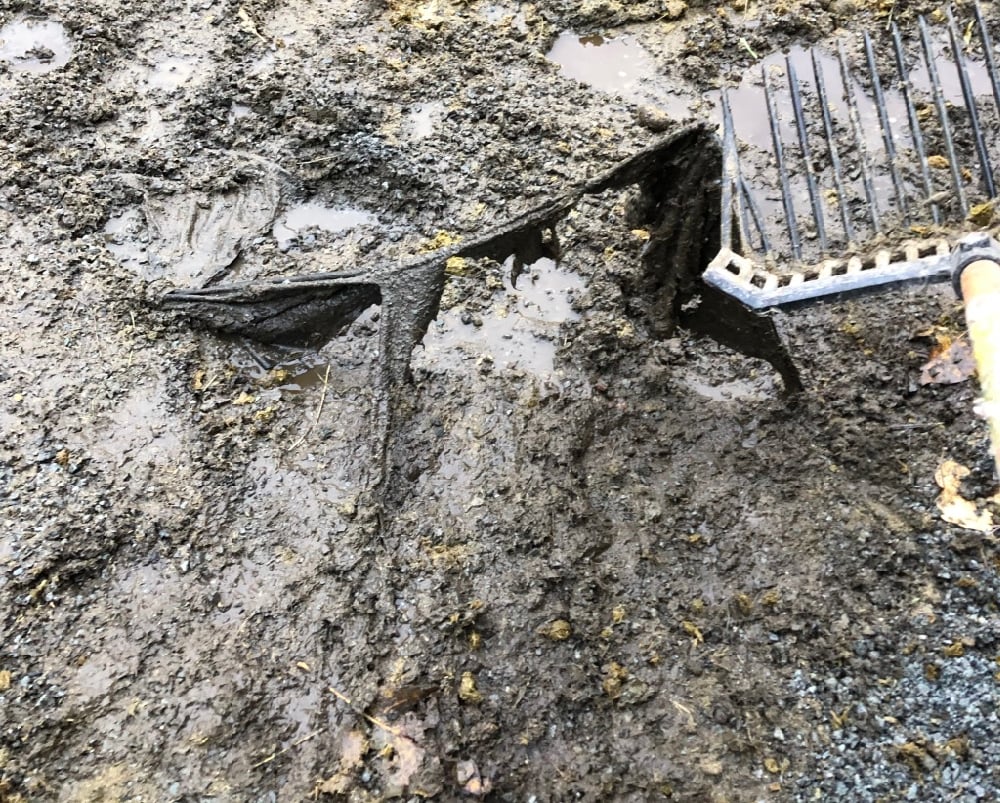 I will say, that year was the worst for rain we've had in a decade or so – tons of houses had their basements flooded for the first time ever. So the amount of rainfall has certainly been unusual. Regardless, I don't think it's a good option.
I also called Parks & Rec – who lay the horse trails in the provincial parks here and asked them what they did, as their trails seem to stay in pretty good shape all winter long. They told me a similar story to what I outlined above: After scraping down to the compacted subgrade soil, they place a layer of large, flat rock. Then they add gravel and then crusher dust. Et voila!
I also found it really helpful to install a French Drain in my current paddock to help funnel the water off/away from the paddock – and this made a huge difference in the effectiveness of my paddock surface.
Please feel free to share your experience and experiments in the Comments section below…
Which Paddock Surface is Best for a Rainy Climate?
Jini Patel Thompson is a natural health writer and Freedomite. She began riding at age 2 in Kenya, and got her first horse at age 8 in Alberta, and so continues a life-long journey and love affair with these amazing creatures.