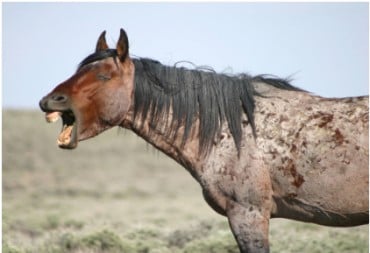 The more articles I read on "normal" equine dentistry like this one, the more I suspect there is as much unnecessary dental work being done on horses as humans!
For example, where is our frame of reference for making all these assertions about what a 'healthy equine mouth' looks like? I would like to see teeth comparisons of wild mustang horses who are in robust physical shape (good weight) before we decide what is 'normal' or 'optimal' for equine tooth shape, hooks, appearance, alignment, etc. WHO says a perfectly even flat surface is best for chewing/grinding?
After hours of searching on the Internet, this is the only natural mustang skull I could find that showed its teeth clearly. It was sold on Etsy and according to the seller, "This is a big feral/mustang-type stallion skull complete with lower jaw and all teeth, including four big canine teeth. This skull came from a very old male horse. The skull is missing one tooth that appears to have fallen out naturally. The animal this skull came from was humanely euthanized by gun, so there is one small bullet hole in the cranium. This horse was euthanized due to old age and poor health":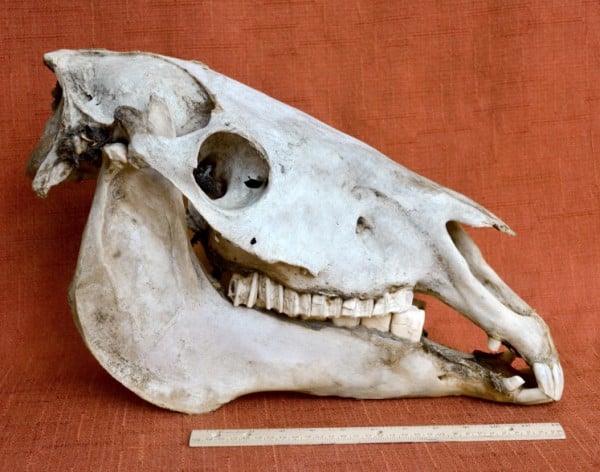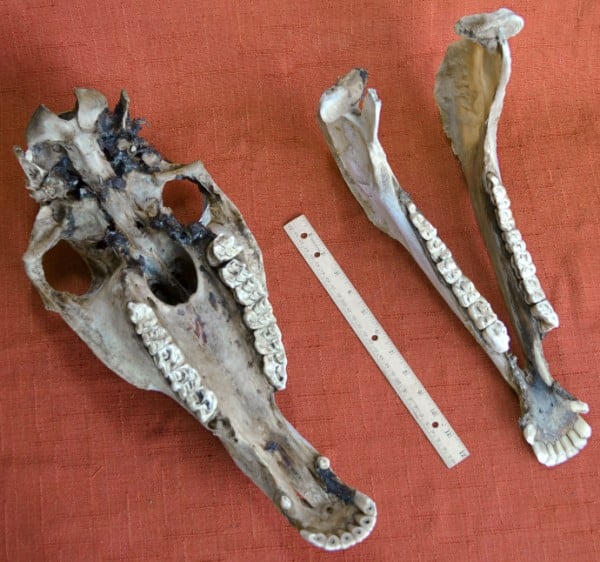 So not a healthy, robust mustang, but at least it's something!
My other suspicion with equine dentistry is how much of what of what modern equine dentists are saying is 'ideal' is really for the wearing of bits vs. the obtainment of nutrition?
I was fretting about what to do with my horse Zorra when she needed her teeth floated, plus I had 2 new rescue horses arriving; who would probably need a checkup. This kicked my research up a notch. And then one of our horses, Spero, began dropping partially-chewed chunks of hay as he 'grazed' at the slow feeder. His owner, Kesia, checked his teeth and noticed a couple of 'hooks' that were likely interfering with his chewing. However, even after owning horses for many years, boarding at different barns, and managing other people's herds, Kesia still hadn't encountered an equine dentist who stood out as particularly good. A friend of mine who is a farrier (and former vet assistant) feels the same way. What to do??
My herd in Alberta had their teeth hand-floated every year by my farrier – no sedation, standing in the pasture.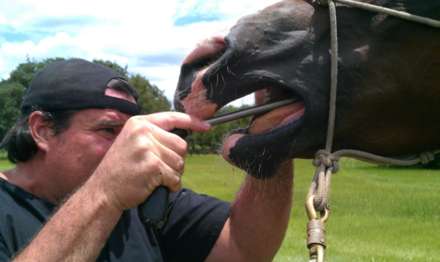 It wasn't until I came to BC and walked into a boarding facility that I saw a horse's head strung up in a sling, drugged into a stupor, jaw forced wide by a speculum, with a crazy-loud power drill grinding away in her mouth. I was horrified!
Having done a number of teleseminars with human dentists I was not about to blindly follow what everyone else was doing to their horse. And persuading Kesia (barefoot trimmer) to learn how to float teeth seems preferable to letting any of the equine dentists I've seen recently loose on my horses!
But I was still puzzled as to why Spero had developed hooks as he'd spent a year on the range (300 acres up country in Clinton, BC) and for the last 6 months he's had low sugar hay in a slow feeder 24/7… why wasn't he naturally wearing down his teeth?
Well, veterinarian and equine dentist, Dr. Chrysann Collatos, in Reno says:
"Three factors contribute to wear of the horse's teeth: the interaction between the two biting surfaces, the time spent chewing and the nature of the material being chewed. Research has shown that horses at pasture chew more and with more lateral (side to side) motion than horses fed a mixed hay/grain diet. Specifically, horses eating hay chew 58-66 times per minute vs. horses at pasture which chew 100-105 times per minute! In addition, horses eating a strictly forage (hay) diet require 16 hours to chew their daily nutritional needs while horses on high concentrate with some hay diets require only 6.1 hours to consume their daily feed requirement.
So our performance horses chew slower, for less time, and less effectively than their mustang counterparts. Therefore, they don't do a good job of floating their own teeth, and small dental abnormalities that would self-correct on a tough fibrous grass diet (mustangs) become serious dental issues without regular dental care in our horses living in confinement."
But since our horses have 24/7 access to low sugar hay in a slow feeder, along with pasture forage, we were still mystified as to why Spero had developed hooks. Until a dentist clarified that the mustang forage grasses contain a "coarse silica content which wears the teeth far more than the grasses and hay available to our domestic horses."
This is how LONG a young horse's teeth are – compared to a 25 year old horse. When you look at these pictures, it becomes clear that nature equipped horses with plenty of tooth to be ground down by continual grazing on coarse wild grasses: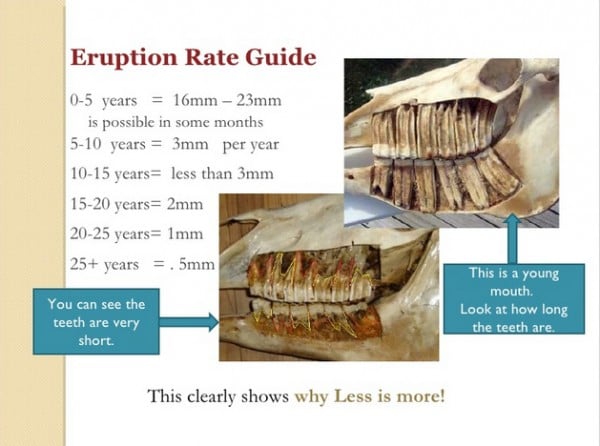 Removing any pointy bits on the teeth is a very common method in equine dentistry. As shown here, "the float head in this picture is placed just to remove the points. However, removing these takes away the horse's steak knife that nature has given them. Which is necessary to cut the grasses and hay in their diet; enabling easier, proper digestion":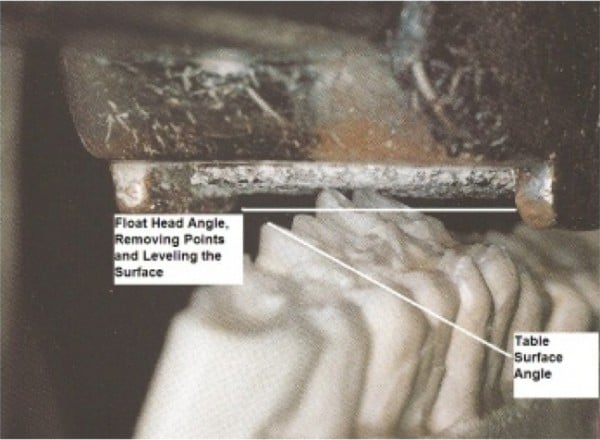 Dr. Heather Mack echoes the importance of NOT rasping away too much! "We leave as much clinical crown and table surface as possible on the molars and pay close attention to table angles. This is critically important in the rear most molars as they are closest to the TMJ, brain, and central nervous system. Their occlusal surface and angle is critical to proper guidance, body biomechanics and balance." Here's an easy to understand illustration of this from Peter Borgdorff:


So basically, yes! It is very important to choose an equine dentist who is trained to take a holistic look at your horse. And any filing or removing of tooth needs to be done with all of these elements in mind – not just to rasp off sharp bits and create smooth, even teeth!
My Equine Dentist Uses Power Tools – Is This Okay?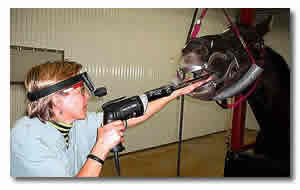 Here's the opinion of many holistic equine dentists: "In the age of power tools, many horses are floated excessively and with disregard of the natural angles and eruption rate of the horse's teeth. Frequent over-floating and excessive adjustments will reduce the longevity of the tooth. Power equipment may overheat the tooth. When this happens it heats up a substance called apatite in the tooth, firing it like porcelain, thus making the chewing surface slick. A slick tooth surface prevents proper chewing, which then may lead to digestive problems and proprioception issues (the sense of how your limbs are oriented in space)."
I have experienced this 'smooth tooth' issue myself with one of my molars that has a gold crown on it. I get nowhere near the traction and chewing ability on that tooth and I have to use a lot more pressure to chew food, since there are no sharp edges to tear the food apart. All of my other molars have sharp edges around them. So I can imagine the difficulty (and jaw soreness) a horse would face if most of his teeth were heated and ground smooth by a power float.
The other problem with using power floats with horses – and power drills with human – is that they also induce microfractures in the tooth. This then sets the tooth up for further problems. In human dentistry we are seeking to minimize this damage by using lasers whenever possible. In horses, Spencer LaFlure uses hand floats only and he has designed a special set of angled hand floats.
The last issue almost no one is questioning, is the effect of sedation on the horse. Geoff Tucker DVM says:
"Texas A&M vet school presented a finding at the AAEP meeting 2 years ago that showed that 1 dose of Previcox (a common pain medication in horses) killed a whole group of the 700 normal bacteria species found every day in the mouth. Yes there are about 700 families of bacteria that live in the mouth of the horse. There are trillions of bacteria in, on and around you and your horse. In layman's terms, in a neighborhood of about 700 individual families which makes up the thousands living in a town, a whole family was wiped out including aunts, uncles, moms, dads and children. One dose did that – but with no outward signs of a problem. The question to ask is what effects occur on the health of the teeth and gums when horses are automatically sedated? We all know the effect of bute (phenylbutazone) on the lining of the cecum and colon but what about sedation on the oral health of the mouth? We are all learning of the microbiota of the gut and that any disorganization of this (dysbiosis) leads to ulcer formation in humans. So what does the sedative do and is the risk worth the benefit?"
Evaluating The Individual Horse vs. An Idealized Concept
This is a tendency you find in human dentistry as well – where, instead of looking at the entire head, skull, temporomandibular joint, neck, etc. the dentist only looks at the teeth in isolation and then attempts to get them to fit a stylized "ideal", rather than looking at function, comfort, and tooth health.
The difference with Spencer LaFlure's method of Natural Balance Equine Dentistry, and other holistic methods, is that the equine dentists are trained to evaluate the whole horse, including movement and hooves – as these are all indicators of what's unbalanced or needs to be adjusted in the mouth. Dr. Mack says, "Some pathology should not be corrected, especially in aged horses that have been compensating for years and have adapted, in these cases one does minimal work mostly to allow more comfort and maximum surface to surface contact between the teeth."
Another dentist says she makes "sure to leave the natural angles your horse was born with. Which then acts as a railroad track guiding your horse's chewing motion."
The other really important distinction made by LaFlure is to work on the horse's teeth in the head-down position. You know, closer to the position the jaws would normally be in when the horse was eating – der!! This further ensures that the proper tooth angles are maintained while rasping, and prevents damage to the temporomadibular joint and other jaw structures. Not surprisingly, very few horses worked on this way need sedation.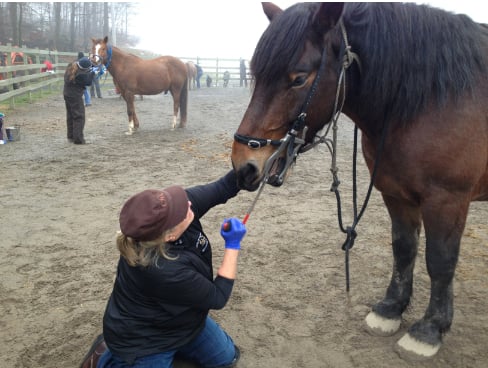 At the other end of the spectrum, we have a few veterinarians like David Ramey who question whether a horse in good health needs to have their teeth filed at all! He also quotes from a book first printed in 1682, by King Charles' farrier, about the importance of a horse having sharp teeth (not smooth) in order to chew efficiently.
I know from human experience, that once you let dentists loose on your teeth, you're stuck in this endless feedback loop that almost always necessitates continual dental treatment. So I resonate very strongly with Dr. Ramey's ideas about leaving the horse completely alone unless there is a clear problem.
Three years later, Kesia still has not floated Spero's teeth – he fixed the problem on his own in a month or two and hasn't dropped any hay chunks since. I have yet to have any of my horses' teeth done and all five are in excellent health. If any did have a significant problem (that they couldn't self-heal over a couple of months) then my first choice would be to find a Natural Balance or holistic equine dentist who will come to our area. Or at the very least, find a dentist who can do a hand float (with optional sedation) and who will agree to show us exactly what he's planning to remove – or perhaps who will agree to read this blog post first and take a look at Spencer LaFlure's articles…
FEBRUARY 2019 UPDATE:
I recently had an equine dentist (DVM) out to check some of my horses. My mare Zorra (age 14) whose previous owner said she MUST have her teeth done every year at least, had only 1 sharp point – but as I don't ride her with a bit, the dentist advised I leave it alone, since that is the only thing it would impact.
So she has had FIVE years of no dental treatments now (since she came to me). My newest 3-yr-old mustang stallion had his teeth checked during castration – all good. My other semi-feral mare, Audelina, had never had her teeth examined before (we now know she is aged 7) and her teeth were perfect. Nothing needed to be done. How can that be?
For the last 5 years my horses have had 24/7 access to LOW SUGAR (usually less than 10% NSC) in slow feeders. The value of allowing horses to "graze" at liberty simply cannot be downplayed (for many reasons). And this year, I switched them to 1st cut hay as it is coarser (still low sugar of course) and I felt/theorized that too would help them grind their own teeth.
They also have access to 30 acres of forage, including forested areas. When I open up the back section for them in the summer, they ignore the beautiful grass and go straight to a variety of shrubs, leaves, bark, etc FIRST. Interesting.
Since the equine dentist came in the winter, when they are at the slow feeders for 90-95% of their food intake, I have to conclude that the low sugar, 1st cut hay (coarse = higher silica content?), available to them 24 hours/day, 7 days/week is the reason they are able to keep their own teeth in excellent condition.
Of course, living in a vibrant herd (there are 11 horses now) with 20 acres during the winter open to them (12 acres in old-growth forest) for freedom of movement and expression, and a complete supplement regimen, certainly work synergistically to produce a healthy mouth.
I also do not feed ANY grain whatsoever. If you're feeding pressed pellets of any kind, you need to get the complete ingredient list from the manufacturer, as they often have used wheat, barley, etc as the binding material – even 1 tablespoon of grain is too much and the effects will show up in their teeth or even their feet (abscess). The body/mind/spirit is an integrated whole, not a machine that can be chunked up into just feet, or teeth, etc. 🙂
Do Equine Dentists Interfere Too Much With Horse's Teeth?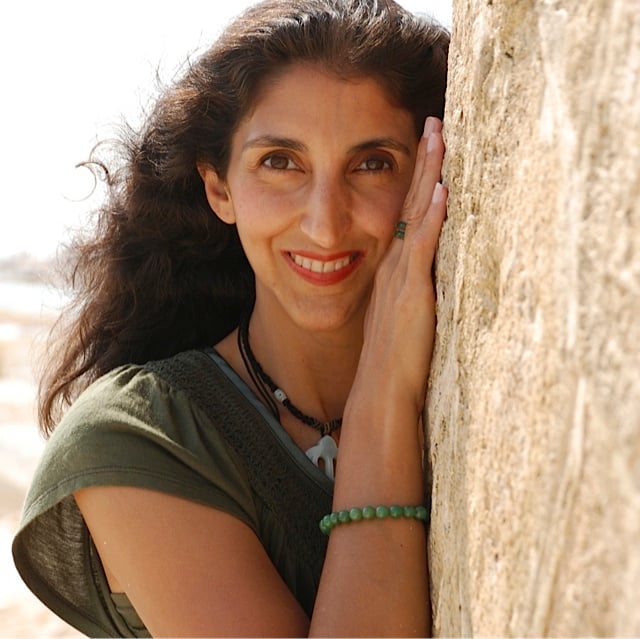 Jini Patel Thompson is a natural health writer and Lazer Tapping instructor. She began riding at age 2 in Kenya, and got her first horse at age 8 in Alberta, and so continues a life-long journey and love affair with these amazing creatures.