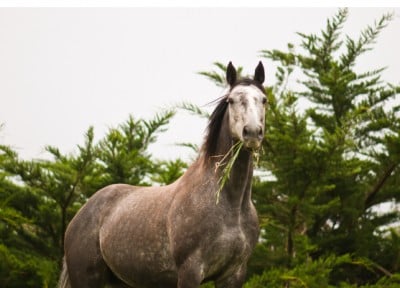 I've written a lot about individual vitamins and minerals that horses need on this blog, and about probiotics and low-sugar hay. Lately I've been asked by a number of different people to pull everything together into one list – so here it is!
I approach equine supplementation from a different angle than most horse owners – because I'm also a health writer and I formulate supplements for humans. One of my human supplements is an elemental diet shake that contains over 40 different ingredients and sells into 60 different countries. So when I'm looking at health and supplementation for horses, I go a lot deeper into source materials, co-factors and the form of each substance, than your average horse owner.
Thus far, I've spent about 3 months researching pretty intensively into equine nutritional requirements; minimums versus therapeutic doses, and also testing different things on my horses. Because, at the end of the day, you could have a fantastic supplement, but if your horse won't eat it – because of the smell or taste – then there's no point in purchasing it.
In this article, I'm just going to give you the straight list of what and how I feed and supplement my horses – which is a bit of a story, so stay with me! The WHY and research behind each item comprises an entire eBook of information, so let's not go there just yet.
So, for the last year, in addition to 24/7 access to low sugar/starch hay in slow feeders, our horses also received these supplements:
1st Version – Equine Supplement Regimen
Dr. Hermen Geertsema's Total Equine Feed – 1 cup (this just acts as a decent quality, low sugar base to add all the supplements to)
1 tablespoon seaweed powder
1 tablespoon himalayan or Redmond's salt
1 dose Natren Equiflora probiotic
2500 mg magnesium
1200 IU natural vitamin E
3000 IU vitamin D3
3/4 cup Jini's Hoffman's Supplement Mixture, loosely scooped (see recipe below)
*All dosages are given per 1100 lb (500 kg) horse. And are added to the feed bowl in the order given.
I would often add a scoop or two of Wendals Herbs or loose dried herbs to the feed dish, or perhaps a Majesty's Bio+ Hoof Wafer, depending on what each horse needs. Both these companies produce excellent quality supplements – and yes, I spent hours researching this too!
Now let's talk about Hoffman's Horse Minerals for a little bit… After searching all over the USA, Canada and the UK for about 3 months, Hoffman's was the best combination multi-vitamin/multi-mineral for horses that I could find.
I also queried the company (and their manufacturer) extensively about certain elements and they were extremely courteous, sincere and never once got pissed off with the number of questions I was asking! They also provided me with solid documentation for certain decisions they made, that I wasn't quite convinced about. Like the amount of Vitamin A in their product. After much to-and-fro I have to say that I still think their Vitamin A level is a bit high, but certainly not high enough to cause any issues. The amount I give my horses (after adding the other ingredients to the Mixture) puts it at a level I feel good about.
When I purchased Hoffman's Minerals for that first year, I bought the large bag and also 1 of the large tubs (as shown in the photo). This way, I could get the cost savings from buying the large bag, but I got the ease of daily scooping from the tub with a snap-on lid. The tub is also handy to mix up each new batch of Mixture.
WHY did I mix other things into the Hoffman's Minerals? Because only 1 of my horses will eat it as is – top dressed onto her feed. The others just leave it at the bottom of the feed dish. I have heard this complaint from many other Hoffman's users. Plus, it's an excellent way to get the good fats/oils into my horses!
Jini's Hoffman's Supplement Mixture
24 cups Hoffman's Horse Minerals
8 cups whole flaxseed
4 cups raw sunflower seeds
5 cups cold-pressed safflower oil
2 cups cold-pressed sesame oil
2 cups dark molasses (optional, or reduce as desired)
Mix all ingredients together well (takes a lot of stirring!) in the Hoffman's Minerals tub and keep the lid on tight to prevent denaturing of ingredients.
If your horse will eat the Hoffman's Horse Minerals straight – then go for it! And just drizzle some cold-pressed flax oil over top to get in the good fats.
IMPORTANT: The only thing you have to watch out for with the regimen above, is to make sure your horse is not getting too much iron. Iron has to be in the correct ratio with zinc and copper, or it contributes to laminitis, insulin resistance and equine Cushing's disease. Now, the Total Equine feed has iron in it, and the Hoffman's has a high iron level in it – both are balanced in the correct ratios with zinc and copper within each product. BUT you need to also get your hay tested and if the iron content is high in your hay (which it often is) then you need to also add extra zinc and copper to this Supplement Regimen. According to Dr. Getty in Feed Your Horse Like A Horse, the zinc level should be similar to the iron level (but iron should be not more than 5x the zinc level), and zinc should be 3-5 times higher than copper, to establish the correct absorption ratio.
So this supplement regimen worked well for about a year, until we got our hay tested! And sure enough, as Dr. Getty suggested, the iron level in our hay was 9x higher than zinc, and so completely out of balance with the zinc and copper. At that point, we switched from feeding Hoffman's Minerals to feeding only our low-sugar hay with the supplement that Dr. Getty recommends to balance hay-fed diets, called HorseTech High Point Grass vitamin/mineral supplement.
High Point Grass comes in both loose powder and pellet form; the amounts of each vitamin/mineral are different in each – but always in the correct ratio. Since we are not feeding any other grain, beet pulp, or pellet feed, we would not have anything to sprinkle the powder form onto. So we went with the pellet form, which has an alfalfa base.
We also continued to drizzle extra cold-pressed oils over top, along with extra magnesium, salt (the High Point Grass only contains approx. 1 teaspoon of salt, which is not enough to balance our pasture grass) and then seaweed powder and the Natren probiotics 2-3x/week as they are more potent than the probiotic in the High Point Grass supplement.
JINI'S FINAL EQUINE SUPPLEMENT REGIMEN
HorseTech High Point Grass vitamin/mineral in pellet form
1/2 tablespoon Himalayan or Redmond's salt
2500 mg magnesium
Cold-pressed sesame, or safflower, or flax oil drizzled over top – as much as horse will eat, up to 1/4 cup
3x/week also add:
1 tablespoon seaweed powder
1 dose Natren Equiflora probiotic
*All dosages are given per 1100 lb (500 kg) horse. And I would still add a scoop or two of Wendals Herbs or dried loose herbs as needed, from time to time to assist in liver function, detox, respiration, etc.
However, I do want to point out that even though the Hoffman's would not have been good for our horses long-term (because of the high iron content), it still provided a pretty noticeable improvement from where they were previously. Here are just a couple of examples of the dramatic effect Hoffman's Minerals with the probiotics, oils, vitamin E and flax can have on a horse in just a few months…
This mare is pregnant – she is not receiving Hoffman's Minerals, or any other supplements. She has been free foraging on 200 acres for six months:
The same mare after 4 months of Jini's Equine Supplement Regimen, low sugar hay 24/7 in slow feeders and a few hours a day of pasture turnout. Note: She has not even been brushed yet (proof: you can see the dirt patches on her!):
This gelding from the same herd (was free foraging on 200 acres, then schedule-fed hay for 2 months):
The same gelding after 4 months of Jini's Equine Supplement Regimen, 24/7 low sugar hay and few hours of grass turnout per day. It's hard to tell from this photo, but his mane has both thickened and gotten a lot longer:
Pretty darn gorgeous, I'd say!
SUMMARY: So if you're NOT going to get your hay tested to determine the iron level, then it's probably best to feed HorseTech's High Point Grass supplement, to be on the safe side – add extra magnesium, oils, seaweed, and salt if required.
But if your hay tests fine for the iron/zinc/copper ratio, then you may prefer to feed the Hoffman's Minerals and you can mix it as shown above with the oils, salt, seaweed, flax, Vitamin E, and raw sunflower seeds, if you wish.
If you are in the UK, this is the best local supplement I found – excellent quality ingredients, they do not add any iron, and the zinc and copper are in the correct ratio: Thunderbrook Equestrian Base Mix.
Jini's Equine Supplement Regimen
Jini Patel Thompson is a natural health writer and Freedomite. She began riding at age 2 in Kenya, and got her first horse at age 8 in Alberta, and so continues a life-long journey and love affair with these amazing creatures.