We are so lucky here at LTYH, because we get the best reader questions! And I know that if 1 person is asking, there's at least 30 more wondering the same thing. We use initials to protect identity in cyberspace, but our readers are also happy to share, so others can learn from their journey:
"Your experience, website and videos are amazing. I discovered a lot of answers and the reasons for my everyday acts, that I just do because I feel it's right. So thank you!

My next step is to find a field with a house so I can welcome other horses to create a herd, and find some friends for mine after his surgery (he's still a stallion) and your videos about introducing a new one into the herd are fascinating and so peaceful that I'm watching all the episodes again and again.

Do you have any advice on how to choose a new horse, so they can enjoy the company of each other? I'm guessing that every horse isn't friends with everyone…

My horse is 13 years old and I'll do the surgery in a couple of months (he's really nice and easy going but he also has stallion instincts).

Thanks again for your inspiration, Your vision and the great work you're doing! I wish you all the best and say Hi to everyone in the field for me! – V.S."
Thanks so much for reaching out and how wonderful that your intuition guided you to such a wonderful relationship with your stallion.
I must ask though, having been through it 4 times, are you SURE castration is right for your stallion? Have you asked him if that's what he wants? And have you considered the option of having a herd of stallions?
I ask because I LOVE stallions SO MUCH and if I could have kept Montaro a stallion I would have for SURE. Have you seen this woman on Instagram? She's had a herd of stallions for years and lets them run free for a few hours a day (unfenced) in the area she lives – they are so responsive and enlivened! She's recently begun gelding them though – perhaps because she's moving from Spain to the UK – but, her experience shows that stallions can live together very easily.
This other woman also runs several herds of stallions on her property. She has a few videos on her YouTube channel where you can see the horses interacting and also get a sense of how much space she has for them.
Anyway, I'm just throwing it out there to see how you feel. Because bachelor herds are common among wild horses and indeed, most stallions never get to breed, and live out their lives in bachelor herds.
However, the key element that makes a bachelor herd work, is to not have any mares nearby. This way the competitive nature and hormones are not stimulated and the lads can safely remain friends. If they can see, smell, or hear the mares, things can get difficult and your fences will likely not hold. Montaro went through a solid wood fence with a line of hotwire on the top. My neighbour tried to keep a stallion with mares nearby and even with an 8-foot wood fence and 2 lines of hotwire, he went through it. So that's something to keep in mind.
As for how I choose a horse (or a dog!) – it is an entirely spiritual/energetic thing for me. I ask the divine/universe to give me signs, dreams, etc to either lead me or confirm my thought/desire. I learned very early on – with my first horse at age 8 – not to choose a horse based on looks, color, etc. When my Dad finally agreed to get me a horse (with none of us knowing anything about horses) I chose a large bay gelding named Gent based on looks alone.
Well, let me tell you, Gent was a horse that even today would be a 'project horse'. I don't know his history, but I suspect it contained just enough abuse and neglect to make him mean and angry – and not quite enough to make him shut down, or get himself slaughtered. He was a disaster for me, and we soon sold him to a very experienced horse person.
Wisely, I decided to let my Mum choose my next horse – and she chose entirely by feel and intuition. She chose a rather ordinary-looking Morgan/Arab mare who was pregnant. And while I was trying to decide between names like Starshine and Moonlight, my Mum said, "She's a real Dobbin!" And much to my chagrin, the name stuck and everyone called her Dobbin from that day forward. She was my teacher, my spiritual guide, and my angel in horse-form. From that day forward I never chose an animal companion based on looks. But I must say, my painter-self has sure been happy when they've turned out to be gorgeous!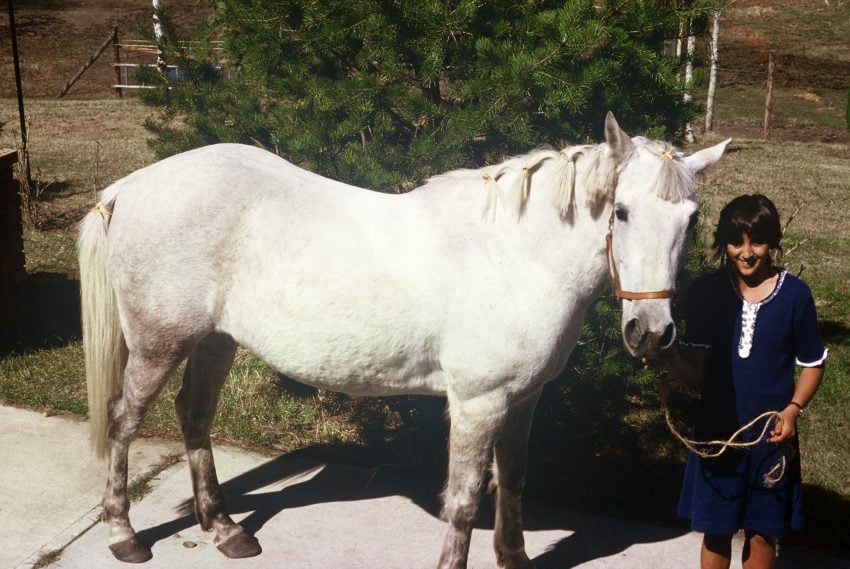 I find it's also really helpful to ask the horse, "Are you meant to be with me?" When I did this with Audelina, I walked about 10 feet away from her and held out my hand as I asked – I wanted her to show me physically what SHE wanted. She looked at me, looked at her mom, looked around, looked at her mom (remember to allow for horse time!), and then walked over to me and gently touched my hand with her lips.
Lastly, I also have an arrangement with the seller that if my herd won't accept the horse, that I can return him/her (I pay all transportation fees). Any seller truly concerned with the welfare of the horse will accept this condition, as they want them to be happy too.
I put any new horse(s) across the fence from each other and only let them in together when they are showing affection over the fence. That way no one gets injured and they can work out the relationship safely first. With all 11 of my horses, I knew within a few days, or less, that they were meant to be together.
At the property I boarded at 5 years ago, I only had the original four there, when the landowner bought a rescue horse and had her trailered overnight. This little Arab beauty arrived and I put her in one of the fields next to the big field where my herd were. I watched for 3 weeks solid and my herd never accepted her. I could put Montaro or Jax in alone with her (she was quite flirty with them), but Zorra would have nothing to do with her and Aude would not even tolerate her putting her head over the fence! Sometimes, even Jax or Montaro would run her away from the fenceline. My herd made it crystal clear they would not accept this horse into their herd.
Which turned out to be the best thing, and all part of the greater plan, of course. It prompted me to move my herd to the much larger property we're on now and the landowner bought a 2nd rescue horse to keep the Arab mare company and they got on brilliantly from the moment they met.
Does anyone else have any stories to share about bringing horses together that worked out well… or didn't?
3-Months Later Update:
"I'm coming back with a lot of news about my horse C and me. You opened different widows in my mind with your emails, and all the choices l've made since then have lead us to a better life.

After my intuitive training, the field owner asked to put their shetland in C's field with him, we did your introduction technique and it went really well and peaceful. C was super exited to have a new friend with him.

At first, l thought it was a good idea, but the owner decided to tie their shetland with a rope in C's field during their work day, as the shetland escaped because the fence was not built for him and nobody wanted to change it… so i discovered them completely trapped in the rope around them many times, even after l asked not to do this… The situation got worse as they managed their shetland very badly, affecting C's life.

During this time, C showed me he really wants to have other horses with him and asked for the castration surgery. He wanted to change his life to be with more friends and and also preserving me from problems being a stallion.

He was very clear, so we went to the clinic the 18th of October. He managed very well all the things he's afraid of, like the transport and the fact of staying in a box. He had to stay in the clinic a bit longer than expected because of his reactions after the surgery. But he passed through everything like a pro and we came back next to the shetland for the recovery. Everything when well there.

As he healed up very well, we moved to a better place 22 days after the surgery and he's been enjoying his new herd for 3 days now! The 4 other horses accepted him after one day and a half, Everything went really well as we did the same introduction with the new herd, and his reaction with the others was just perfect! No anger, bad stress, just a lot of gentle asking to join the group. He just had two really big kicks from the herd's chief. C still needs to learn horse's language, but he did well, staying near the herd, asking to join them regularly.

He was too exited, and was shaking for an hour smelling the other horses at first, but he came down and relaxed slowly.

Now, he's enjoying his new life, He's more peaceful and relaxed than before, and he's the deputy chief when the boss is resting.

l know he likes his new life as he doesn't really pay attention at me anymore when l'm visiting him. that's a really big change! Until now he always came to the gate when he saw my car or me when l arrived. That's the best gift l can receive at the moment. I just love to sit near the herd and watch them!

Thank you for being a part of our amazing journey! – V.S."

C on the left with his new herd
It's wonderful that C's owner is so supportive of him bonding and returning to "right relationship" with horses, rather than being upset that he's become secure and independent! Beautiful to hear. I'm so pleased for both of them 🙂
How To Choose a New Horse That Will Get Along with Others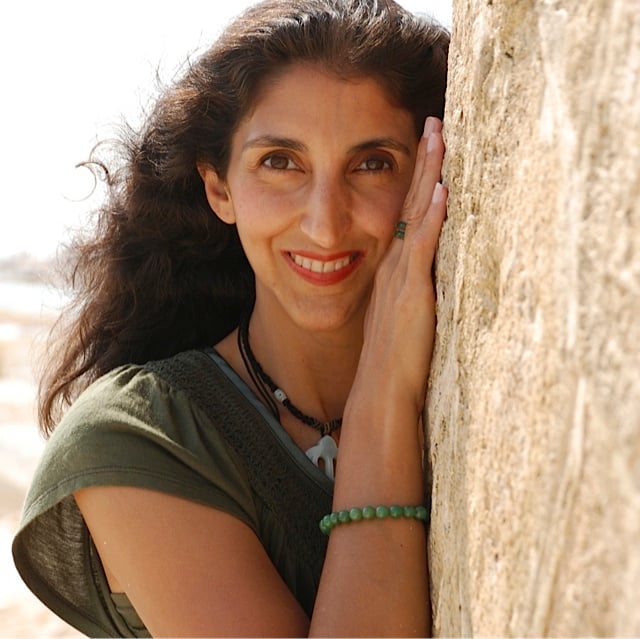 Jini Patel Thompson is a natural health writer and Lazer Tapping instructor. She began riding at age 2 in Kenya, and got her first horse at age 8 in Alberta, and so continues a life-long journey and love affair with these amazing creatures.