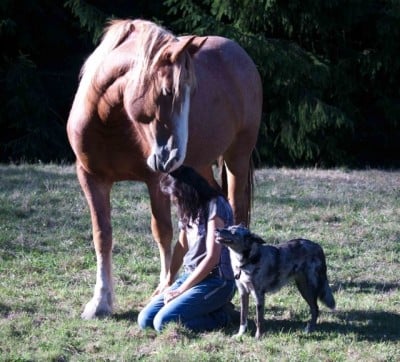 If you were never going to ride, would you still have a horse?
Or would you feel guilty, or extravagant, or question the point of having such an expensive pet?
Have you ever even considered the notion of owning a horse simply as a pet; a companion to snuggle, to go for walks in the park, play games, smooch, run your fingers through soft fur and silky mane, listen to your problems and sorrows, press against you to soak up your tears, lie down to nap together and run laughing through the woods, jumping logs together?
Is that not enough reason/justification to own a horse? Must we really RIDE that horse or be viewed as failures, whackos, or eccentrics?
Here's a new solution to the horse slaughter problem: Horses as pets! They are not pasture ornaments, hayburners, or other labels insinuating they're a waste of money; they are beloved pets and members of the family. YES. You have permission. How does that feel?
When I got my Andalusian mare, Zorra, and I was developing a friendship with her, and waiting for her to ask me to get on her back (which took 6 months) I cannot count the number of times friends and family asked me, "So have you ridden her yet?"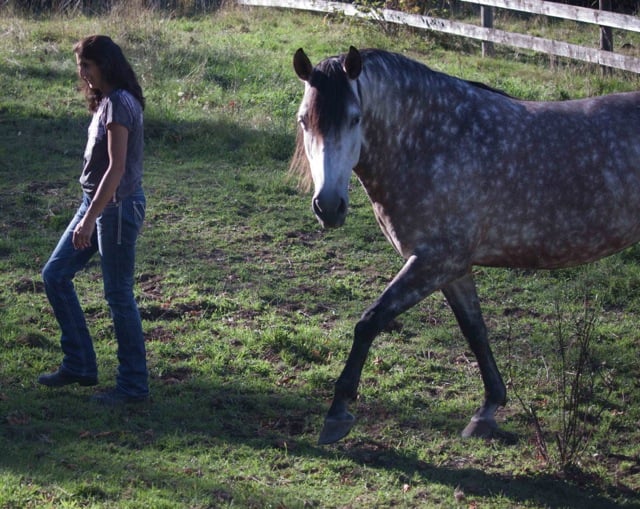 Then I went and got 3 semi-feral horses – so they wouldn't be slaughtered and I could keep them together as a family. Except it will be at least four years until their bones harden and I won't ride any of them before their growth plates have fused. Well, now people's eyes almost bug out, "FOUR horses?? Do you ride them?"
Why is it that the world at large assumes there is NO POINT in having a horse unless you ride it – regularly? When you see this man with his rescued lion, are you thinking: Does he ride that lion? No? Well what's the point then? Who wants to keep such a large, expensive lion if you can't ride him? NOT.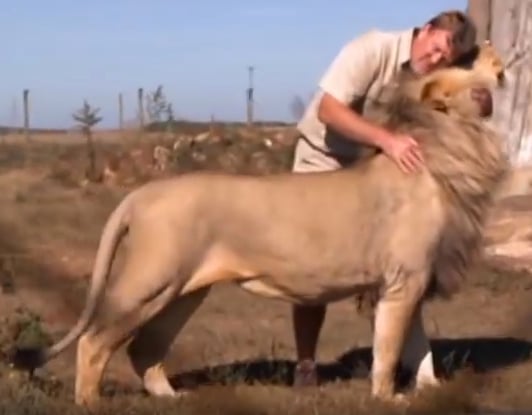 A Growing Trend
Former competitive jumper and endurance rider, turned equine behaviourist and healer, Sue Gardner says:
"There is a growing number of people who are more interested in just being with their horse on a more spiritual level. Also many people are too scared to ride their horse because the horse is deemed dangerous or is constantly un-sound, this is true, so they end up having a relationship based on very gentle in-hand work which leads on to liberty connection. And with the recent increase and awareness of Equine Assisted Therapy there are even more people understanding and wanting to connect in a way that is far beyond riding 🙂 "
The president of the American Association of Riding Schools, Colleen Pace, gave me a wonderful example of how riding stables can adapt to this growing trend/need and expand their client base:
"A number of years ago, I had an adult woman (early 40's?) who was obese, and maybe epileptic, enroll in three-hour-long lessons. There was no way she'd ever climb atop a horse. She moved so slowly on her own two feet. Drove me crazy. Tested my patience. And, reminded me what it meant to be an earnest mentor. She stayed with me for nine months; until her mother had a stroke and could no longer drive her to and from the stable. She groomed, grazed, took lots of photos, and visited. The three-hour-long weekly sessions came to over $300/mo; and she thought it was worth every penny – because she could feel like she owned "Rosie;" my Percheron. So, you are right about non-riders at many levels."
A friend of mine rescued 2 horses after watching me with my herd for a year. She's not sure if she ever wants to ride. She just loves being with them, doing the chores, she even loves composting the manure! Her husband said, "These horses are the best thing that's ever happened to Jeanette."
Jeanette can't believe how much healthier she feels from doing physical work outdoors in the fresh air every day. A life-long athlete, she marvels at the way her body responds to 'farm work' and says that being around the horses makes her feel so peaceful it really changes her day. She's learning how to lead/handle them and looks forward to taking them jogging with her along trails in the park.
Exercise, Herbs & Adventure
Many people don't realize this, but a horse can be a better running partner than a dog! Many horses just love to get in the park and GO. They can trot forever and they don't ask to stop and sniff things, or want to chase squirrels into the trees. I've injured my knees from skiing and martial arts, so I mostly race-walk with my horses and they love that too.
At some point in your walk, jog, or ride, it's a good idea to let your horse sample Nature's Pharmacy – especially if you don't have a selection of natural equine-friendly herbs, hedgerows or edible forage in your horse's pasture. As Sue Gardner says:
"Horses are rarely being greedy when they try and get to certain plant life, most often it is because it is lacking in their diet and a couple of examples of that are Cow Parsley and Cleavers. So take the time to let him graze the mature herbs that have flowered, work out what it is that your horse is needing… often it is nature's pharmacy that is not available to him in his restricted field."
Remember that whether you ride your horse, or not, equines still need plenty of stimulation, exercise, games and most love adventures! Of course, they love THEIR idea of an adventure; for some an adventure could be exploring a new road, or jumping into a ditch, or maybe just getting to eat grass on your lawn while you sip a cup of tea.
If you tune into your horse and open your mind/heart to receive ideas and inspiration, you will realize that your horse is open to all kinds of 5-Minute Fun and other exploration.
Beyond Equine Therapy
Mary Rostad is a lifelong educator who has turned to the concept of using nature, fresh air, farming, art, yoga and hanging out with horses to facilitate connection in teenage girls with moderate to severe social anxiety, depression or isolation. She runs summer camps, individual sessions and farm visits.
This is not just about Equine Therapy. I invite you to pull back and take a much broader view of ALL the ways simply hanging out with horses is a valuable experience – as valued (to the client) as traditional riding lessons. Whether that's for yourself, personally, or something you can offer as a sideline business, or to expand your existing business – just sit with that idea for a while and see what arises.
AND imagine what it will feel like to bring more freedom and joy to your horses! When horses are allowed to choose how and when they interact, that's when the magic happens.
I've attended equine guided learning/therapy workshops where the horses were haltered, and I've had sessions where they're at liberty.
When the horse is off-leash, in a large area (so he can move away if he chooses) the experience is far more powerful and authentic.
Nobody questions the value of dogs; as companions, as family members, and stats show they improve your health and extend your lifespan. Nobody expects you to ride your dog to prove it's worth. And we all understand that dogs need to go out, explore, socialize, and get exercise every day. It's about time that horses were similarly recognized for having the same worth and value (and the same rights) – whether you ride them, or not.
Horses As Pets – Why Not??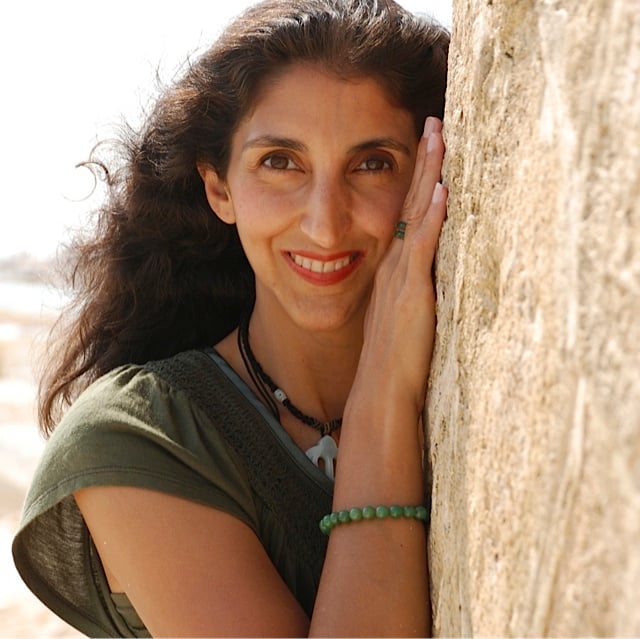 Jini Patel Thompson is a natural health writer and Lazer Tapping instructor. She began riding at age 2 in Kenya, and got her first horse at age 8 in Alberta, and so continues a life-long journey and love affair with these amazing creatures.