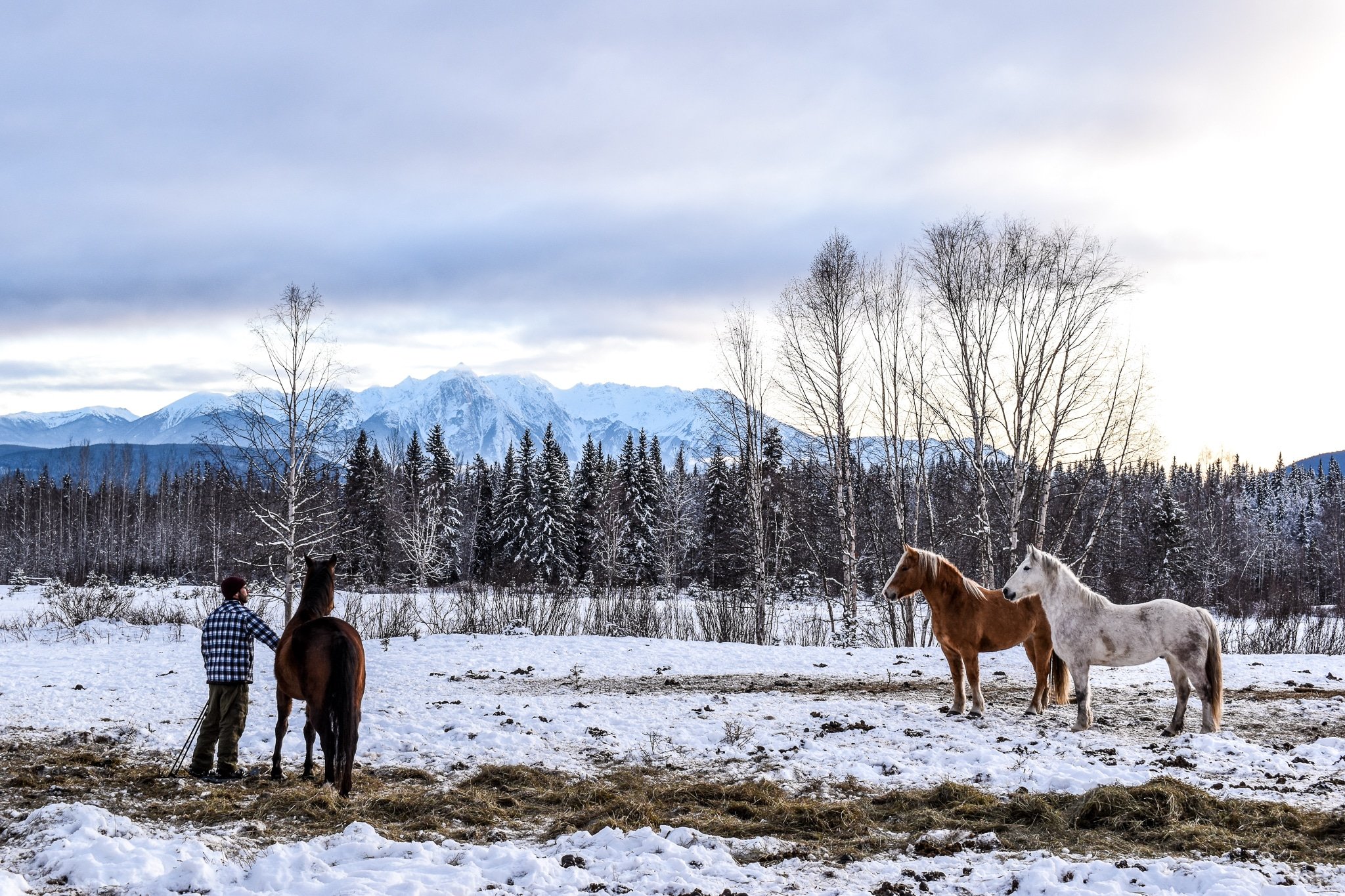 This winter on our farm in Northern BC, we are experiencing hay-feeding season (and the costs and labour associated with it) as something much more than a necessary means to an end (ie keeping everyone alive through the cold months). Every bale we feed, we now see as an investment – into the animals, to be sure, but more importantly through the animals: an investment into the soil we all depend on, into the ecosystem we are a part of, and into the dreams we have for a resilient, bountiful future despite climate change and rapidly increasing uncertainty. And the beautiful bonus: it takes less work and worry than before.
I'll explain our simple system, and our reasoning behind it, and why we're so nerdy-excited, but this is less of a "how to" than a "what's possible" kind of an article – because when you're working with natural forces, everything is a factor: in this case climate, weather, geography, land available, type of land, type and number of animals, availability of machinery and other resources, time, money, and so on. What we've developed is what works for us (at this time) given all those factors, and what works for you will likely look quite a bit different.
Shifting the Thinking
Nature is not linear, and she never misses a chance to multipurpose. Nothing, absolutely nothing, goes to waste in a healthy ecosystem. As modern humans, we are slowly regaining our ability to design systems that mimic successful ones found in nature, but we have a long way to go to harmonize our behaviours with the rest of the world around us.
Horsekeeping can often end up being a net-negative on the the ecosystem the horses are kept in. Horses graze grass right down to the ground, and their hooves causing long lasting compaction and damage to the soil. Most folks shrug and say, "they're just really hard on pasture." Many equine stewards attempt to mitigate this damage by rotating the pasture and keeping horses right off it during wet weather. This may save your fields, but is it all you can do?
Regenerative Horse-Keeping?
Recently both Jini (down south) and my mom and I (up north) have been digging deep into regenerative agriculture, a movement within which there are many innovative tools and practices to not just mitigate damage or make a system sustainable (like organic or no-till agriculture), but to actually build and enhance the ability of the soil to heal, grow, and function as the dynamic unseen universe that it truly is. Practices that build topsoil can also sequester carbon, and regenerative agriculture is one of the fastest ways we can actually capture and sequester carbon out of our atmosphere and back into the ground.
The goal is to see land not as a static substrate to extract resources from, but as an active, dynamic ecosystem – and to encourage it and support it to flourish. This cannot be done with plants alone – animals are key drivers in an ecosystem and it is both the stress they apply by consuming vegetation and the nutrients they leave behind in their manure that are so vital for these systems to work.
Most regenerative research and practices are geared toward the economics of ranching and farming. They hone in on profitability, and usually control the grazing of animals – sometimes quite obsessively – to maximize their benefit on the land, and therefore their feed quantities, and therefore their bottom line. It can be as colonial and dominating as any other form of farming – just with better results. As horse people striving for balance and connection, we might have another goal in mind: how can our horsekeeping evolve so that the horses are not just a strain on the ecosystem, but a net positive, a keystone species, a driver of growth and flourishing systems? Can our horses, our loves and joys, be building topsoil, sequestering carbon, and generating their own food just by living their horse lives? Can these beings, who have given us so much personally, also have a physically grounded, real-life beneficial effect on the world in which we all live?
How to Build Topsoil Through the Winter Months
All systems take time, observation, and experimentation to build. Pasture management can feel dry, or overwhelming, or just confusing. Here at our farm, we're only just beginning to understand how we can effect this kind of change. And by keeping that goal in mind – that the horses be drivers of a healthy ecosystem – we can start to make some shifts and consider the results.
It's January… it's winter. No grass is growing, the land feels very sleepy under its snowy mantle and frozen surface. Last year, we discovered, totally by accident, a way to nourish our soil during these hay-feeding months. Our hay guy would bring us one round 800lb bale at a time, cut the strings, and roll it down a hill so that our horses and cows could all access their feed without being driven off a feeder. At first, we were uncomfortable with all the waste we were seeing. They were pooping in the hay, stomping on it, telling us it was time for a new bale before it was all gone! We didn't have a better option, so we carried on, fussing about the waste and counting the pennies lost.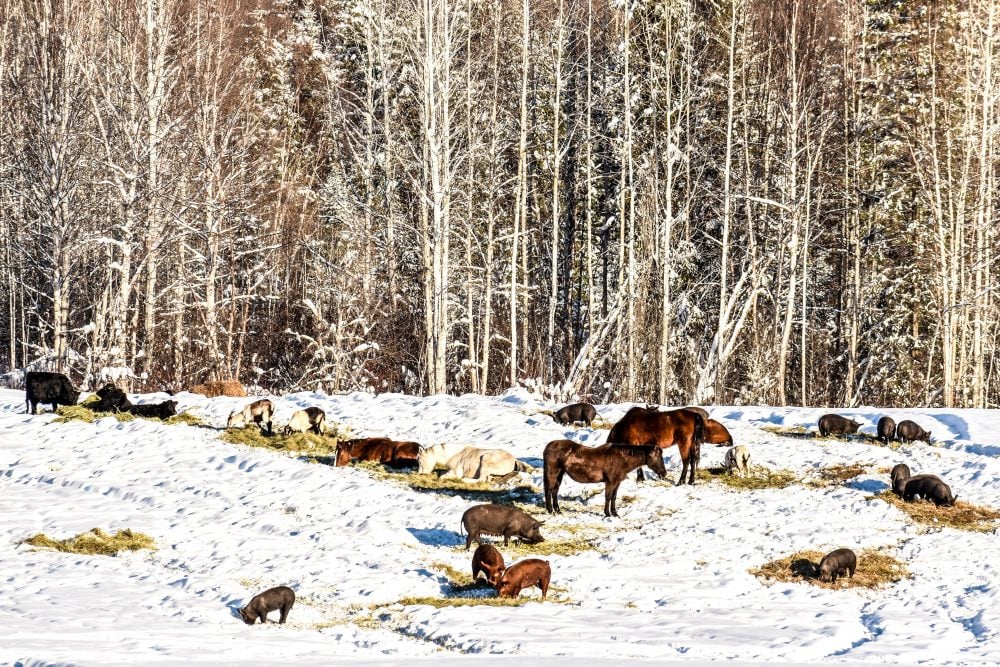 Come spring, that hillside was thick with green grass, while the rest of the pasture suffered in the wake of a year-round stage-4 drought. I wrote about this in more detail at the end of last summer, when we had really seen the benefits of that hay "treatment" over the winter.  The difference was stark, but by then I had stumbled across something called "bale grazing", a Regenerative Agriculture method that prizes the hay waste and poo left behind as a no-extra-labour way to build organic matter on top of depleted soil – and reduce the cost of feeding hay (in terms of running machinery), as well as the hay required the next season (given that your grass grows better the rest of the year). Here's the list of benefits I discovered just in our own pasture:
1. Mulch. Mulch is a wonderful retainer of moisture. The wasted hay stalks had covered the damaged soil and kept it from drying out early on.

2. Seed. Hay is full of grass seed. All the uneaten seeds had fallen through the stalks and planted themselves in the moist environment.

3. Fertilizer. Horses and cows poo where they eat! So by unwittingly concentrating their eating area to this hillside, we had also concentrated their manure distribution. We get a hard freeze in the winter for at least a week at a time, which I understand kills the worm load in the manure – we can leave it in the field and not compost it first.

4. Organic material. While grazing removes organic material, hay waste (and poo) actually add it. This area will continue to break down and regenerate as the dead grass returns to the earth.

This hill had been mulched, seeded and fertilized without us lifting a finger.
Neato!
Scaling Up the System
Last year was – unbeknownst to us – a pilot project in bale grazing. This year, with more cows in our herd and the arrival of Montaro, Juno and Jax, we need a new bale every two days, which is more often than we want to ask our hay man to deliver to us. Having seen the light of how we can leverage our winter feeding bills into increased summer pasture, we also want to "apply" our newfound "fertilizer" to other parts of our depleted fields. We still have no tractor, so we can't use one to feed every day. Here's how we're scaling up our experiment this year:
Calculating Hay Requirements
We calculate that, with 8 small cows and 8 horses, we will need to feed one bale every two days. This is based on an average intake of 25lbs per animal, which is more like 30lbs per horse and 20lbs per cow (all based on a percentage of their weight). From there we can fairly accurately calculate how many bales we'll need, based on the number of months we expect to feed hay. This is a little harrowing, because we don't want to order too much and lose money, but we REALLY don't want to order too little and run out. But once I could see that yes, for the most part we go through 400lbs or half a round bale every day, I could be fairly confident that my total bale numbers were correct. For 7 months of hay, we need about 105 bales.
Setting Up Stations
We order several weeks' worth of hay bales at a time, and our hay guy sets them out in our field at a "station". They go out in a long line, and he pays attention to the direction they were rolled up into bales, positioning them so that, when the strings are cut, the bales will roll in the direction I've specified (ideally, downhill!). One bale is rolled out, and the rest are thoroughly tarped and weighted down.
Over the course of the 7+ months we need hay, we will create about 7 or 8 "stations". I keep track of where we've already fed, to make sure we can get as many areas as possible treated this winter.
Feeding Routine
Every two days, I bully either my mom, my husband, or a hapless guest into "rolling one out" with me. We peel back the tarps, roll the hay bale free of the row, cut the strings and remove them, and then slowly roll the whole thing out across the pasture. This allows the whole area in front of the hay station to be "grazed" – leaving behind a thick mat of trampled hay waste, seed, and life-giving poo. Even by hand, this process takes 10 – 30 minutes, and feeds 16-20 animals (the goats come out to graze too) for about 48 hours.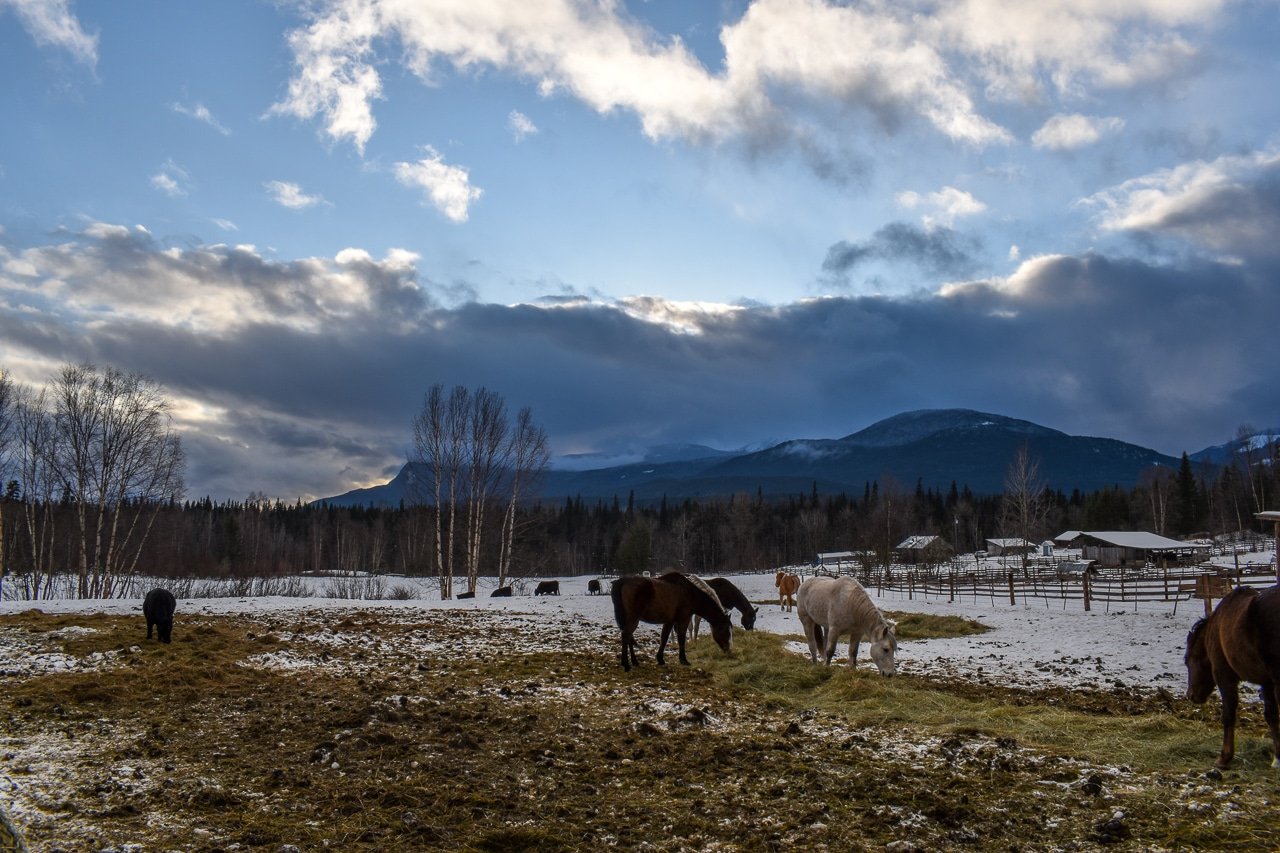 Weak Points
The system is far from perfect! I'll be the first to admit it. The bales are friggin heavy, and sometimes they freeze to the ground. Much huffing and puffing ensues. They are not completely even, and neither is the lumpy pasture, so they never roll straight and my dreams of uniform rows of hay-waste-and-poo application have gone out the window.
Sometimes the bales come with a "rind" – what we call the thick frozen matting of rotted hay and dirt where the bales have sat on the ground, either in the field or in the farmer's storage barns. Or, the bales are wound really tight and just don't want to unroll as we push them. This means we have to kind of work them as we go, pulling off chunks until the rest gives way.
My first attempt, made before the freeze, used electric net fencing to protect the tarped bales from the monsters – I mean cows and horses. But then I had to contend with moving the electric every time I fed a bale, and everything being frozen into the ground (I had to bring out jugs of hot water to melt the ground enough to move the posts), and finally the grounding rod not having enough moisture to conduct electricity! Once the cows knew it wasn't going to shock them, they set about scratching on all the posts until they broke, climbing over and under the fences, and encouraging the horses to follow suit.
By the time I got the second delivery, we had no way of driving electric fenceposts into the ground, which was frozen solid with only a little snow – nothing to hold the posts upright. Besides, I couldn't ensure that my second grounding rod would be any better than the first, so what was the point? We double tarped the bales and hoped for the best – which didn't happen, of course. They found weak points in the wrap and made new holes of their own, feasting out of rips in the tarp and generally messing with the system!
On-the-fly Fixes
There is no real fix for the physical exertion part – except I could conceivably drive a 4×4 truck or car in and push the hay bale with the bumper! Maybe one day I'll need to – but with two people we can pretty much manage, even when the bales are stubborn. With any larger or heavier bales we'd be in trouble, though. In that case, even a little tractor (if you had one) could do the trick, since it wouldn't have to actually lift the bales once they were in place.
I still haven't had a brainwave on how to deal with the electric fence situation. If the right area allowed it, I could use my lightweight arena panels, I suppose. But I don't have enough to go right around, and so I'd need the bales to be against the fence – which can't always be the case, depending on where I place the hay station. The horses and cows get bored of the rolled-out hay on the second day and start eating the forbidden bales mostly for novelty – they like a challenge, they like helping themselves, and they like the tactile game of pulling hay through hard-to-reach places.
So instead, I'm using a distraction tactic. When Jini sent up the three geldings, she also sent us a round-bale sized hay net. I push out an extra bale, take off the strings and net it – voila: a ready-made hay toy, something to chew on during the in-between day when the hay isn't fresh but isn't all gone, and to direct their monkey energy onto something other than our vulnerable hay tarps!
Feeling Smug
It ain't perfect, but it's working. I look out at the mess of frozen poo and wasted hay getting trampled into a thick mat on top of the snow, and I feel decidedly smug, predicting that I'm going to see something other than hawkweed and buttercups here next year. We had a desperately wet fall, and the moisture held in the ground will further accelerate the grass growth when the soil warms up. But that will also set us up for the next time we do experience drought, because the organic matter the horses and cows have applied for us – and the resulting network of grass roots that will grow – will retain more moisture and protect our soil from drying out and killing off the forage.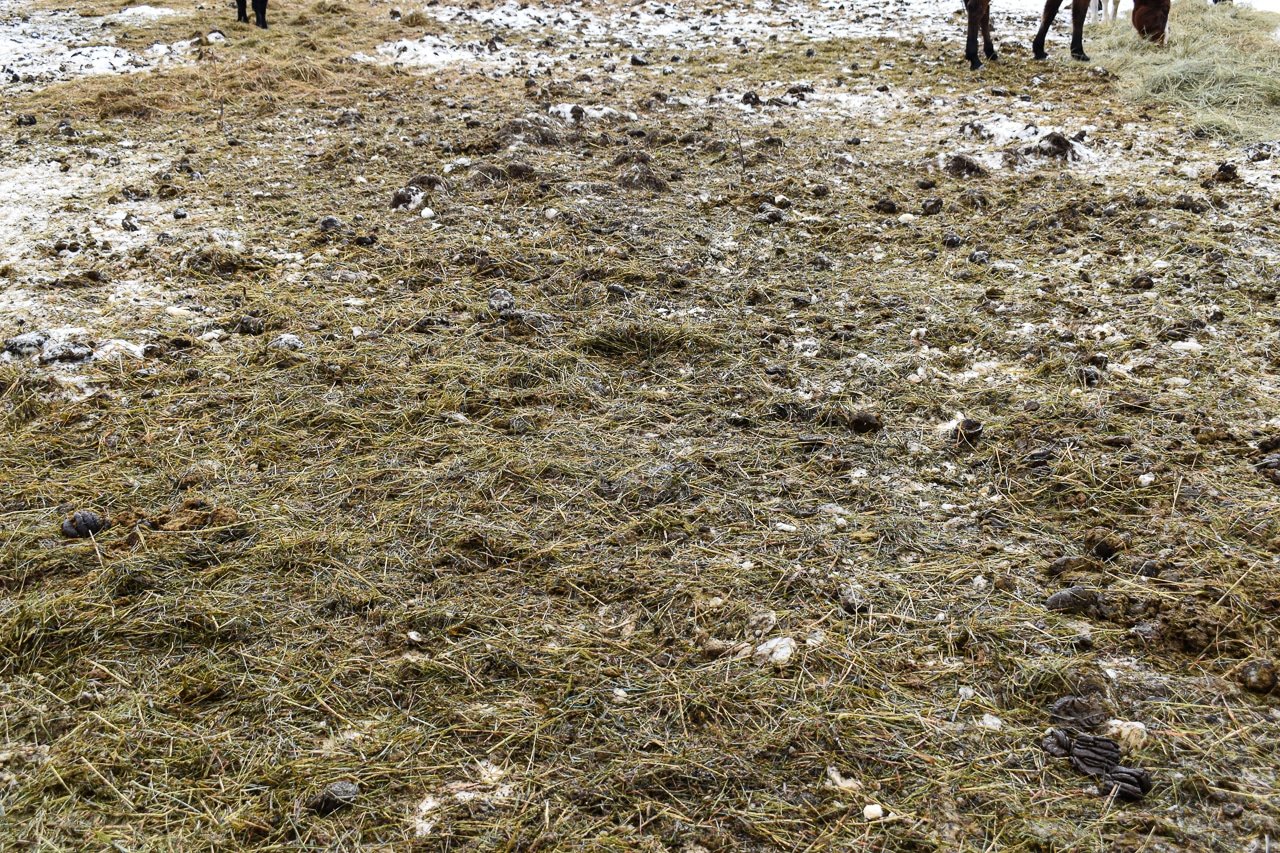 Our next task before the thaw will be to hand-sow a seed mix that brings in more varieties of legumes and grasses than the usual hay-seed – which will benefit both the animals in more varied nutrition, and the ecosystem diversity. Then, when the grass is growing, we will split the field into two and rotate the herds quickly enough that the grass doesn't get grazed down below about 6 inches. More on that when we've actually done it!
Back to the here and now – this experiment itself is fun, and it also solves a very real and basic problem for us: how to feed this many animals without a tractor. But the real satisfaction is in taking a big step into regenerative practices, and having a vision for how our actions, now that they're getting more conscious, will affect our farm into the future. I used to feed from a place of scarcity – how much is this costing, how much are you wasting, how fat are you getting, please just be more reasonable – and now I feel like we're feeding more from abundance, because we can see it all fitting together into a more bountiful possibility. Only time will show us if it "works" but I've got a good feeling about this one.
How We Feed in Winter to Build Soil & Grow More Grass
A barefoot hoof trimmer, a singer/songwriter, an amateur farmer – these are some of the hats Kesia Nagata wears when she's not full to bursting with wondrous equine co-creation.