It's now been over a month since Montaro, Jax and Juno climbed onto a trailer bound for the Kispiox Valley, and four weeks since we brought the two herds – my resident herd of five, and the three lads from down south – together into the Big Field. With large open spaces for running majestically, several patches of forest, a spring water creek and a bit of topography, this field is just under 30 acres but provides a lot of stimulus and meets many needs for our curious, dynamic, explorative animal friends. Hopefully we can fence more land soon, but for now the space is enough, especially since we're feeding hay.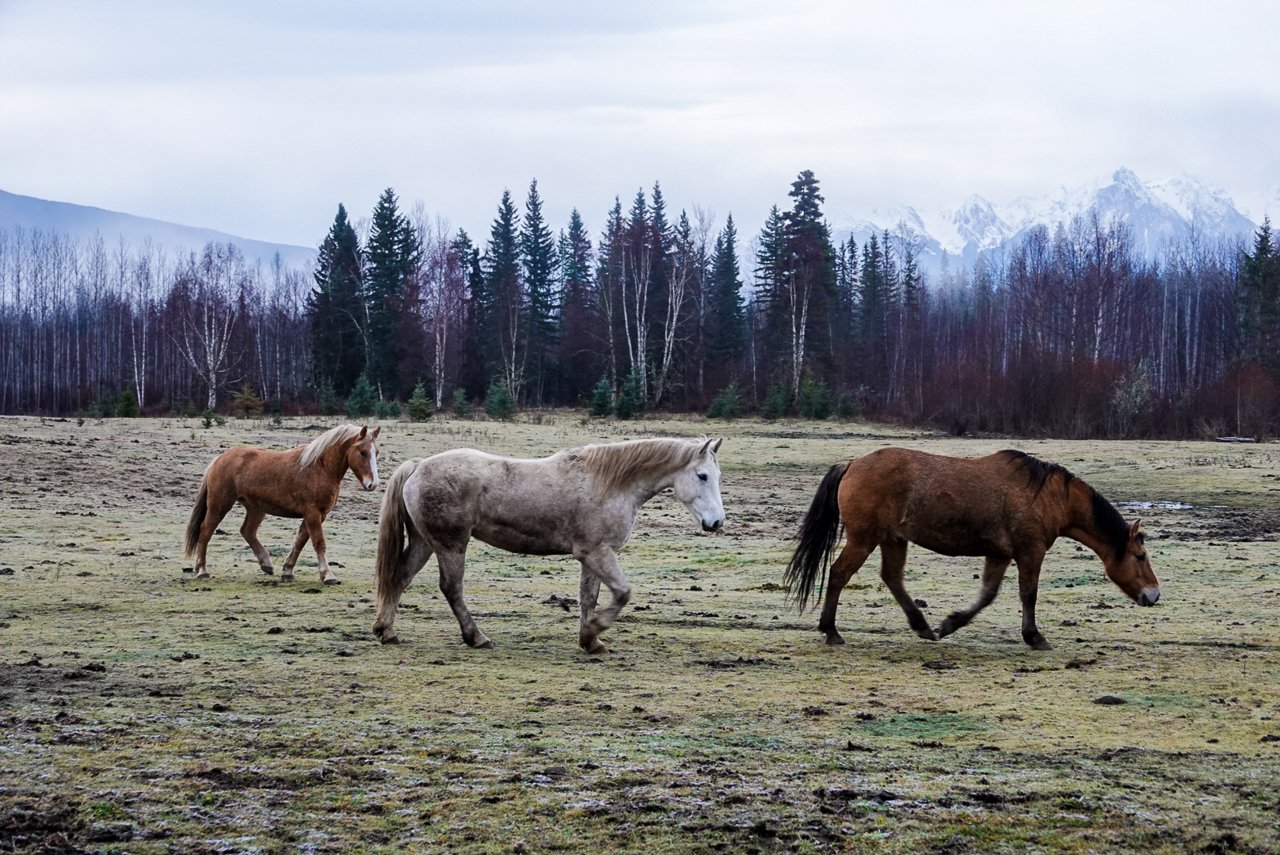 The freeze set in that same day we joined the herds. Since then, we've we've had snow off on, but the ground is frozen solid and the air is cold – anywhere from just under freezing to -16 degrees C. While this is normal for us up here, what was not normal was that the weather held off until late November. After weeks of rain, the two days that the trailer was on the road were clear and bright, and there was no slush or ice on the roads for the entire 1220km distance. And as soon as the boys were here, the temperature started dropping, but not so fast they were hit with a big cold right away to have to adjust to. It was bizarrely perfect.
Luckily, winter coats are stimulated by the shortening daylight and not by the actual temperature! So Montaro, Jax and Juno arrived with thick coats, and, as the temperatures crept down steadily, they showed no signs of concern. In fact, they seemed more at ease and comfortable than ever – maybe because, despite the cold, the dryer climate means they aren't working against the soaking rain when activating their incredible evolutionary hair coat technology. Horses can warm themselves up much more easily than they can cool themselves down, especially when they're dry and can puff up their coats for insulation. In this region, hardy draft crosses like these boys are bred for working in the mountains and thriving in the frigid winter months – so they are completely in their element.
If you tuned in a few weeks ago, you might have seen the video of the two herds convening. They stuck to their groupings and moved as two distinct units, with Montaro running the show, repeatedly moving the home herd off the (ample) hay supply until he was both convinced of his unquestioned rank (at the tippy-top!) and, incidentally, exhausted. This confluence of two powerful but incredibly different herds was fascinating to watch, thundering across this landscape that I know and love so dearly.
While dramatic, there was very little actual violence. The few injuries sustained were from pulled muscles or bruised feet from misplaced steps, and as far as I could see no kicks or bites landed hard enough to swell or break the skin. It almost seemed like a dramatization of a battle, with elaborate lengths taken not to make contact (for the most part). A large part of this was that there was enough space to run without anyone getting cornered, and enough food that everyone had room to eat. But the largest factor was that nobody from the home herd contested Montaro's claims. There is no distinct leader in this herd; each horse steps up to fill whichever role they do naturally. Spero keeps everyone together while Nechako greets the newcomers; Firefly breaks the ice and initiates interactions and movement; Falcon lets the new boys know when they've gone too far and Amalia quietly holds the centre. Nobody has the drive, personality, or motivation to challenge Montaro seriously, and everyone is content to allow him control if that's what it takes to keep the peace.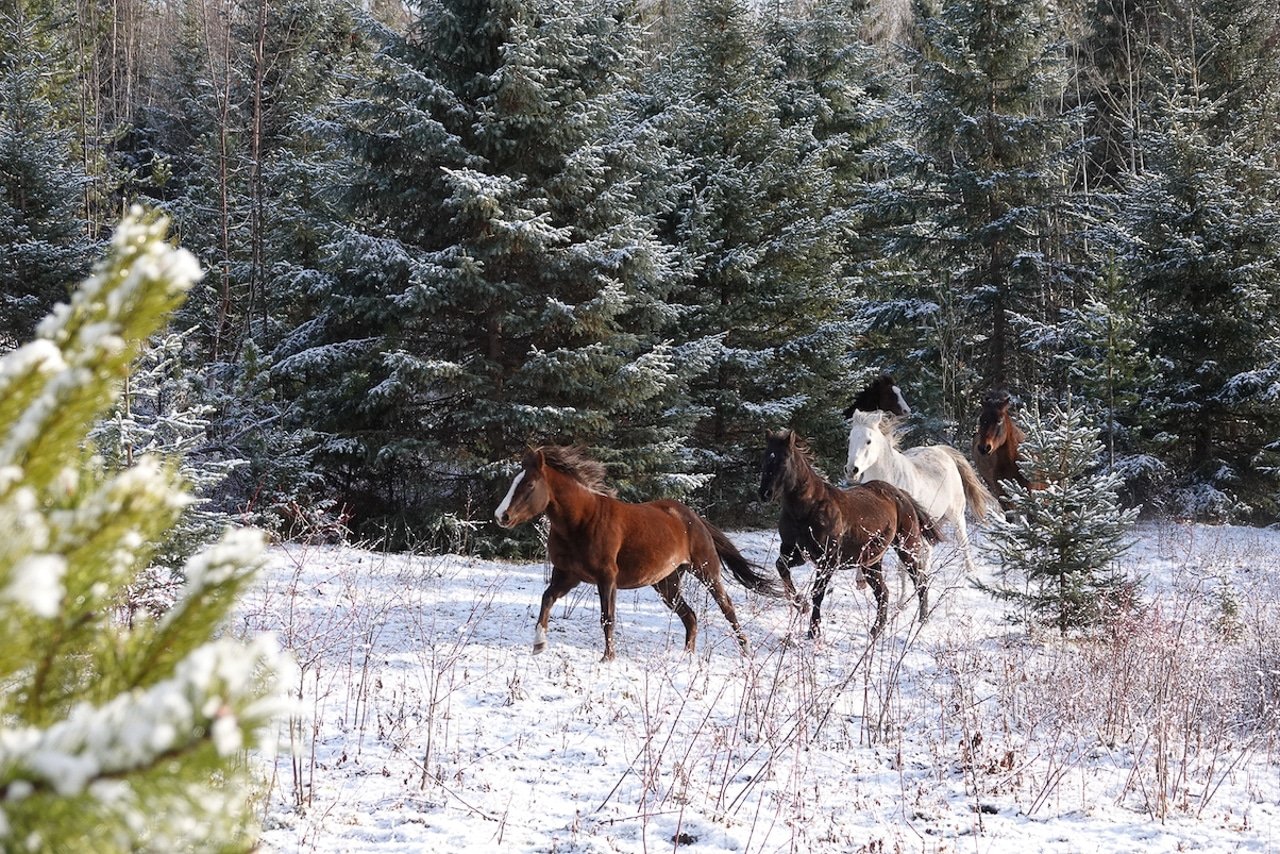 "Rank" or "hierarchy" is rarely a top-down linear situation for horses (the "dominant" horse who can move everyone off feed is not necessarily the "leader" – if there even is one – and vise versa), but rather a fluid, lateral web of relationships. Every herd grouping and every environment generates different behaviour and different social structures. So while Montaro is a naturally confident, king-like being, the lower-density horse-to-space ratio here does not require as much physical direction ("You – there! And you – over there!") as his last environment did, with 11 horses in a much tighter space. Keeping on top of everything is exhausting, and I've watched Montaro quickly take this in. He rests more, and pushes everyone as minimally as he can. He saves the running for fun and exploration now.
The wild cards, though, are the non-horses – the cows, goats and pigs that share space with these horses. Equally offensive and disturbing to the new guys, these strange, unpredictable beings could send three large powerful horses running for the hills, or provoke them to charge. Unlike most horses, all three other species would run away obligingly – but then turn back as soon as they felt safe and advance again.
The cows – a herd of 8 very small Irish cows known as Dexters – normalized soon enough; they share the pasture and therefore hay permanently with the horses, so soon everyone was mingling together. The Dexters consists of 3 mamas, Betty, Adele and Eleanor, two heifer girls, Fiona and Frederica, and three young boys, Gage, Genji and Garnet.
It only took a couple days for the lads to allow the cows to graze amongst them, and now I see them intermingled and even curled up next to each other.
But the goats and the pigs, who have their own areas but free access to the pasture, could come and go. Jax made it his special mission to neutralize the goat people (can't be done), and even Montaro couldn't stand against the amount of sass a single teen piglet can emit. Dogs are nothing new to the boys, and while they've met Louka the Big Orange Dog down south, the other two farm dogs are actually Jini's dog Kumba's sister and nephew. The two boy dogs light up when the horses start running and take off to join the merry chase. And gradually, these various offensive creatures have faded from terrible bogeymen to general irritants and providers of novelty.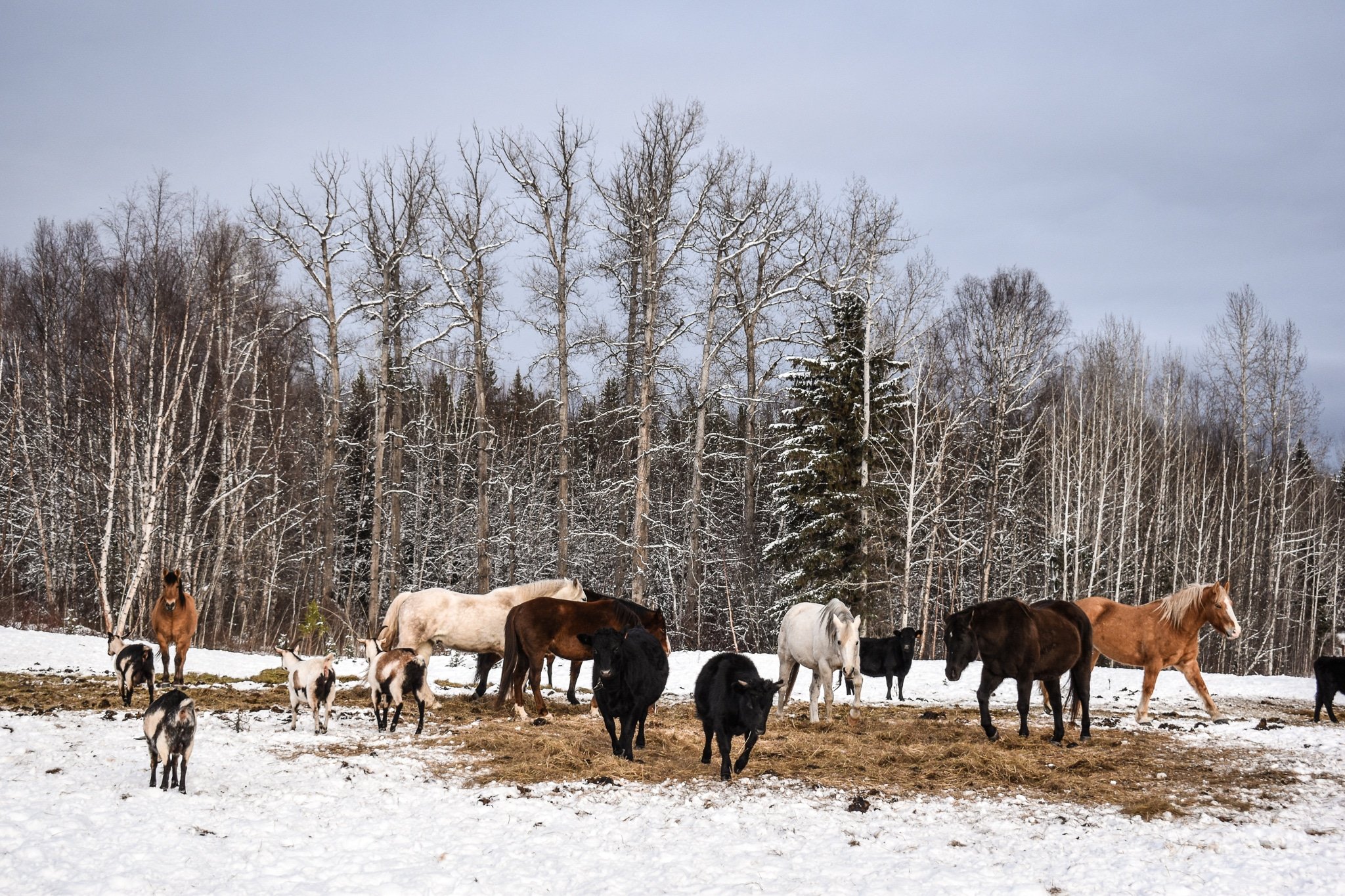 And of course, the interactions between the two groups of horses have become more nuanced and subtle as the initial excitement fades. Little Firefly is a big fan of her new guy friends, and often leaves her family to go exploring with the three boys, or watch Jax and Juno wrestle, or have a quiet meditation with Montaro. I wonder what they're teaching her, and what she's showing them of her world. She seems to love their big juicy energy, but interestingly she has become quieter, more grounded and more mature since they've arrived.
Both Falcon and Nechako take their moments with the three boys as well, eating and sometimes even playing with them. Spero and Amalia, who usually have no visible connection, have been sticking close together, moving in synch like a matched pair. Before the boys came, Amalia was Nechako's partner, but for some reason now she is connecting deeply with Spero. Maybe it's the change – these two have been together since the early days with me, weathering move after move, side by side. Once the dust settles, they tend to separate, but this is the first time I've seen them drawn together for such a sustained period of time.
It's such a gift to be able to see each of them from new perspectives, with the arrival and hubbub of the three lads shifting and highlighting every being's uniqueness. All of us humans are noticing new behaviours, distinct choices and surprising preferences in the animals we thought we knew so well. Its refreshing and endlessly interesting to watch.
And we all carry on; more complex, more connected, more diverse, and more interesting than ever. The only constant is change – and now it seems accelerated somehow, with the arrival of the three lads on the southern breeze bringing a whiff of adventures to come, connections to faraway places and stories we have yet to tell. Anything could happen! Everything will happen! What do you think/feel/see/imagine? Let us know in the comments below… Sending big herd magic and love from our quiet winter sanctuary to wherever you may be.
Merging the Herds – The Three Lads Settle In
A barefoot hoof trimmer, a singer/songwriter, an amateur farmer – these are some of the hats Kesia Nagata wears when she's not full to bursting with wondrous equine co-creation.