I had a full-blown, snot-dripping, throat-aching meltdown at the barn. I was hissing with anger, stomping my feet and swiping the air with my fists, as I punctuated my tirade.
The horses stood where they were when I began my blowout, with lowered heads and soft eyes. A few ambled off as I raged on, while Aude and Kaliah moved closer to me. Kaliah had been following me around for an hour already, standing near me and gazing at me for long periods.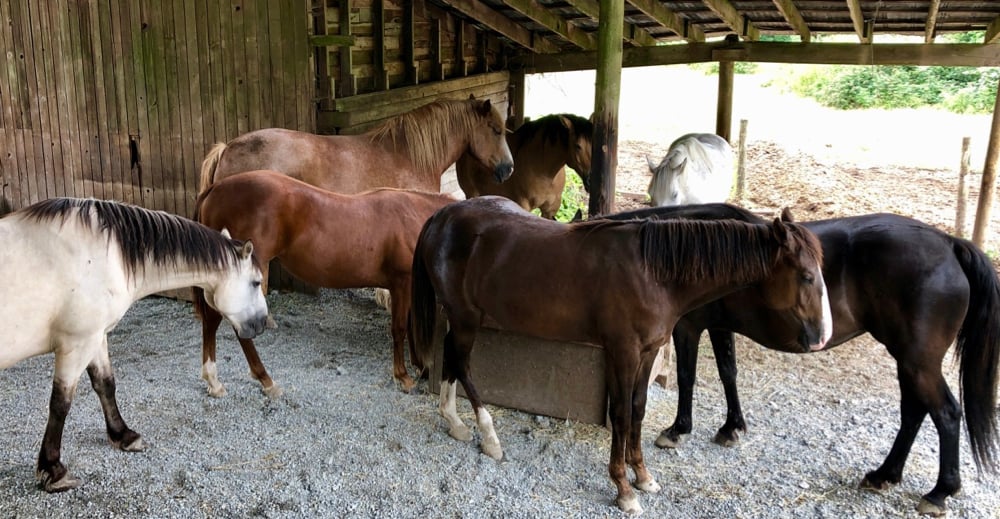 I was so angry at myself for collapsing into Victim whenever things got challenging:
I'm so overwhelmed
Why do these things always happen to me?
Why don't I have help?
Why is it, no matter who I hire, or what I do, I never have enough support?
I can't take this anymore
I can't handle this
I went through this same crucible when I increased from 1 horse to 4 overnight. And then I worked out all the logistics, worked myself to exhaustion, figured out systems and routines, and set up the infrastructure required, and finally… finally I could exhale. And peace returned. It was challenging, but I could handle it, just.
Then for the next year I kept hearing, there's a black horse missing… and although I tried my best to ignore it, after a year or so I caved to my higher guidance. I have always followed my intuition and divine guidance and it has always been for my highest good – so even when my guidance seems downright crazy, I follow it. Keeping in mind, that sometimes things can take a decade or so to be revealed in their full glory and to finally understand why that was in my highest good!
But after the literal hell I went through going from 1 to 5 horses, I put a condition on the universe. Yes, I will take these 6 new horses, BUT, I am not going through what I went through before. I'll do it, but you have to step up and provide us with our own land, or a second piece of land, or something – there's no way I can have all 11 here.
How the universe must chuckle at us.
Caroline Myss talks about following your guidance in her course on Shadow Archetypes. She gives an example where intuition says, 'Quit your job.' And we say, 'Ok sure, I'll quit my job – you show me there's a much better job lined up for me, a better place to live and oh, how about a new love relationship too?' But Spirit doesn't work like that. Your guidance just says, 'Quit your job.' Step off the cliff, like an eaglet, and trust that your wings will work.
I don't know about you, but no matter how many times I step off the cliff, I can't seem to remember that the process is the point! The journey is the reason guidance is asking me to take this leap into the unknown.
Winning the lottery doesn't usually alter someone's state of abundance; most lottery winners are broke after 5 years. The destination is not the point. Being handed the destination doesn't usually confer much benefit, it is the journey to the destination that results in transformation.
So even as I'm ranting and raving, part of me is wondering why Kaliah has been following me around, and why she keeps moving closer to me. As my anger peters out, it turns to tears. I'm not someone who defaults to tears. I default to anger, work my way through that, and then the tears come.
The horses know this, of course, and in the early days they used to hurt me – just enough to make me really mad – knowing it was the doorway in to get me to release the tears underneath. As my sobs wound down, Kaliah had a few big yawns, some licking and chewing. But lord, my throat hurt like crazy. Aude nuzzled/flicked me all over my hands and arms and then walked out into the field to join Montaro. I was a little disappointed to see her go as I thought I was going to get an Aude-style love bath after my ordeal.
I started stretching my neck as I walked over to the big feeder where Xadaa was eating – my throat hurt so much that I hoped stretching my neck would relieve it. As I sat down across from Xadaa, Kaliah walked up behind me and stuck her head between my torso and the barn supporting pole. What an odd place to eat, I thought, two completely open sides and she squishes in here. Then Siyone came over and ate at the other side. I felt enveloped in a soft mare sandwich of delicate creatures, with legs and wills of steel, offering giant hearts and boundless wisdom.
As Kaliah softly breathed near my arm, I felt her say, "Remember my name? The destruction of Kali is hard. But the re-birth and rebuilding can be soft." I felt her wisdom saying, hang in there, the destruction phase is brutal, even though it is motivated by love; by loving desire for your highest good. You're not doing anything wrong, and there's not a lot you can do to make it easier, it's meant to, has to, be this way. But at the same time, she was offering me hope. That the backside of this can be soft. That it won't be hard forever. Just hang in there – and try to release like this more – the ease and softness will come, when it's time.
Remember, the energy of Kali (or Pele) comes through love. The universe lovingly supports us in our journey to wholeness. Sometimes, our highest good involves the destruction, or burning, of things that no longer serve or help us. This occurs so that a more loving, whole person can rise from the ashes.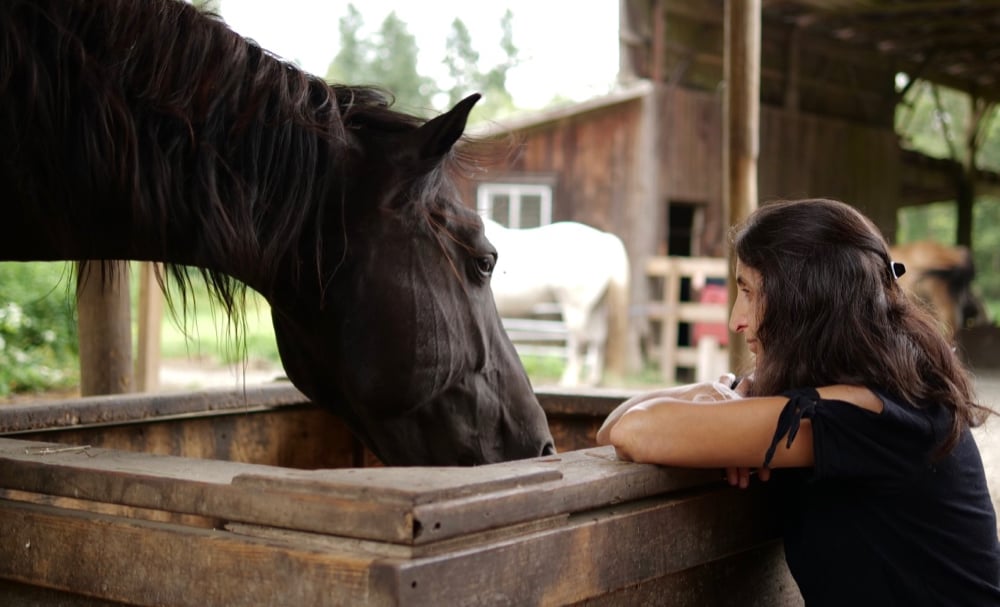 I heard Montaro's voice echoing in my head as it has done throughout this year, "Get bigger." Don't ask for the burden to be smaller. Get bigger, so the burden becomes easy, so it is no longer a burden. Same reality; completely different experience. You can be a child carrying a boulder, or a giant carrying a pebble, the rock/burden has not changed. You are the one with the power to change.
I'm reminded of the immortal words of Viktor Frankl in the Nazi concentration camps saying,
"When we are no longer able to change a situation, we are challenged to change ourselves.

Everything can be taken from a man but one thing: the last of the human freedoms — to choose one's attitude in any given set of circumstances, to choose one's own way.

What is to give light must endure burning."
I realized that I must break this Victim-negativity position I automatically default to. Of course it's generational! Of course my childhood justifies my victim. Who cares?! I must GET BIGGER. In the inspiration created by the horses' circle of wisdom I finally realized a powerful way to transform Victim for me…
Every time I feel overwhelm; why do these things always happen to me? Why don't I have help? I can't take this anymore, I can't handle this… the solution is to force myself to look for what IS working. To wade through all the negativity and identify what I can be thankful for. I don't need to feel grateful! I simply need to use my logical, observer mind to identify any and all positive elements and state them out loud. I started immediately:
I've got this great new gravel and I could afford to pay for it
7 of the slow feeders are still working (only 1 broken one)
I've got hay coming tomorrow that I can afford to buy
Every horse here is healthy
My dogs are healthy
My kids, husband and me are healthy
These shelters are still standing, despite 1800 pounds of Belgian rubbing her butt on the poles. And if they break, thank god I have enough money to have them fixed
My barn help is awesome – I'm so fortunate to have them
and so on
I was then reminded of the God Box. This is a practice I recently read about in Tosha Silver's book, It's Not Your Money. You're supposed to take each thing that overwhelms you, or that you can't handle, or can't find a solution for, and write down 1 item per 1 piece of paper. Fold the paper, offer it to the divine, and put it in your God Box. Close the lid. There. It's not your problem anymore. You have offered it to the divine and the burden of that issue now belongs to God.
Of course, you as the incarnate one, will still need to walk through doors as they open, pick up the phone and make calls, lean in and do your work, etc. But the responsibility for the resolution of that problem, no longer lies with you. You have offered it up to Spirit, and it is now in the God Box. Every few months, you go through your God Box and sort through all of the issues that have miraculously been resolved. If you like, you can bury or burn the papers, while offering gratitude.
This practice has helped me to Get Bigger, whilst not carrying the burden for that transformation on my own shoulders.
When I told my daughter, Zara, about my meltdown and my new plan for Forced Gratitude, I appointed her as my watchdog. I told her the code word is Bubbles. And whenever she notices me going into negative victim, she needs to say, 'Bubbles' to me. That one code word encapsulates this whole process, my learning, my intention, and the space I hold for transformation. Notice how the word itself is positive and fun? No one can catch me in my shit better than my kids or husband – they are the ideal watchdog helpers.
Code words work particularly well because they are not accusatory, nor do they carry blame, nor does anyone need to repeat the same tired story we already know. They are simple, clean, helpers. My husband and I have used them with each other for relationship issues. And my kids have found them a clean, non-nagging way to help them shift an undesirable behaviour pattern.
With my new code word and my daughter at my back, this practice turned something that felt like a never-ending mountain to climb, into a game.
It no longer mattered that I felt overwhelmed, or alone, or powerless. Those emotions could remain, I didn't need to get rid of them, or shift them, or transform them. All I needed to do was look around and force myself to list, out loud, anything (no matter how tiny) I could be positive or thankful for – I didn't need to feel that way, just to objectively list the things that were good right now, in this moment.
It's not a case of 'fake it 'till you make it' Because I'm not trying to make myself feel grateful. I'm simply exercising my will and self-discipline to choose what I want to focus on, in that moment. Remember Viktor's solution to powerlessness: "Everything can be taken from a man but one thing… to choose one's attitude in any given set of circumstances, to choose one's own way."
My friend Jenny from the UK is also visiting and she gave me another powerful image to think about. She said, "It's like you're digging a hole to plant your fig tree, but you're using a teaspoon to dig with. So although it needs to be done, it feels like such a big task; so overwhelming and exhausting. But that's not because of the hole (the task that needs to be done). It's because you're using the wrong tool. If you switch to a shovel, all of a sudden it's so much easier and faster."
Montaro's words come floating back to me, "Get bigger." So maybe it's not just me that needs to get bigger, I need to vision bigger, think bigger, and be open to finding/using bigger tools!
Stay tuned for Part 2, where I'm going to share the significance of my throat pain/aching – and the simultaneous throat issues of our cat Rupert and baby Xadaa choking, that made me explore: What the heck is going on with the throat??
Meltdown at the Barn – Dancing with Victim – Part 1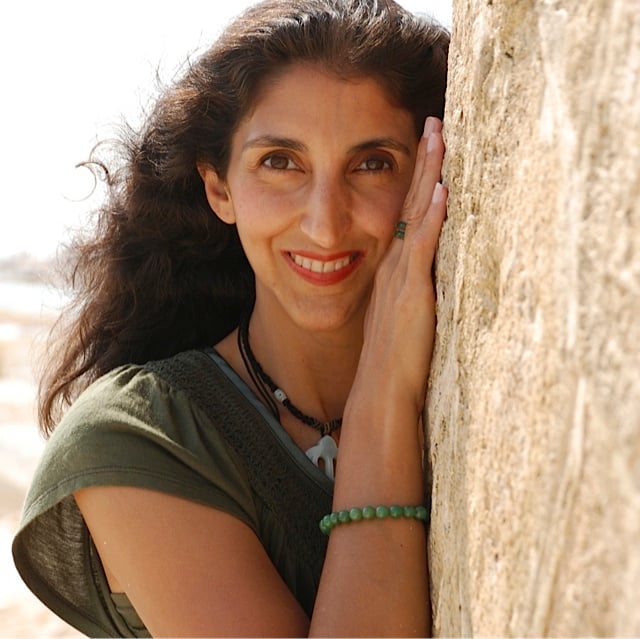 Jini Patel Thompson is a natural health writer and Lazer Tapping instructor. She began riding at age 2 in Kenya, and got her first horse at age 8 in Alberta, and so continues a life-long journey and love affair with these amazing creatures.