I received an email from a fellow horse listener in Italy, who had just watched the video with Audelina and Ben (another horse listener visiting from New Zealand). And this is the story she told me of what unfolded as a result. If you ever wanted PROOF that we are a completely linked grid/matrix/haynet, you're about to get it…
Note: If you haven't watched the 2-Part video series with visiting horse listener Ben Millin and the herd then I suggest you start there. At least watch Part 1 and then come back here…
Those two videos have hit a very powerful chord with people worldwide (the comments on YouTube are amazing). And then I received this email from Elena, living in Italy, showing that time/space/location mean NOTHING, we are all completely linked:
"As I am writing this, both my hands are pulsating, so I can barely hit the right keys. These waves move up my arms and meet each other in the center of my heart. It's a jumping crispy energy that joined me after what happened yesterday morning.
I heard your voice in my head, describing it as a, "you can't make this shit up moment." And I had to share this with you. It all started when I was listening to Ben's first video. My dog companion, Olof, was laying right next to me, listening carefully as well. As Ben was talking about his masculine and feminine, and the experiences he's had in the human world, Olof began to flood the whole space with his energy.
Olof embodies the masculine in a way I have never seen before. It comes from the divine source deep within his soul. It is sooo powerful and pure, so wise and understanding. It has this deep knowing of: IT IS. It must be.
So Olof came forward and said: "He (Ben) has to come to me." And he was also a bit mad at the "masculine" we as humans often meet, because he was like, "That is not the wise, real masculine…"
So a couple of weeks passed and yesterday, Olof, being this big guardian and wise man, guided us through the land. Ilvy (my female dog) and I followed his strong steps as he walked like an ice-breaker-boat in front, creating a safe triangle for us to follow in.
We came up a small hill and there were two horses in the middle of a wild overgrown field in the middle of nowhere. The one horse shielded his energy immediately, as he was not interested in contact and I felt he also wanted to give space for what was about to happen. The little mare and I started to share space (her horse energy was new to me, as I haven't met a lot of horses in my life).
I saw that both horses were tied up with a short rope to some little bushes. The mare had tangled her rope around three sticks, leaving her rope so short, she couldn't move at all. We (her and I) unlocked the ring that connected the rope to her face. She elegantly moved passed me, now freed from attachment, and started to graze. As she moved past me, she held her head in a very weird and to me uncomfortable looking position, revealing some letters that were once written on that halter. The letters said: BEN.
Ok so you see, Olof, a wise man and this king guided me to a female, completely tangled in her rope, not able to move at all (not even in the short radius of 3 meters the rope gave her), with a halter on her head with the name BEN on it!! In Italy where Ben is not a name!!
Oh right now I feel my heart pumping so deeply! That is just wild.
Today I visited the mare again. Last time I let her free, since I felt she would stay near her companion anyway, and that's what she had shown me. I found them in the same area, tied up in another corner of the field. And what happened then was just — oh I have no word for it, especially in English. For some minutes we were just ONE.
She explored my bag, every curve and opening of my face, my heart, and allowed me explore hers as we were both in our form so new to each other. She has a lot of wounds from the chains. I helped her pick the rosebuds she couldn't reach in the bush she was tied up to. Then the dogs and I carried on in our walk. When we walked back they were gone.
As I am writing I am still so in awe and wonder.
I saw this video; my dog stepped forward with his offering; then guided me to a tangled, tied up female with the letters BEN, in Italy.
Olof kept saying: Connect.
That is a place I first don't want to enter, but then I feel and I follow my guidance, even if there is still a conditioned fear in me that says: leave him alone (haha even that sentence shows how absurd this condition is) and don't follow that truth. But I will act and listen to that voice of my soul speaking through my heart.
I am Elena, age 21, I come from Germany and am on my path to finding the place that calls me home.
Thank you. I wish you all my love in these days that were once called nights listening to the dark and the silence and connecting."
More Miracles in the Singing Horse Matrix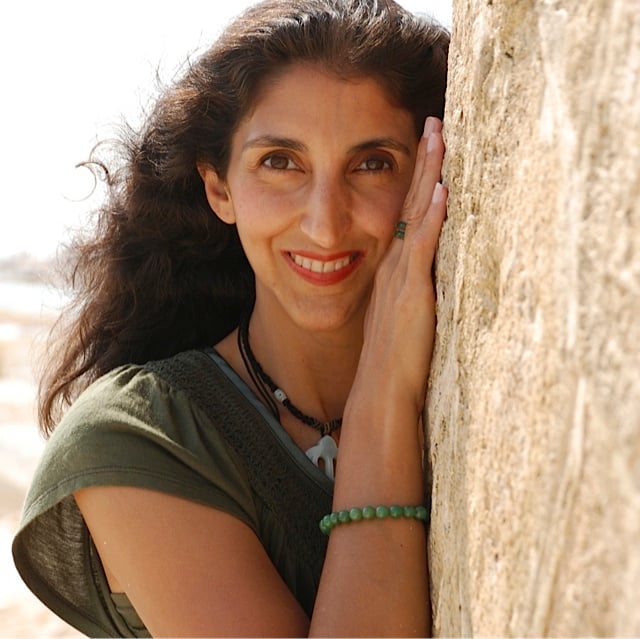 Jini Patel Thompson is a natural health writer and Lazer Tapping instructor. She began riding at age 2 in Kenya, and got her first horse at age 8 in Alberta, and so continues a life-long journey and love affair with these amazing creatures.