When we first enter into a deeper, more magical relationship with our animal partners, we may think that everything is going to be amazing, filled with love, and sometimes downright miraculous. And it is… but. It is also going to be overwhelming, confusing and sometimes panic-filled!
I found an old journal from 5 years ago and it contained my notes from a Shamanic Journey I did with Linda Kohanov in November 2016. Tucked into the journal were also emails from two friends (in different countries) with psychic predictions/information about me and the Singing Horse Herd. Five years later, I was gobsmacked by how much had come true.
So let's rewind… 5 years ago I had only 5 horses; Zorra, Montaro, Jax, Aude and Juno. We had just been kicked out of our boarding situation – where I had signed a 1 year lease, put up a pole barn, and paid for gravel to be spread all over the paddock area. But the landowners (who'd never had a horse before) were so inspired by my crew that they purchased a slaughter rescue, literally overnight. She arrived the next day and my herd completely rejected her. We tried for 3 weeks but Big Mama was adamant this little black Arabian was not allowed in their ecosystem. What could I do? So I moved them to the property we're still on now.
This property had been used for cows for over 50 years and in the last decade had fallen into complete disrepair with only the house rented out. I worked like crazy for 2 months to get it fenced, repaired, cleaned up and ready for my herd.
Three months after that, I was in Arizona at a workshop with Linda Kohanov and Kim McElroy, in a darkened room with music playing and Linda's voice guiding me on a shamanic journey…
Linda asked, "Why are you here?"
To teach, to embolden, to hold space for possibility.
Five years onward, here's what I found written in my journal at the end of that shamanic journey:
I am the black horse in my herd. My left eye is blue my right eye is brown. I am neither gender, I am both, like my eyes.

I have a tiny white speck on my forehead and a thin line of silvery white running through the outer middle of my tail. My four hooves are silvery white and they give off a glow and sparks as they strike the ground – magic hooves. The rest of me is jet black.

I gallop in front with Juno behind/flanking me. Montaro and Zorra are out on the left and right wing. Taro is on the left and Zorra is on the right. Aude is behind, like the point of a triangle. Jax dances in and out, scouting ahead, then dashing back to relay information.

As we gallop we transform to: elephant-dolphin-whale-back to horse. The landscape also changes from desert to mountains with crisp cold snow. When it becomes snow my physical body begins to feel cold. So I shift position and my torso begins moving in a spiral, then clockwise, then counterclockwise. I am no longer cold.
As my journey reached it's close, I was given this message:
As I am part of the multi-dimensional matrix of life, I am not solely in charge of finding our land. That may come from someone else in my Web. I only need to walk my journey, as I am led, one step at a time. So I need not feel any urgency or pressure. It is not all on me.
***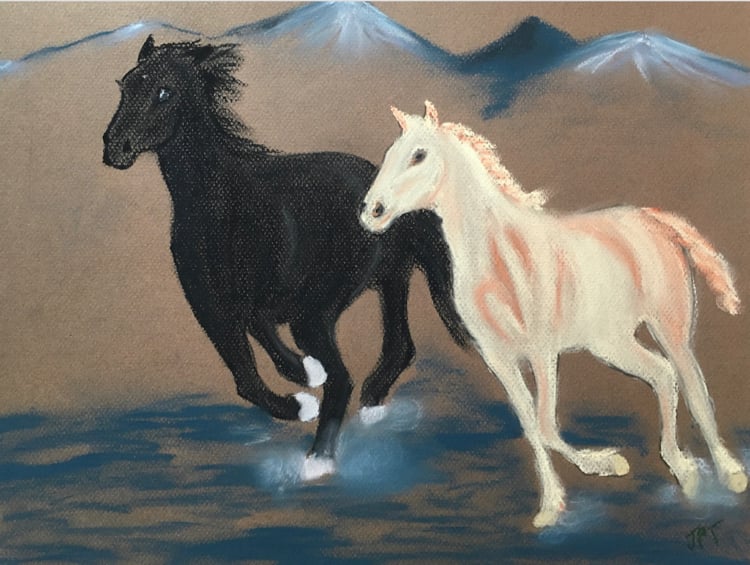 So with the benefit of five years of hindsight later, here's what jumps out at me from this shamanic journey (guided meditation):
I am the black horse in my herd. My left eye is blue my right eye is brown. I am neither gender, I am both, like my eyes.
Oh.my.gosh. Both Kaliah AND Makah were IN this journey – 3 years before I'd even met them! While they were still running wild on their range 200 miles away. Kaliah is the black horse. And she has a tiny white star on her forehead. Makah has one brown and one blue eye – his left eye.
Jax dances in and out, scouting ahead, then dashing back to relay information.
Jax is part of the Singing Horse herd but not running in formation with the herd like the rest of us. He is going ahead, weaving his magic, bringing it back, leaving again. Sounds exactly like what he's doing now with Moonlight Mountain. And Jax recently asked to stay with Kesia and his mountain.
The landscape also changes from desert to mountains with crisp cold snow.
I believe this encompasses the land from California (which we need for elephants, whales, dolphins) all the way up to Kesia's place. The only other place it could be is Mexico. Or maybe Africa – I'm sure there's some coast off Africa that has dolphins and whales! This is all part of my long-range vision to have a mustang & elephant sanctuary – supported by a clothing company of the same name. I'm not ready to officially begin that yet, but I've started laying some groundwork.
I had also forgotten that the elephant-dolphin-whale-horse circle came from this journey! In my journal notes I also drew it as a circle.
I am no longer cold.
Jax did this for me in a session with Kaliah and Juliet a few months ago. It was the beginning of winter and I was bundled up in a downfill coat, toque etc. He told me to take off my jacket and then he hooked me up to a stream of energy flowing from Moonlight Mountain. I stood there jacketless for 20 minutes as Kaliah and Juliet worked with my shoulder and Jax streamed energy to me from his mountain, and I was just fine! And I no longer fear the cold. I still get cold from time to time, but I'm not afraid of being cold.
***
Tucked into the same book that contained these notes, were two separate emails from friends of mine – one in the U.S. and one in Canada.
In the first email, my friend Dee received several psychic visions where she described land that sounded exactly like the property we're on now. She received instruction to look 'closer to home' for our land – to consider land that was similar to where they currently were/are.
The second email from an old school friend, Nikki, described her seeing me in a field 'that looked big, but wasn't, ringed with trees' (again, the property we're on now!) and I had a circle of youth around me, many of them troubled, with a buckskin (Montaro) in the center with me. She said, "Are you working with youth?? Is this already happening?"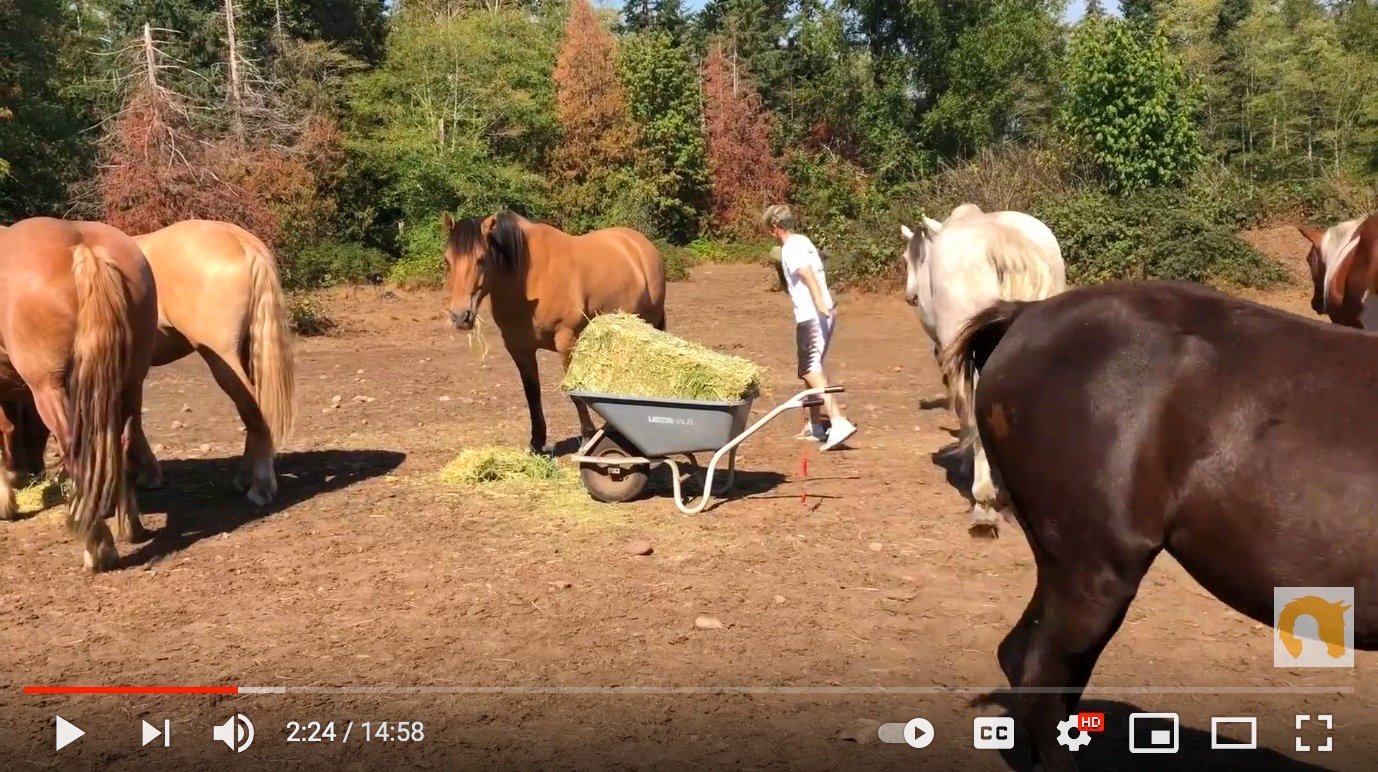 SO interesting in light of where we are now… the horses have significantly impacted the lives of 17 youth to date. All friends of my own children. And 7 of them work regularly at the barn! So no, I don't 'work with youth' in any traditional mode of therapy or lessons, etc. But I most certainly do educate/help youth on a regular basis!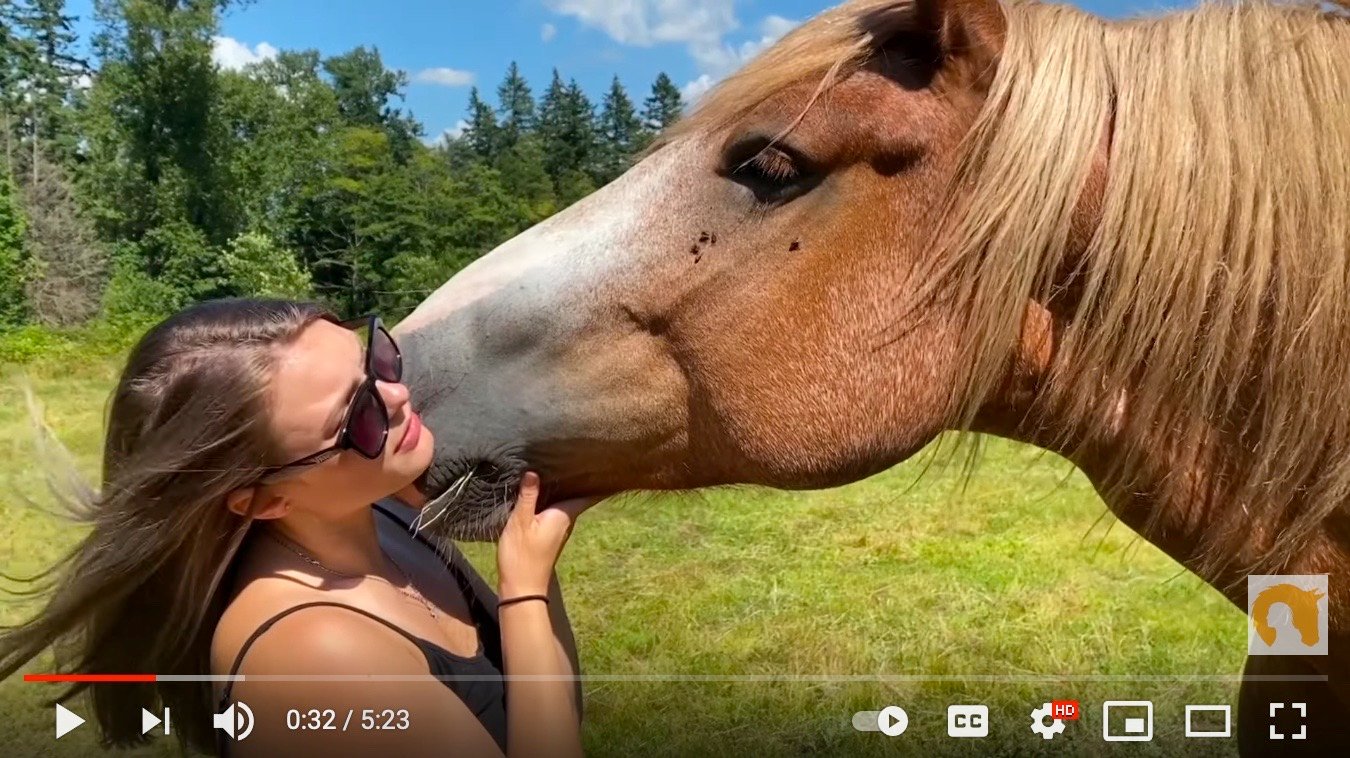 ***
This makes me realize that – yet again – there are far bigger/deeper elements at play here. Although I will keep 'walking the path' of manifesting larger land for us, I also have a sense of peace/rest about it. That ALL is going according plan and as Montaro told me again, not even 3 weeks ago, I just need to action the very next step in front of me. And let the rest go.
As I sink into that knowledge/reality… it feels bloody marvellous.
Shamanic Journey & Psychic Predictions from 5 Years Ago!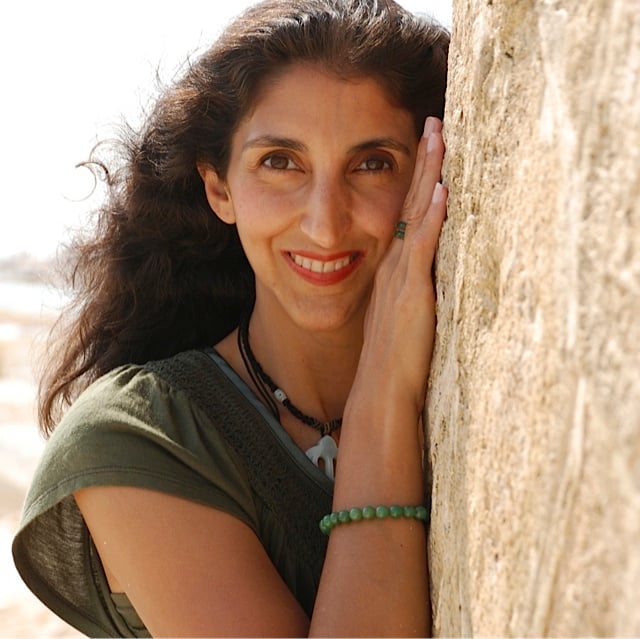 Jini Patel Thompson is a natural health writer and Lazer Tapping instructor. She began riding at age 2 in Kenya, and got her first horse at age 8 in Alberta, and so continues a life-long journey and love affair with these amazing creatures.