I've always loved rocks and like many of you, have always been drawn to them. I notice them when I'm walking along paths, or down by the beach. Some of them ask to go home with me, some of them ask to be thrown into the lake or ocean. Some of them just want to be played with, or have their smoothness rubbed for a time, and then be put back before I leave.
Thirty years ago I worked a lot with crystal and gemstone rocks for healing purposes – that was cool. But today I just want to talk about ordinarily beautiful field rocks.
A few months ago, the black horse Kaliah, asked Juliet and I to sing to the earth. Ummm, okay.
Having NO idea what she meant by that, we headed out onto the land and just opened up to play; to allow whatever sounds wanted to come out of our bodies, at whatever volume they wished to emerge. Juliet went one way, and I went another. As the days and weeks evolved, the land began to reveal her secrets and we had amazing interactions with the wind, trees, huge slabs of rock under the earth, ancestors who once walked this land, eagle, hawk, woodpecker, the horses (of course!), the soil, fungi, and messenger rocks.
Most of these experiences are bona-fide out there, so they are reserved for the Singing Horse Apprenticeship program. But I can tell you, right now, about two magical encounters with rocks strewn around the pasture that called out to me, on two separate occasions.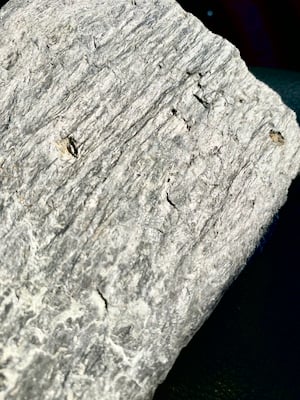 The first cool story happened as I was climbing up the little hill in the middle of the pasture and a flash of silver caught my eye. Half buried in the dirt was a good-sized slab of super shiny grey/black rock, "This is for Millan [my brother] because he likes shiny things." Well alright then! I washed it off and it is indeed super shiny – hard to even catch it on camera, but in sunlight it sparkles like a slab of diamonds.
Millan hadn't been out to the barn for a couple of months as he was going through a hard time – I had barely seen him myself. So I left the rock at the end of the bartop in the living room at my mum and dad's place – for him to pick up the next time he was there. My parents are equi-distant between us, so Millan sees them more than he sees me.
But here's the thing: Every time Millan went to our parents' house, he forgot the rock. In fact, he forgot it before he even arrived, so weeks passed and he still hadn't even seen the rock! Then one evening, we were both at my folks' house and we both completely forgot about the rock – neither of us even saw/noticed it. At that point, I realized what was going on.
Millan exclaimed, "That rock is like the Sword in the Stone – only one who is worthy can have it!" He joked, but we both knew that he had to do ceremony and get his energy straight before he would be allowed to claim his gift. Once he did so, the next time he went to our parents' house, he saw his rock and after a quick "thank-you" was able to take it home.
My next encounter with Gaia's offering happened as I was walking in the far back pasture, checking the fenceline after a windstorm. As I tromped along the path the horses had made, this startlingly pink rock caught my eye. I just stood there and peered at it for a while – no I did not want to pick it up! I even rationalized to myself, "Oh that's such a soft pink, I wonder if that's a rock for Juliet?" Oh the way our brains try to side-step when our soul is leading us deeper into our thorny jungle!
Thankfully, I'm fluent enough now to realize when this is happening. So I surrendered to the process and picked up the rock, despite my queasy nervousness. As I allowed Rock to deliver her message, I realized that she kind of resembled a vulva… with a clitoris. Oh lord, what now… as I followed the physical sensations and emotions engendered by this pink rock, I went headlong into the yin/yang aspects of female genitalia. And I realized, "I need to do a Lazer Tapping session on this."
How many of us, male or female, have been sexually abused in this lifetime, or others? This is not a rare, or fringe experience – this is ubiquitous. And the dichotomy of the female vagina and uterus is that it is simultaneously our point of greatest vulnerability (it's pretty easy to rape a female) and our place of greatest power (without being able to grow/birth children, the entire human species would be extinct very quickly). How do we dance with the fact that both realities are held simultaneously within our bodies?
When I returned to the front pasture, after recording the acupressure tapping session, most of the horses were grazing out in the field. And both Cobra and Makah had their penises unsheathed and descended – because they too had things to say on this topic! So I filmed them, along with their message, and my Lazer Tapping members got a dose of horse wisdom too, at the end of their tapping session. Then, just before the end of the video, Xadaa walks in front of the camera and – I kid you not – lifts her tail and winks her vagina at us! No sir, you just cannot make this shit up!!
And it all started with a small, simple little rock.
We don't need epic mountains, or remote wilderness areas, eco-preserves, or wild seas. Mother Earth is waiting to connect and communicate with us wherever we are. Find your little spot – even if it's in the middle of the city. Even if all you can find is an abandoned dirt lot, the soil and microbes (there are more microorganisms in 1 handful of soil, than every human/animal on the surface of the earth) are still ancient and carry the legacy and wisdom of all that is. Connect with these ancients – your intention will give them permission to communicate with you. And then all the magic will unfurl from that. Is the little cavern in Gaia's armpit less important than the broad expanse of her thigh? I think not. Even the smallest rock carries the wisdom and magic of the universe.
Of Rocks, Horse, and Gaia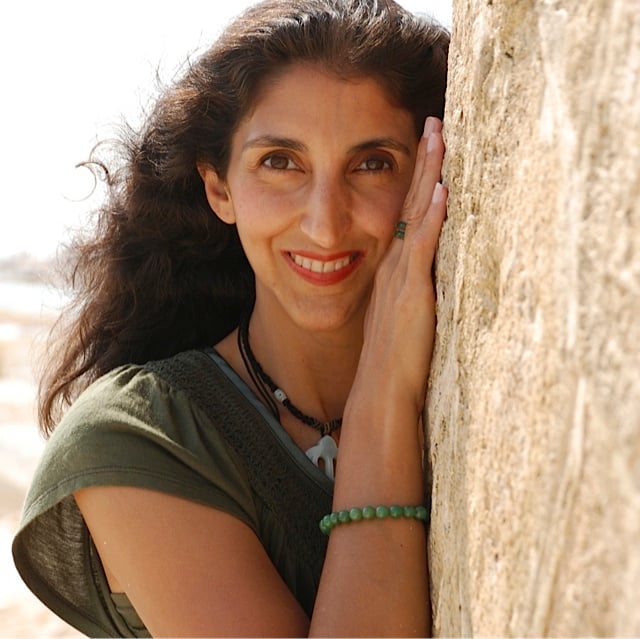 Jini Patel Thompson is a natural health writer and Lazer Tapping instructor. She began riding at age 2 in Kenya, and got her first horse at age 8 in Alberta, and so continues a life-long journey and love affair with these amazing creatures.