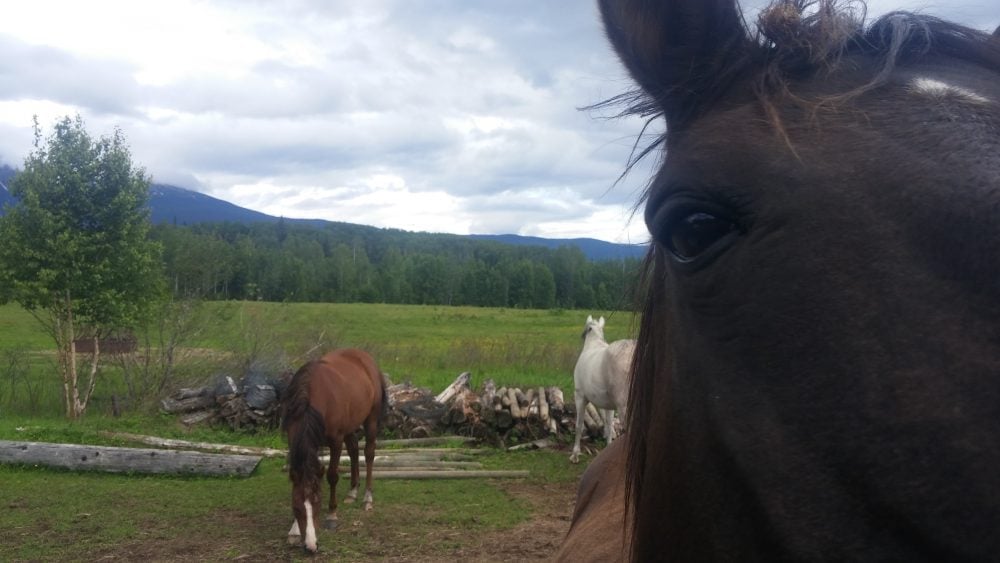 I feel I have been circling for a long time.
What brought me to this land with my animal and human family was a concise, clear, bright understanding of how I wanted to live. Over the course of this year, however, that clarity has unraveled, revealing the spiral shape all significant journeys of the heart and mind seem to take. It's hardly an original thought, but the sense of turning gently (or ferociously) around and around the same issues in my life impressed itself upon me this morning, as I chucked windfall apples to enthusiastic chickens, as I led the gregarious herd of hungry goats to the barn to eat their breakfast out of the drizzle.
It's like this, maybe you know the feeling: you want to get somewhere or know something, but you soon find you must travel the long way from A to B. You keep feeling like you've been here before, but now it's different somehow. Each time around the circle you are closer, deeper; understanding happens on newer, more profound levels every time, until you start to know something in your bones. And you're still not done – hopefully, probably, you never will be. This is learning at its fullest.
There's this other concept, one I am stealing and shamelessly paraphrasing from a workshop with the admirable Arnie and Amy Mindell and their work in Process Oriented Psychology, or Processwork, which uses a circle to describe this process:
At the top, we have enlightenment, in the active sense of the word. An "aha moment" or a new discovery, a sense of accomplishment, victory, or deep peace. This is the good stuff. This is where we want to hang out forever, and indeed usually think we will.
But that state invariably leads to complacency. Think about it: every new discovery that gets absorbed and acknowledged eventually becomes fact, then status quo, and then often dogma. And we like that, as individuals and as groups and societies. We get stuck there, thinking we've figured it all out.
Luckily for our progress, conflict eventually arises. This is the part we hate, that we work to avoid. But it is, essentially, the most important part! It moves us, shakes us, and forces us to reconsider. It's when our new status quo doesn't work anymore.
We enter the next stage when we choose to engage: the interaction with or processing of that conflict. We push, pull, fight or flee, ponder, pray, or pontificate, work it all out however we need to…
Suffice to say that when we move through conflict, we end up changed. We discover something brand new, or we give up and surrender; we despair; we are humbled; we come to new awareness; we learn something; we emerge into some kind of light. And we are back at the top of the circle, only if you imagine it is a spiral, we are that much closer to the centre. It's not futile, but it's slow, and it is thorough – and relatively inescapable, in my experience.
My relationship with my horses has been one continuous spiral to the centre of myself, and the more I think of it this way, the more I see the same process in those around me. I started on an edge and ran as fast as I could toward the centre. I believed that is where I would fully understand, and be understood by, horses.
I didn't like that outer edge, where horses were tools and playthings, so I pushed deeper. I found alternatives, and then found them lacking – or rather the same thing, masquerading as something different. I pushed deeper. Each time I rounded the circle, I was "closer", but still infuriatingly far from anything tangible. I'd discover something new (say, an attractive method of horsemanship or training, or a new philosophy), assume I had all the answers ("this is the One True Path!"), eventually admit that I still didn't ("hmm, my horses seem to be calling bullshit once again"), go through a period of conflict ("then what the hell…"), and emerge with the next piece of the map. Rinse and repeat. Only now I like to think I am less attached as I go, more willing to move through the process, more aware that there is a process, and much more appreciative of it. The lessons get subtler, less jarring, more practical.
The last few days have been quiet, allowing me some space to notice my own thought patterns, hear my own stories reverberating around my skull. I have been surprised at some of them – lessons that need re-learning, irksome thoughts that had once been unthought apparently reassembling themselves when I haven't been looking. I am noticing where I am not being congruent, where my actions don't quite meet my intentions, and attempting to adjust accordingly. Julie Taylor of Epona.tv recently wrote with such clarity and honesty about her own most recent eye-opener, as she came to terms with her own internal conflict around horse training.
…All the time I was asking the wrong question. I was asking how I could feel better about myself without sacrificing my exploitation of horses. Instead, I should have been asking whether I wanted to exploit them in the first place. This is a choice we all make, but most of us don't know it. For me, it was an invisible choice because it was made on my behalf by my culture and my parents before I was born into a racing family. If someone could have asked me before I ever met a horse: "Hey Julie. Do you think it is okay to prod and poke this animal to make her do what you want instead of what she wants just because you feel like it?" I might have said no. But I was never asked that question and so I was unaware that I was answering it every time I made a horse do something that horse did not want to do.

We choose to appropriate the bodies and lives of horses and other animals for our pleasure or amusement. Or we don't. But it is always a choice.

Julie Taylor, "The Path of Most Resistance"
(the whole article is well worth a read)
Just after reading this, while it was still in my mind, I was speaking with Equine Behaviourist Emily McDonald, and she caught me using the word "justify" while I mused about "what next" with my herd. She replied (ever gracious): "I've given up trying to justify the horse habit, they're just family that I care for." And I did a double take. Because I've been there before, and I thought that's where I would be forever: in that deep sense of care, of truly not needing anything from them except for them to be content and whole as beings, and especially as horses. That glorious freedom of actual, simple love.
Not that I'd lost that feeling, but I'd forgotten that framing. The reality of living the way we do here includes a sense of requiring some utility out of all these animals we work hard to keep happy and healthy – when time, energy and money feel scarce, it's hard to maintain the expansive abundance needed to allow every being its own life and purpose. It has felt harder to completely adore everyone and not put pressure on them to produce, to progress, or to prove their inherent worth.
Ironically, I'd been frustrated with my own lack of inclination to DO anything with/to/for my herd, who are, these days, scampering about their beautiful home in apparent contentment and fulfillment, and who have little to no need for me to do much except refill their hay nets and keep the water trough full as winter approaches. My "rewilding" journey had gone through the euphoria of arrival, the development of a new status quo in which I discovered a complete lack of expectation of my horses, and now and again a questioning: "Am I doing it right? Are the horses and I fulfilled by this?" – culminating, this time around the bend, with the realization that we are just getting started, and to settle back and enjoy the ride.
Reading Julie Taylor's blog (upon which I project that she has been spiraling around a concept, learning tons, and gaining ever more insight – all the while sharing with us), and chatting with Emily (who I like to imagine might be on a similarly continuous process), helped nudge me into a quiet new "aha" space.
In this whole "rewilding" experience, the anti-climax has been that all is essentially well. I don't think we're done, we'll never be done, but we've proven that horses are extremely good at being horses when given the space and time to do so, and that it's not all that hard to provide that for them, and now the future lays wide open.
I wonder what the next cycle will be. As I round yet another turning of the spiral, I get "it" just a little bit more, that elusive thing I have tracked through the hinterlands for a decade or more. Every time around the circle, I hook back in just a little bit more easily. I feel my body relax and my scope widen as I notice how connected I actually am, how grateful I am to be on this route. I also remember that this awareness will inevitably slip again – and that I will have no choice but to let it. Because how else will I keep making my way ever deeper into that place that horses take us?
Click here for Part 14 in this series.
Rewilding the Herd – Spiraling Into Horse Wisdom
A barefoot hoof trimmer, a singer/songwriter, an amateur farmer – these are some of the hats Kesia Nagata wears when she's not full to bursting with wondrous equine co-creation.