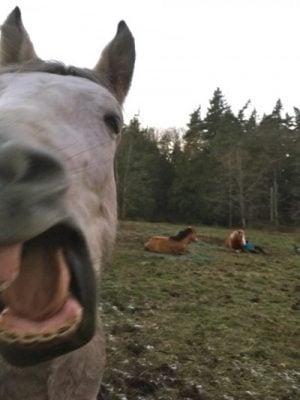 There is a shockingly primal fear that takes hold when an animal seizes more than half your skull in its jaws. It feels like my left ear, around the back of my head, to my right temple has been clamped in a vise grip, then pulled sharply to the left – just a little bit – and released.
I am left reeling, stumbling, wondering if my body will collapse into unconsciousness. Yet I am rapidly calculating a checklist to discern whether I am in the process of dying, or severely injured, or miraculously okay. In those first few moments I actually have no idea.
I am in full-body shock response but I am also in mental and emotional shock. I have been with horses since I was 2 years old and have never been bitten beyond a skin bruise – ever. One minute Jax was standing quietly, calmly behind and to the left of me and the next moment, half my head was inside his mouth. How is that even physically possible, anyway?!
I am completely confused and emotionally devastated with betrayal. How will I ever trust Jax again?? Will I ever trust any horse again? He was not penned up with me, I was not asking him to do anything, we were in an open field for god's sake. WHY would he need to bite me – and so violently – why didn't he just take off if he didn't like… whatever!
As blood plops down my neck and drips onto my clavicle, Leroy says, "Oh, your ear is bleeding." I hadn't noticed. Now that I'm noticing, it feels like the blood drips are speeding up and increasing. Shit. I have no water, mirror, nothing out here. Ah but I have a phone. I get Leroy to take a picture so I can assess the damage. Ok, good, unless my ear is severed right through, I won't have to go to the hospital.
Let's stop there though. And back way up to the actual beginning of this story. And let's go beyond the physical reality and I'll tell you the entire story – as well as I can interpret it today – with all the layers of existence. Consider that your 'wiggidy-woo-woo' alert. I don't know why I keep ending up in these stories that are so far out there, that I question the value of even attempting to tell them. But something in me just goes, 'fuck it, I'm gonna tell the story.' So here we go…
A Trailer is a Trailer is a Trailer…
I have just bought a custom-made horse trailer that cost as much as a car, is as wide as an 18-wheeler, that I had to wait 6 months for. The 2 hour drive home alone and across the border with it caused me so much stress I went into a fever that night. Did I mention I'm spatially-challenged? By the third day I am feeling well enough to move it from in front of my house, out to my barn. Getting it through the driveway to the horse property nearly gives me heart failure – somehow I manage it and do not scratch up one side of the new trailer on the way in. Lord. I drive down the barn road and then stop at the entrance to the paddock.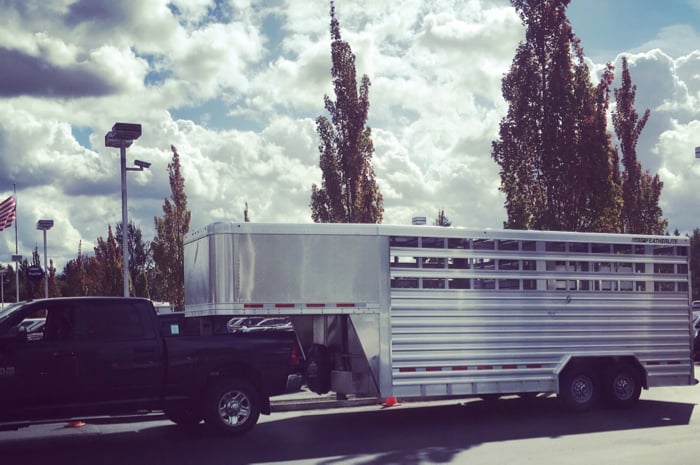 There's no way in hell I'll be able to park the trailer myself in the gravel paddock, and the gate from the paddock to the open field now looks shorter than 10 feet wide. But I have timed my arrival with the low-sugar hay delivery and my hay guy, Gordie, is an absolute gem and long-time driver of massive vehicles. I'm pretty sure he will help me. Sure enough, Gordie hops in my truck – but not before testing the post on the field gate to see if he can remove it if he has to. He too is not sure the trailer's going to fit through there. But he gets it through, with barely an inch to spare on either side.
Gordie goes back to unloading and stacking the hay while I take half an hour to park the trailer in a completely open field – to get it exactly where I want it. Obviously I am going to need a LOT of practice to be able to back this thing up anywhere, and I am feeling quite defeated and wondering whether I should have bought the damn thing in the first place.
Luckily I have this tough little scrappy fighter inside of me that gets up and says, "Oh yeah, we'll see about that!" So I don't stay feeling like a useless loser for too long. But I still feel beleaguered and fragile and very weary.
My friend Lori comes out and we do some trailer play with the horses for a bit, which makes me feel better. She and Gordie both drive off and I've been on the go for 3 hours now – my protein shake breakfast was a long time ago, but I still need to tarp the hay stack and clear up, stock all the slow feeders with about 500 lbs of hay, and then go unhook my trailer and secure it in an enclosure of arena panels.
By the time I've done everything but create the enclosure, I'm pretty freakin' exhausted. I had thought about asking my friend Lori to help me with the arena panels, but she's battling adrenal exhaustion and just had an IV Vitamin C and Meyer's cocktail bag that morning. So no way am I going to ask her to help me and then she's knocked out for the next few days. She has 4 kids and needs to keep all the energy she can.
My husband is down in the States, my mum was up all night helping my brother and his wife birth their first baby, my other friend just moved to a neighboring city and is nursing a sick dog, my son is in school. I've really been working on asking for help and not trying to do everything myself, but I have failed to plan ahead and now I don't know who to ask. In my defense, I did just come off a fever and even my brain is still fuzzy.
Sometimes one of the neighboring teens helps me at the barn so I call to see if he's home. He's at work, but his brother Leroy can come out for a bit. Thank god. I am so relieved. I really felt if I had tried to set up all the arena panels by myself, I may have had an accident from pushing my body too far. But. I also cannot leave a $30,000 trailer sitting open in the field! By morning the horses could have easily done $5,000 worth of damage.
Let the shit show begin…
As Leroy walks down the field towards me, in my exhausted, fragile, frantic state, I completely forget that the last time he did some barn work, the horses told me he was not allowed to come back. They had told me Leroy is not allowed in their space. But I have forgotten that. All I notice now, as he walks towards me, is that he is surrounded by dark entities/energies. "Oh shit." I think. I start to run As Above So Below but I am too tired to run it properly, or for long enough to adequately build my chi.
Whatever. Let's just get this done so I can go home.
The horses – who had been calm all morning – are now swarming us. They are everywhere, darting in and out. If I was at all cognizant, I would have wondered why they were so agitated. Instead, I just say to Leroy, "Just put your body where you feel safe, move to the other side of the arena panel if you have to."
I feel irritated that Leroy is so weak, he's like this little waif who has wasted away. I've known his family for years and even though he's always done a lot of drugs, he's maintained a wiry strength. But not now. Today he can barely lift half an arena panel. 'Oh for fuck's sake,' I think, 'Now I'm almost doing the job myself anyway, but I get to pay him too.' Oh well, at least he helps with the balancing part – so the panels don't fall over when I'm hooking them together.
Audelina keeps standing right in front of me as I'm trying to carry a panel and won't budge. Jayzus, WHY is everyone being so annoying?! I just want to get this freakin' job done and go home!
Do I stop to think WHY the herd is being so obstructive, or why they're stopping my forward movement, or what they have to say? No. Do I even stop and think for 2 minutes that if I give them some alfalfa that would probably keep them all busy and away from the trailer? No. Because that's the state I'm in. And when I get it in my head that X MUST BE DONE, I'm like a freight train moving down the tracks – get out the way!! This train don't stop for nobody or no thing.
We are about three-quarters finished the job, I am standing near the tongue of the trailer with Jax behind my left shoulder and Juno next to me. Leroy is on the other side of the arena panel. Both Jax and Juno are just standing there calmly and Wham! Jax has wrapped his jaw around my skull and actually bit my freakin head!! I stumble back as my hands fly to the sides of my head, "Jax!!!" I yell, "What the fuck did you do that for??!!" He moves in front of me to stand between me and Leroy. Still calm and quiet, but his ears are back.
I start waving at him, shake a piece of baling twine at him to get him away from me, but he doesn't budge – I am a mere fly. So I step around him and move about 6 or 7 feet away. I can't figure out why my Wizard horse has suddenly turned full-on Psycho. I cannot believe he just did that me – I cannot believe that any of my horses would have ever done that to me. At the same time I'm wondering if I'm going to lose consciousness or if I'm okay.
At that moment Leroy pipes up, "Um… I don't feel safe here. What do you want me to do with this arena panel, it's just loose?" We never got a chance to attach it and now he's asking the dying person what to do with it??
I mumble something like, "I don't know, just do whatever you want!" So does he lean it against the panels we've already erected? Does he lean it against a tree or bush? No. He just lets it fall away from him into the 3 horses that are standing under the trailer tongue, the horses standing between him and I. Jax, Juno and Zorra leap away in the only direction they can go, which is straight into me. I do some completely unconscious aikido maneuvers, while they twist sideways in mid-air and somehow we manage to avoid collision.
I look at Leroy aghast. As the blood drips down my hair and neck, I say, "We're done here. Let's go in." As we enter the barn I turn to Leroy and say:
"You know these entities around you are not positive energies…"
"Oh I know," he says, "I've been doing black magic for quite a while now. I really like it."
"Okay, but, you saw how the horses behaved out there – they can see all this stuff that we can't. Their behaviour is showing you that these entities are not safe to work with. Jax has never, ever bitten me – none of my horses has ever done anything like that."
"Well, they don't hurt me." he says. I look at Leroy standing there, his body is completely wasted away, the only part of him alive is his eyes, but they change fairly constantly and they are not his eyes.
"Leroy," I say, as my head throbs and blood drips, "YOU are incarnated. They are not. They do not exist in this dimension, but you do. You are the one who needs to live in this physical body, in this dimension."
"Oh it's fine," he says, "I've performed a merging ceremony with them and I'm only about 10% here anyway. There's a group of about 5 of us who do this work and we get together and do ceremonies with marijuana and other drugs." He grins happily,  "I do this for a living now, I have a client in about an hour."
I look at not-his-eyes that come alive and sparkle as he talks and I give up. "Okay," I say, "I take responsibility for not protecting myself adequately when I saw you walking towards me with all your buddies. I also did not protect the space. I own that and I own my responsibility. But you can never work here again. You must not come into the horses' space again."
As I speak, it kinds of sounds like a pronouncement, or a declaration.
"Okay," he says, "well, sorry about your ear." And he walks away.
I go sit in my truck, drink some water, eat some cashews, shake, cry, take some pictures of my ear to find out how it's doing now. I think to myself, okay, I'll just settle and then I'll drive home very carefully. Then I think, no you will not, you mustn't drive with a head injury, the last time you did that it didn't go so well!
I try texting my 17-yr-old son in school to see if he can skip school, bus out to me, and drive me home. Then I realize that my Dad lives right near the school and could drive him out to me. My son has a test and can't come, but my Dad instantly says, "Don't move. Mum and I will be right there and we'll drive you home."
My Dad is a retired eye doctor, so first thing he's worried about is concussion or hematoma (burst blood vessel) in the brain. So he has me stand there and look far left, far right, up high and down low – with my eyeballs only, without moving my head. He wants to see if I get double-vision in any position. But I'm fine. I climb into the car with my mum and he drives my dogs home in my truck. I tell my mum the story as I drive – she was a Buddhist for 15 years, then became an evangelical Christian for the last 40 years, so she's a-okay with stories about spirits and sentient animals. My Dad is Hindu so he can hear my story, but he doesn't think I should have 5 horses anyway, so there's that.
And WHAT meaning do I assign to this story? I think about it over the next couple of days. I talk to my friend who's an animal communicator, my other friend who's a seer, my other friend who channels a spirit guide, my wise and wonderful 14-year-old daughter who just holds me in her arms and flows love into me as I talk. And I let it sit in my being.
After Leroy left, I sat in the barn near (but not too near) Jax and asked him, "Why did you do that?" As tears streamed down my cheeks, "How could you do that to me? How will I ever be able to trust you again, knowing you're capable of that?? How will I ever feel safe with you again? Maybe I'll never feel safe with any of you again! Maybe I'm gonna have to change the entire way we operate around here now because never in my life would I have believed one of you would intentionally attack me like that – for any reason!"
Jax munched his hay and looked at me calmly, "It was the only way to get you to stop."
"Couldn't you have just knocked me over?"
"Nope, you would have just gotten up and kept going."
"Ok, then you could have bit me somewhere else."
"Nope. Had to be blood. Only blood would stop you. Easiest place to make you bleed is your head."
He is right. When I'm in train-mode I'm almost unstoppable. Only a lot of blood – blood that requires stillness to clot – and a really good knock would have stopped me. Because in addition to my emotional/mental state on that day, I had been skank-a-mank energy for weeks (months?) already. But stop me from what exactly? Surely the punishment should be equitable to the crime? I can't get nailed like that just because my energy has been manky, because I'm working through stuff I can't seem to resolve, I'm doing my best for god's sake.
The channeled guide said:
"Jax bit you because of your frustration and disappointment. It was a summary of all that you're feeling; run down, exposed, working with dark entities you invited in (Leroy), you left Jax no choice. He grabbed you and said, 'What-the-fuck?? Wake up! Stop the madness.' Which you did.

You have a perfection, but you want better perfection. That's not wrong, but if you want to be calmer and not be bitten, you need to be PEACE, slow, and strong. You need to stop living in the future, you're giving it too much power and energy. Until you become present with your family, it will be a circus of excuses of why you can't be happy.

Don't feel it's unsafe when you play in their domain. Jax wasn't playing, he was frustrated, slapping you round the head, saying, what the fuck are you doing?

You feel betrayed and hurt, but they just carry on. It shouldn't stop you, but be wiser. It's a wake-up call. You shouldn't have been there, you CANNOT put yourself into positions like that; you'll hurt yourself more."
The animal communicator said:
"The back of the head is a vulnerable entry point for entities. Jax grabbed something that was trying to get in and flung it away. He is like a child who acted solely on wisdom, intuition – without really understanding what he was doing, or the consequences that would follow afterwards. It overtook him. It was an opportunity for his deep, deep wisdom to come through and it surprised even him. He is also now processing what happened and the role he stepped into."
I know this happens. An equine bodyworker once arrived at my barn and she had already been kicked twice in the same leg that day. I said to her, "Did you check whether you have anything attached or hanging out near your leg?" She said, "Oh for Pete's sake, I can't believe I didn't think of that!" I asked if she needed some help with that and she said, "Nope. I have a process for things like this." So she went off to a corner of the paddock and did her thing – turns out it was a wolf spirit. After clearing it, she worked on my herd no problem, and the rest of her day was smooth.
The seer said:
"Jax had to get you away from Leroy! You were too vulnerable – you know how those entities work, all they need is a foothold in and they can follow you home. And then you bring that into your house, with your kids??! No. If you had been your usual strong, grounded self, no problem. But you were too weak and vulnerable and your horses knew that. I can just imagine them: Oh lord, what's she gone and done now?! Okay Aude you kick her. Nah, she'll just keep working. Ok Zorra, how about you knock her down. Nah, she'll just get back up and carry on. Okay, Jax buddy, it's over to you – do what you gotta do…"
So who's right? What is the real story here? In a way, they're all saying the same thing – they just have slightly different explanations for what Jax himself told me: "I had to stop you."
Of course I wish there was a kinder, gentler way for him to stop me! I have to say, it was a particularly horrifying experience and I hope to never experience anything remotely like that again. I'm probably going to be really jumpy around Jax for a long time – because the body has its own memory.
Part of me feels its unfair for Jax to decide I need a traumatic intervention – who's to say that's less trauma for me than bringing home one of Leroy's buddies — which makes me cringe just to write that, by the way. Part of me feels my horses shouldn't ever hurt me like that, for any reason. That I'm just never going to be okay with that.
The other part of me notices that I have almost no swelling and no visible bruising on my head. Only tender spots where his teeth went. He bit my ear hard enough to make it bleed good, but he didn't sever it, or disfigure it. Only a day later, my ear is no longer even swollen around the bite and is healing up well.
I'm also going to watch for any positive changes in my body, because I'm reminded of the last time a horse nailed me out of the blue… and she fixed something in my neck that had prevented me from titling my head back for 20 years. Since then, I can tilt my head all the way back, freely and with no pain.
That event happened under similar circumstances, there was absolutely no warning from the horse (who belonged to my friend, Kesia). One minute she was eating quietly, the next second, WHAM she hit me on the left side of my head so hard it spun me away and cracked my neck. When I yelled, "Wtf did you do that for??!!" she just gazed at me with soft, loving eyes.
So yeah, I am open to whatever healing is here for me in this experience.
One thing I noticed fairly quickly is that the top palate of my mouth is wider. I have always had a very high, narrow palate and even looked into getting a palate-expander. But now I have a little more width there. The other thing I noticed soon after he bit me, is that my temporomandibular joint (TMJ) was really sore on both sides of my jaw. I wondered if I would be confined to soft, mushy foods for the next few days. But I did some stretching with the joint ligaments and eating has not been a problem. I wonder if he shifted anything in my head, jaw, neck, etc. I will observe over the next few weeks and see if I notice anything.
After I got home that day, I called a friend to see if she could swing by the barn and finish setting up the arena panels around the trailer. Of course she could and why didn't I ask sooner? She got there about 4 hours after I left, but the horses had touched nothing.
Greater power = Greater responsibility
I also wonder if this is a wake-up call for me as well with regards to taking greater responsibility for my emotional state. I remember going through a similar process when I developed my healing abilities. When you get really good at healing illness, you get equally good at manifesting it, really fast! If I manage my stress, negativity, clear any past traumas or negative patterns/beliefs as they are offered up for healing, quickly, then I will stay healthy. If I allow myself to descend into a funk and do not heal negativity as it arises, then I can become sick very quickly. With greater power, comes greater responsibility.
So I have worked with this posse to develop pretty powerful techniques, awareness, communication, intimacy… the words from the channeled guide keep echoing in my head: you left Jax no choice. So what negativity might I have unleashed upon all of us, had I been allowed to continue in my disconnected, discombobulated, frantic, ungrateful, frustrated, agitated state? The greater the power, the greater the train wreck if I don't sort myself out.
If I'm honest, I've been in this state for months now – some days are better than others, but my dissatisfaction with my daily life, my yearning/vision for something else (300 acres!), which results in a lack of gratitude for what I do have, has been my dominant theme for way too long.
So this is my wake-up call. I must shift perspective. I must make peace with what is. I can no longer wait to feel different about what is. I must use my self-discipline to force myself to seek gratitude. I must use my self-discipline every day to focus on all the things I can do to grow my business, parent my children well, and get a better support team for my horses!
Capucine Gaudry, one of our fellow Horse Listeners, wrote a beautiful response to Kesia's last post. In her comment, she questions, "why am I not more actively pursuing this dream of mine? Have I "moved on" once again? The more I ponder the question, the more anxious I become. The more I search for an answer, the less I get answers." And as her horse Frisson leads her to an epiphany, she finally experiences a shift and realizes the release came, "because I let go of the blockage of expecting and wondering why I wasn't moving, and had surrendered completely to this state of acceptance of what is."
This is confirmation – the very next day – of what the channeled guide said to me, "You need to stop living in the future, you're giving it too much power and energy. Until you become present with your family, it will be a circus of excuses of why you can't be happy."
Visioning vs. Being Present
This is something I have always had difficulty with. One of my top talents is my ability to envision things and bring them into being. However, the more beings I have birthed into my family, the more difficult this has become. I wrote about the frustration of wanting something different, yet not wanting to wreck my kids' lives in a post almost a year ago. This post struck such a chord of resonance that people wrote beautiful stories of their own journeys in the comments section. I continue to meet people experiencing this same dilemma: Of wanting/needing/dreaming something different than is possible for their situation at this time. And I still don't have an answer.
I know the standard answer is that you wait until all your kids have graduated high school and then you make your move to create the life you want. Everyone is pretty much in agreement that we don't disrupt our kids' lives to service our own dreams, goals, or visions. And yet, this rankles me still. I am unhappy, I am ungrateful to the universe that the divine has not yet figured out a way to meet all our needs! This is what I've been holding space for. I don't believe anything is 'impossible'. I have not given up my dream or vision of my own ranch, to wait until my children graduate. I have held out for the 3rd alternative; the as-yet-unknown solution where we can all get what we want. I believe ALL things are possible!
And yet. Here I still am. And now I have received a pretty severe message that I must 'stop living in the future'. That I'm 'giving it too much power and energy.' And this terrifying experience is the result. Do I want a repeat of that? No! So I must give up my quest, my expectation, my continual wondering (frustration) as to why I don't have a ranch. Why I am still living a life I don't want…
But perhaps that is where the breakdown is happening. When I make a list (on paper) of ALL the things I want, dream and vision for my life… turns out I actually already have almost everything I want! In fact, the ONLY thing missing is the land in a sunnier climate.
How could I have not noticed this??
I think it's because my vision of that land is also tied to an entire lifestyle, along with a different way of living. But perhaps the universe has a way of manifesting the spirit/essence of what I want – the actual experience – in a different way. But because I've been clinging so rabidly to what I see as the manifestation (300+ acres in California!) I have grid-locked us.
And as so many have pointed out, perhaps the key to releasing this blockage is simply to let go of my questioning, expectation, wondering why it hasn't happened – the way I've envisioned it – yet??
I know that life moves in flow; and the universe flows in expansion.
Contraction squeezes or shuts down the flow of the universe. I've just never realized that why-why-why? questioning, or pressured expectation, is a form of contraction. So I have actively, daily, been constricting the flow of possibility in my life.
As this realization dawns on me and really sinks in, I realize that I need to go even deeper to shift this blockage. Because if I just try to action this, it will mean that I have to use my self-discipline to force myself to feel grateful every day. Hoping that after 30 days of forcing myself, maybe it will become habit and I'll start to spontaneously feel gratitude. Maybe. But I sense – as with most blockages that make no sense – that there is something deeper going on.
So I do an EFT Tapping session on myself – but I record it and I use open-ended language so that viewers can tap along and apply it to their own situation. If you've found yourself resonating with anything I've been saying here, I encourage you to watch this video and tap along! Change the words if you like, to make them more applicable where needed:
Note: I have no idea what's happening with the lighting in this video – I only have one overhead light in my office and it is not flickering, nor on a dimmer, so…? Yet one more interesting aspect.
During this session I uncover a belief pattern I established in childhood that is no longer serving me and is in fact blocking me from experiencing gratitude. This is a common occurrence – we adopt a coping mechanism, behaviour pattern, or make a vow that keeps us safe during our childhood. But once we are autonomous adults, this very same pattern now cripples, blocks or sabotages us.
The beauty of mind/body therapies, like EFT, is they lead us into the subconscious, or the body memory, where these patterns are stored. Then we can access and clear them, or transform them to something that serves us better.
By the time I finish this tapping session – as you may be able to see – I feel lighter! I feel so much more free, and joyful! I am excited as to how this will play out over the next few weeks. But I know that something very deep and significant has shifted.
Already, when I think about the upcoming challenges at the place I board my herd, with winter looming, I feel a can-do attitude, rather than the frustration and overwhelm I was previously feeling.
I feel a peace I have not felt in a looooong time. I am excited about the year ahead. My family will no doubt breathe a sigh of relief as the bands of tension I have surrounded us with have just released.
Massive shift. And all it took was nearly getting my head bitten off.
And the horses?
I didn't see my herd the day after the bite. I needed some time to recover and I also didn't want to drive yet. When I went back the second day I stood at the gate for a long time. I talked to them, I cried, I released some more. I asked all of them to give me space, that I would need some time to feel safe with them again. They did as I asked and no one came anywhere near me for the next 45 minutes while I did the chores and filled the slow feeders with hay.
As I was filling the last slow feeder, little Juno came over to steal hay out of the bale in my wheelbarrow. They know this is not allowed – because I don't want to clean hay off the gravel – the hay in the wheelbarrow is mine, once it hits the slow feeder, it's theirs. But he would not back away from the wheelbarrow and he would not stop pulling hay out of the bale. I ended up taking my coat and swinging it at him to get him to move back. He still wouldn't budge. I swung harder and harder, using the keys in the pocket to weight the fluffy down jacket. My voice got stronger and louder. As I built to a crescendo of whipping and driving with my voice, part of me started to realize what he was doing.
It's like the horses gave me my space, I was allowed to be small, scared Jini for a while, and then– enough. So young, sweet Juno came forward – Juno who has never challenged me, or been obstinate, or resistant – to call forth don't-f**k-with-me-Jini and put her back in the driver's seat. By the time he finished with me and I got him to move away from the hay, I was no longer a victim and my body was re-animated and strong.
The next day, after I'd been there an hour or so, Jax walked up as I was closing a gate, stood on the other side of it and blocked me from closing it. I took a deep breath, 'Okay, so this is it eh?' He was forcing/requesting that I re-engage with him. I noticed and appreciated that he had put a metal gate in between us. So I took another deep breath, felt into the energy between us, and then asked him very softly – with just a flicker of my fingers – if he would move on. He did and then stopped. I asked again in the same way. Once again, he walked forward a few feet and then stopped. I asked a third time, just as softly and respectfully, and he walked clear of the gate.
Primal vision
The other thing I've noticed after the incident, is that it seems to have awakened some sort of 'primal vision' ability. I call it primal because I suspect that hunter-gatherer humans had this increased sensitivity to be able to see or sense what was happening behind them.
Sure enough, I discuss this with Kesia (who is a 3rd Dan Aikido teacher), and she tells me that part of their advanced Aikido training is to be attacked unawares – often from behind. She said, "As humans with our eyes right on the front of our head, we have to work to develop even our peripheral vision. So it's like we need something really shocking to awaken our vision or sensing from the back of our head."
The really interesting thing about all the interactions – or growth opportunities – I have had with horses, is that there is rarely just one purpose, or explanation of the incident. Our human minds love to have 1+1=2, or one cause equals one effect.
But these incidents with horses are usually multi-factorial and the learning can continue on, long after the incident takes place. As you can see from this post, the answer to the question, "Why did Jax bite my head?" is pretty multi-layered and synergistic.
"When you start reaching a place of stillness, where you stop demanding things of your horses…where do you go from there, if not into the unexplored??"
– Kesia Nagata, Horse Listener
Click here to read Part 2 of this story…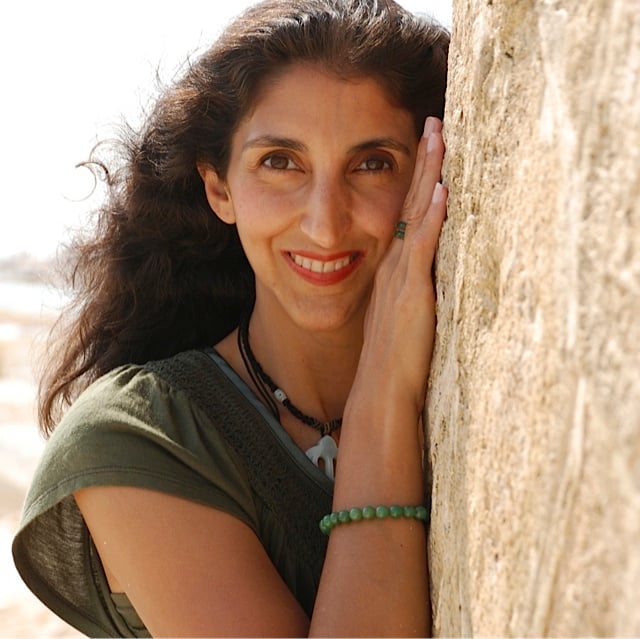 Jini Patel Thompson is a natural health writer and Lazer Tapping instructor. She began riding at age 2 in Kenya, and got her first horse at age 8 in Alberta, and so continues a life-long journey and love affair with these amazing creatures.