Hello from my iteration of "quarantine" to yours – we here, however, are no strangers to connecting at a distance. From the digital to the intracellular (sometimes both at the same time!), this community is well versed in communicating and collaborating without ever having to meet face to face. That doesn't just go for the humans – in fact, it seems the horses are even more skilled than we are at reaching across the divide that, to them, is merely an illusion invented by the two-leggeds. In videos, stories, meditations and dreams, the horses draw us together in a rich fabric of connection. Or rather, they illuminate the beautiful bonds between us all, which exist whether we acknowledge them or not.
This network, this almost-visible mesh of silver or light-based threads connecting all of us – this is an image many of us have been discussing over the last year at least (it's an ancient and diverse concept, of course, but it's been really present in this space lately). In conversations with Jini, we've come again and again to this embodied sense of connection to literally everything; in emails and comment threads with the LTYH community, it emerges again in flashes or sustained feeling – each time with a little more strength and clarity. A meshed network, a fabric of light, a silver cord from my heart to yours and to every single other life form in infinite intricacy.
Which is to say – we were each and every one of us, undoubtedly, made for these times…
When the three boys, Monataro, Juno and Jax, left their family herd and made the long journey north to this place, we couldn't figure out why (spoiler alert, we still haven't – but turns out the why isn't important). Why them? And why now? And what for? That grasping monkey mind (no offence, monkeys) wants linear routes and contained stories. Beginning, middle, end; tidy lesson to package it up.
But in the multi-dimensional field of a light network fabric, nothing moves in a straight line – it moves in ripples and waves, in every direction. These three horses – and the five that were here already, and the current iteration of cows, goats, pigs, chickens, dogs, cats, wild ones, microbes, trees, parasites, humans, and whatever else you want to acknowledge – are here because they need to be, for now. That's all I'm really certain of.
We had a beautiful slow start to winter, and once the decision was made to bring some of Jini's herd up here, everything moved quickly and smoothly. So quickly, in fact, that the humans were left reeling even after facilitating all these big changes. It just felt right – that's what we all agreed on, even if it made no sense to us. The boys integrated, settled, and melted into the landscape. It's like they'd always been here. Certainly their big, fluid, drafty bodies seem to relish the frozen ground, the white glowing mountains, the crisp light. Adventure has come in the form of novelty – in new pastures, new climate, new herd members, new species to learn about. There's not a lot of room for boredom when there's so much newness to take in.
Every winter here, we get a cold snap. This one reached -38C, at which point my car stopped working. I took these photos at -20C – anything colder than that and both my hands and the camera display would freeze!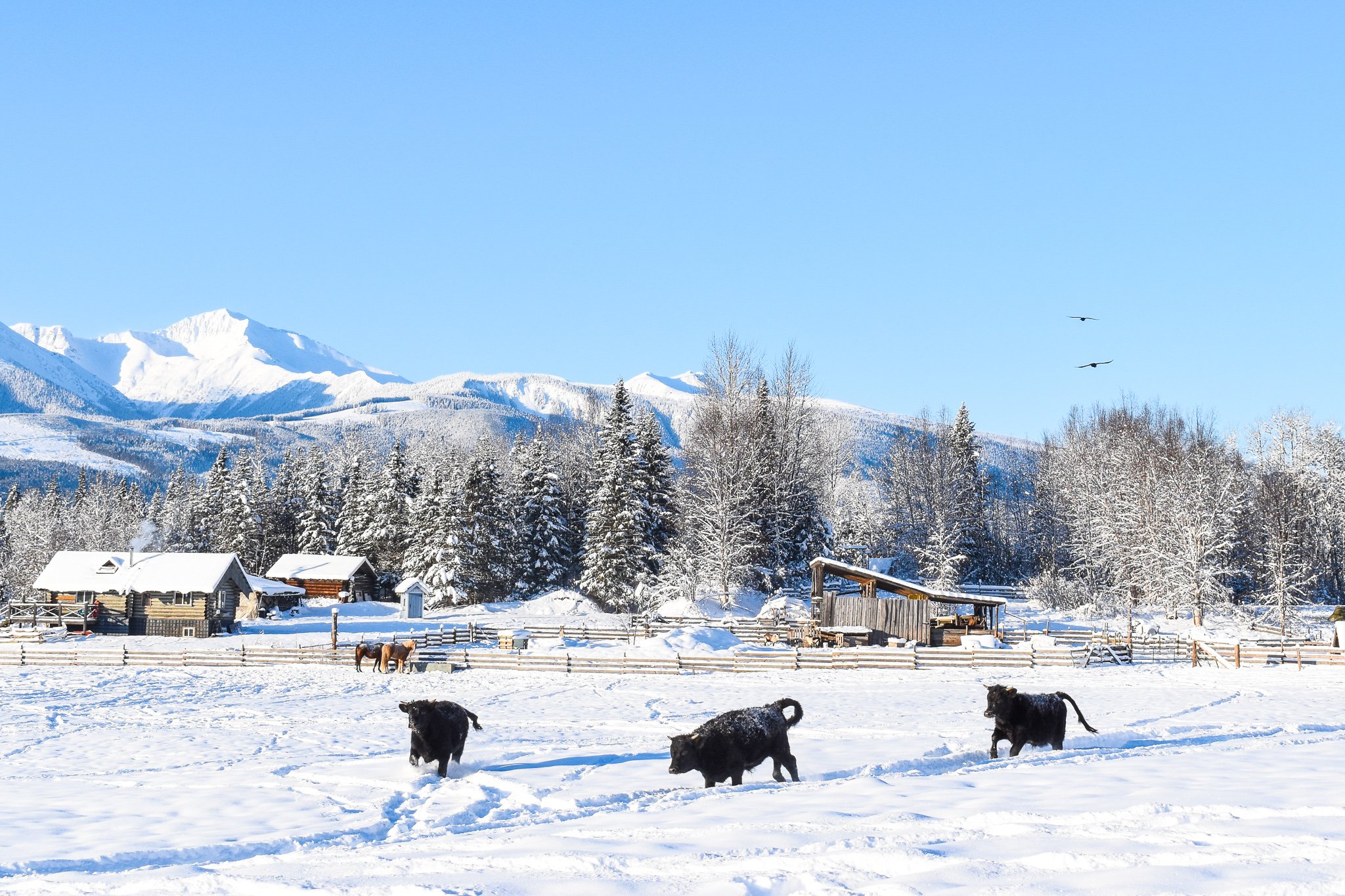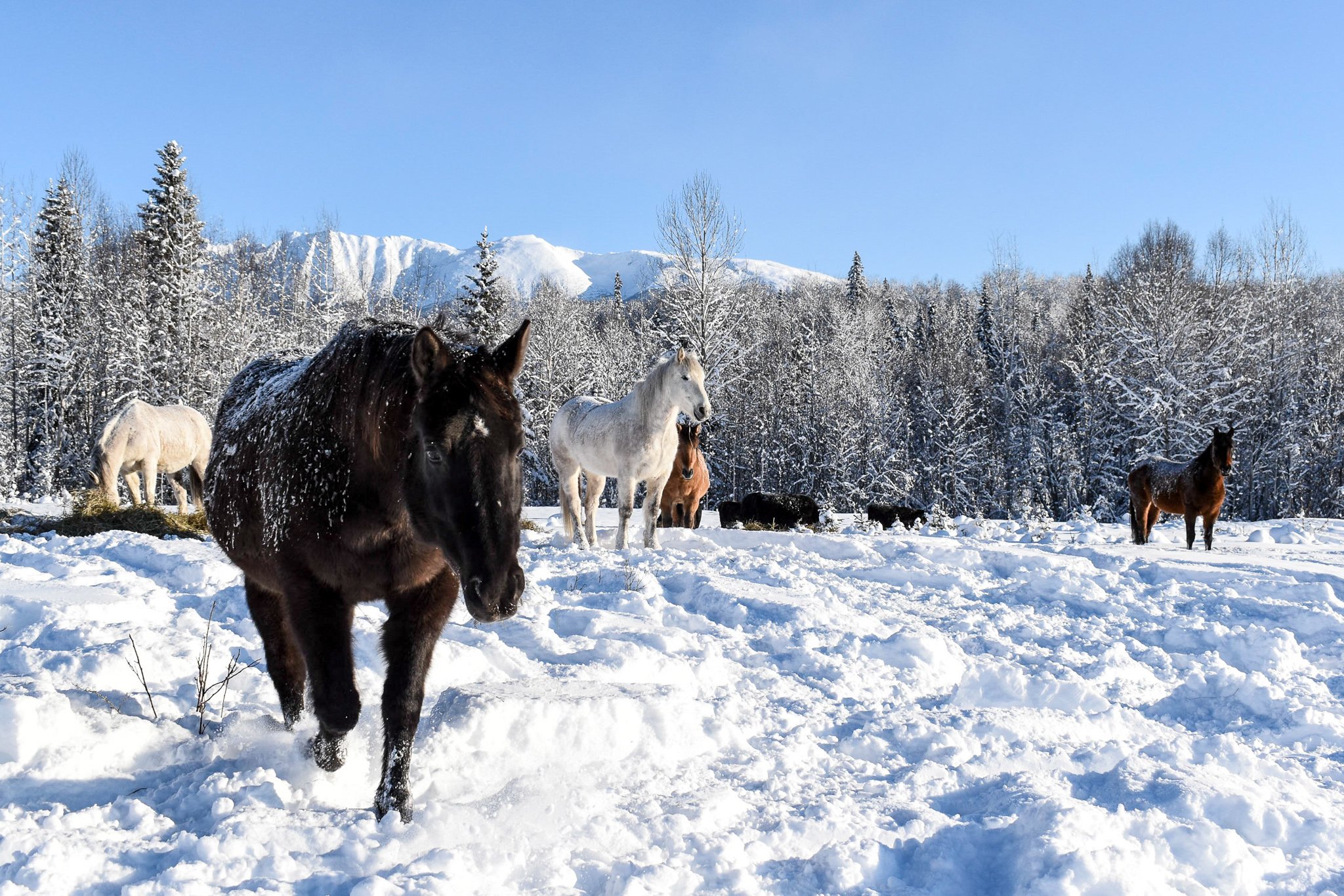 The horses weather the cold better than any other animal, except maybe the cows. It's not comfortable, but they have incredible bodily resources to work with. The boys never seemed alarmed; leaning into the cold was another new experience. Finally, their thick wooly coats and burly bodies could really be tested.
Juno, this golden boy, is the biggest and youngest herd member, but the last shreds of his baby sweetness are falling away as he catches up with his herculean body. He is every other horses' favourite friend – each will seek him out specifically. The geldings – even the 18 year old, Nechako, and shy guy Falcon – love to wrestle him. And Firefly, on the other end of the size spectrum, has picked Juno to be her very own sweetheart.
Jax has studied and mastered goat, pig, and cow culture, after his initial shock and horror at the existence of these strange beings. In his wizardy way, he hardly acknowledges me (except to let me know when it's time for alfalfa) but will freeze different people with his piercing gaze and hold them in his regard until they release and connect. He seems to be working specifically with the mountains all around us, and is growing a magnificent mane.
And Montaro has relaxed deeper and deeper into himself, showing anyone who's paying attention how to lead with the least amount of effort, rest completely whenever the chance arises, and support the collective whole.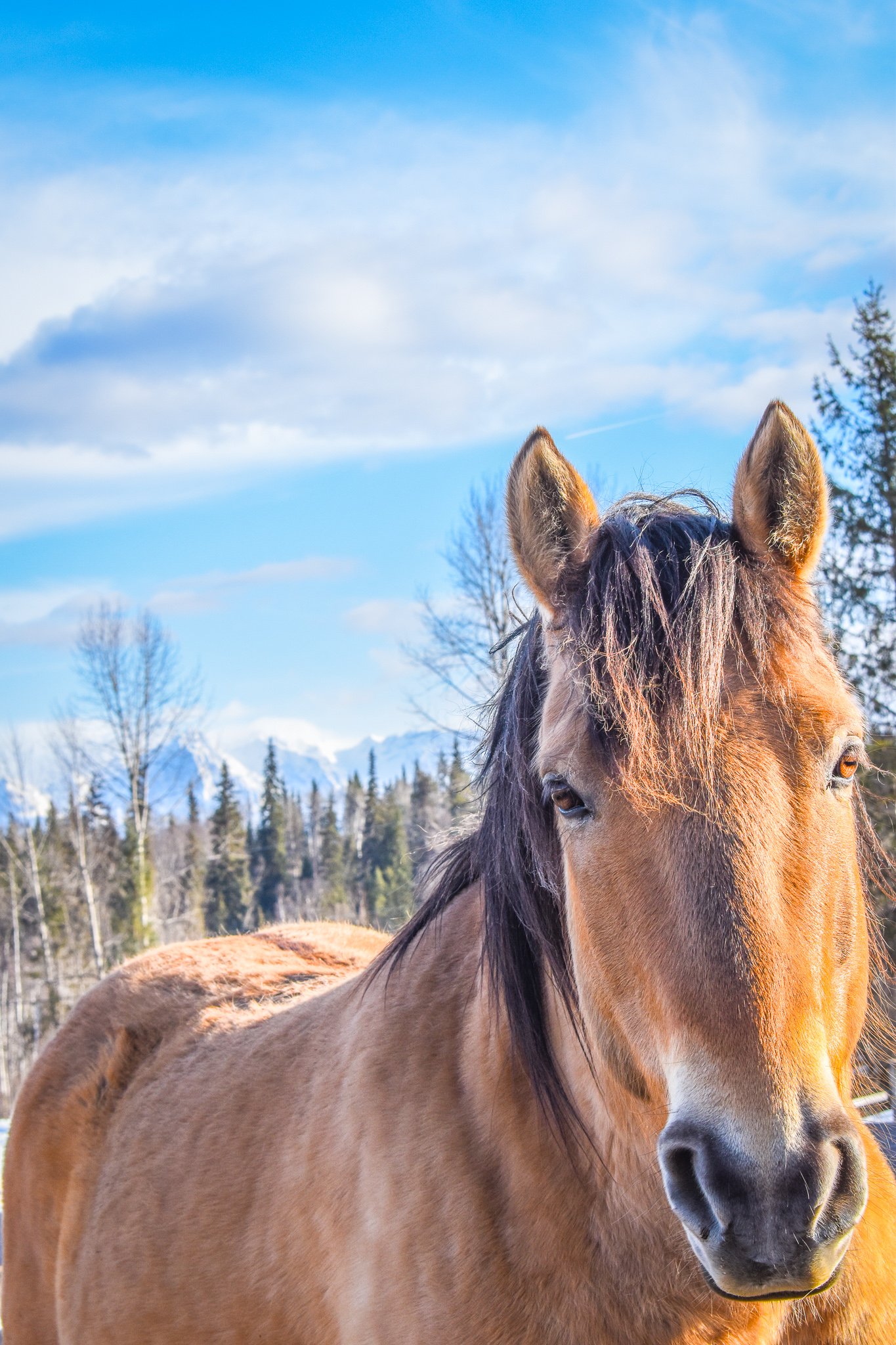 In February, the Wet'suwet'en Nation underwent a military siege by the Royal Canadian Mounted Police. Elders, matriarchs, land defenders and peaceful supporters were forcibly removed from traditional territories for opposing the Coastal GasLink pipeline. This 4 foot wide pipe (still under construction now, even in a pandemic)  is meant to carry fracked gas from the northeast to the coast for a failing market, and its construction lacks the consent of hereditary chiefs to batter through unceded indigenous territory, through the last intact ecosystems and the headwaters of the sacred Wedzin Kwah river, past the Unist'ot'en Healing Lodge built to reconnect the people to the land. We live on (unceded) Gitxsan Territory, and Wet'suwet'en Territory is just to the east.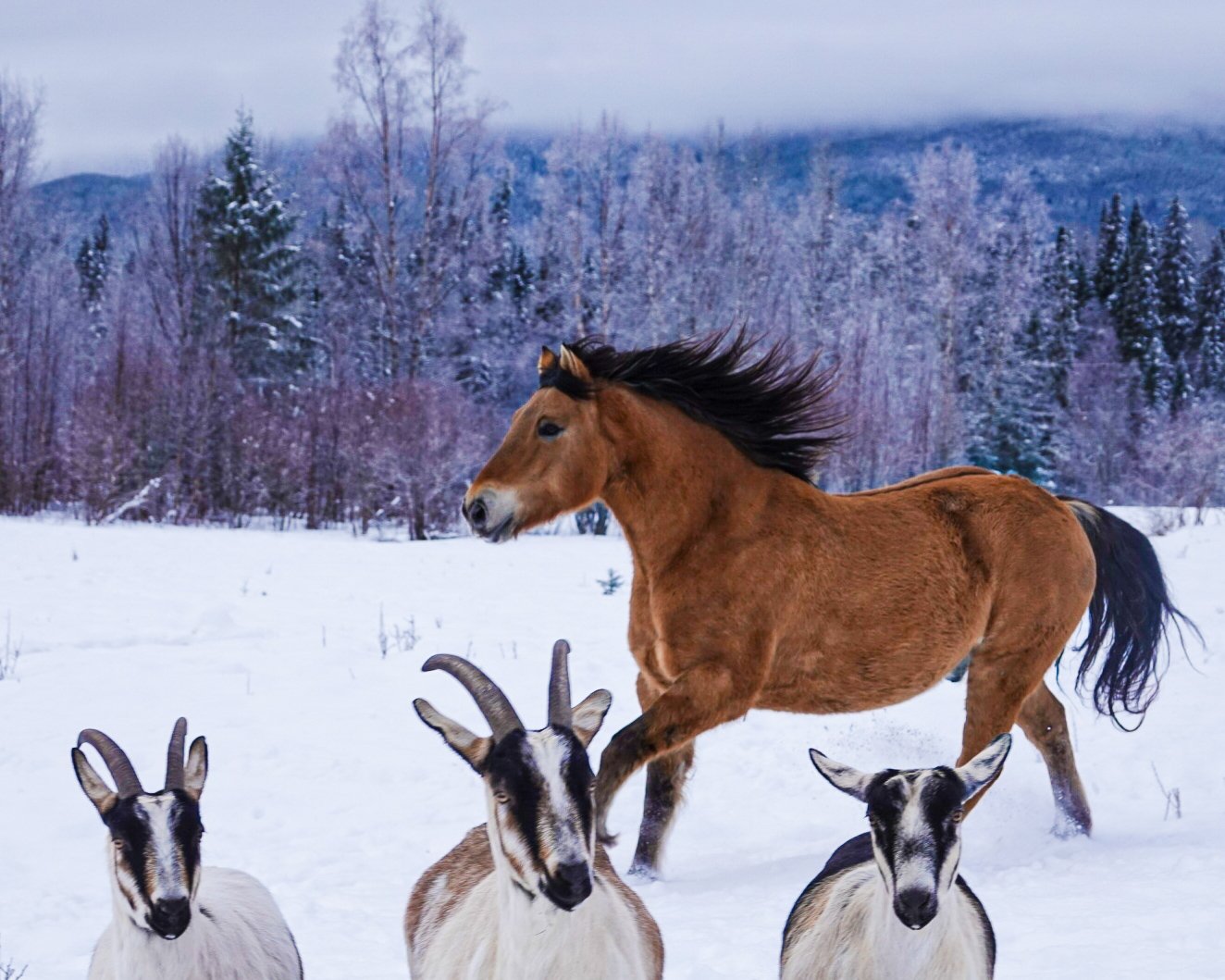 This was the second police raid in as many years; last year, during one of our forays out to the police line, three of the horses were gored by the boar. Having learned to triple-check the gates and ask for backup before leaving the farm, my mother and I again spend many days away, doing what we could to support the land defender camps in the weeks before and on the days of the raid, and the solidarity actions that followed. Rail and port blockades across Turtle Island ground millions of dollars of commerce to a halt. The global outrage at the unmasking of Canada's deeply racist systems was a flashpoint; centuries of injustice and oppression of indigenous people and the inseparable climate crisis culminating in weeks and weeks of demonstrations, arrests, negotiations, ceremony, and mass education. It was a blinding moment of connection.
Through it all, while I could not place exactly what was going on (as usual), I felt Montaro and the entire herd feeding their energies into this extraordinary network of living things, directly to the chiefs and matriarchs while they asserted their ancient laws, into these rich lands and territories that feed us all and echo with our footsteps. Every time I stood with the people who stood for the land, I had the distinct sensation of 16 horses standing among us, and from them I had a vague impression of those infinite light links to every living thing.
The world, for us, stood still. Modern, colonised existence seemed to teeter on an edge of its own making.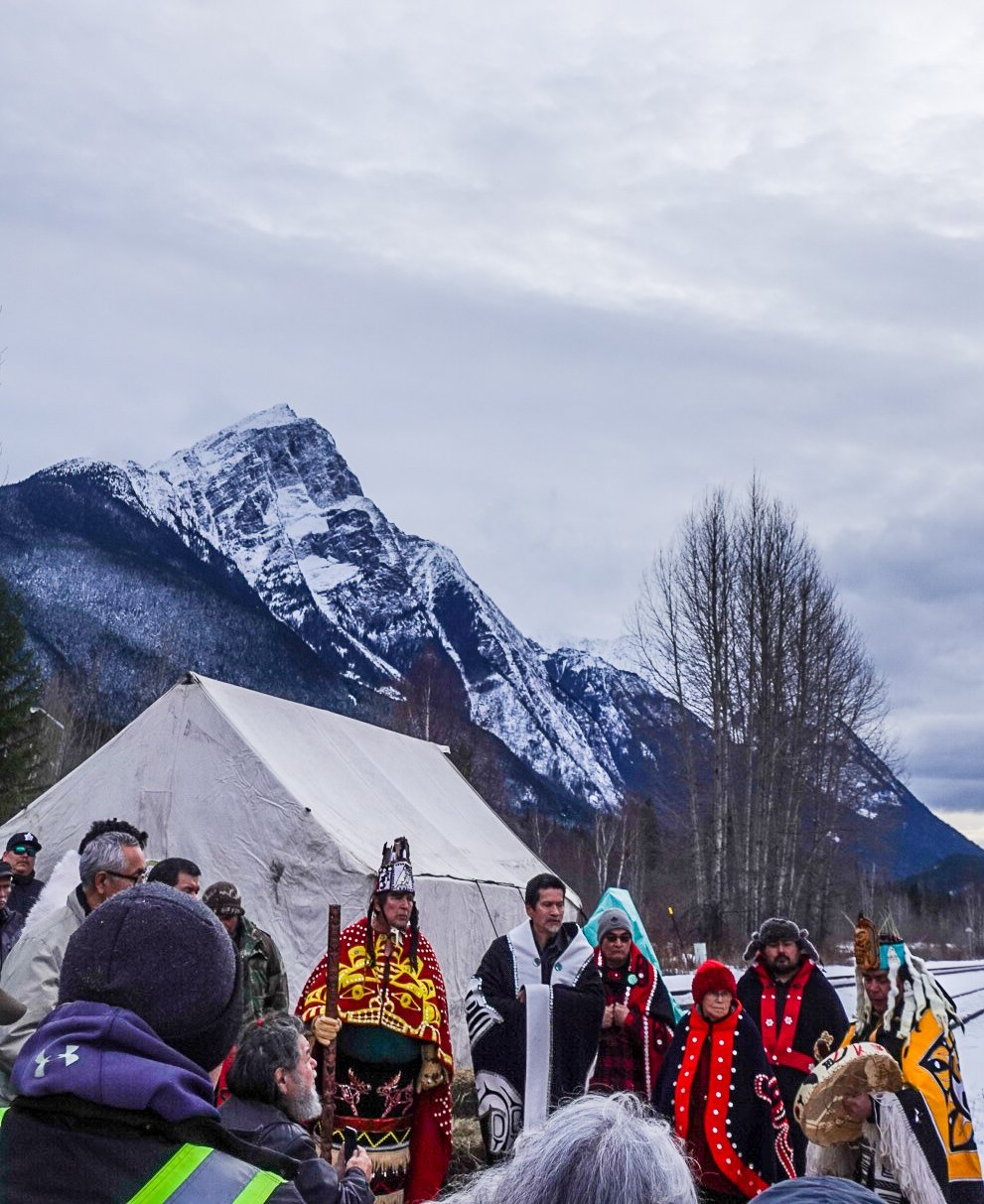 And then, like a deafening echo, the rest of the human world began to grind to a halt. The ripple effects of an unseen virus were, for a few weeks, far off and beyond our imagination. Now, as the course of our history shifts and twists, we wait and we watch with everyone else.
Here, where so much of life is not human, there is a deep peace that emanates from the pasture, no matter what madness or mayhem happens beyond its borders.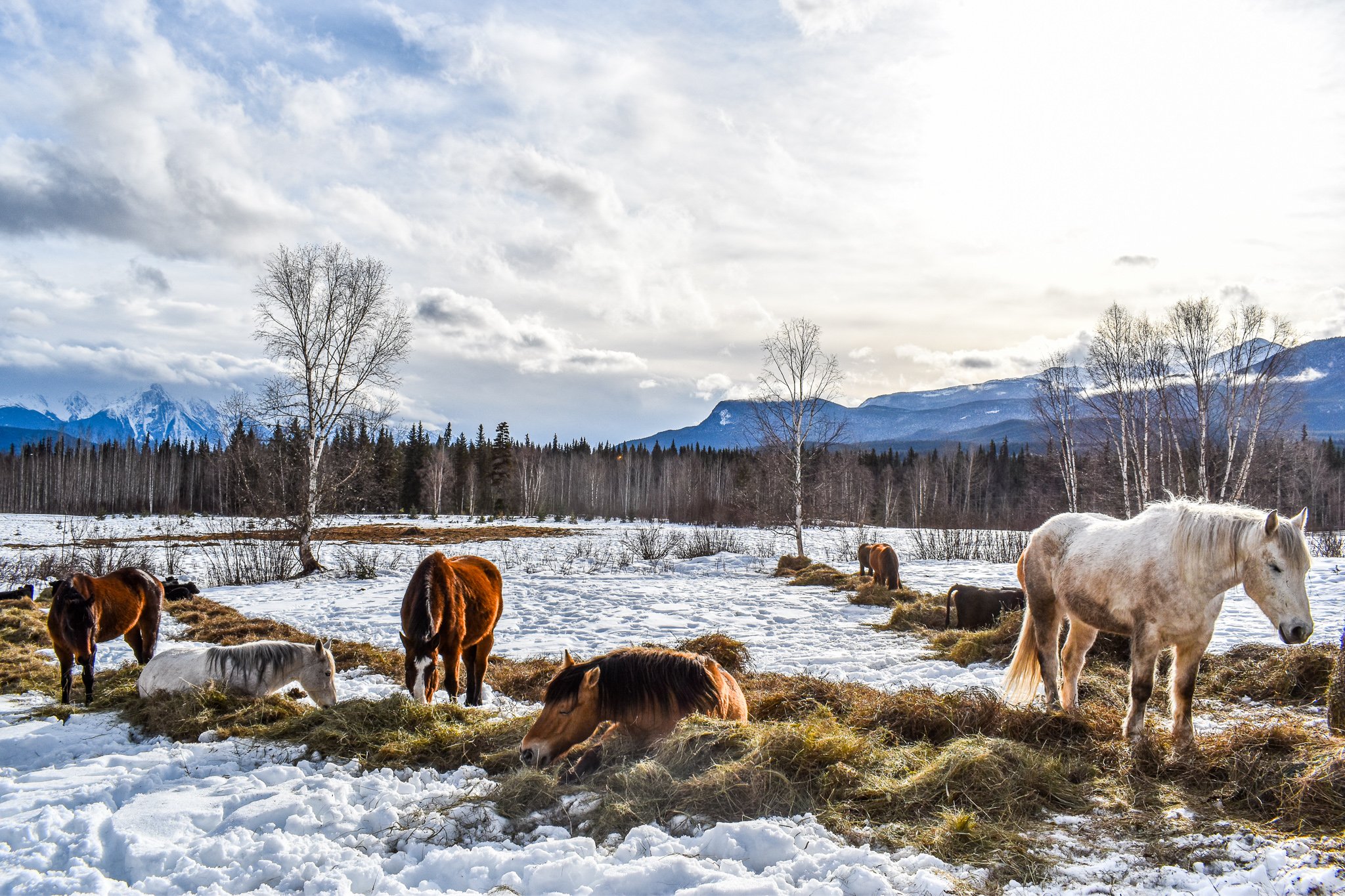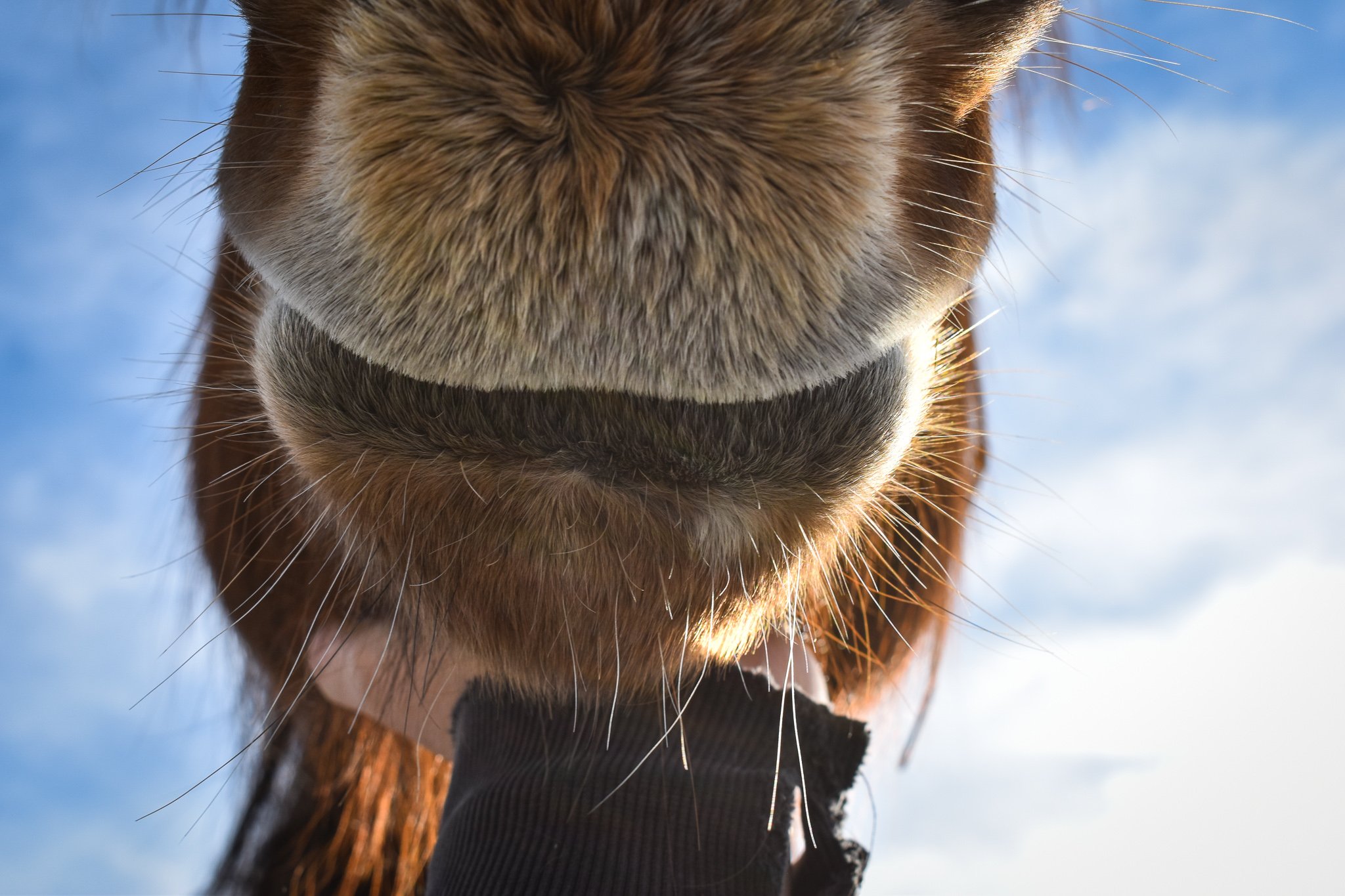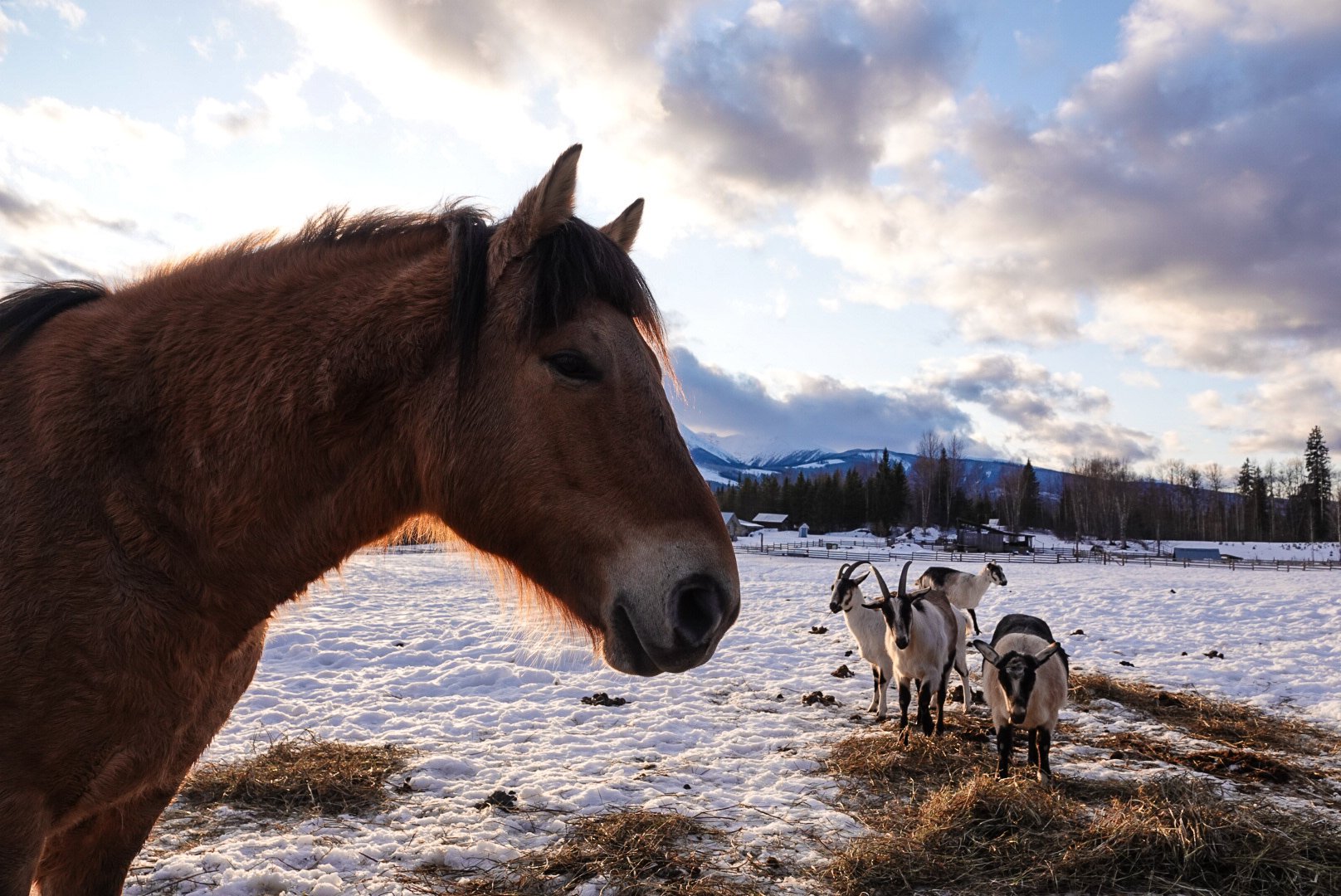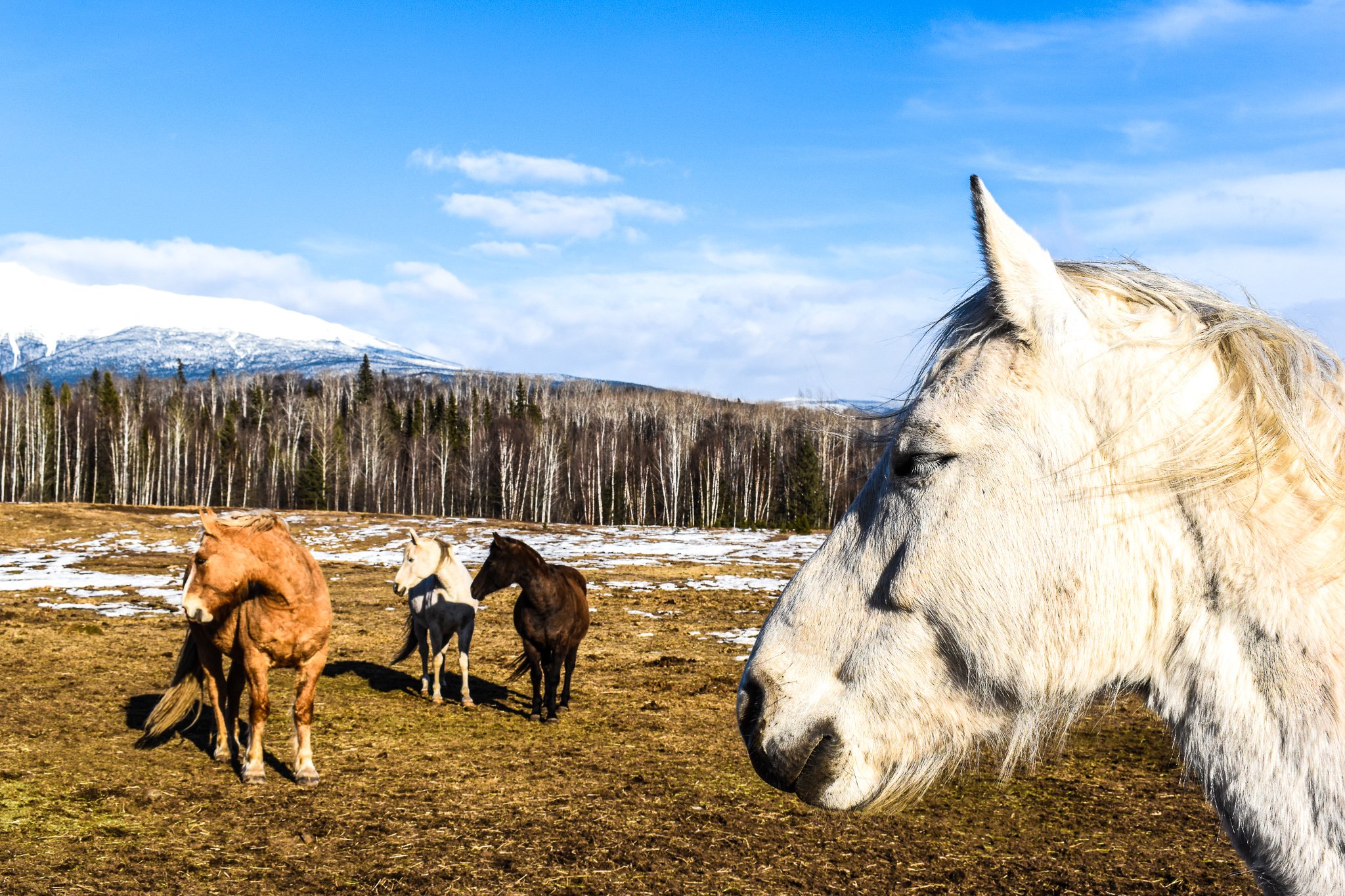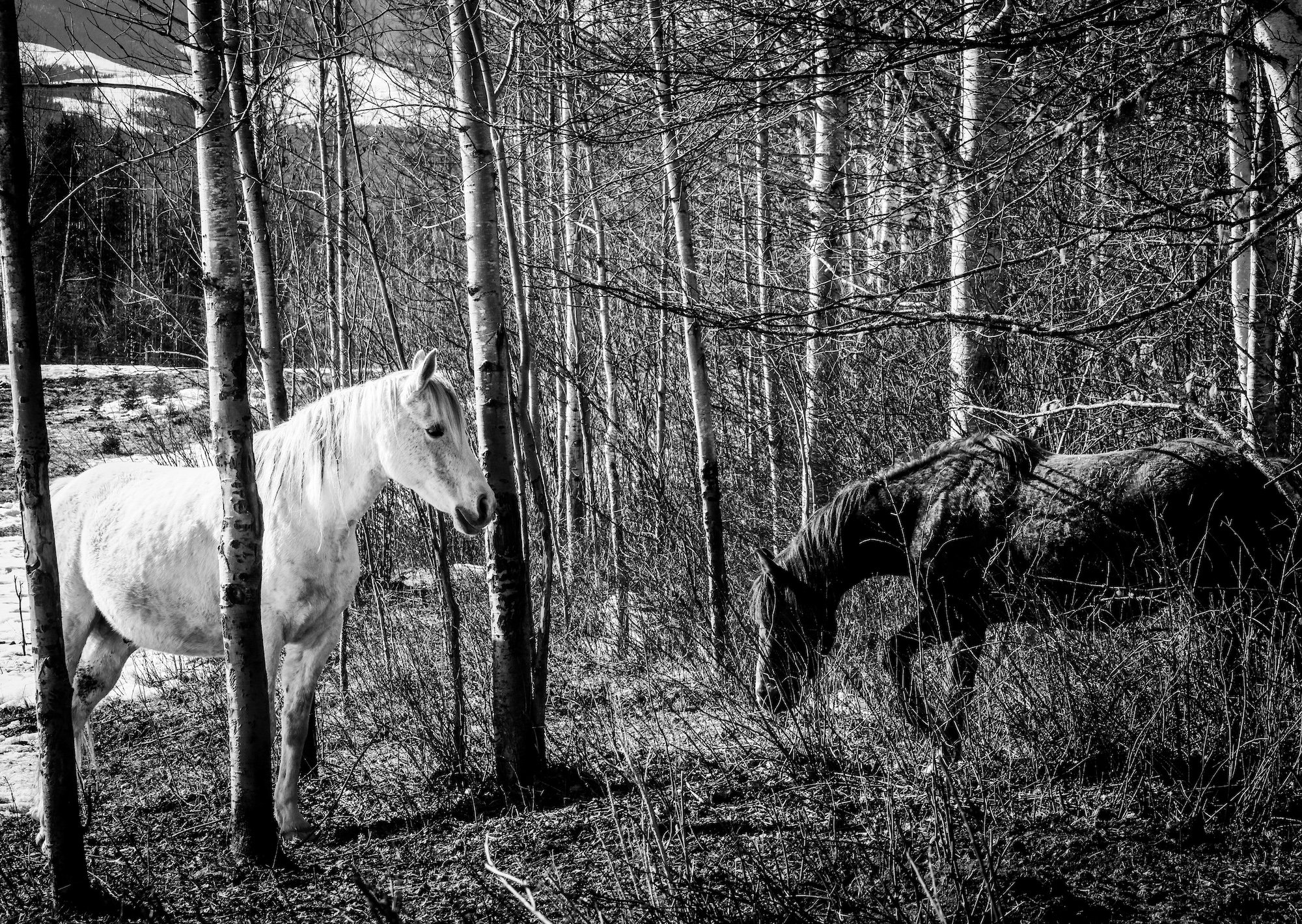 While the human world falters, its systems fraying at the seams, this mix of magical beings carries on dutifully. They fill their physical bodies with food and light, transmute hay and blue sky into an almost imperceptible rhythm. It's as though they hold the very centre of it all.
The Light that Holds Us – Northern Herd Update
A barefoot hoof trimmer, a singer/songwriter, an amateur farmer – these are some of the hats Kesia Nagata wears when she's not full to bursting with wondrous equine co-creation.