Ready for some real-time, horse body/energy language communication? Cobra and Zorra are engaged in a very specific, high-energy conversation here. Observe and see if you can figure out what's happening between them… what's being negotiated? What are they trying to work out? I'll give my thoughts at the end…
I posted the first clip of this video on Instagram and people had some very interesting musings about what might be happening:
I feel he wants her to stand her ground and be stronger. Fight for herself. Empowerment. @alanaschmude
She's been in a bad mood since yesterday so i think the only way to help that flow through her is if she's moving – same with me. He won't tolerate her negativity @zarathompson16 (my daughter)
Wow, he's so intentional in his actions. I feel sad for her, but that's me wanting to save. He's definitely stepping up in his role of ruler….. what was his relationship with her before? She's confused. Keep us posted!!! @vittoriapalazzi
This maybe so off, but it gave me the impression that maybe Zorra did/said something, with the best of intention, that hurt Cobra (because of it being a big truth but he's feeling she trespassed his limits saying that/going in that direction). So now he's showing this BIG limits in his space towards her, and his strength too, to make clear his point and that he has his stuff handeled and doesn't need her to "enter his safe space". I think I perceive Zorra to "feel sorry", and his reaction is hurting her too in some way as what she said really came from her heart… Maybe I'm just projecting but I had this sensation watching them both!! @fionadecarli
So fascinating with all of the different view points… My sense is layered, that this can be both on a personal level for the two of them but that it's ALSO collective. That they are modeling what is currently playing out in the world right now with all of the chaos and fear – chase it faar away and pretend like it doesn't exist. And then when it returns again and again, you keep "denying" and chasing it of once again. In conclusion what I feel about this video, is that they are demonstrating the very definition what the listen to your horse – community is all about – stop and LISTEN. And isn't that something that this world so desperately needs right now? So that's my perspective! @emeliemjonsson
Maybe he wants to make her stronger for which one uses time alone? @luciennevandeven
I think these are all excellent observations and explanations. I can't be 100% certain what's happening in these video clips either, but over the last few months, I have observed both Zorra and Cobra increasing their personal strength, and grounding more solidly into their true, vibrant self.
From the day he arrived, Cobra has been tutoring Zorra in how to increase her personal strength and how to set and hold healthy boundaries.
Since we worked with Cobra to release all his castration trauma, he too has been increasing his personal strength and vibrancy.
This looks to me like another piece along that pathway for both of them. Notice Cobra is not just moving Zorra in this video, he's also being directive with Posa too – but she complies quietly, with no fuss.
Interestingly, this week's Interactive Livestream for the Membership group was all about… healthy boundaries! Followed by an intensive 1-hr boundaries demonstration by Cobra, Zo, Makah, Aude and Posa which I also filmed for the group. Obviously, this is a very important piece for humans to understand and become fluent in.
If you'll notice Zorra's behaviour in the first clip, she's downright saucy with Cobra and even stamps her foot at him. She doesn't try to go and eat in another area – she wants him to let her eat in his area. The other horses also seemed unappreciative of Zo's energy on this day, so I hung a haynet in the sleep shelter – just in case she needed a lot of space opened up to be able to eat. On a cold, wet day like this, I don't want to risk her getting locked out of food/shelter.
In the second clip, you can see that Zorra is in heat – just another added layer of spiciness to the conversation. She seems to want Cobra to engage with her sexually, but I did not see him oblige her during this heat cycle. She got what she needed from Makah though; interest, nibbling games, and putting up with her advance-retreat-nip-head toss coquettishness.
By the end of the week, I noticed Zorra on the ring road a few times, staring off into the distance. It feels like she's ready/looking for adventure. Perhaps the herd is working together to increase her strength and resilience.
I wonder what she and my daughter Zara are going to cook up for the spring/summer…?
Why does Cobra Keep Running Zo out of the Paddock?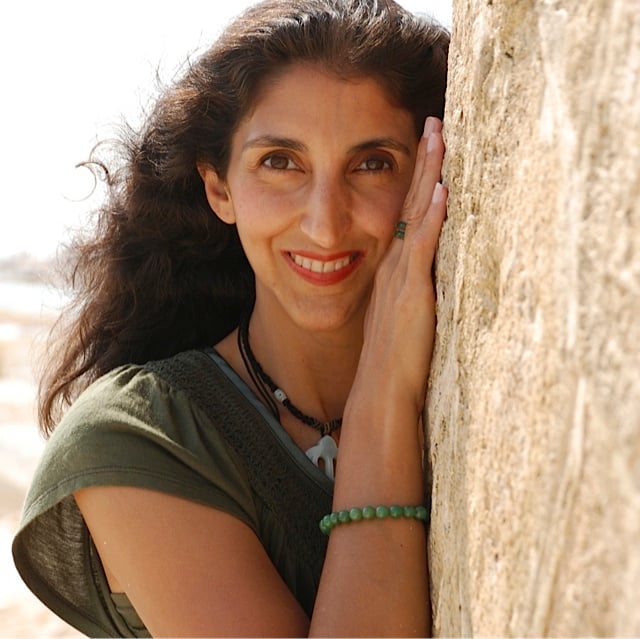 Jini Patel Thompson is a natural health writer and Lazer Tapping instructor. She began riding at age 2 in Kenya, and got her first horse at age 8 in Alberta, and so continues a life-long journey and love affair with these amazing creatures.