Have you ever heard of an intuitive logo designer? One of our horse listeners from Spain, Fiona De Carli, designs all of her logo commissions this way – she meditates and connects with the spirit or energy of whatever surrounds or wishes to be embodied in the project. So cool! Of course I had to hire her to do the logo for the new Singing Horse Herd website. Fiona says:
"In the commissions and personal work I've done in this way, the energetic process is truly the stronger part and takes the longest, as all the energies start to weave together finding balance and unity to create an image that truly reflects their unified energy. It's a sort of dance!"
Well the horses sure set her a challenge, and during her meditation with them, they gave her 2 images/visions to work from. She saw a heart that was created by the heads of all 11 horses, like a mandala. And then she saw a horse, but with many, many legs – perhaps the legs of all of them.
The feeling was, one horse united by Heart and one common direction/purpose. They told her there was no simple logo!
And then it got even more difficult… because even just working with the logo engages the energetic space this herd holds:
"I wanted to apologize for the delay of the logo. I've been trying some things, pushing more the design and trying colors, but nothing seems to really work. Simultaneously I'm in a strange moment and it seems that working on the logo is bringing to the surface old fears and wounds, and sometimes I block seeing it because of that. Who said it would be easy??
I'm in a blockage point right now and not really sure how to move forward with it as it has stopped to be professional and started to be personal."
I encouraged Fiona to take her time, I also directed her to some sessions in my Lazer Tapping program I thought would help her deal with the old trauma/wounds being brought up for healing.
The horses kept bringing Fiona back to the many-legged idea, even though it was pretty much impossible to do as a logo and ended up looking like 'spider horse' or 'octopus horse'.
All the horses would give her was a vision of a full-color illustration with very bright blue, green, orange, pink colors, depicting an energetic process through voice-heart-legs. But they would clarify nothing for the logo.
So then she just painted the illustration and sent it to me:
I wanted to share this with you. This visual representation of an important energetic process through Voice-Heart-Legs. What do you feel when you look at this? What ideas, concepts, poems, or ideas come to you?

Psychic Logo For The Singing Horse Herd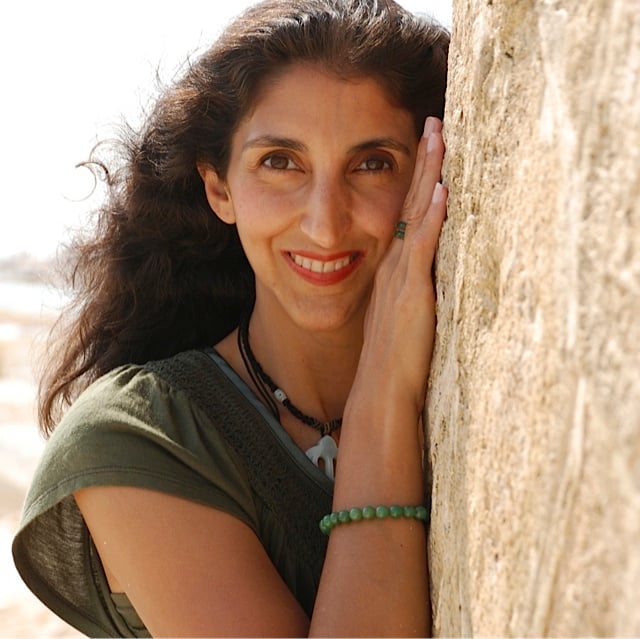 Jini Patel Thompson is a natural health writer and Lazer Tapping instructor. She began riding at age 2 in Kenya, and got her first horse at age 8 in Alberta, and so continues a life-long journey and love affair with these amazing creatures.