This is the first time Jax has ever carried a human. Humour me, and take a minute to watch it, feel it. Notice what you notice, and then I'll tell you how I experienced it. I'd love to hear your first thoughts and feelings in the comments below.
For those of you who don't know, after months of slowly becoming more and more intrigued with each other, Jax convinced me to speak to Jini about him becoming "mine", for lack of a better term. You can listen to that story in our podcast here. I didn't know what it would entail, but I knew it would be fascinating no matter what! We have continued our slow approach to each other, but now with the emotional security and "permission" of engaging in a deeply personal way. It's opening up my world in big, yet subtle, ways..
---
That day, I could see Jax watching my car as I crawled up the icy driveway to the farm. I did my chores, feeding pigs and getting chickens put away, letting Amalia and Firefly in to the barnyard for their supplements, carting buckets of water to various species and draining the long rubber hose to the trough so it wouldn't freeze overnight. The weather was unseasonably warm – several days above zero and nights below had melted and thawed our usual blanket of snow into a sheet of ice. Jax made his way to the gate as I worked and stood watching while I carried buckets, filled hay nets, negotiated with the goats. I could see him waiting, his black eyes calmly following my every move. My heart beat faster as I hurried to finish up and meet him – I knew he wanted me there for a reason. He was so white against the purple evening sky – dusk was rolling in, fast and sure as it does in mid-winter. Finally, having convinced the goats to stop smashing each other long enough to eat their dinner, I penguin-walked out to the field to see what was in store tonight.
For the last couple weeks, Jax and I had been meeting in the same spot at the same time, out in the open field, as the last of the light faded from the day. Sometimes we just visited, but slowly we had been making our way through a series of made-up steps that could eventually result in me climbing aboard. Can I stand beside you and touch your back? Can I stand on a bucket and touch your back? Can I lean some weight on you? Can I hop in the air with my hands on your back? What do you like? What don't you like? What might you prefer?

When Jax first told me we would ride together, I was incredulous. I am no longer a daredevil, no longer seeking to validate my own power to myself or anyone else. No longer requiring myself to be what I am not, or strive beyond the endless depths of what I currently am. Jax is a force to be reckoned with. He's never learned to temper his fire for the convenience of a human; he moves suddenly, explosively; he moves his body as an extension of the rest of him, as it should be. I have no desire to change that, and I also have a hard-earned humility for my own nervous system and precious body.
---
I didn't have a plan. I didn't have a schedule. I didn't even know why I was starting here, with the idea of climbing onto his back, when common wisdom would dictate some form of groundwork or sensible progression – except that Jax hadn't asked me to explore anything but this with him. He would show up for our sessions with his intense focus, stay long enough to learn the next step, and leave when we were both done. The day before, with Montaro watching us closely, he had let me lay across him for a few seconds, taking a few steps before standing still to feel the weight of me. I jumped off quickly, before either of us became unsure, knowing somehow that I must keep us both far "below threshold" for this to "work" (what is "this"? I have no idea). If I were to get the least bit activated, and I seem to get there before him these days, I would finish for the day or wait until he told me we were ready again.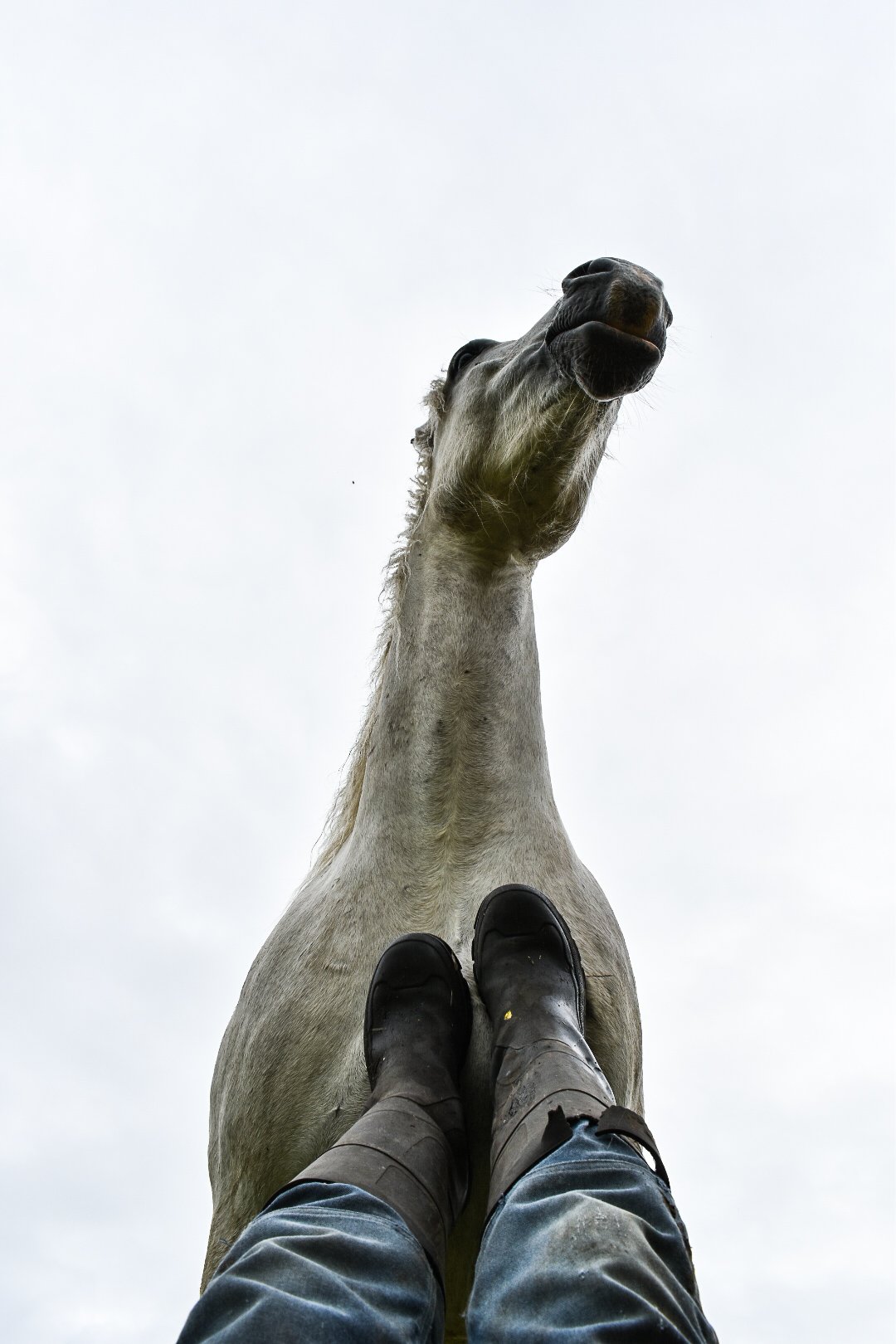 This is why I don't train: if I am "training", then there is a right and a wrong answer, and I will pursue the "right" answer doggedly, no matter how patient I profess to be. Whether I am offering reward or punishment, the training mentality requires me to have already concluded what will happen, and to do what is in my power to achieve it. "Teaching" is a temporary – and potentially mutual – state when one of us has something to share that the other has yet to consider. Co-creating is the state I am aiming for. You might call it play. It's a place where we meet as equal parties interested in a common cause, bringing our vast differences, our strengths and weaknesses, to see what happens. That is all.
---
When I reached the field, Jax was still alone, with the mares in the yard and the rest of the herd up the hill with the hay. He didn't want to engage in pleasantries. Standing solid on the treacherous ice, he turned broadside in a business-like manner. I put my bucket upside down beside him, tested for friction on the ice, climbed onto the bucket, gave him an alfalfa cube I had in my pocket, waited for confirmation, and launched myself like a small sea lion heaving to shore across his beautiful furry back. Once aboard, I hung draped over his back for a moment like a dead body in a Western, then slowly swung my leg over until I straddled his broad back, my face in his thick mane. I sat up. He stood still. My face cracked into a huge smile. I told him he was my love, my hero, my magic man – I was surging with joy, and also deeply calm.
Five months prior, Spero, grazing the grass around the cabin, tells me to get on. I haven't "ridden" in earnest in I-don't-know-how-many years. I stopped first out of principle, because I couldn't honestly determine if I was truly obtaining consent so long as riding was my agenda, and then out of habit, because my life was busy and the horses were content, and we were all rewilding ourselves on our own time. So, despite my surprise and tentativeness, I go through the motions of mounting, elaborately, like a pantomime – does he really know what he's asking me to do? Impatient with my human nonsense, Spero barely flicks an exquisite Arabian ear as I climb on. The last time I tried, years ago, he side-stepped nervously, or blocked me with his head. His gentle, pleading "no" that I overrode for years until finally learning to hear and respect it. But today it's as if none of that history exists, and he has a purpose for me. Up on his back, my body immediately remembers his unique form. I feel his life pulsing through me. He goes back to grazing, and the instructions I receive are to DO NOTHING. He says, I am preparing you for Jax. You must give your whole body to me. You must surrender your will. You must learn how to do nothing, in order to do everything.
It's to the point, now, where I don't even want to ride. I don't crave it, I don't secretly wish I could, I don't consider riding other people's horses to get my hit without the guilt of riding mine. I don't think about ways I might get through to them about it, I don't feel shame or sadness when I remember how I used to force them. I know them as themselves, and I know me as myself. I don't judge others for riding anymore, either. I imagine they are doing what is true for them, and I know I can't possibly know what that truth is. I have lost the need to explain my own choices – I'm at home in my own truth.
Except, that truth is changing.
Spero says, you must learn to surrender, and that's what we can teach you. He is giving me a glimpse, a felt-sense, of what this arrangement might be like. He does this twice, on two summer Sundays, and then never offers again, except one time, days before the evening when I climb onto Jax. As if to say, ok – you're ready.
Slowly, Jax tested some backward steps, then tried moving and turning to each side. I laced my fingers through his mane, more for the sense of closeness than security, and breathed deep into my lower body. There was no tension in him, as he walked to the fence to watch the pigs, turning to look at my boots hanging either side of his belly, stopping to let me scratch his neck. I think I was murmuring to him, or maybe we were silent – there was this sense of absolute security, coloured with utter happiness. Finally, he turned and began picking his way slowly across the ice, carrying me carefully toward the rest of the herd. Halfway there, I felt a subtle shift in our connection; I conjured an image of him breaking into a powerful run, which he often loves to do on his way back to the herd. Was I ready for that? In a split second, I realised I could push it and see what happened, or I could stop now. And in an even smaller fraction of that second, I acknowledged that while he was unperturbed, I had actually had enough. I wasn't scared, but my system had activated one little notch above utter calm. Honouring my own whispered need, I slipped off, praising him for the manifested god that he is – and started to cry.
---
Surrender is neither collapsing nor giving up nor forfeiting my autonomy. Surrender is the question: "Can you hold your form while letting go entirely of the outcome? Can you trust yourself so entirely that trust of the other is effortless? Can you be with what is, no matter what?" Surrender IS power. It is the feminine (not female) polarity of the masculine (not male) control and direction. It requires mastery of self, even if momentary. It is an acknowledgment of god: a god, the gods, divinity, ki, the universe, me. It is a choice to deepen into the unknown.
---
This simple quiet way is how I have longed to be with horses for my entire life. Nothing asked for, expected, required, or demanded, but offered freely and without transaction – no justification, just a clean moment in time between two beings. The moment my feet touched the ground, I could acknowledge how meaningful this was for me; before that, I was completely in the moment. Jax stood with me, absorbing my tears and gratitude silently. And then Louka joined us, hurtling dramatically through space as is his custom, leaping over fences and covering the distance between us in the blink of an eye, his wolfish grin ready for play. Had the timing been different, he might have incited a stampede with me on top – he adores provoking the horses to run so he can chase. As it was, I had listened to the tiny quiet voice that told me to get off, and now we greeted happily, and then Jax and I parted – he, walking slowly toward the herd, and me with Louka, who pressed his large head into my hand as we picked our way back to the gate. I guided the mares across the ice in the near-dark and back into the pasture.
After our first ride, Jax did not come back to our spot by the gate, which he had been doing reliably for two weeks until that day. This actually was a great relief – proof, for me, that he was fully autonomous and not coming to me out of habit or simple hope for a scratch or a snack. And when I felt into it, I realized that I had no desire to be on his back that day! We both needed time to integrate, to let this new world of possibility settle into our bodies and energetic systems. And then again, the next day, and onwards for the next two weeks, we carried on not riding. I would go out to the pasture to visit, and once even brought my mounting-bucket to test if he was averse to the idea of riding now. He let me go through all the motions and hop up on his back again, but it didn't have the same quality of suspended time-space magic, so I hopped off again. The point, in the end, is not to ride. The point is to explore possibility, and to expand us both, body, mind and soul. Me being on his back is just one more thing we can do calmly and happily together, when we're both in the mood and the energetic space for that. The freedom of this, after years of riding being either the point, or the antithesis, is hard to describe. When riding was the point, it was what needed to happen at any cost – and that cost was high, often damaging my relationship with my horses and my self. When it was something I "didn't do", it locked out a whole realm of possibility and limited my inspiration. So what now? Now we wait, without expectation or judgment, for what comes next – for what feels next, for what lights us up and ignites desire. Wish us luck!
First Ride With Jax Moonlight
A barefoot hoof trimmer, a singer/songwriter, an amateur farmer – these are some of the hats Kesia Nagata wears when she's not full to bursting with wondrous equine co-creation.