I sat down at my computer last week and there was a message waiting from Kesia:
"Jax and Taro asked for your help – they both lost their minds just a few steps up the back trail today. Jax had Fly with him but still couldn't leave the herd. Then Taro wanted to go, and confidently strode out, got a little further, and pulled right out of my hands and went absolutely stampede.
First he went way up the track, then back, then all around the back piece of fence, then up the track, but yeah, ultimately he was trying to be back with the herd. And both these guys did the 6 km road walks with me! So it's not like they can't do it, or don't want to leave. I'm not sure if it's the trail, which is twisty and forested, and of course Louka [her wolf-dog] was crashing around… or if it's specific to the boys anxious attachment to each other, maybe from being separated twice, if briefly?
Anyway I talked to them later and both said, MAKE JINI DO THE TAPPING THING 😂
Feels like a block between what they WANT and what they feel capable of – like they have more confidence and then they hit a wall. Whether that is fear or need to be with the herd or whatever. And they went from 0 to 100 on the overwhelm scale."
We then had a discussion about various things on/about the trail that could cause that reaction. And Kesia ended with:
"Yes, I was feeling something dark/wiggidy about the trail itself. But if the boys do bug you for tapping, I think it is around the potential of separation. We were all feeling it today, kind of sharp and achey. I also wondered if it means Montaro has the next piece of where he's going (and who is coming with). Hence feeling sad, and conflicted with Jax and our budding love; whether he stays or goes, his heart breaks."
I connected in with the lads; Jax, Juno and Montaro that evening. I felt into whether they wanted me to do a Lazer Tapping session with/for them, but didn't get any clear request or direction. And then I had a dream about Montaro that night.
In the dream, Montaro came home to the property we're on now. He was tearing around and the whole herd was so excited. I was over the moon that he was home. Tons of people kept popping by to see him for a few minutes at a time. It was SO GOOD to see him in the flesh and have him back. Then Montaro settled down and grabbed a few mouthfuls of hay. Aude was on one side of him and Zorra on the other. As I watched them, I thought that I may need to add another feeder box, or move the existing feeders around. Because just ONE horse can change the entire dynamic/needs of the herd.
As he munched, everything just felt normal. Like he'd never been gone. This event, this movement, that had been so huge in my mind… was now gone. No longer relevant, or even present in our energy fields, it was like he'd never left. And then I woke up.
I wrote the dream down in my journal immediately. And by the time I had finished writing, the meaning of the dream – the energy behind it – began to filter through. The dream led me to examine the PURPOSE of the horses' movements in the matrix we are building/spinning. So not to look at it from relationship, love, logistics etc. but solely in terms of Purpose.
And as Montaro has been counseling me for months now, just look at the VERY NEXT STEP. Don't try to see more, or understand more.
I get a sense that this matrix/grid/haynet thing is SO dynamic, it's like a painting, where you don't/can't actually KNOW what the finished piece will be – but if you stay in the process and in flow as much as you can, it will be as magical and amazing as you ever could have imagined.
So when I perceive from that perspective… I see that (as they told me would happen) the wildies have been able to come forward once the lads left. This year has been spent helping the wildies heal their human-induced wounds/trauma – getting them back to ground zero. The wildies have been sharing their process and teachings in the public YouTube videos, but they are really coming forward with next-level teachings in the Apprenticeship/Membership program.
The herd's wisdom was that, for all of this to happen, the lads had to leave. Love, relationship and connection are all vitally important, but placed within the context of Purpose; of the reason(s) we incarnate on this earth plane… perhaps we humans place too much emphasis on physical love? Or rather, our perception of love. Many people comment on how much they miss Montaro, because he's not in the YouTube videos. And they wonder how I'm coping with him gone. But is he really gone? If we are willing to sink into where true love and connection reside, then he hasn't gone anywhere. I can connect and share love with Montaro at any time – through meditation or the dreamtime – and so can you.
Montaro, Aude and Jax were semi-feral when I got them – although they were legally owned by a human, they'd had no contact or training and were left untouched on a large property, until they were run into a trailer to go to auction. The horse rescue immediately set about 'gentling' them and when I got them, a month or two later, I asked them to become halter-trained so we could go for walks. I also wanted to be able to lead them home if they ever escaped – which they did, when a visitor didn't close a gate properly.
However, when the wild mustangs were culled (Kaliah, Siyone, Makah) I was in contact within a few days. So they had not been 'gentled' or halter trained or anything when I got them. I have purposely allowed them to remain as wild and untouched as they wish. Any touching that takes place (other than Makah's castration) is at their request only. The same goes for their foals, Xadaa and Posa. Because here's the question I'm interested in now: What is the value of wild?
What value is there in assisting animals to stay as wild as possible; even though the only way for them to stay alive is to live with us? Neither of us can change the fact that if they weren't with me (or some other human) they would be dead. So given that this is our only option… what might the purpose be of this arrangement?
When I first met Kaliah, she flashed me pictures of them trying to capture her many times before; she knew how to elude capture. So why did she allow herself to be captured this time?
However, she kept her band of three together through the cull, delivery to the first rescue, and transfer to the second rescue. Then when I tried to trailer only her, she climbed over an arena panel and blew straight through a solid wood fence – at 9 months pregnant. However, she didn't go through the fence on the left that led to freedom and hundreds of acres of wilderness, where her herdmates could have easily followed her. No, she went through the fence on the right side; that led to another paddock.
She wasn't trying to escape her situation, she was simply sending me a crystal clear message that she would not be separated from her family, under any circumstances. So this family unit of wild horses came to me at a time in my journey where I was also willing to allow them full autonomy on this 33 acre property – other than castration for Makah and staying inside the property fenceline – they were free to never come within sight of me, if they wished.
So again, what is the value of wild, to us intensely domesticated humans, at this time? What role do the wildies play in this matrix? What are they here to offer, to teach us?
I ponder all 11 horses in the Singing Horse herd from the perspective of PURPOSE, from what I've experienced to date, what I've learned, and what's happened up till now. I peer into things from the spiritual, energetic, emotional and physical planes of existence.
On a physical level, the wildies can't come fully forward in their unique way as a herd, with Aude in charge. Aude's energy is not wild. She is empowered and in full ownership of her own body, but she has entwined with humans. Aude's connection and physical entanglement with me reigns supreme. The mustangs can't even get a look-in when Aude wants to be with me, and none of them desires that physicality with me anyway. There has been a lot of teaching lately, where Aude physically withdraws (into the cow shed, or out on the ring road) so she is watching the wildies teach, but she has taken her physical body away, so they are not impacted by her.
So yes, the wildies can still come forward to teach, and to interact with humans while Aude is around, but they cannot function or be in their wild essence with Aude and Zorra's energy in the herd. Of course, now that they're living in a domestic situation and receiving food from humans, and their babies were born in captivity, they are no longer a wild herd anyway – that's not what I'm saying. I'm saying there's a certain 'quality' or essence to wildness that is unique to these mustangs and I find myself wondering where they want to go with that next. What do they want to develop? What gifts/guidance does their unique perspective offer?
Unfortunately, when I look at PURPOSE, and where this matrix needs/wants to go next… at this point I don't feel the boys coming home yet. The very next step might be Aude going up to Kesia's farm to rejoin her family. I know she stayed here with me to help me through the separation from Montaro and Juno – we grieved our boy Junebug together. And surrogately pre-grieved for when we would lose our human boy Hugo, when he heads off to the UK to enter the world of pro footie. As I write this, my eldest son is also talking about going to the UK with Hugo and Dad. Yes, Dad, son and brother… when was the last time that happened?!! [For those of you new to this blog, Montaro and Jax are brothers and Juno is Montaro's son]
Let's add a few more threads to this multi-colored tapestry we're weaving… our female dog Tiah is unspayed. She's six years old and has developed a lump on her chest. When I asked her body/spirit about it, she said, "This is the result of high levels of unused hormones; I either need to have puppies, or you need to spay me." Well, my daughter Zara has always wanted Tiah to have puppies and Tiah herself would like to experience motherhood. So Zara has decided to take Tiah and our other dog, Kumba, up to Kesia's farm in the Spring where she can continue the dog dynasty by breeding with Kumba's sister's son. Yes, we already have homes for all the puppies that may emerge, and some people have been waiting over two years for Tiah to breed.
However, Zorra (domestic Andalusian) has also been asking Zara to ride her for over a year now – but we don't have access to any safe riding trails near our property. So Zara's idea is to take Zorra with her to Kesia's where there are tons of places to ride, far away from cars and roads. Zara is 18 now and had planned to travel after graduating from high school, but we all know what happened to those plans when Covid hit. So this would be the perfect adventure and experience for Zara – hugely expanding her horizons, resilience and perspective on life.
If Zorra goes up to Kesia's with Zara (and Tiah and Kumba) in the Spring, and we have a trailer with two large box stalls… then perhaps this is the ideal time for Aude to rejoin her boys up at Kesia's, if she chooses.
Last month, Aude sent Juliet a picture of her and Juno together soon. Of course we both had interpreted that as Juno coming home. But what if it's the other way around? What movement best serves the purpose of the highest good?
Audelina has spent the last six years opening my heart and being a living example of the divine mother energy. Again, Montaro's admonition to GET BIGGER rings through my ears. So we're not just talking about getting bigger in terms of leadership, management, emotional resilience, financial capability/money energy, physical strength/resilience… this is also about my HEART getting bigger. Can my heart actually hold/allow/surrender to all this movement that feels a hella lot like loss? Will I be brave enough to allow my heart to actually FEEL everything?
The next day I spent a chunk of time bawling my eyes out with Aude. And I gave her permission to go, if that's what she wants. I thanked her so much for staying with me and supporting me through the separation from the lads, and all the tremendous upheaval and challenges of these last 18 months. I told her how much her love and smooches have meant to me; that I can just melt into her, and her strong love, that she can hold me like no other. And even though part of me feels I couldn't bear it, I also know that I too am in surrender to this highest good. No matter how much it hurts, and how many fricking family I have to lose, and for how frickin long. I'm in. For however long it takes, and whatever it requires of my heart, I'm all in.
So the very next step? For me, right now, it's just to give PERMISSION for it all. For any/all movement that needs/wants to happen for the highest good. To allow my heart to be big enough to hold it all. As big as BIG MAMA. I'm not saying Aude is going to Kesia's in the Spring, I actually have no idea. But it's in the field of possibilities and my work is simply to do my own work, lean into my own expansion, and hold space for the highest good.
I Dreamed Montaro Came Home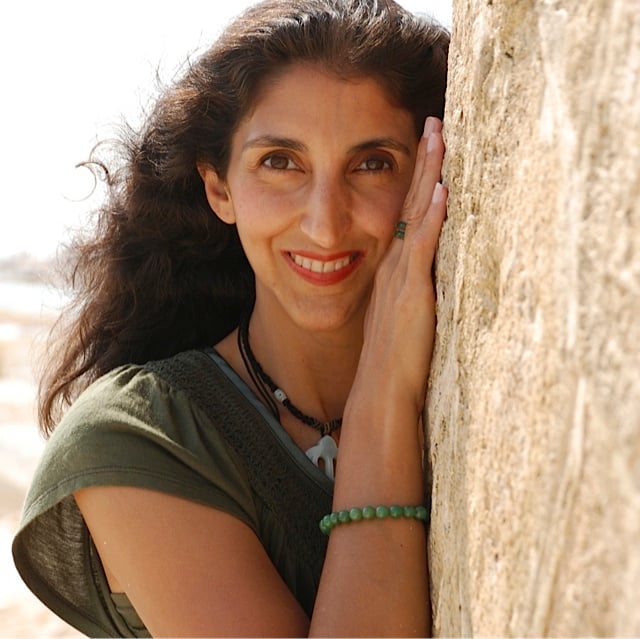 Jini Patel Thompson is a natural health writer and Lazer Tapping instructor. She began riding at age 2 in Kenya, and got her first horse at age 8 in Alberta, and so continues a life-long journey and love affair with these amazing creatures.