Carrying on from Part 4 of this saga… On April 5th the first pregnant mustang, Kaliah, birthed her foal. I drove up four days later to see Kaliah and her new filly Xadaa (Zayda) and was startled to discover that Xadaa had absolutely no fear of humans! She came right up to me and sniffed my hand and my legs, my boots – as mama Kaliah's distress grew by the second.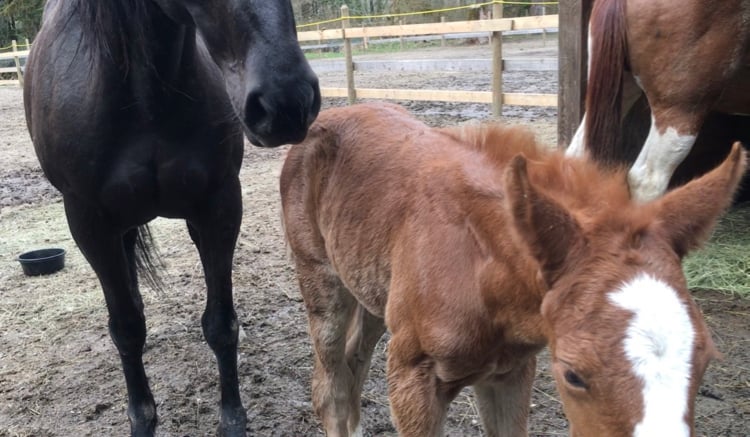 I moved away from Xadaa so that Kaliah could collect her, but Xadaa followed right after me. Now we were in the cramped area by the shelter, with not much room for Kaliah to maneuver and I felt her panic escalating.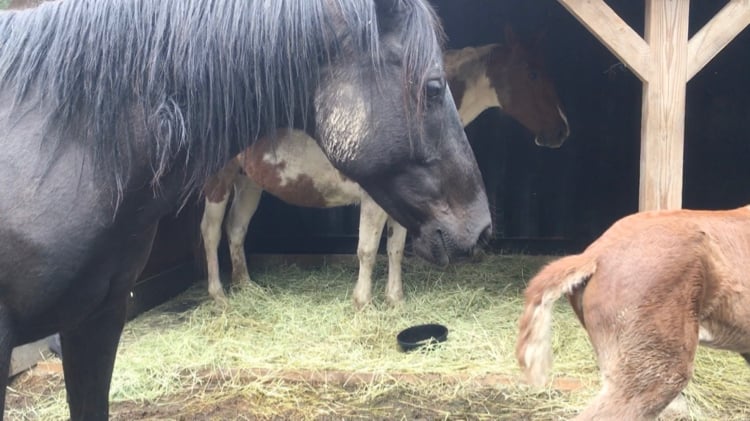 So I slid out, through the arena panels, and walked 10 feet away and Kaliah immediately swept in and guided her newborn filly away.
I hadn't even considered this unique dynamic: If mum is a wild mustang, who has had numerous negative experiences with humans, so cannot/will not go near them, but then bold, unafraid newborn foal walks right up to humans and follows them around… what is mum to do?!
I felt I had established a vital piece of trust with Kaliah by observing/understanding this dynamic and removing myself entirely, very quickly. I had shown her: I see you, I hear you, and I am taking right action by listening to you.
Later, I went back in to pick up the feed dishes and the same thing happened. Xadaa came right up to me:
Kaliah didn't seem quite as worried/stressed in this more open area…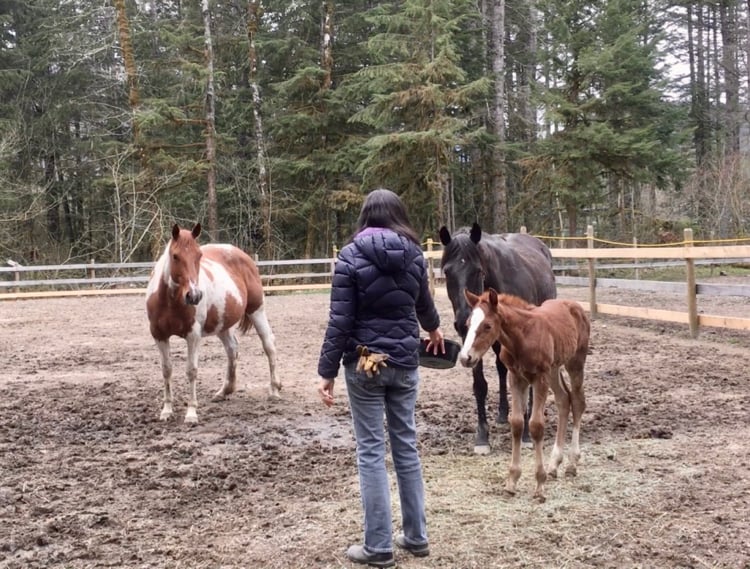 But as soon as she could, Kaliah tried to lead Xadaa away from me:
I made sure to stay a good distance away from Kaliah and Xadaa after that – respecting mum's need for as much space and safety as possible for her new baby. And about half an hour later, Kris came by. Kris is their sole caregiver at the rescue, she is the only one who enters their paddock to feed them or clear their manure.
Get away from my baby
A male volunteer had gone in a couple weeks ago to scoop poop and Kaliah had charged him. Kris wisely was not willing to risk a liability issue from anyone getting injured, so she made their paddock off-limits to everyone on the ranch but her.
As Kris and I were talking, we went into Kaliah's paddock. We stood with our backs to the shelter wall and I had Kris on my left side and the fence a few feet away on my right side. I assumed this was okay because Kaliah was very familiar with Kris and allowed Kris to touch her face and neck. Kris was also allowed to touch Xadaa and apply ointment to her sore bum, with no problem or protest from Kaliah.
As we were discussing logistics, Xadaa again came straight up to me. I noticed Kaliah getting anxious again, but Kris did not seem worried, so I crouched down in a squat (made myself small) and kept my hands at my sides. I wanted to make it clear to Kaliah that I was not trying to touch her baby and I was no threat to them.
Xadaa sniffed all round my head, my hair, shoulders, face, legs, etc. as I squatted on the ground. Kaliah tentatively came closer and closer. As I stayed squatted down, she reached out her nose and sniffed at my face and hair for a moment, backed quickly away, then came tentatively forward and sniffed again, then drew back again. A fear flashed through my mind of her striking at me, but I did not feel any angry or dangerous energy coming from Kaliah, so I put that down to my own nervousness due to my psychic friend's vision and warning against trying to tame Kaliah. As Kris talked I was thinking to myself, "Oh, maybe this is the way Kaliah can feel safe to come near me and know/learn that I'm no threat…"
Kaliah minced forward again to sniff my hair and the side of my head and before I could draw a breath she punched out with her muzzle – lips pulled back, so her closed teeth popped me neatly in the temple and I tipped right over and away from her baby. Kris' eyes went wide with shock, I shot out my left hand to stop myself from falling flat as I scooched backwards into the wall of the shelter. Xadaa simultaneously jumped backwards away from me and this created enough space for Kaliah to sweep in between us and herd Xadaa away from me.
Oh.my.god. What is it with horses attacking my head with their teeth?? I felt shocked and shaky and as I breathed and moved into the space of allowing and accepting whatever was meant to be in this moment, I realized that she had punched me harder with her energy than she had physically.
But her physical message was clear: "Get away from my baby!!"
I flashed back to when Juno was born and I was so interested to observe that mama Aude did not use her teeth or hooves to move or discipline Juno. A few hours after birth, Juno went up to Montaro (dad) and sniffed, explored and tried to nudge him for milk. Aude was crazy with worry and so distraught as she pawed furiously at the ground like a booming drum – but she did not force him to move away from Montaro.
I remembered, at the time, marveling at the contrast between Aude's behaviour and the way I was with my own babies! If my babies or toddlers were heading for danger and not listening to me, I would just pick them up and carry them off to safety. They did not have a choice; I forced them to stay safe and not risk getting hurt.
I had already observed Kaliah behaving the same way as Aude, earlier. Kaliah would only use her body to herd and move Xadaa. She would not use her teeth (like a dog or cat would) to move or stop her foal.
Yet how can Kaliah herd Xadaa away from me, when every instinct screams at her to stay away from humans? How can Kaliah cut between me and Xadaa when all her experience of humans (except for a few weeks with Kris) tells her to never get close to them? Viewed from this perspective, Kaliah didn't really have any other way to get me away from her baby.
Also important to note, is that she had flashed me a picture before she struck. Through the muddying lens of my own nervousness, I had misinterpreted and thought the picture had come from my anxious imagination. I also dismissed the picture because when I checked Kaliah's energy, body language, and facial expression, she was not broadcasting any signs of anger, danger, or hostility.
Ah, but I had forgotten an important distinction my semi-feral forest herd had already taught me (and made me practice) – that good, solid boundaries don't come from fear or anger. They come from the simple place of: This must happen. Or, it IS.
I think horses that spend time – or grow up – around humans learn how dense/slow we are and they learn to amp up their signals so we understand them. But wildies are used to living in a world of subtlety and telepathy, and they still expect us to communicate 'normally.'
Later, I was taking pictures of Kaliah and Xadaa and I was on the other side of the arena panels that separated Mak the stallion from the mares. So I was in Mak's pen and the girls were on the other side. Again, Xadaa came trotting over to see me and put her nose through the arena panel to try and sniff me. Kaliah walked towards us and a picture flashed in my head of Kaliah lunging over the top of the arena panel to strike at me. My first thought was, "Man she's really freaked me out, my imagination is in overdrive." And my immediate next thought was, "Oh, maybe this is her sending me a picture again!" So I quickly stepped well back out of range, and I saw her soften and exhale as she came forward to invite her headstrong, moose-energy foal away from the arena panels.
It is fascinating to me how fear, nervousness, or anxiety make it much more difficult to dial in and discern the difference between my intuition and my imagination – especially in situations where split-second decisions need to be made and there is no time to deepen the breath, or send my energy into the earth.
The other interesting thing is that Kaliah's knock to my temple did not actually hurt me, nor even leave a visible bruise. However, her shot to my temple had additional significance to me. Having trained martial arts intensively for seven years, I know that the soft spot on the temple is one of the most vulnerable places to hit someone. You can knock someone out cold, and even kill them, with a certain kind of blow to that exact spot, the size of a nickel. And it is not easy to hit that spot either, as it is surrounded by bone – so you have to intentionally arrow your shot to hit exactly there.
Opening perception
As I felt into the energy of her blow to the soft flesh of my right temple, something else occurred to me. The energetic wham behind the physical pop reminded me of a time when I was on my honeymoon in the Turks & Caicos in the Caribbean and I met a local shaman in a restaurant. He and I immediately fell into discussion of deeper things and at some point in the conversation he jabbed me swiftly in my Ajna chakra (third eye) on my forehead. My poor husband Ian was like, "Wtf??!" But I put a hand on his arm to let him know it was okay. An energetic blow to the third eye can activate spiritual, or mystical abilities.
I had also seen this in Pentecostal churches; after a requisite amount of worship singing and praying, the congregation was in meditative state (moving in the Spirit) and the Pastor would come by and jab or tap the third eye and people would fall straight back, unconscious. They called it being "slain in the spirit". People would often fall hard, yet when they regained consciousness, they had no bruising or soreness – none that they talked about anyway.
Kaliah's blow to my temple felt like that. I wondered if there was a spiritual or energetic purpose behind her hit. Why there? In that precise spot? I was squatting in a position that the slightest nudge to my side, arm, or leg would have toppled me too.
Well, as the days wore on I noticed that my intuition; my ability to receive messages, insights, knowledge had gone to a whole new level. I no longer had to consciously "dial in" – the information just arrived spontaneously; quickly, and frequently.
For example, my husband Ian was in a funk for a few days as he worked through some tangled issues with a new business venture and when he finally surfaced to ask me for my insight/opinion, I said, "Well, here's what I see…" And BLAM I delineated every thread and nuance of all aspects of the situation and gave him perfect clarity in about 20 minutes flat. He was amazed. I'm usually pretty insightful and discerning, but this was a more turbo-charged, wholistic, finely detailed version of my normal perception. Whoa. That was pretty neat.
On another day, I watched my friend Güliz handle a baby and I received the message from Güliz's hands that she had been a midwife in a past life. I was not meditating, or dialed in, or even trying to discern – the information just arrived spontaneously. And not from the void, or from an angel/guide, no, the information came from Güliz's hands. THAT has never happened before.
During the same period, I had also been listening to Caroline Myss' (medical intuitive) fantastic audio series, The Anatomy of Your Health, and receiving huge insights, confirmation and awareness from her teaching. Caroline is a Medical Intuitive with a controlled trial accuracy of 93% (tested by medical doctors) who has been doing this work for decades – she really walks her talk. And I love it SO MUCH that she tells us, in the audio, to "Shut up" or "Stop it. Just stop it." – in her Chicago/tinged with New Jersey accent. What a breath of fresh air in this age of mincing political correctness!
Caroline's teaching and Kaliah's whatever-the-hell-she-did seemed to work in tandem. When I spoke to people who asked me questions, or came to me with thorny issues, I found myself speaking with such power and clarity, I felt like frickin' Moses or something.
In addition, Kaliah's direct hotline to me, became even stronger than before.
Now let's hit the pause button here… and go back to the day Xadaa was born. In my previous post of this series, I showed you the photos of the First Nations/Indian face that appeared on Kaliah's left hip, soon after the birth. Here are those photos again: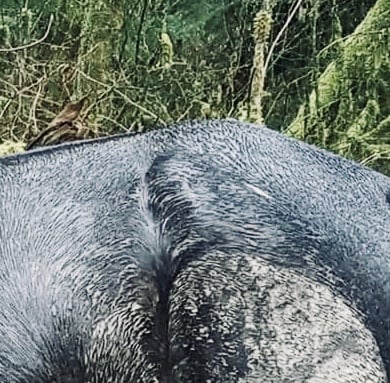 When I emailed those photos to my hubby Ian, I did not say anything other than, "What do you see??" To which he immediately replied, "The Native Indian lady – remember Whistler!!!"
My name is Singing Wolf
Here's what happened in Whistler, BC a few years after we married, 23 years ago:
My husband, Ian, his friend Shippums (oh those Brits and their nicknames!) and I were sitting in the lounge of the luxurious Fairmont Hotel in Whistler one evening. Shippums was visiting from Hong Kong, so we had come up to Whistler to do a bit of skiing.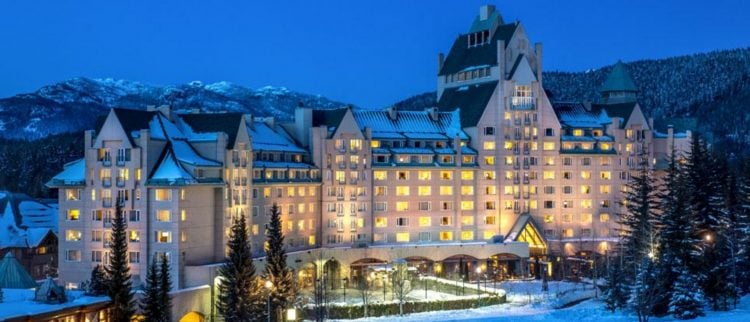 As we relaxed in the deep, comfy lounge chairs, the lights were low and the fireplace crackled. Shippums was telling some story about mutual friends in Hong Kong and Ian was gazing soft-focus at me. As the light from the fireplace flickered I started to feel a bit squiffy. Then I noticed that Ian was not just gazing at me, but had gone into a trance state – his eyes glazed over and a slight smile about his lips. I felt positively weird and Shippums barked out, "Ian… Ian! What's happening?!"
Ian remained non-responsive, just staring and smiling as Shippums grew more and more agitated, half-rising out of his seat, then sitting back down – looking wildly back and forth between us. "Oh my god," he said, "WHAT is going on??! C'mon, stop it. You're totally freaking me out here!"
By this time I was feeling discombobulated; like the world was tilting on its axis, like everything was dissolving into shifting bands of energy. I too decided this had gone on long enough, so I gently waved a hand and snapped my fingers softly at Ian, "Okay, enough, come out of it… Ian… Ian, take a deep breath."
Ian shook his head and straightened up, "That was so cool!" he said, giggling, "Didn't you see it?" he asked Shippums.
"See what??" said Shippums, "Oh my god, Ian, the hair on the back of my neck is standing straight up! What the hell happened?"
"I was just sitting here staring at Jini," Ian said, "and she started to morph into this old Native Indian lady… and her hair grew into two long braids down her front. It was wild!"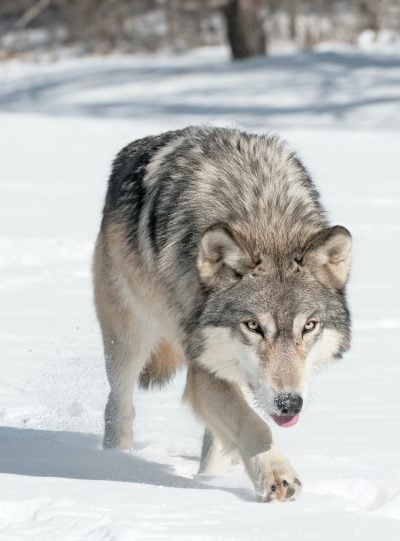 Soon after that, we dropped Shippums off at his chalet and headed off to our hotel, where Ian went peacefully to sleep. I still felt really weird and couldn't settle. As the night wore on I began to doze and then this vision appeared of a wolf running along frozen snow, quickly followed by an entire pack of beautiful wolves. And then the face of a very old Inuit or First Nations woman appeared at the front right corner of the scene. She looked at me and said, "My name is Singing Wolf." And then it all faded away.
I was able to get to sleep soon after that and woke in the morning feeling just fine. Poor Shippums was not so lucky and hadn't been able to sleep the whole night, he was so freaked out. We later found out the Fairmont Hotel was built on top of a First Nations burial ground.
Well Singing Wolf followed me down from Whistler and just hung out around me for the next few weeks. One time, I was lying down in a craniosacral appointment and she sat at the end of the massage table, just watching. I asked her, "Why are you here? Are you a spirit guide? Are you lost?" But she wouldn't answer me.
Another time, I was sitting in our living room, talking to Ian – in the middle of the day – and the same thing started happening. He went into trance and watched me start to morph. I could feel her starting to come into me, from my crown downwards, and I said, "Nope. No one else gets to be in here but me." And I pushed her out. "You can talk to me, but you don't get to take over and talk through me," that's just how I roll.
I booked an appointment with a medium who specialized in angel guides. She'd been able to see dead people so clearly since childhood, that as a little girl she'd often ask people, "Wait, are you dead, or alive?" I wanted to know why Singing Wolf was following me around, yet wouldn't tell me why she was there, or what she wanted. Keep in mind, I was only 6 or 7 years out of the Christian church at this point and still very concerned about demons and evil.
Well, Singing Wolf refused to talk to the medium either – in fact, she only answered her in her native language and refused to switch to English. So the medium banished her. And that was it. I didn't see her again. Until two decades later – when her face appeared on Kaliah's rump, the day Xadaa was born.
About two years ago, I woke in the middle of the night from a dream, where Zorra told me the name of our land (that we haven't yet found or bought): Singing Horse Ranch
And now, a First Nations spirit guide – named Singing Wolf – shows up on the hip of the black horse of our herd??
I asked my husband last week why he thought Singing Wolf had come to me and was following me around. He pondered as his breath slowed and he said, "The First Nations people have lost their way, they have been decimated by drugs and alcohol, so the ancestors need to use people like us to help them be restored."
I wondered what, "people like us" meant… people who were willing? People who were open? People who cared? Or people who had been First Nations people in other lifetimes? If you have lived before as an Indigenous American/Canadian (the land was not divided then) does that mean you carry an energetic link or resonance to those ancestors, or guides who operate on that frequency?
And more wolves
And of course, it gets even nuttier… I had told no one the Singing Wolf story for at least a decade or so. And a week after Xadaa's birth (when Singing Wolf showed up on Kaliah's hip), my friend Güliz – who is a BodyTalk practitioner and animal communicator – told me about a private session she did for a woman, and Kaliah showed up, along with a bunch of wolves… and she couldn't work out why the wolves were there. Until I told her the story, and then it made perfect sense.
Next, Güliz ran an Intuition Development workshop at Cheekye Ranch in Squamish and we all sat outside the wildies' paddock as Güliz lead us through a pranic/chakra meditation, followed by a guided journey visualization (imagining). During the visualization, we were instructed to invite the horses to come and join us. Afterwards, we all shared with the rest of the group what had happened during our imagined journey.
One of the women was very hesitant to tell her story, because she kept protesting that it made no sense, and so she felt she probably just made it up or something. Of course, we all encouraged her to share, and so she described how she had sat down in the forest and Mak and Kaliah came to join her. Then, a pack of wolves came up out of the woods behind her. But she wasn't scared at all, and one of them lay down right behind her, supporting her back. She felt reassured they were there, and that they were all there to help her.
Of course, I then told her the story of Singing Wolf appearing on Kaliah's hip on the day of Xadaa's birth, and I think she morphed quickly from doubting herself to being amazed at how connected and intuitive she was!
After people have met or connected with this herd of wild mustangs, they tell us how the horses continue to visit them for weeks/months afterwards, in the dreamtime, or when they're meditating.
So. It's like there's a swirl of elements, gathering together, and each piece is important to the whole. I know that many of us who gather around the campfire of this blog are going through similar experiences, walking similar paths. So I'm going to tell you one more piece. I'm not sure how this fits into the spiral swirl, but maybe it will become clear later.
Mustangs and elephants
Whilst all this is going on, and my business is exploding (in a good way), and all three of my kids are processing/clearing important life-path issues, I'm also having meetings with a Maasai couple in Kenya who run the Nashulai Conservancy, just adjacent to the Maasai Mara (huge protected game reserve). Their conservancy is really important because not only does the Nashulai Conservancy preserve the animal migration routes, but right in the middle of their land is where the elephants go to birth.
They are protecting the land for the animals (otherwise farmers put up fences and grow crops on it) by leasing it from the landowners. They also hope to build a cash reserve fund, so that as pieces of land come up for sale, they can purchase them – and thus permanently secure the animals' safety. In addition, they are running a few nifty initiatives that are bringing the Maasai people out of poverty, educating children, and saving girls from female genital mutilation (FGM). The super exciting thing for me is that all of this is being done by local Maasai people, with Maasai people – no Westerners in charge, hooray!
As a longtime supporter of microlending via Kiva.org, I firmly believe that true change and empowerment must come from within indigenous cultures. People like us can assist, or support, but it must be from the outside, or arms-length. We can be a piece of what they do, but the direction, management, and fire must come from within to be successful.
The other thing I've learned, whether I'm helping a friend, or an organization, is that the flow of money (which is an energy) is most effective when it is in a regenerative, self-sustaining loop.
So this is the perspective I came to Nelson and Maggie Ole Reiya with (founders of the Nashulai Conservancy). I didn't want to just give them some money. I wanted to see where my resources intersected with their needs, and could have the biggest effect – in a self-sustaining, regenerative way.
After brainstorming together we decided that I would use my team to set up a new website for them to publicize the unique travel and safari experiences they offer. If they can be fully booked during high season, that will pay for all the land leases, plus run the school – and the elephant babies (which are approaching the endangered list) will be safe!
We are also going to run Animal Communication Walking Safaris with them. I told them about Güliz's recent animal communication trip to Indonesia to listen to the elephants and orangutans there, and they were amazed and thrilled that such a thing was possible! The Maasai warriors will walk alongside to protect, but also to teach tracking skills and share knowledge about local plants and herbs.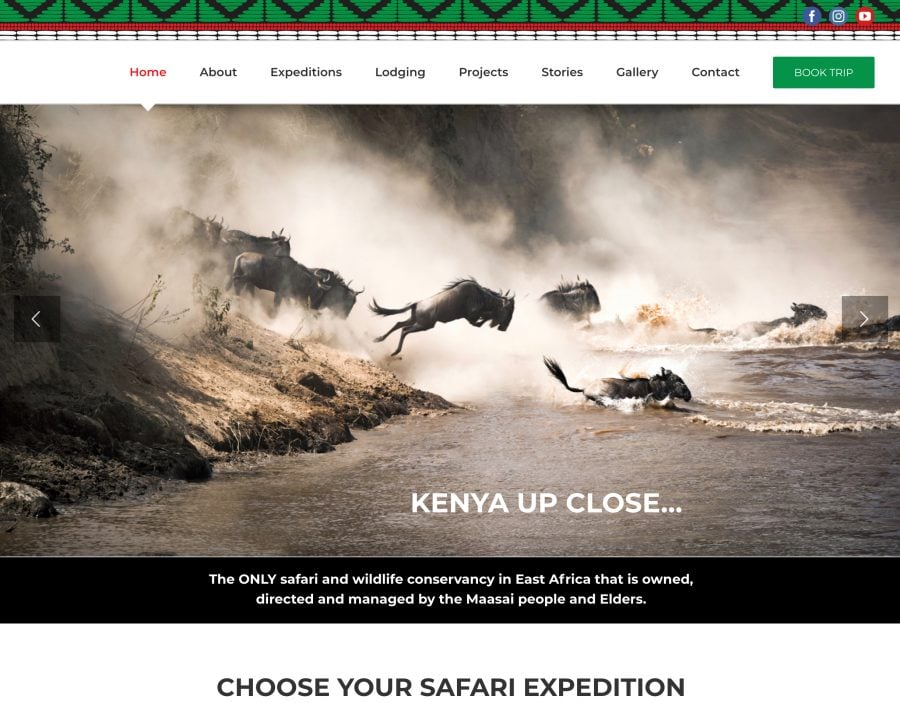 HOW is this related/connected to Kaliah and her herd?
I don't know. Perhaps there is a more direct link-up that can be made from wild to wild? If so, maybe that's why it is vital her herd stays wild… Perhaps there is some link between the horses and the elephants? Funnily enough, a year ago I bought the domain (URL) for Mustang & Elephant.
Here's another link: There are only two times I have dropped out of the time-space continuum whilst painting, and then emerged when the painting was complete. The first was when I painted my Andalusian, Zorra – 5 years before I met/bought her. And everything matched, down to the markings on her face: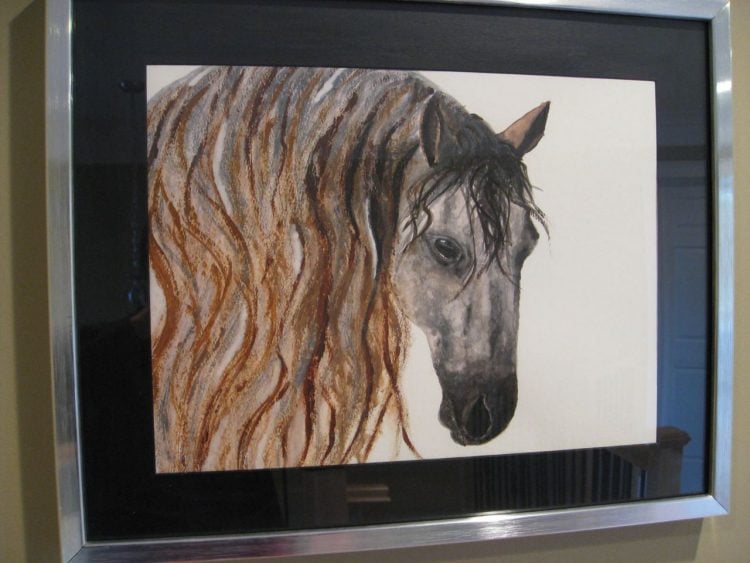 And the second time was when I painted this elephant. This is what I remembered seeing when I was on safari in Kenya at 2-years-old (I was born in Nairobi). I clutched the bottom ledge of the open window, watching this elephant thunder towards our car (which wouldn't start) and this is the last thing I saw before I dove for the floor:
Luckily the car started at the last second, and as we peeled away the elephant only tore the racing strip off the side of the car. There were new babies in the herd and our car was obviously too close for the bull elephant's liking. He had started waving his ears to warn us, as my Dad stood outside the car photographing the herd. I was only two years old but I remember every bit of that experience.
How are all these threads connected together? What do all these signs and symbols and experiences and cross-linkages mean and where are they heading? First Nations, wolves, mustangs and elephants… Who is reading this post right now who has had, or will have, an experience, message, symbol, dream, or vision that ties in, somehow, to all of this??
I don't know. I don't know the answers to any of it! And that's okay. Because it's enough just to ride the magic as it unfurls. To be part of this great adventure called LIFE.
Once again, I can only end by saying, NAMASTE.
Namaste ~ the divine in me, sees, acknowledges, and greets the divine in you.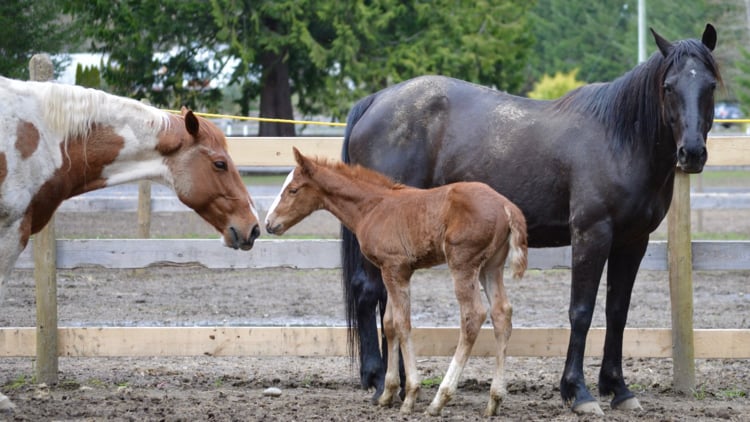 Read Part 6 of this series…
The Empowered Mustang Project: Intuition, Wolves & Elephants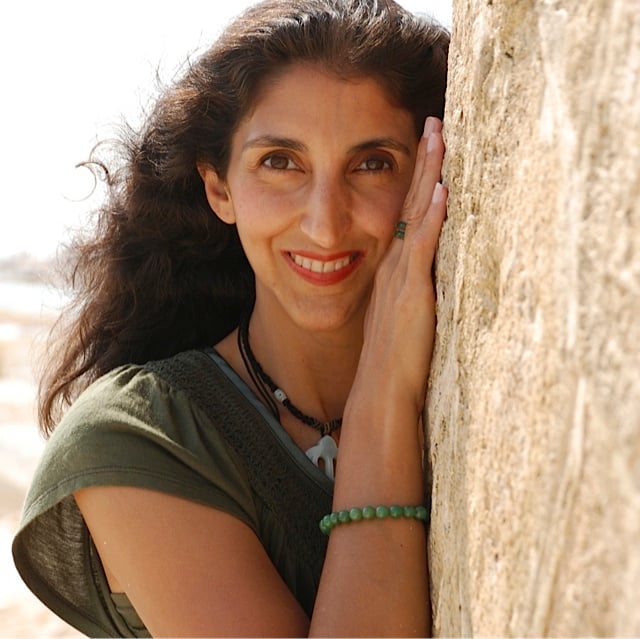 Jini Patel Thompson is a natural health writer and Lazer Tapping instructor. She began riding at age 2 in Kenya, and got her first horse at age 8 in Alberta, and so continues a life-long journey and love affair with these amazing creatures.