How do you feel about riding horses for your own pleasure? And how were you initially taught to interact with horses by a trainer or human teacher? We have written quite a few posts on this blog about the tangled conundrum of consensual riding, along with our podcast episode where we explore this topic, and most recently what it can look/feel like when being ridden is entirely the horse's idea and done with zero training, treats, or equipment.
In the video below, this beautiful woman from Germany shares her personal story of her riding journey with horses from early childhood. It is incredibly moving and my favorite part is towards the end where she puts her childhood horse in with the Singing Horse Herd – oh my heart!!
She emailed me a couple of weeks ago, asking permission to use footage of the herd she'd grabbed from my YouTube videos. After watching her video I was just thrilled with what she'd created and gave her our blessing to publish her video:
You can also start watching at 6:20 minutes for her insightful explanation of the trauma bond she had with her riding horse.
I then found this good description of a trauma bond:
"…trauma bonds occur when we go through periods of intense love and excitement with a person followed by periods of abuse, neglect, and mistreatment. The cycle of being devalued and then rewarded over and over, works overtime to create a strong chemical and hormonal bond between a victim and his or her abuser. This is why victims of abuse often describe feeling more deeply bonded to their abuser than they do to people who actually consistently treat them well.

Anyone who is in an abusive relationship can become trauma bonded to their abuser, but people who experienced traumatic relationships as children may be more prone to these types of bonds. After all, we already experienced these types of relationships with our parents or other caregivers, so our nervous system is already primed up to fall into the cycle."
What are we doing to children when we teach/train them to hit, kick and dominate another sentient being? What happens on a spiritual/emotional level when we teach them this is normal, necessary, and totally okay – and what kind of neural pathways (grooves of feeling and behaviour) get laid down in their brains?
Perhaps there's a way that riding can be viewed as a 'gift' not a 'right of ownership'?
And of course, for something to actually be a gift, it has to be freely given, with zero expectation from the receiver. This is my own personal goal for if/when I ever ride again.
At the same time, I know more than a few very compassionate humans whose horses have to work alongside them to make a living. If the horses didn't work together with the human, the human couldn't afford to feed them. As we know, humans are taking over and fencing most of the land on this planet, so letting horses free to roam is not a solution, it's a death sentence. Would your horse rather be dead, or working alongside you to earn a living in partnership? I've seen horses that take their job very seriously and are true masters at their work – they are co-creators of the life they have with their human.
I don't think it's as simple as 'riding or not riding'. That's an oversimplification of a complex, multi-faceted issue. For example, most dogs I know have terrible lives in terms of their health, diet and freedom – but they are truly happy to be in partnership with their human.
Dogs historically gave up their freedom to work together with humans in exchange for food and the bond of a working relationship. So is a city dog that's always walked on-leash, with no chance to engage in species-specific behaviours, who doesn't live with a dog companion, who is fed entirely processed food, and subjected to ritual torture at the grooming parlour an abused, trauma-bond dog? Or is s/he a fairly content, happy dog? Is that dog waiting/hoping for its human to change? Or is the dog at peace with his life?
Sometimes we can gain some objective distance and clarity by asking our questions in regard to another species. Now explore those same questions in relation to your horse. And also look at your physical and financial parameters. Lastly, examine your own life – how's your own health, diet, freedom and vitality? Maybe you need to start there; cause you can't give what you don't have.
Are you spending hundreds of dollars on supplements and bodywork therapy for your horse, while you walk around injured, out of alignment, tight, hunched, or unbalanced? How's that working for ya?
In my experience, when animals come into personal relationship with us humans, the dance toward wholeness begins. The horse, the dog, the cat is always advocating for our highest good, our highest wisdom, our freedom and emancipation. Once we truly set ourselves free, we are highly unlikely (perhaps incapable) of enslaving another. Once our consciousness shifts to a higher level and we are capable of telepathy, or feeling/reading the body, then our animal has a voice… because we can hear them.
I remember asking Montaro to practice riding… he side-eyed me and said, "What's to practice? We're out hiking, you get tired, I'll carry you until you're ready to walk again, or until I get tired." He flashed me a picture of this happening and him being totally nonchalant as he told me to hop on for a while. Well then. Can't argue with that! His body, his choice.
It reminded me of Zorra. When I purchased Zo, she was 9 years old and had only been ridden for 3 months, back when she was first trained to ride. I hiked the park with her for six months solid – because I had told her I would not get on her back until she ASKED me to. One day we had finished our 2.5 hour loop on the trails and she planted her feet and didn't want to go home – which was another 20 minutes walk further on. I was worn out. I looked at her and said, "Zo there's no way I can walk for another hour or two and then walk home. I just cannot do it today!" She huffed and puffed and then said, "Well get on my back then!" Kesia – who was walking with Spero and Amalia – gave me a leg up right there on the road, and I rode Zorra for the first time bareback, in a halter and leadrope, back into the park for another 2 hour loop. It was AWESOME!
Zo continued to give me rides for the next 6 months, although she always wanted me to walk for 20 minutes first, to the entrance to the park. I realized this was because both of us needed to limber up first – probably me more than her! When the rider is unbalanced, tight, or restricted, it is much harder for the horse to carry the rider. One day she told me to go see my chiropractor as my hips were uneven. I told my chiro, he checked me, and said that Zorra was right.
After 6 months of bliss, Zo developed a swelling in one foreleg. This 'injury' started a dialogue that led to me getting 3 more horses – Audelina, Jax and Montaro. Then Zorra said she didn't want me to ride her anymore, she only wants my daughter Zara to ride her. So that was that. I think Zara's ridden Zo twice in the last five years.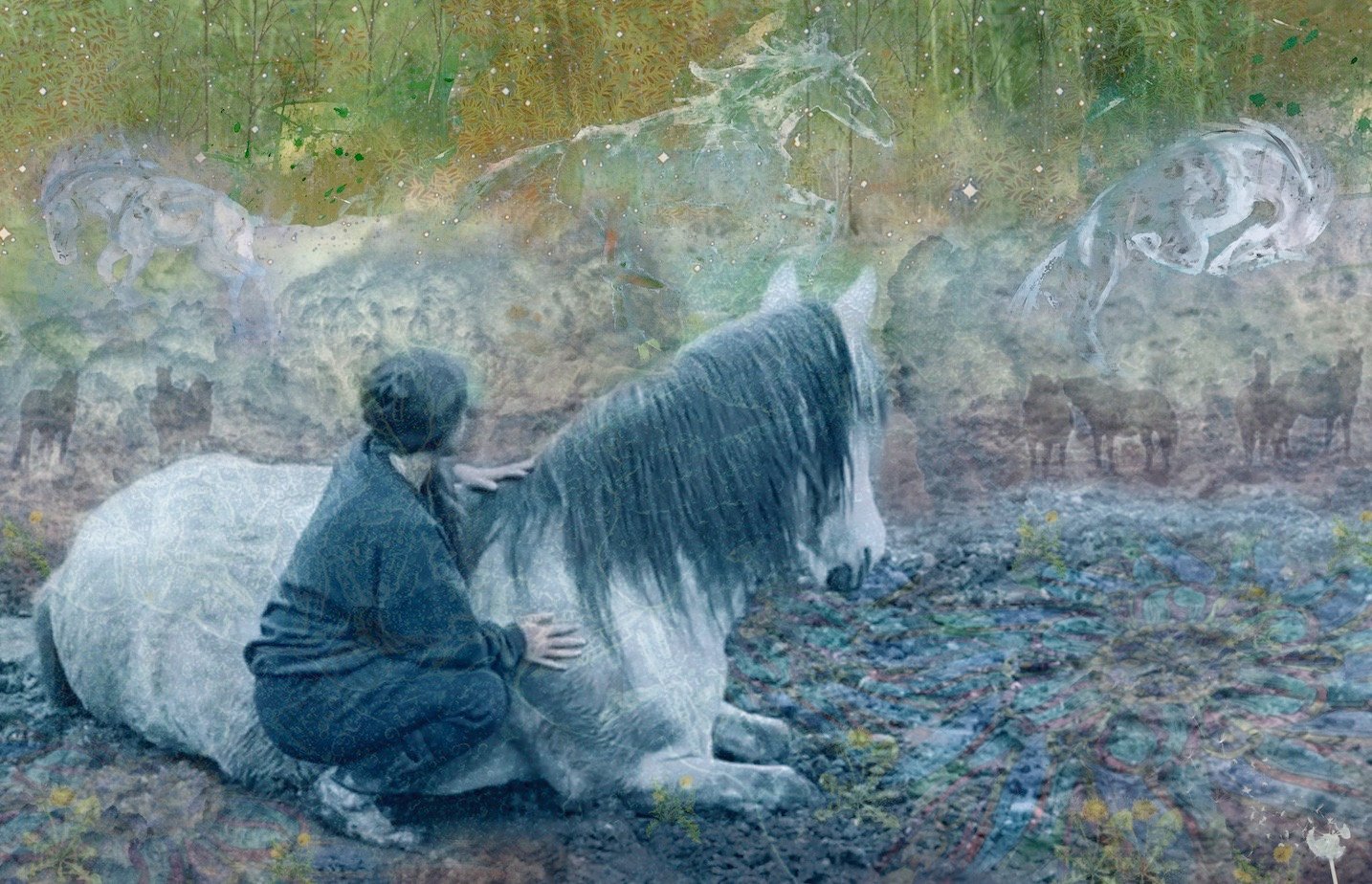 One of my dreams is to have a big-ass ranch and every day or two, the herd and I ride out to check the fenceline. I stand on a big rock and say, "Who wants to give me a ride?" And whoever feels like it, comes over and I climb on. As we ride the fenceline, that horse gets tired, or sore, or has had enough, or wants to bolt and buck with their herdmates, and I get off. Then the next horse comes up alongside me and I get on and continue riding. So it's this totally fluid experience where every horse is free to choose and to listen to their own body.
In a perfect world, I don't even have to get down, the next horse comes up alongside and I transfer from one back to the other – wot fun! In an even more perfect world, there are elephants trekking with us and sometimes I ride a horse and sometimes I ride an elephant. BUT, this is only joyful, fun and desirable if the horses and elephants have full freedom of choice and want to give me rides. Because it's fun and joyful for them too. NOT because I've trained them, or given them treats, rewards, etc. Although, I would certainly be happy to give them all some alfalfa when we return home after a job well done. The same way they get alfalfa now after doing a session with someone. The herd likes to complete the circle of, energy out – energy in.
Again, it's the same nuance, the same feeling for intention and motivation. It's not that all treats or rewards are bad. But what's your intention? Are you using them to bribe, cajole, manipulate? How does that align with your core values? Are you using them because your horse asked you to – because a treat makes it easier to do things that are difficult, but that they actually want to do (like get their hooves trimmed, or clean a wound)?
In a world of 'shoulds' and judgment, we're not asking the right questions. We're not sinking down into each situation, each interaction and observing and perceiving what is actually happening. Instead, we're looking to appoint some external authority to tell us what to do, how to think, how to view, what's 'best', how to proceed. Granted, this is exactly the way most humans have been raised by their parents – so those neural pathways are deep ruts. The good news is we always have the freedom to choose a different path; starting now, today, tomorrow, or whenever we choose.
Black and white thinking not only excludes so many levels and layers of reality, it makes us rigid and our energy contracts. Compassion, acceptance and wholeness (yin and yang) are open, fluid states of being that allow us to truly observe and perceive all the layers of what's happening. Or to truly see and understand the results of our actions or intentions. Sometimes a nuance can shift everything – but nuances don't exist in a world of absolutes. I find it far more rewarding and fulfilling to move through life in this way. Forget rules, training, and whatever's considered 'normal'. Listen to your horse and your horse will tell you everything you need to know – and that changes with time, circumstances and the weather! So be in a state of continual listening. How about we stop trying to write a Rule Book for ourselves, and instead develop a willingness to be responsive, flexible and co-creative… Life with your horse will become so much more fulfilling, magical and healing, for both of you.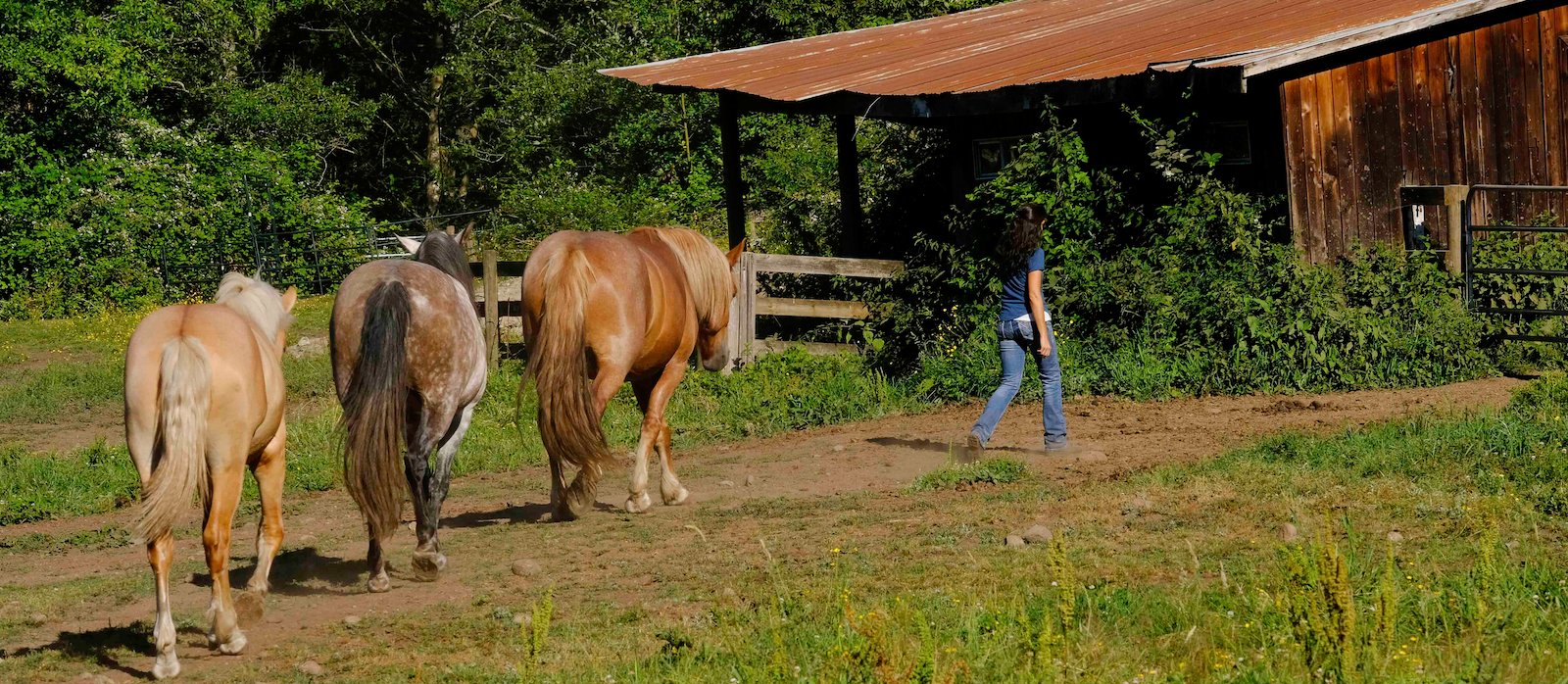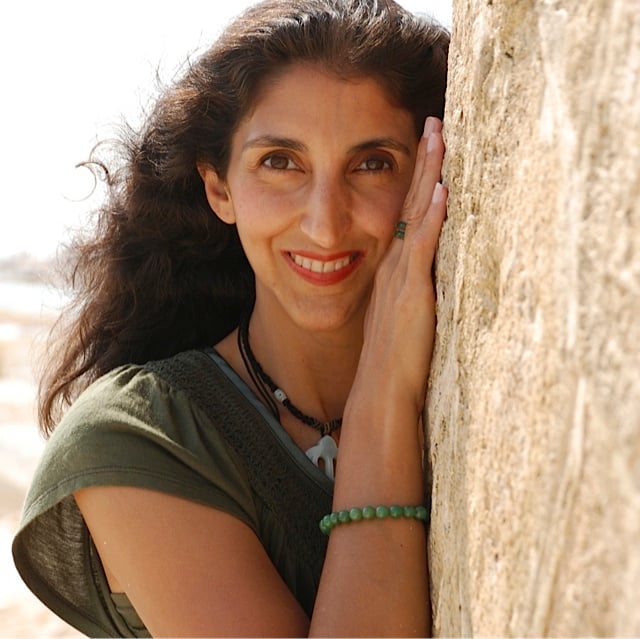 Jini Patel Thompson is a natural health writer and Lazer Tapping instructor. She began riding at age 2 in Kenya, and got her first horse at age 8 in Alberta, and so continues a life-long journey and love affair with these amazing creatures.