I was talking to Audelina about riding… if she wanted to do that, how she'd like to go about it, etc. And she assigned me an exercise.
She told me to go stand on a tall box, or one of the hay feeders, and hold my intention/vision/desire/ask as I stand there. She said that when my desire, what I was asking for, was clean and clear, and my energy was right/good, she would come up alongside me – positioning herself so that I could get on her back.
So I started out standing on a slowfeeder for a while. Then I overturned one of the alfalfa boxes in the middle of the big barn and stood there. And stood there. Breathed, fidgeted, and stood some more.
I realized that asking for what I want with my whole heart/body is a very vulnerable place for me! Saying "I'm flexible, whatever happens is fine," is a form of protection – a way to not get my feelings hurt, or feel sad, or disappointed.
Of course, being in that state does not result in Aude coming anywhere near me! And unbeknownst to me, Aude had also told Juliet to film me:
My body was showing me that I didn't know how to ask for what I wanted, yet also stay in softness and allow Aude her own desires.
Juliet said, "I feel like Aude is trying to show you that balance of yin/yang; the balance of trusting & asking… and taking & allowing."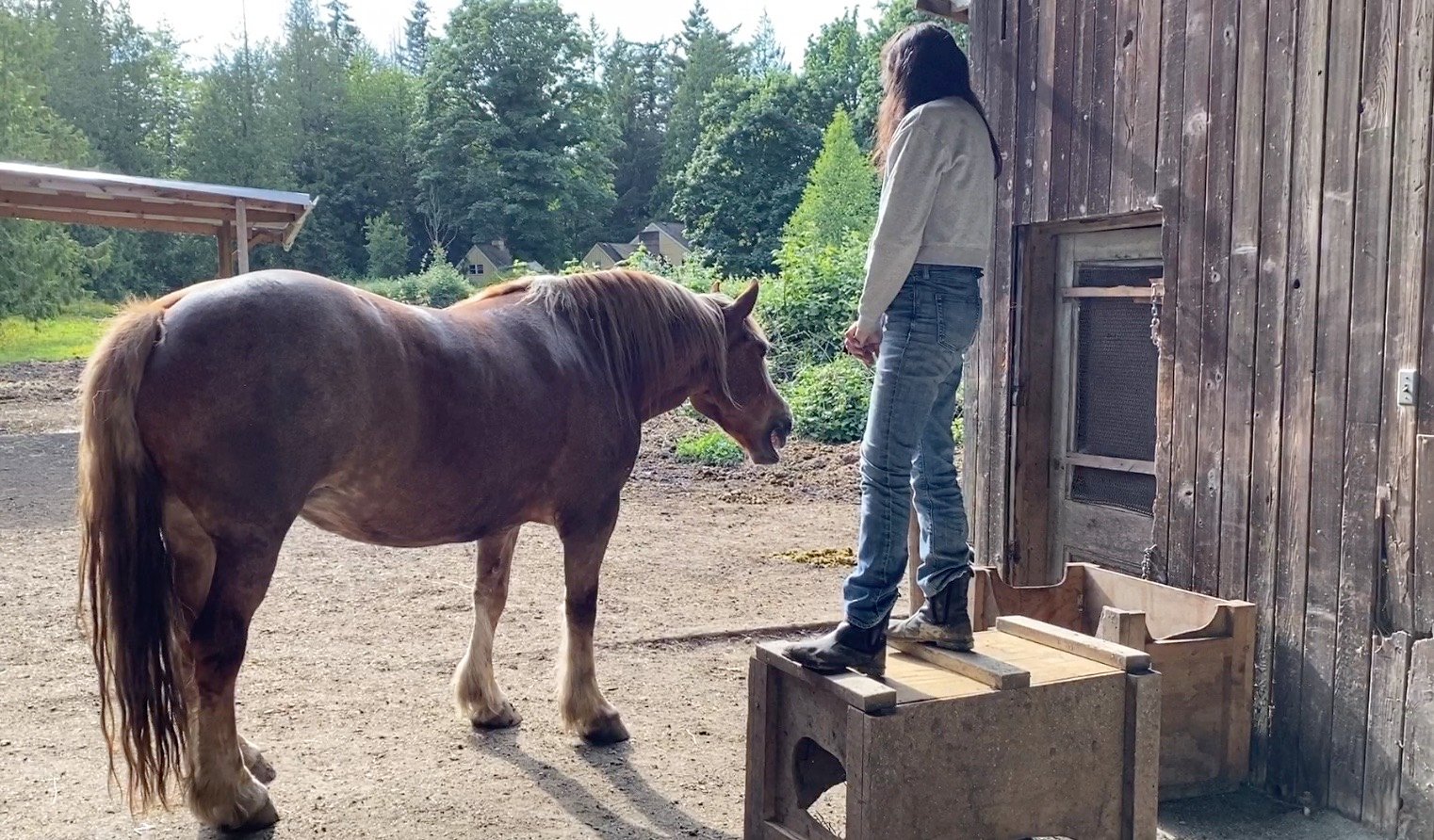 As Juliet observed Aude and I, she asked me, "How do you hold that space of 'hopeful expectation' without attachment to the outcome?" And that's what I don't know how to do – because I'm more of an intense person by nature. So I know how to hold a hopeful expectation, and I know how to let things go. But combining the two states and holding them simultaneously is something I'm not very good at. So how do I hold a focus (an ask, a desire) but hold it loosely, so it's not a pressure, or a tightness?
After another 15 minutes or so of fumbling, that was it. I called it a day as I just couldn't get anywhere near the state Aude was asking me to hold.
Childhood conditioning about desire
The second time I tried this exercise (just stand on a box with my invitation/desire to ride and when my energy is right/good, the horse will engage) Aude and I were in the hay arena and there were no other humans present.
As I stood on the box again, trying to hold that clean/clear desire, but without any pressure, all these experiences from my past rose up. I remembered the way my father would discover what I wanted and then purposely make it really difficult for me to get it. His intention was to teach me good negotiating skills, tenacity and persistence – with a bit of gleeful triumph at thwarting me thrown in. But what I also took from those experiences, was to hide what I wanted. To not hope or care for what I really wanted – because then it didn't hurt so much when I never got it.
I remember talking with a neighbourhood parent about our 2-year-old sons and he said, "Well life is hard and you never get what you want, so he might as well learn that now." I was horrified – that is what you want to teach your child??
As these memories arose, and as I owned them and did a bit of tapping to clear them from my mind/body/soul, Aude began to engage.
After clearing my crap, I managed to stay light, hopeful, and really clean – and we had the most wonderful, intimate, blissful connection. At one point she pressed her whole face into my chest and then hugged me with her neck. When she lined up alongside me, I didn't even want to sling a leg over her back. Our connection was so blissful, I merely placed my hands on both sides of her neck, just above her withers and felt like I was on her back. It was perfect. And more than enough for that day.
Cobra stood motionless, watching us intently the entire time. I think he'd like to do the exercise at some point too. The arena is a space that can work well, because the horse can munch their alfalfa in peace and doesn't have to watch for anyone, or be disturbed when engaging. As we go along, it will be interesting to see who wants to do it in the arena, and who prefers the herd/barn. And yes, did you notice that I gave her alfalfa at the beginning of this exercise? This is true freedom of choice; no withholding of treats or rewards, no manipulation to achieve the desired behaviour.
This is a great exercise and it's so illuminating what comes up! Whether you want to explore fully consensual riding, or improve your manifesting skills – because asking a horse and asking the universe is energetically very similar! As energetic creatures, the horse will show you where your 'ask' is conflicted, muddy, or unclear. Your blocks and saboteurs will pop and offer themselves up for healing/integration.
Manifesting your desire across all areas
The third time I did this exercise, we were in the process of trying to buy a house with 12 acres. If you've followed this blog for a while, then you know how much I would love to finally be able to live with the herd! Our offer had been accepted, with the stipulation that we sell our current house in 2 weeks! If we couldn't sell our house, then the deal was off. So I came to the horses with the intention of asking them to show me if I was blocking the sale in any way (a hidden saboteur?), or if there's anything I could do energetically to make the deal happen?
Of course, this is the perfect exercise for the horses to show/teach me where my manifesting skills need to be tweaked.
Aude, Siyone, Makah, Kaliah, and Zorra were all in the sheltered/paddock area. And I stood on the slowfeeder in the paddock. Kaliah immediately looked at me with intensity and Makah with curiosity.
I started off with my eyes closed so that I could focus on my intention and what I wanted. Which was for a horse to come up alongside me, broadside where I could reach my hand to their withers. I communicated to the wildies that I didn't need to touch their withers. I would just extend my hand energetically to their withers once they stood next to me, and make that connection. While holding images of riding on their back and how enjoyable that would feel for me.
Note that I'm not trying to tell them what the experience of carrying a human will feel like for them! That is for them to share with me, if they choose to try the experience I'm offering.
As Kesia said, when we discussed this process:
"Owning your desire… Your desire is for you. Not for anyone else to fulfill – that becomes expectation. The desire itself is high sensation, especially when it is attached to more. Staying with the sensation, letting it move through your body until it becomes pure creative energy, a magnetic invitation to all that you desire… and holding for as long as you can bear."
Well, the first thing that happened, after I closed my eyes and really focused in on that intention, and sent them the images of what I wanted, my desire, was that I felt it was now too intense. So I opened my eyes and I held the same ask or intention with my eyes looking at everything and enjoying the sun. By this time, I'd been standing there for about 10 minutes.
Makah then walks towards me (my heart smiles with hope) and past me. Kaliah draws a bit closer, opposite me, and looks at me head on. She says, "Impatience is not trustworthy." I think about that for a while and I feel into the energetic reality of impatience and I totally get why that is a completely unsafe state to be in, especially when asking for something to happen. If I get on a horse's back when I'm impatient to get going, or to get what I want, then I'm not in a place of listening, or compassion, or gentleness, or openness, or flexibility, or trust. As the understanding sinks in and I actually GET what she's saying, I repeat it out loud: Impatience is NOT trustworthy. As I say the words she walks up alongside me and stops with her head right near my legs.
So a few things now occur simultaneously to me: Firstly, that she has given me 90% of what I asked for. And I feel the question hanging there, is this enough? Should I just accept that this is fine for now? Or should I continue to hold my original ask?
The second thing, is that I feel unsafe with her teeth so close to my legs, since her ears are pinned back. So I adjust my position and I step back with one leg so that my body can feel relaxed and safe again. Remember, this is a lesson that the horses have given over and over again – do not confuse intimacy/love with safety! We must stay 100% responsible for the safety of our own body and not try to put that responsibility onto others.
As I feel into whether I should accept this answer, or not. I feel that I still have more to learn and I would like to continue on with this exercise. So I say that to Kaliah and I ask her, what else do I need to know? She doesn't answer me but merely holds that space of making me feel uncomfortable in my body!
So I start thinking about what I can do, or shift to feel more comfortable. So I start singing. But the tune I choose has minor chords, and it doesn't feel right at all. That's when Kaliah says to me, "What music do you hear or feel when you are riding?" So I have to go back to my childhood when my mare Dobbin and I used to meander around the roads, just swinging my legs in the sun and filled with happiness. And I find that song and I sing that song. That's when Kaliah moves up alongside me with her withers opposite me. And as I keep singing I'm not sure if it's from her or me, but I realize I need to bring that music through my body so I start to move and bop around a little bit and that's when I get the, "Well done," from her.
I'm now energetically fully connected with her back, her withers, her neck, her belly – although my physical body has no desire to get on top of her body. I did it! I managed to hold and fully embody my desire, my 'ask', with right energy. Blending the yang of my want/desire, with the yin of softness, play and lightness.
So although the horses are teaching me how to ride a horse with full permission and mutual desire (which also doesn't require tack – unless the horse asks for some) they are simultaneously teaching me how to go to the next level of manifesting. There is no difference. I encourage you to give this exercise a try. And if you don't have horses of your own – you can do it with a cat, or a wild animal, a bird, or an insect. It's all good.
p.s. We don't know yet whether we will get the 12 acres yet, or not. We have not received an offer on our house, the market has suddenly shifted and we have one week until the deadline. It's all good, as our energy/desire is clear and we are holding space for the highest good of all. If not this, then something better 🙂
p.p.s. We did not get the 12 acre property. Instead we got 160 acres! You can read that story, starting here.
Audelina Assigns Me an Exercise to Prepare for Riding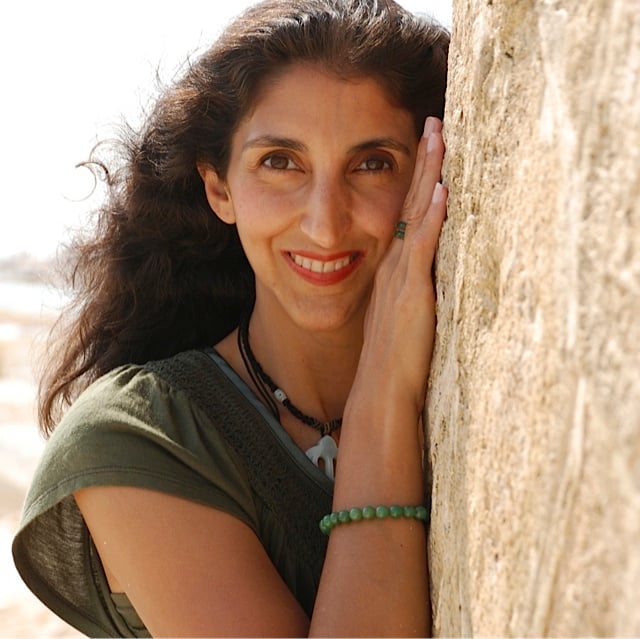 Jini Patel Thompson is a natural health writer and Lazer Tapping instructor. She began riding at age 2 in Kenya, and got her first horse at age 8 in Alberta, and so continues a life-long journey and love affair with these amazing creatures.