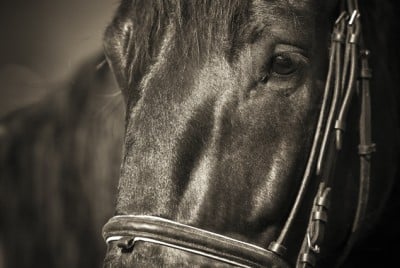 Following on from my book review of Riding On The Power Of Others, Ren Hurst's story threw me back (again) into the throes of my own tangled journey on this issue of consensual riding.
As Ren so rightly pointed out in her book, if a horse is conditioned to a place of learned helplessness, then what choice does the horse actually have?
And in all my interactions and 'training' with my horses, is there ever a time where me saying, "This is the way it has to be, regardless of how you feel" is justified?
How about when we've lost our boarding place and we must move to a new place, but the horse refuses to get on the trailer? And I can't lead her there on foot.
Or how about when there are 2 cars coming from both sides and we need to get off the road right now. And the horse doesn't want to move just yet? Would I be justified in applying some force in that instance when there is no time for explanation, or softness, or patience? When my sole motivation is to avoid him getting hurt or badly frightened?
I encounter situations like this with my dog all the time. Because Tiah comes with me everywhere and we are often in situations where human rules of behaviour (and legality) apply that she doesn't understand, but I do.
Tiah doesn't understand why she can't run up to every human on the road or path and greet them. But I understand that many people are frightened of dogs – some to the point of terror, so that's not okay. She also doesn't understand why she can't explore around our street while I'm loading things into the truck. But she doesn't know about our neighbour who told my kids to "Keep that dog leashed, or I'll call the Pound!"
And so yes, in those kinds of situations, Dominance is my middle name. I am the BOSS – not the enlightened leader, but the 'do as I say' boss.
I went through similar situations with each of my three children. And I myself am subject to ironclad boundaries for my own behaviour as determined by our legal system. Does that mean that none of us are free? Does that mean that I have broken the trust of every being I'm responsible for; regardless of species?
Or is intention more important than the action?
And what the heck does all of this have to do with riding anyway??
Well, these are the thoughts that swirl around my head when I get to wondering if ANY of my horses are ever going to want to be ridden? And let's say they don't. What if every single one of them makes it clear that they don't like riding with me and they have no desire to get with me in that way. Then what?
Then the terribly disappointed part of me comes out and says: Well, why do I have horses then? Why am I spending thousands of dollars, crap-loads of physical labor, endless hassles with logistics (weather, barn, fencing, dry areas, hoof, teeth, etc. etc.) to have FOUR animals that want to do exactly the same stuff with me that my cats and dog do? WHY don't I just have cats and dogs then?
Okay, yes, perhaps it would be worth it just to see the gorgeous, powerful, flowing way that horses move. When I can eventually have them at my house, I could look out the window, or sit on the porch and just enjoy watching them. Okay, I could reconcile myself to that. But then why would I need FOUR? Two would be perfectly sufficient and way less work and cost. Note: I don't even get into which 2 I could conceivably part with, because even theoretical conversations can only go so far!
And yes, I know that Zorra (Andalusian mare, aged 11) likes to be ridden after we get to the park – which switches on her adventure-self. But right now we are not near a park and I don't have a trailer – assuming she would even want to be trailered to the park, away from her herd, and still find that enjoyable. And…
Once upon a time
And then I am a tangled ball of frustration. I have a bone-deep longing for my childhood horse Dobbin – who not only loved riding, but would come to the fence and stare piercingly at me while I was playing with a friend. "Let's go riding!" she would command me. "But I'm in the middle of creating a banquet (out of mud), I'm not done yet" I would reply. "Let's go NOW" she would insist. So I would sigh and explain to my friend that Dobbin wanted to go for a ride and I would have to meet her later.
Dobbin and I had the same relationship as I did with my human friends. Sometimes she led the way and taught me – and I willingly deferred to her superior knowledge and wisdom. And other times, I told her what was what, and she did what I said. And sometimes I was wrong, and took the consequences – which usually involved me hitting the dirt. But the relationship was not severed, or damaged, as a result of my idiocy or pigheadedness.
Because in any relationship, we piss each other off from time to time. We cross boundaries, or don't behave compassionately. And as long as the doofus party owns responsibility and makes reparations, it's all good at the end of the day. Right?
I could take the position of: Hey, we all have to do things we're not thrilled about. And we all have to work. So this is your job, step up. That could work. Except that then I wouldn't enjoy riding! The whole reason I love riding is for the experience of two beings merging into one – the flow of energy, power, adventure, peace, bliss, exploration. Without that, I might as well ride a bicycle. And that oneness can only happen when both beings desire it.
So I have ALL of these thoughts, longings, frustrations whirling around in my head as I head out to the barn today. I'm not in the best state and I don't really want to have much to do with the herd at this time, so I do the chores instead. Audelina and Jax come over to me a few times to try and interact, but I just give them a quick scratch. Then I throw a bale of alfalfa out in the field so I can fill the slow feeders and hay nets in peace.
Link up with me
I move on to scooping manure from the graveled paddock area when 3-year-old Audelina (one of my 3 semi-feral rescue horses) wanders back in – leaving lots of hay still untouched in the field – and she just stands near me while I scoop. I chat with her a bit and then she moves close to me and knocks the handle of the manure fork away and pretty much instantly goes into meditative state – eyes half-closed, lower lip hanging. So I say, "Okay."
I put the manure fork down. I square my heart up to hers and open my heart center/chakra front and back. I bring energy/prana up from the earth, through my legs, tailbone, up my spine and out my head as my breathing deepens. I am connected to her, I am connected to Mother Earth. And I breathe.
Thought packages from her begin to appear in my head: "We 3 have no concept of what riding is or what it feels like. So when you come to us, whatever pictures, or dialogue, or fears, or ideas you hold, will be transmitted to us. So YOU will be solely responsible for what we think about riding and how we feel about it. It is entirely your choice, and up to you."
I am receiving this, thinking about it, pinging back and forth between the heavy responsibility of it, and the endless open possibilities of it, and the tremendous challenge of it (to not f**k it up)…
"It is not the same as with Zorra. Zorra already has a whole set of ideas, and responses, and trauma, and resistance because of how she was treated before. With us, everything is different. All will be determined by you."
Jeez luh-weeze!! I go back to scooping poop cause now I have a LOT to think about. Audelina wanders back out to eat hay. When I'm finished my chores, I go out to join them in the field – enjoying the (finally!) warmer weather and the fact that parts of the field are actually drying out and no longer in 18 inches of mud.
Consensual snoozing
Soon after I arrive,  2.5-year-old Montaro lies down. I'm feeling a bit chilly, so I go sit against his back to warm up, saying, "Is this okay? Don't worry, I'll move if you want to lie on your side." Jax comes over to nibble at the hay sticking out from underneath Montaro's body. After a few moments, Montaro starts to move his leg – like he's thinking about standing up. And I get up, "Oh sorry, don't get up, I'll move." I can tell he didn't feel comfortable with me there; or perhaps it was too much having both me and Jax close to him.
About 5 minutes later, after 2-year-old Jax has laid down near him, I come over again and sit in the same place, "Is this okay now?" It is only a few seconds before Montaro shifts his weight and starts to move his leg in the same way again. I immediately move away, "Okay, got it, you just don't like me sitting there."
I walk back over to Audelina and sit down on the ground near her. I pat the ground and make the "come" motion with my fingers, "Come on Aude, come lie down with me." In a few moments she lies down in front of me. After a few minutes, I get up and move so my lap is underneath her muzzle. She breathes great warm breaths on me and I'm quickly warm and toasty.
Zorra is still standing and I say to her, "It's okay if you want to lie down Zo, I'll keep watch." A few minutes later, Zorra lies down to the right of me and Tiah curls up behind Aude. I notice we are all in a circle of snooziness.
Aude slips deeper and deeper into sleep until her muzzle is mashed into the ground, with her lips squashed off to the sides and her teeth right on the earth. She then starts neighing in her dream! Oh what delight. Montaro is wheezing and farting, Zorra is groaning, Jax is farting and Aude is neighing. Aude then rolls over onto her side, stretching out flat with a sigh and a fart. I think to myself, "Someday I will need to video this just to capture the sounds they make!" I hum peacefully to myself, as they all lie flat out on their sides in our circle of dreamtime.
I wonder if it would be okay for me to scooch over and lean against Aude's chest while she sleeps. So I stroke her as I move closer. But the second she feels me lean back against her chest, her head pops up and she rolls up onto her side again – looking surprised and alarmed.
"Oh sorry, Aude, sorry darling," I say as I stroke her, "I didn't mean to scare you." Dolt, I think to myself, of course that would freak her out. WHEN does anything come and lie against her chest, between her neck and legs, while she's in a deep sleep? Der!
I move back to my spot at her head and I say, "It's okay, I won't try that again, you can go back to sleep." And after a few moments, she lies back down flat again.
The dance of reciprocity
It's not until I'm leaving the field, walking back to my truck that it hits me: THAT is all I have to do with the invitation to ride together!
They have already shown me today (and at numerous other times) that they trust me implicitly. And I did unpleasant and even scary things to 2 of them. But as soon as I realized they didn't like it, I stopped and apologized. And they forgave me instantly and went back to complete trust and relaxation. No trauma. No guarding, or armoring, or dissociation, or learned helplessness, no negativity of any kind!
AND that also doesn't mean that Montaro will never want me to snuggle against his back, or that Aude will always be alarmed when I lean against her chest. One or both of them might actually enjoy that the next time I try – because they will know what I'm doing, it won't come as a surprise, and they also know that I will move away the second they signal me to.
I realize that's what I've already been doing with them in our 5-Minute fun learning sessions. And Aude gave me the missing piece in our paddock meditation: the importance of me being in the right mindset and energy as I introduce them to the pleasures of riding (eventually – we are about 3-4 years away from their bones being hard enough). To leave all worry and second-guessing at home and only come with pictures and thoughts that I want to transmit to them.
I feel lightened. I feel hopeful. I feel a whole world of possibility opening before me. I GET TO CHOOSE a lot of the components of how they feel about me on their back, based on how I behave, think, feel, and how I respond to their thoughts and feelings. Whether they experience riding as a positive, or negative thing, is up to me and how well I dance with them in the reciprocity of intimate, trusting relationship.
At this point, who knows what that will look like? Or how long it will take (probably very different for each one)? And what quirks and preferences each of them will have? And how long, or how often they will want to ride? And where will they want to go – maybe one will only want to ride around at home, maybe for only 5 minutes at a time, maybe one of them will never want to get with me in that way, maybe another will love long trail rides, or mountain excursions? Who knows? And what an endlessly stimulating journey of exploration we have ahead of us…
Imagine, one of them might actually prefer to be ridden with a saddle – now that would blow my mind! I really don't like saddles, but I would be willing to adapt for their sake. I wonder what they will decide to get used to for my sake?
I'm not the only one…
Just as I am bringing this post to a close, Kesia shoots me over this video that follows trainer Elsa Sinclair on a very similar journey – with a wild mustang, no ropes/halter/quirt/arena, nothing other than body language, as she seeks to answer the question: If a wild horse has complete freedom of choice, would she ever choose to be ridden?
And because the universe is a serendipitous place, I also joined Elsa this summer, for a one-week workshop at Equinisity on "reading and communicating using body language and the interplay of leadership skills that develop conversation between horses and humans".
You can read my review of Elsa's Taming Wild documentary here.
The Tangled Conundrum of Consensual Riding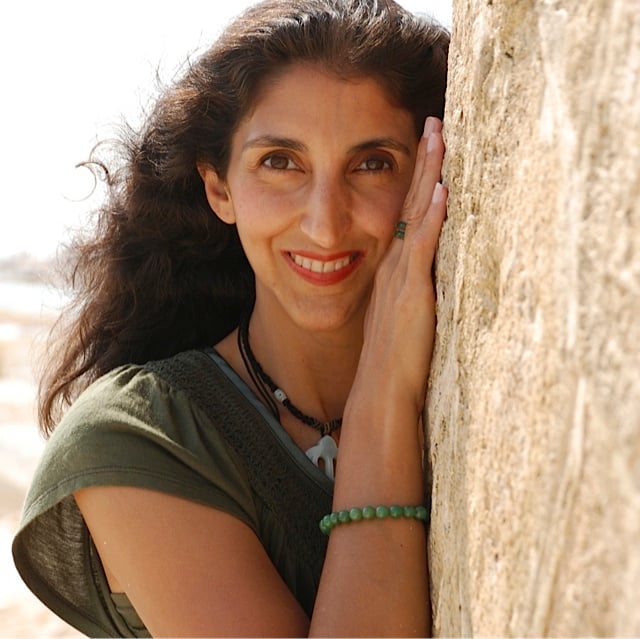 Jini Patel Thompson is a natural health writer and Lazer Tapping instructor. She began riding at age 2 in Kenya, and got her first horse at age 8 in Alberta, and so continues a life-long journey and love affair with these amazing creatures.