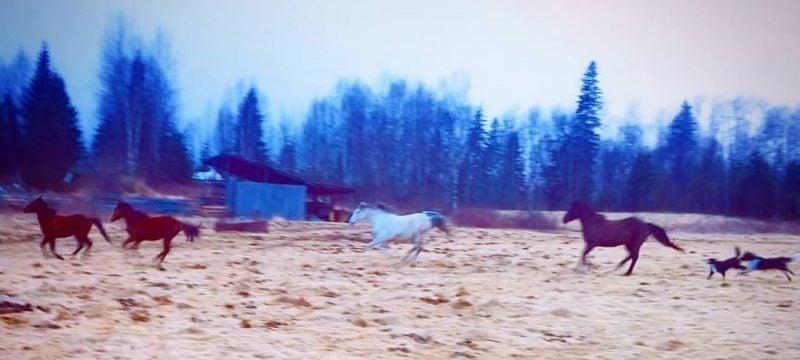 I could blame it all on the horses. In fact, when exhaustion and overwhelm creep in, when I momentarily lose my footing and wonder how in the hell I got here, when the van gets stuck in the mud and I'm barely making my bills and the goats are eating the weatherstripping off the house and the puppies are raking my flesh with their terrible love (more on them in a bit)… I remember that it was the horses that brought us to this place, and more importantly, brought us to the point within ourselves that we could take the steps to come here. When things get a little squirrelly, all I have to do is look out the kitchen window and see Amalia resting, taking in the late afternoon sun, long coat steaming, her whole body radiating relief and calm, to center myself again and lean back into the wonder and challenge.
It is fitting that this is our 10th year together – when I was 17 I met a beautiful little grulla mare that I just had to make mine. It was ill-advised and nearly impossible, so of course I did everything I could it make it happen. Putting my trust in her mysterious hooves has opened my entire life, shattered so many illusions, shown me my deepest self and determined the course of not only my life but also the lives closest to me. 10 years ago I promised her freedom – some way, somehow – and while we now are learning that freedom is admittedly often cold, wet, itchy, or alarming, she is much closer to it than many of us will ever be. She and Bella the cat are the only animal beings left from that long ago. We've lost a few and gained a good deal more – 99, to be exact, for a total of 101 creatures (at this brief moment in time). You've heard about the horses, goats, cats, dogs and laying hens, but we've had a big influx of numbers lately…I'll break down the latest additions for you:
I Got 99 Problems and a Pig Is One
Are rap jokes lost on this audience? Perhaps. In any case, the pig is not actually a problem. She is, however, 600 pounds, pregnant, and rather lonely. Technically she is a hog, being over 120 pounds. Does that make her 5 pigs, then? I digress – Emmylou was an idea that became a reality faster than I was entirely prepared for, but then most things seem to go that way these days. Rather than raise weaner pigs for slaughter, we decided to invest in a proven sow (meaning she's had a litter before) and raise the piglets. A local heritage pork farmer was more than happy to downsize and Emmylou came home in a home-made pallet crate on the back of our little Tacoma truck.
As you might imagine, transport for any animal is a stressful ordeal. Pigs are also very social, intelligent, and emotional animals and I knew how hard it would be for her to leave her sisters and her boar, her family and friends. The crate ride must have been cold, terrifying, confusing and profoundly uncomfortable, and when she arrived we had to force her to back up and out of the truck and down a ramp, which she very understandably didn't want to do. When she finally did disembark into her roomy new quarters, she ate gratefully and burrowed into the hay we laid out for her.
I had been prepared for a wary, even aggressive hog that we would have to win over with cookies and compliments, but Emmylou was thankfully used to humans; she came over to snuffle me and then lean hard into the ear scratch I offered. What I was not prepared for was the way my heart streamed wide open and right toward her, this huge bristly thing; for the way I wanted to wrap my arms around her great girth and for the way she seemed to welcome the wholehearted touch. I never assume I will have an instant connection with an animal, nor they with me. Sometimes, I am surprised to have virtually none at first. It can take time to learn a new consciousness – the first time I met a rat in a personal sort of way I was struck by how much my felt-sense had to adapt to connect with him. I'm so used to horses, cats and dogs that I really enjoy the process of learning how to be with other species. I thought I'd have to ease into a piggy brand of consciousness, but the switch was instantaneous – faster, even, than when I meet a new horse.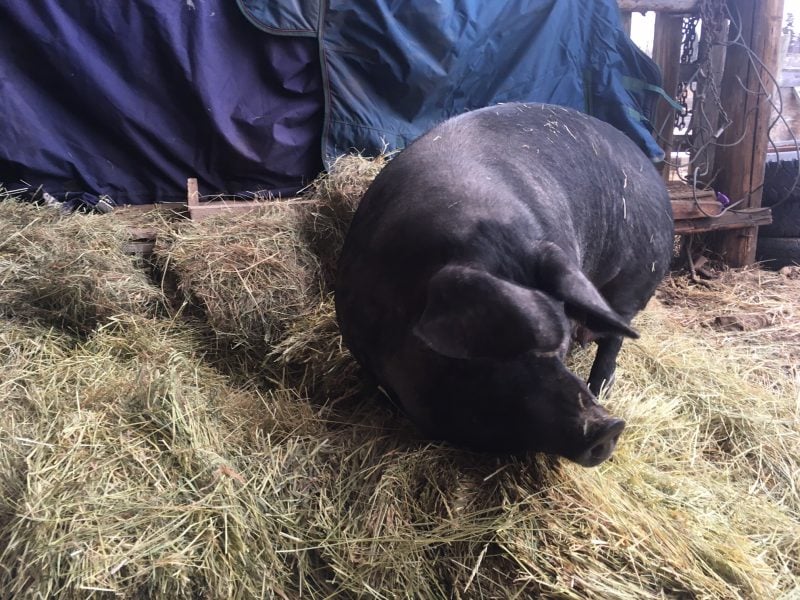 I went back once the rest of the farm was settled to find her grunting softly and shivering in the tube of hay she'd made for a bed. Compelled by this surprising soul, I didn't stop to think before climbing in beside her like a sister-pig. And there I found myself spooning a huge, black, fanged and omnivorous creature I'd only known for a few moments (the quote from Brick Top regarding hogs in Snatch running through my head: "they go through bone like butter!"), suddenly crying as she flowed to me a wash of sadness and loss. She missed her pig people, and I told her I understood, and that I was sorry, and that we'd do our best by her, and that we'd like her to be our own Very Special Pig. She snuffled as I kissed her giant ears, adjusted her heavy body to let me rub her chest and belly. Later we brought her a heat lamp, a fuzzy lavender throw blanket, and a horse rug, all of which she accepted happily. The next morning, she was up and waiting for her grain, the horse rug was accordion-folded neatly by the side of her bed (I kid you not), and the blanket was in a small, clean pile.
A week later, she grunts insistently whenever we're in the yard, roots busily in her hay-bale bedroom, and enjoys visits from the humans, dogs and goats. The horses continue to be absolutely appalled and terrified, but I'm looking forward to the day we can safely let her out to roam and properly integrate her into the family. And then, of course, she'll farrow (pig for "give birth") and we'll have 7 to 14 adorable and impossibly tiny Emmylous to contend with. Oh, and then we'll have to raise them, kill them and eat them. Wait, what?
Chickens Little
82 chicks finally arrived at the airport an hour's drive away, after spending an unplanned night in another airport. If you've never raised large quantities of chickens, it is entirely, absurdly normal to pick up huge numbers of day-old chicks either from baggage claim or from the post office in cardboard boxes. I never knew. Of course, if deliveries or planes or anything at all is late, the chicks pay the price. Ours were still alive but quite ragged and road-weary, still living off their yolk-reserves and fading fast. We'd built a box for them in a near-panic a couple days before, which is now taking up most of the basement by the wood stove, glowing an ominous red from the heat lamp. My mother transferred each tiny yellow beastling, dipping its beak in the water to teach it to drink.
The first three days were rough and seven chicks didn't make it. People say this is normal but death is still death; normal, devastating, often avoidable. Chicken-and-human-momma tended them carefully, holding the weakest ones on her chest while they slowly, slowly slipped way. Populations eventually stabilized at 75, and now we have 75 screaming, confident, feathering little dudes and dudettes who require the house to be kept roughly at sauna temperatures, who shriek and scatter to the edges of the box when the dog yawns, who sleep so casually (legs splayed, face-first in feed dishes) I am often compelled to prod them to check if they're still alive. Now that they're okay, we're praying for the weather to warm up quick enough that we can move them outside before they outgrow the basement…
Puppy Love
Oh! And we had surprise puppies out of our, well, puppy. Beatrix was barely 8 months old but clearly "old enough" according to our older dog, Jimmy (now neutered, after the fact). Nothing makes you feel more stereotypically country than your baby having babies – 67 days later we midwifed four delicious little sheepdog/bear dog/mountain dog mixes into the world. Watching the maternal instincts kick in was incredibly touching; it seemed a remarkable thing for Bea to push aside her own childhood to expertly mother these squirming little things, that seemed to surprise her much more even than they surprised us. At eight weeks old now they are terrible and gorgeous, all spoken for by friends and neighbours and waking us up every single night with their partying.
Taro, Orca, Francoise and Thomas (some names subject to change) are little bratty gifts to the world, just like their eccentric and deeply loved parents. These robust, insistant beings consume countless pounds of raw meat voraciously, charm everyone they encounter (except the cats and their own father, who believes they are the worst thing that ever happened, ever), and have joined the  hierarchy of barnyard mischief (dogs chase horses, horses chase goats, goats chase puppies, and puppies chase chickens).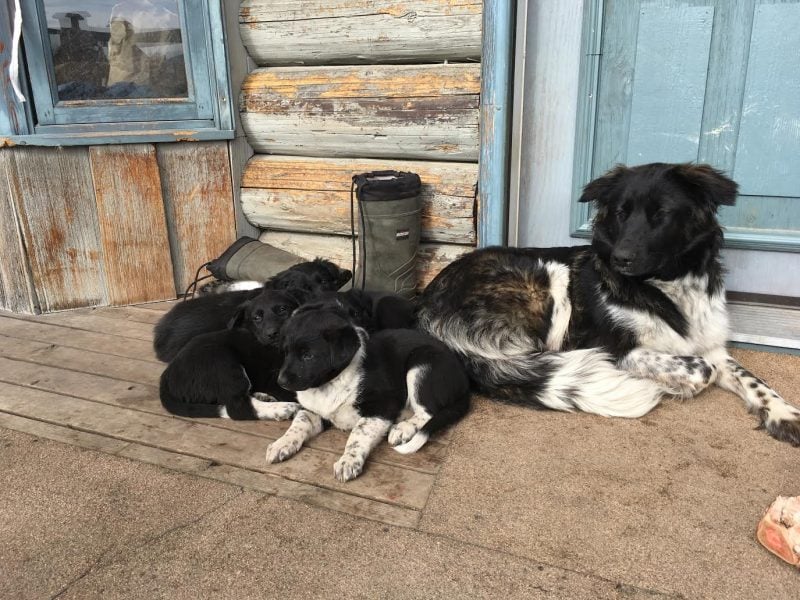 It seems that keeping domestic animals (and especially raising animals for eggs, milk and meat) is a constant string of delights and compromises. The delights are easy, of course; the compromises weigh heavier. My empathic, logical self plainly feels and sees the pain and stress we put them through for our own convenience, no matter how well-meaning we are. My ever-so-slightly hardened realist self has to let go over and over again, as I realize that I can't make it perfect, not even close. And when we face the fact that a good deal of these critters are being raised for meat (the chicks, the eventual piglets, the goat kids we're still waiting on), we get to walk the line all backyard farmers must walk, choosing to love and care for what will eventually become our food and livelihood – while certain others are destined to live out their natural lives by virtue of their species or their bonds with us. It's not fair, but neither is most of life. There is no equation to make it right, no option to turn away, unless we want to choose to let someone else do it for us. I like to know, at least, that we did our best by them.
And then there's the part where you're just barely keeping everybody alive and fed, let alone properly loved and cared for: bandaging goats' wounds with honey when they fall through the cold frame glass, pouring oil of oregano down the same goat's throat for a persistent cold, trying to un-lonely the pig, cleaning up endless puppy mess, filling chick waterers for the umpteenth time, lugging firewood up and down and all around, building yet another haphazard barrier, box, pen or crate…
And The Horses?
Oh the horses. They get by on a large local round bale per week, which we have rigged with a home-made hockey-net slow-feeder (I'll tell you how if you want to know). They are undeniably the heart and soul of this place but they don't get much attention these days. Shaggy, unkempt and full of their own horse-ness, they still race around in the rain with the dogs and I, holler at me whenever I leave the cabin to remind me to bring their alfalfa snack, and demand their water be moved a safe distance from the pig's pen (they think she is some kind of mutant bear). When I catch Amalia's eye she holds mine knowingly, and when I bring out the Blade (that serrated shedder tear-drop grooming tool) they fight each other for a chance to have their dying, shedding coats raked as firmly as I dare. They're just fine. We're all fine. Exhausted, overwhelmed, and totally fine.

Click here for Part 11 in this series.
Rewilding the Herd – Pre-Spring Head Count
A barefoot hoof trimmer, a singer/songwriter, an amateur farmer – these are some of the hats Kesia Nagata wears when she's not full to bursting with wondrous equine co-creation.