By Juliet Ghodsian
Today Jini and I arrived at the barn with a sense of openness and expectation. It felt like today would be the day that Cobra was ready to fully release the anger and pain he has been holding towards the humans who traumatized him. What followed for me, as we went into session with Cobra, was an experience of emotional space-holding from which I could witness and honor the depth of his pain and grief.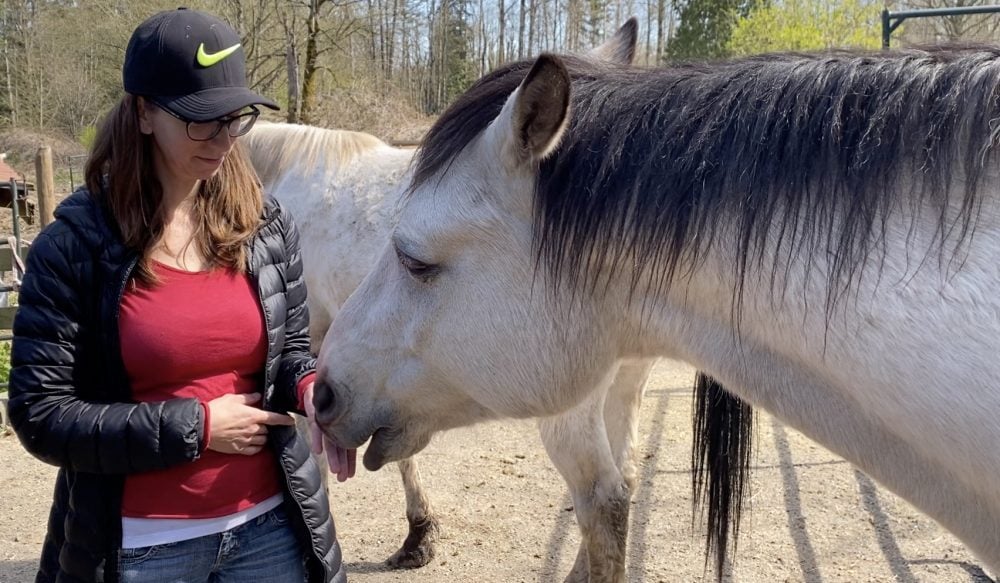 I experienced a deep sense of awe at his ability to have carried such pain and rage inside of himself from trauma enacted upon him by men, and yet, he was able to integrate himself into an environment with humans and learn to build trust, ask for healing, and write himself a new story.
After Cobra's deep healing, we left him to integrate on his own and spent some time with Aude off down the barn road with the forest behind us. We spoke of many things, as Jini and I often do. Particularly we began describing what it is like to work with this powerful herd of healing beings, and how they accelerate your pace of healing and activation.
As we spoke, I had a realization and started to say out loud: "It's almost as if they can feel any dissonant vibration in your energy field, any incongruence, any inauthenticity and then they–" My intent was to say that they pull it into your awareness to be healed. Instead, what happened at that exact moment, was that directly behind us in the forest, a huge tree started to fall, and crashed loudly for several seconds until it came to rest on the forest floor. Jini and I both jumped up and turned to look into the forest. Aude ran up, nervously watching the trees. What does that mean? Why did that happen? Jini felt I needed a minute alone to process the message that had just been given. She said never in her five years on this property has she heard or seen a tree fall in these woods. And this was a huge tree.
I sat alone on the barn road, several concerns flashing across my mind. I have been changing and growing at an extremely accelerated pace in the past 3 years, since what I would describe as a "spiritual awakening" experience. I realize now that all my helpers, my higher self, the Universe, whatever you would like to call these forces, have been slowly helping me release old unhealthy patterns that no longer serve me, and connecting me with my highest divine path.
Why was the tree falling? In the moment I fixated on the most recent stressor in my life: my marriage. This has been an ongoing source of pain and indecision for me, for 2 years. Realizing I am living in an unhealthy, emotionally co-dependent, passive-aggressive relationship pattern. Up until this day, my feeling has been that I need to leave this relationship, and I have struggled back and forth with trying to allow things to grow and change organically, as I myself grow and change. To focus on the highest and best path for all involved: my children, my husband, myself. Yet my focus would always seem to fall on: 'If I can just find a partner who is a better fit for me, someone who will finally love and accept me as I am, and will celebrate me and value my unique contribution to this life.' A small voice (just this very morning) as I drove out to the barn would whisper: Don't make this about him. That is of course the truthful path, but the truth is often the most painful to see and actually absorb.
After the tree fall and the massive energy surge that happened because of it, the herd is now very uneasy. The horses have changed places, so now Makah-Mahpee and Posa join me on the barn road, inspecting the area, but they are very jumpy. Suddenly Xadaa whinnies a distress call, because she can no longer see Posa and Makah. Aude is off at the water trough and comes galloping back to the barn whinnying her own distress call. At this point the whole herd is on edge. I have started to become very cold inside. I can feel the fear in the herd. I can feel the fear in myself. I'm shivering. My teeth are chattering. I start to carry the chairs back to the shed while the herd is moving about agitated.
Jini calls out, " This is about you, Juliet."
The two babies: Posa and Xadaa are now in the hay enclosure with Makah.
"They are three, Juliet. If you go in there, you will be four."
My two teenage daughters, my husband, and me.
I join them in the enclosure and they are continuously milling about me. Makah is just as nervous as the girls. I'm so cold. I stand against the fence.
Xadaa comes up to stand right in front of me. I reach my hands out to her hoping for warmth. She tells me "It is your choice. Stand in your power as a woman, as a mother. It must be your choice."
Then Makah leaves the enclosure and Cobra replaces him. At this point I start crying. I feel like the herd is showing me that one man needs to leave and another needs to come in. I feel afraid. The energy of the herd does not calm down, if anything it becomes more intense. Cobra is a powerful being. Posa and Xadaa are spooking and jostling around. Cobra comes up to me and is using strong signalling with his pinned ears. I don't feel safe, so I move away to the far end.
As I stand there, Makah comes up behind me, on the other side of the arena panel. In hindsight I understand now that he was trying to help me see that it wasn't about the male in the pen, it was about me.
However, at the time I am overwhelmed by the intensity and do not feel safe inside the pen. I slip out of the pen, to the other side of the gate. Cobra comes right up to my front. I feel Zorra behind and to my right. Cobra begins engaging me as he did once before when he was teaching me energy management: As I could settle my energy and become still, he would draw closer and touch his face to mine. If I had any rising anxiety or fear, he would put his ears back and jerk his head at me. Despite the fact that in the past he had nipped out at me after such signalling, I knew in this moment that he would not bite me. Instead I looked up into his eye and I started repeating over and over: "I trust you. I trust you. I trust you."
As I said this, I felt warmth spreading from his heart into mine, and the shaking inside of me finally started to ease. My teeth stopped chattering. He shared his breath with me and I shared mine with him for a few moments. I had a minor awareness that Zorra was working with the outer layers of my mental energy field and was clearing old fear patterns.
The crazy thing, is that in this moment, I thought it was my chance to help finalize a piece of Cobra's healing. At the end of his session I had felt that what he most needed was to receive complete love and trust from the humans around him. However, what became profoundly clear to me in the coming days, was that we were helping each other to heal the wounds of deep trauma and broken trust in our hearts and energy bodies.
I went into the shed to see Jini. She commented on how crazy intense that was and I didn't need to share if it was too much. All I know is that suddenly I was sobbing uncontrollably from feelings of overwhelm, uncertainty, indecisiveness. A tree was falling inside of me. Jini hugged me and said three words to me: "I've got you." It broke apart something so deep inside of myself that I could not have found the language to speak it in that moment. I knew without a shadow of a doubt that she did "have me." I could cry an ocean of tears and pain on her shoulder and she would stand in compassion, love and non-judgment. I realized I had never truly experienced that in my life. I realized when I touched into that pain, that this was not about a husband, or a marriage. This was about my mother. This was about her mother. This was about the women of my family line. This was about generational trauma and sexual abuse. This was about women who stayed silent and would not allow themselves to see or speak the truth of abuse when it was right in front of their face, because the consequences of speaking that truth felt too high, too destructive, too scary. This is about how the repercussions of that silent abuse echo through the DNA of all the children that are born into this trauma cycle.
To go into all the layers of how this history has deeply affected me would take much too long and is much too personal. What is important I believe, is to understand how subtle trauma can be; how we as innocent souls arriving into the arms of flawed, wounded humans can unwittingly absorb and live out their pain, their victimhood, their patterns. I realized after this experience with Cobra and the herd that not only did I deeply distrust men, I also did not trust other women. I basically had a deeply buried belief that people cannot be trusted with your heart. They will not show up to emotionally support and validate you in the moment when you most need them to. In the end they will always hurt and disappoint you. The learning for me in all of this, is that the child inside of me was scared and afraid to trust anyone. She was born into a family dynamic and DNA that held generations of fear and trauma. Then, life went on to re-create and perpetuate these ideas back to her. Unless and until we can bring these hidden patterns to conscious awareness they cannot be healed.
We have to be willing to face THE TRUTH of who we are and what we are creating, with complete vulnerability and fearless courage. The energy patterns, thought patterns, and DNA patterns that we carry can only be changed if they can be SEEN, HEARD, FELT and then finally, accepted and released. This is how we break the cycle and heal the ancestral pain.
Thank you Cobra, Thank you Jini, Thank you Singing Horse Herd. I will never be the same.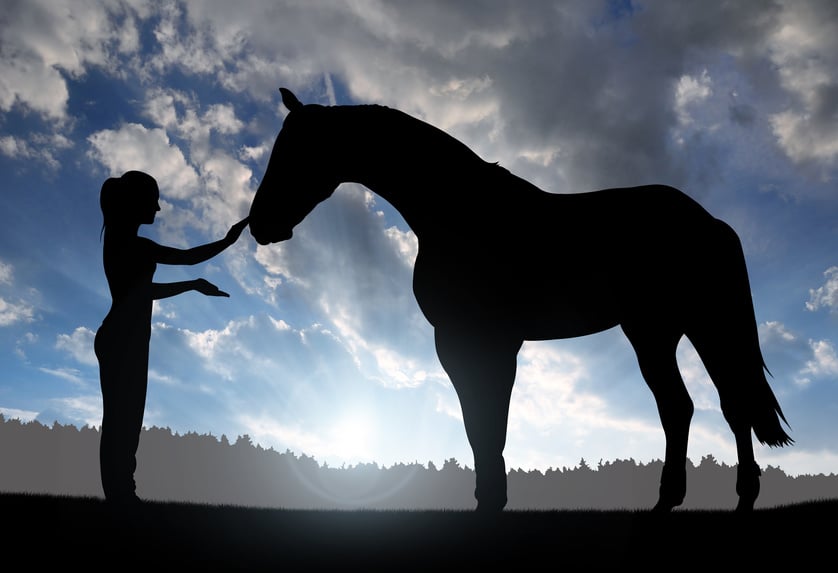 Special stories and experiences from fellow horse listeners