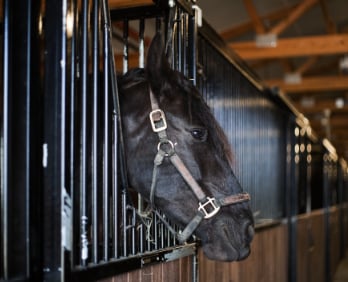 What can you do when you know your horse hates his living conditions, is not getting his needs met, is getting anxious and grumpy as a result, but yet you cannot move him elsewhere?
Sometimes we know our horse is not where they should be, or where they need to be – and we dislike or disagree with many of the stable or boarding facility rules. But we don't have anywhere better to move our horse, or we cannot create a better living environment for him. Then what do we do??
Reader Story: I came across your response to a question about Trust Technique making a horse aggressive – although I don't do energy work (I don't know how) it resonated with me in so many ways as I'm often acutely aware that my (sensitive) horse is trying to tell me something and I just don't know where to start to help her! I try to listen but I don't know what to do when she says no!
For example, when I hand walk she keeps planting – I've been waiting for her to decide where/when she wants to move but is that the right response, I don't know? And what do I do when I can't give in to her objections – for example, stomping feet because doesn't want rug on, but she'd have no turnout at all without it in these conditions! We're both having a difficult time at the moment as I'm not allowed to turn her out for more than an hour a day (due to weather and ground conditions) and I can see my mare becoming more and more affected by this – she's becoming grumpy with me and her stable mates and anxious and spooky.
I feed as much soaked hay as possible and minimal hard feed for her vits/mins. I'm not riding as it's no longer safe and I'm not allowed to lunge in our sand school. She must see me as an awful owner. I can't move her to another barn. I just don't know what to do for the best for her at the moment. Any advice would be very welcome.
Kesia: When I first leased my mare, Amalia, I was 17 and brand new to horse management. Amalia was, like your mare, sensitive, grumpy, and even aggressive. She was done to death with humans and their endless stupidities. At the time, it was really hard to be the caretaker of someone who seemed to hate me and everything I did. But now I can look back and see how necessary that behaviour was for her to preserve her own spirit when everything in her life was working to crush it. Stalls, tack, rugs, controlled turnout, restricted socialization, scheduled feeding – this is all considered normal but each factor can be a big strike against the horse's biological needs and inherent sense of self and safety in the wrong context, or when too many factors combine at the same time.
Amalia wasn't mine yet, so I had limited capability to change her surroundings even as I learned more about how I might help her. I made her a promise that I would one day get her to freedom. It took 10 years, but we're here now and she lives however she pleases (and will do for the rest of her life). In the meantime, I took every opportunity I could to ease her stress (and that's what your horse is exhibiting, signs of extreme stress), by learning about nutrition, horse movement, non-adversive horse handling and training, etc. I worked on my own sense of self and ability to stay grounded, which is a big piece of the puzzle, and I also finally bought her so that I could start making the changes I thought she was asking for.
In your case, ask yourself what part of her life do you have the power to change tomorrow? My go-to would be to get her a haynet and fill it with low-sugar hay and never let it be empty. Horses are designed to eat 14+ hours of the day and an absurd amount of "bad behaviour" is due to this basic biological fact being ignored. Chewing will also help quiet her mind and give her something to do while stalled. Limit processed and sugary feeds (substitute for chaff, hay pellets, beet pulp, etc if you need it as a carrier, but my horses eat their minerals straight from a free choice bucket), and consider adding a loose mineral salt (at least a tablespoon) to her feed and/or give her a natural mineral salt lick (Himalayan, Redmond, etc). She might benefit from herbs, homeopathy, bach flower remedies (none of these are my forte but some people are brilliant with them) – but as a general rule of thumb, free-choice low-sugar hay is the basis for digestive (and emotional and mental) health.
Secondly, can you access an enclosed arena for solo time with her? If so, let her run loose and use the time to watch her, be with her, be curious. Stay away from her or watch from a safe distance outside if she is giving you aggro vibes. Join her when you think she can handle it, but don't try to interact with her or do anything to her. Just let her be her and you be you. Having a chance to move freely will mean a lot to her, whether she needs to run and blow off steam, or just wander and smell things, roll, scratch, etc. If you need to justify it, call it supervised turn-out – she's sensitive and needs to move. If you're not allowed to lunge, then maybe you're not allowed to do this either. But see if there is any space you can both be where she can have a chance to move on her own terms.
Finally, keep learning, keep researching, and keep letting her know you're trying. Don't take her behaviour personally – she is trying to tell you something, or a lot of things, but the stabling conditions are making it very hard to be heard. If you truly can't move her, then you yourself have to accept the situation and remind yourself this is the best you can do at this time, and all things must pass. Being hard on yourself won't fix it and will only make your energy more muddy to her. You're doing your very best, with the best of intentions – and that best will improve as you learn more and find more agency. There is so much more to explore with this being, but right now she needs some physical relief before she can legitimately enter into a more trusting, flowing, intuitive relationship with you. Best of luck to you both!
Jini: YES to everything Kesia wrote, and the other thing I would encourage you to look for (or be open to) is The 3rd Alternative. This is not either/or. It is the outside-the-box, possibly never done before, solution to your problem.
You say you cannot move her and she can't be happy/safe where she is – that's your either/or. And neither of them are good.
So open to, and set your intention, to find the 3rd alternative. The solution that will be good for both of you. Stephen Covey has actually written an entire book on this and uses it all the time with big corporations etc:
"You get to the 3rd Alternative through synergy, which happens when the talents of two or more people [or horses!] add up to more than the sum of the parts. Synergy starts when I go to a person I differ with and say, "You see things differently. I need to listen to you." It's exciting when you truly hear out divergent views and you start to see how to bring them together for a solution nobody ever thought of before."
So I would use this invitation-opportunity to dig deeper into where your horse/life/higher self wants to take you. Many times our horses force us into the growth and magic that turns out to be the best thing for all of us.
Horse Hates Living Conditions But I Can't Move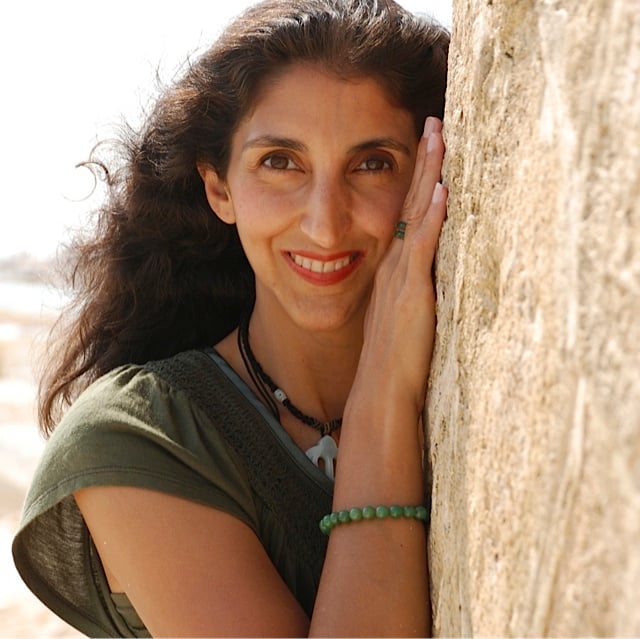 Jini Patel Thompson is a natural health writer and Lazer Tapping instructor. She began riding at age 2 in Kenya, and got her first horse at age 8 in Alberta, and so continues a life-long journey and love affair with these amazing creatures.