BIG changes here at Singing Horse Ranch and the previously unthinkable has just occurred…
It all started back when Jax, Juno and Montaro escaped under the nose of my barn help, out onto the road, crossed 5 lanes of rush hour traffic, and headed North on Highway 15. At that time, I took note of the direction.
If you've been following the Mustang Herd Integration, you'll know that I never imagined having all 11 horses here on this 30-acre property I lease in the middle of the city. But, the horses had a greater wisdom and told me they needed to fully integrate into one herd. As I was overcome with dread at the beginning of last winter, Montaro said to me, "Yes, it is going to be very difficult, but if we had more space, we wouldn't integrate the way we need to."
It's now been a year and a half, and I added $10,000 worth of new graveled areas – including a ring road around the barn and paddock – to prevent the horses from getting repeatedly injured as the big guys drove them out of the barn and into the knee-deep mud. Did I mention this Pacific Northwest is the worst climate to keep horses??
But as this second winter got underway, I felt again the intense desire to move them inland (dry, snow, cheaper hay – no manure management!) for the winter. I had tried repeatedly to look for a property inland that I could lease and had placed an ad online – I was willing to be separated from these amazing beings to spare us all the misery of another winter in lock-down, stink and mud. But… yet again, nothing panned out. The universe remained mute.
If you read last week's post on the messages from Aude's hoof abscess and the parallels between Aude's colt Juno and my own son, Hugo, then you'll already understand the concept of the herd being intimately linked to my human family. And the way our animal family are often spiritual guides and helpers for us.
There are many variables that led to my big decision to move Jax, Juno and Montaro inland to Kesia Nagata's ranch in Northern BC. But for now, I just want to let you know that the lads – of their own choice and free will – got on a trailer for a 2-day trek North to 500 acres in the Kispiox Valley.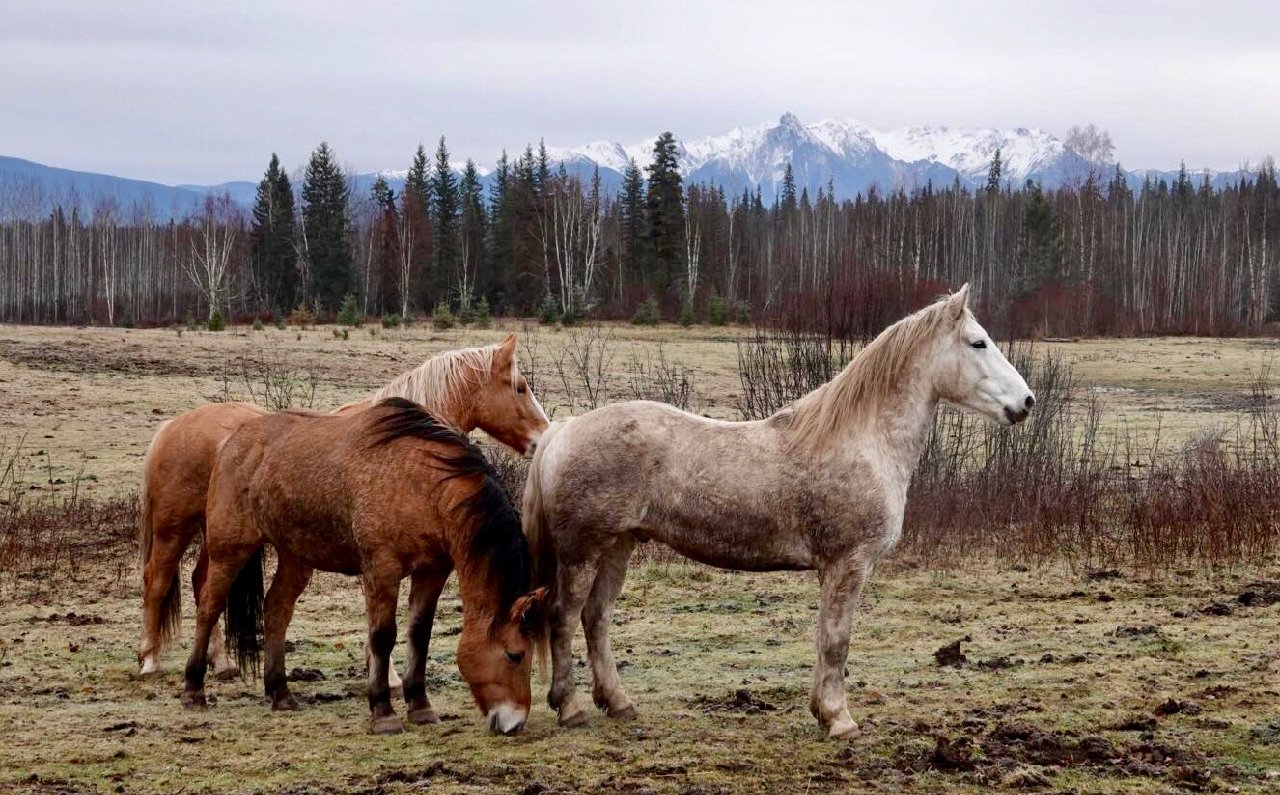 When I booked the trailer, I actually didn't know WHO was going to get on the trailer. Just that this was the right thing to do, at this time. If the mamas and babies had gone, the trailer had enough room for 5 horses – so I didn't even know how many horses would be leaving. I spent 2 weeks before the trailer arrived crying, off and on, as I meditated and talked with the herd and as it became increasingly likely that it wasn't the mustangs who wanted to go…
I say "likely" because despite some very clear and detailed conversations with Juno and Montaro, with animals I never know if they are talking about the physical plane, or the spiritual/energetic plane. Animals have not split their mind/body/soul like many of us humans have. They are an integrated whole and so they don't distinguish between planes of reality (in my experience). So when Montaro says to me, "I need to go and help Kesia develop her leadership ability." Does he mean he physically has to go? Or that by having a member of our herd there (with whom he has fully integrated), he can link-up to Kesia and instruct her that way?
My mind reserved judgement, but my body must have known they were physically going to leave as I cried buckets of tears with them and also with Aude. I was sure Aude wasn't going (and was SO relieved at that!) until the day before the trailer arrived. I was sitting on the paddock feeder, with Xadaa eating on my right side and the 3 lads were grouped in a loose circle around me – none of them eating, just being with me. And Aude walked over and joined the circle. I looked at her and for the first time I felt that she might go. I burst into fresh tears as I assured her that of course she could go and I would never separate her from her family – Juno is her baby and Montaro is both Juno's daddy and Aude's half-brother, and Jax is also Aude's half-brother; Jax, Montaro and Aude all have the same Belgian father, but different mothers.
When the trailer arrived the next morning, I could not have devised a more challenging trailer-loading experience if I had purposely designed it to be so. Firstly, the trailer was too long to back into either of the two loading spots I had set up – one at the front near the road and the other down the barn road to the paddocks; both enclosed with arena panels, ready to go. So we had to load on the road – which none of my horses have ever done. I blocked the entrance to the road (with cars and the occasional truck trundling along it) with arena panels. But that still left the entire side of the barn road unfenced and open to the forest that ran alongside it, which also fronted and provided easy access to the road.
The trailer also had a ramp (which none of mine have ever encountered before) which was not flush to the ground, so dropped down whenever you stepped on it. The interior was dark, as the windows were all tinted. It was parked roadside and the horses could take off into the forest and out onto the road at any time. Perfect.
The first horse that asked to load was Cobra – great, the wild mustang who cannot be touched will full open access to the road, should he choose. But interestingly, I did not feel any concern about him taking off. Sure enough, Jax, Juno and Montaro all came forward to ask to load too, but there was the challenge of giving each of them enough time to explore and become somewhat comfortable with this new trailer, yet not wind each other up into a stampede.
And so, the entire endeavour took on the cadence of a dance – an extremely challenging, tricky dance. I think Cobra was there just in case Juno did not (or could not) get on. As Juno said to me the day before they left, "None of us want to go. But it's the next step. And you're so stressed all the time, none of us can work with you anyway." I knew that the lads were going because they craved adventure and big land. And they also wanted to work intensely with Kesia. I knew the mustangs were staying because they weren't done with me – but there was no space for them to come forward with the big guys around. And I knew that I was stretched beyond capacity having all 11 here – both financially and logistically with this environment.
The very next day after the trailer left, Cobra stepped forward into leadership/guardianship and he is only beneath Aude. All of the mustangs initiated physical body touch with me, Siyone actually cut me off twice (a positive sign from a horse who would move away if I even looked at her). And so the next phase begins…
Aude spent two days in the middle of the field – where she could see the road where they left and also the herd in the paddock/barns. Zorra stood with her and Posa often joined them. I joined them out in the field, the day after the trailer left, and Aude immediately asked me to scratch her belly and udder. As I scratched I cried for both of us and Aude began farting and yawning… farting and yawning. Zorra yawned a couple of times too and then I gave Aude extra alfalfa and a huge feed dish of alfalfa pellets, flax, herbs, flax oil and vitamins. She's processing. And I'm processing. And both herds are adjusting. It all takes time.
As Kesia said, "It's like when you're playing chess, you've gotta move a piece into the empty space so that everything else can move."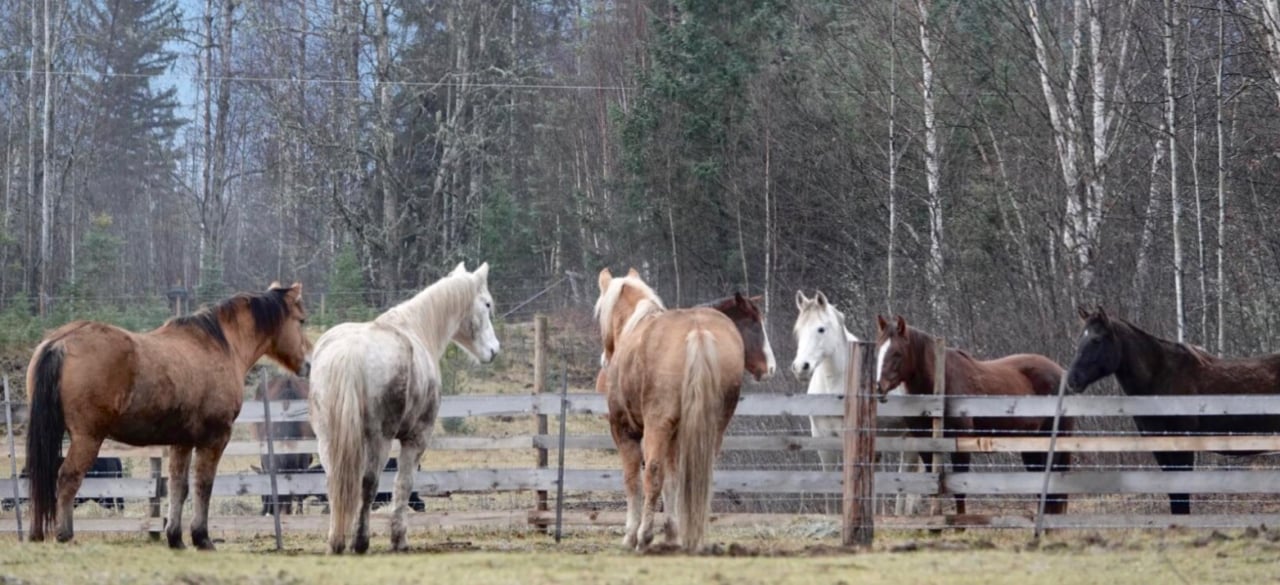 Horses, Big Changes and Chess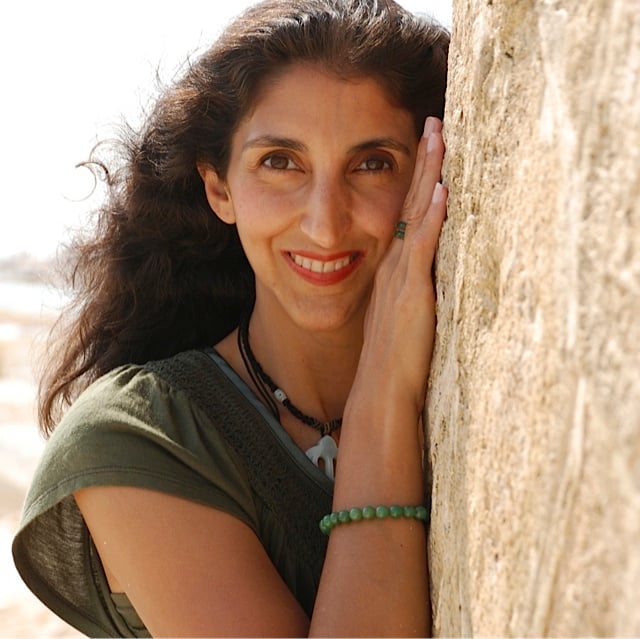 Jini Patel Thompson is a natural health writer and Lazer Tapping instructor. She began riding at age 2 in Kenya, and got her first horse at age 8 in Alberta, and so continues a life-long journey and love affair with these amazing creatures.