I received this excellent question from a reader:
"I am enjoying your website and all the information so much. I had thought that my reluctance to ride, train my horses was a defect of mine, but I am seeing it now as the desire to do what my horses want me to do with them.

I have a pony and a mini that are kind of fat and my farrier has warned me that they will founder if not restricted from the pasture. I bought both of them muzzles, but they are pretty resistant. I have worked with positive reinforcement and that seems to help, but I am wondering what you would suggest. Thank you"
I love that she is not panicking and immediately putting them on a diet, or throwing them in a small dry lot, but that she is taking the time to ponder this issue and search around for ideas.
1. Is restricting forage the answer?
The first response that comes to mind is from equine nutritionist, Dr. Juliet Getty:
"Reducing caloric intake and burning more calories helps your horse's body use the energy he is storing. But there is a component to weight loss that has nothing to do with calories – it has to do with hormones. Hormones, such as cortisol and insulin, dictate to your horse's body how much fat he will store; these hormones are keenly sensitive to stress.

If you are seeking help for your overweight horse, you may be getting advice that is unsuitable for your horse's long-term health. If eating less means taking away hay or pasture, then it is contradictory to what your horse needs. Yes, do take away fattening cereal grains and sugars, but never, never, never restrict forage. Why? Because restricting forage is the most stressful thing you can do to your horse.

Restricting forage results in loss of muscle mass. You will see weight loss, but much of it is due to a reduction in the longissimus dorsi muscle that runs along the topline."
I know that many people – especially in rainy climates like the UK – have found that the type of grass species planted in their pastures was chosen to enable cattle to gain weight quickly. So it doesn't resemble the kind of forage a horse would naturally consume. So for many of them, they don't let their horses graze at all, but they provide low sugar hay instead. Natural movement is provided by putting in a track and having slowfeeders placed at various points around the track.
The original book on this concept is called Paddock Paradise by Jaime Jackson and it is excellent. Or you can join some Track groups on Facebook, like this one.
The solution is movement, rather than restriction. You can either find fun ways to exercise your horse (and yourself) sufficiently each day, or you can set their environment up to facilitate natural movement. Of course, you could also take a long-term view and re-seed your pastures with better forage species, so then your horses would have the best of both worlds.
Grazing muzzles can also cause tooth damage (some models are worse than others) so just like slowfeeding, you have to check their teeth/gums on a regular basis.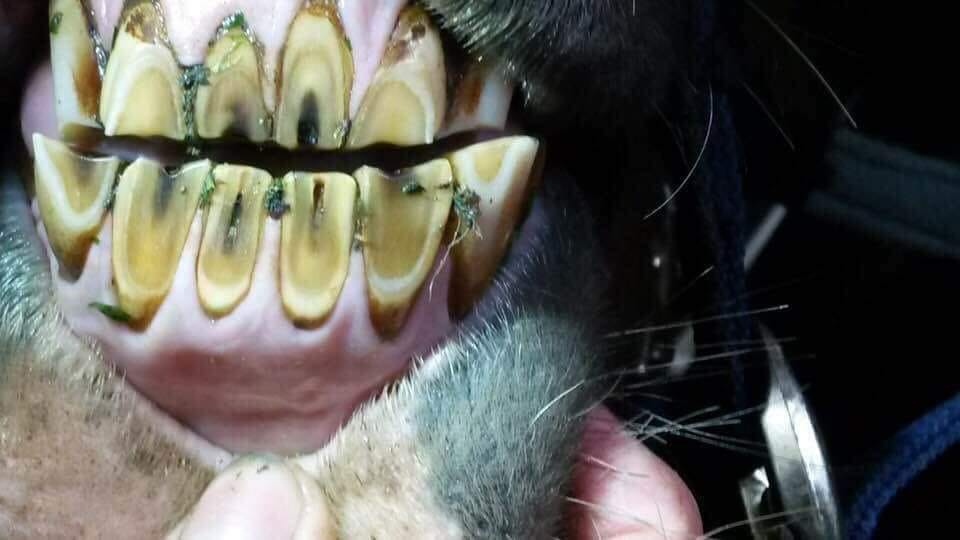 Many people report successful use of grazing muzzles, with no damage to their horses' teeth. But for me, the greater issue with muzzles would be the psychological implications… I certainly would not use one without talking about it first with the horse, and seeing how they feel about it, and adjusting usage/frequency as the horse can tolerate.
2. Share your concerns with your horse
Your other option is to talk with your horse about what will happen if they don't control their eating. This is exactly what I did with Cobra. He had been a wild horse out on rangeland, experiencing seasonal starvation his whole life. So for him, it was natural/essential to bulk up as much as possible when there was food; to store up for the lean times when food was scarce.
So of course, when he arrived at my place, where there is unlimited hay in slowfeeders, plus pastures, he ate like a train! He did not know/understand that at my place there is always food. And that there will be the same amount of food available in winter, so he would never be hungry or risk starvation again.
In fact, all of the wildies parked themselves at the slowfeeders for about 18 months solid – that's how long it took their mind and visceral body to know/believe they were no longer at risk for seasonal famine. Most domestic horses stuff themselves for 3 weeks to 3 months (depending on the horse) and then self-regulate.
As Cobra arrived the end of May, the spring grass was rich, the slowfeeders are kept full 24/7 (with low sugar hay), and by August he was seriously overweight.
BEFORE: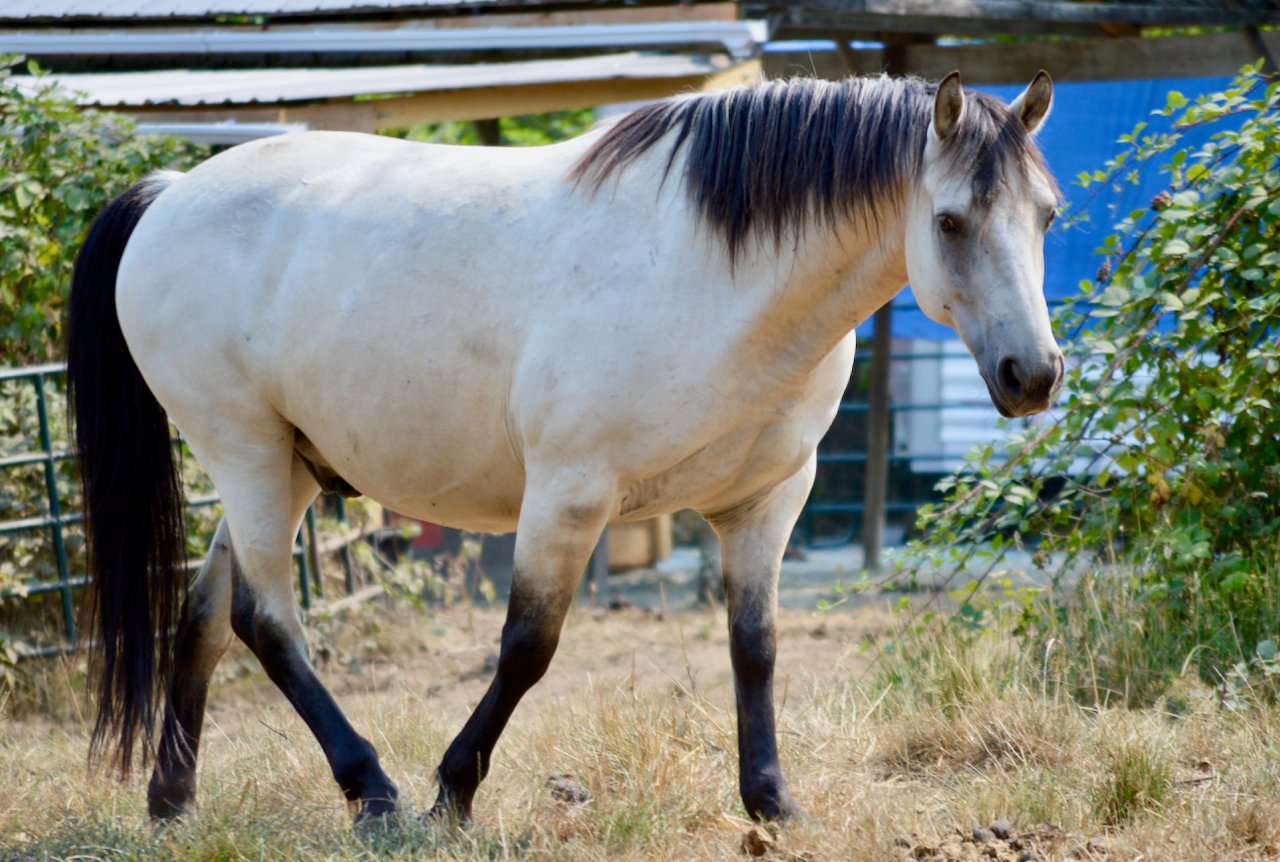 I talked to him about diabetes and laminitis, and sent him pictures of what his body would feel like. I told him he would be in this place of pain if he didn't control his eating. Within 2 weeks he had dropped the dangerous excess weight with no interference/management from me – no change in his diet, no increase in movement, or any other restrictions/changes.
I also did this acupressure tapping session for the whole herd of wildies to address/release their past scarcity issues around food.
AFTER:
Note: These pictures were taken with a Nikon DSLR camera (not a cellphone which can really distort images) and I attempted to keep the angle and camera height consistent.
So it's a very good idea to explore whether your horses have an emotional/psychological reason they are holding weight – past trauma, restricted feeding, desire for protection/armoring, etc.
Many horse owners will eagerly jump into all the physical-level things they can do to affect their horse's weight, while forgetting that the mind/body/spirit are one. Book a session or two with an animal communicator if you need help with this piece.
3. Body-shaming & projection
Here's another issue I see occur frequently in Facebook groups – but that people are either unaware of, or unwilling to look at – and it occurs predominantly (perhaps exclusively) among female horse owners. A woman who has been under intense scrutiny and family or public pressure concerning her own weight, perhaps she has a borderline or recognized eating disorder, may take all that unresolved pain and dysfunction and project it onto her horse.
Cause that's how us humans roll. That's why we recognize that the horse is a mirror of us… and why pets resemble and reflect back the energy of their owner.
But perhaps you don't have an eating disorder, or body image insecurity, perhaps you're just a bit of a control freak. And you like everything around you to be perfect. Because you know that your outer world is a reflection of your inner world, and so you want every element of it to look perfect.
Except that horses, like our children, have a primary function as a mirror, as a button-pusher, to reveal to us the areas of ourselves that want to be brought into wholeness. It is not healthy for us to live in tension, attempting to control every aspect of life; our cells, tissues, hormones and spirit cries out for relief from the Type A straightjacket. It is much healthier for us to become resilient, flexible, tolerant, and soft. Exhale.
So if your horse's primary job is to help you see your pain body, and encourage you to move toward wholeness, and his fat (and resulting pain) is pushing your buttons big-time, but you only focus on his body, his diet, his environment… then how does he get the message through to you?
If you steadfastly refuse to look at the emotional/psychological/spiritual aspect of his condition and instead spend tens of thousands of dollars altering his physical environment, administering meds, and purchasing equipment/aids… You then leave him with only one choice: either he gives up, or he escalates his symptoms.
As someone who has helped hundreds of thousands of people heal debilitating gut disorders for over 20 years now, believe me when I say that symptoms always contain messages. And the fastest route to healing the physical body involves taking the holistic approach (mind/body/spirit) and asking the question:
My body is speaking to me… what is it saying?
This is no less applicable to the beings in our care: My horse's body is speaking to us… what is it saying?
My purebred Belgian mare, Audelina, has recently chubbed right up because we closed off the fields to let the grass grow up and she is FRUSTRATED as heck. So even though she is only eating low-sugar hay, her movement has been restricted, and emotionally she is very upset = hefty weight gain.
I know that the minute I open up the field, even though she will be chomping on lots of fresh grass, she will lose weight. Because Aude is very psychologically affected by any perceived restriction of food or terrain. She's an adventure gal! She likes to roam and eat in different areas and gallop through the woods. And all of that has been blocked off for a month or so. Psychologically and emotionally, she has moved into scarcity. So her body responds by piling on weight for armoring and protection. And guess what? That's okay!
It is her body and if she chooses to be fat for a while, or chubby forever, that's her choice. It's not really clear in this picture, but she actually had new fat pads on top of her upper ribs, near the withers, from her emotional state:
So of course I talked with her and explained why I had closed off the pastures, but I could also feel that my explanations and promise of delayed gratification meant nothing to her. Then I used arena panels to enclose off a longer length of the barn road and brought her into this new "special" area by herself (pictured). Imagine my surprise when after 10 or 15 minutes of being in this enlivening space, where she foraged ferns and blackberry leaves, her body was already changing!
Can you believe this is the same horse?? You see how she has gathered up her belly and her emotional enlivenment has permeated all her muscle fibers? Over the next week, as I continued to bring her in here, she gradually reduced to 'chubby, but not so much'. And that is totally fine. Because…
4. Who decided what the ideal equine body should look like?
Lastly, I disagree with what most "horse people" deem is an acceptable weight! Horses are naturally meant to fatten up during summer or winter (depending on region) and it is OKAY. Why should they maintain some mythical "perfect weight" 365 days/year? Horses are as dynamic as we are and are equally affected by the seasons and emotional events. When the lads went north to Kesia's farm (Aude's entire family) you bet she gained some weight! And I wouldn't be surprised if she holds that extra weight (as protection/armouring against her grief and separation) until her family returns. If she does, it's because her body/mind needs it.
If you applied the same standards or rigor to your own body as you are applying to your horse… where might that leave you?
Here's Aude 6 weeks later, after I opened up the field I'd fenced off – she's at the back right, tossing, bucking, leaping and galloping about. Looks like a strong, healthy horse to me!
I did an Internet search on "horse weight chart" and interestingly, many of the charts are from feed/supplement companies. Who and what industries impacted the 'perfect weight' idea for equines? Farmers, ranchers, racehorse trainers, veterinarians, farriers…? And what were their motives?
A veterinary manual reference I found online lists a GOOD weight as one where the ribs are just covered, but easily felt. FAT is denoted by, 'ribs and pelvis hard to feel.' Hmmm… well that's super specific. I can't see how a horse owner would have any difficulty judging their horse's condition with such specific parameters. And again: How are your ribs feeling?
There's no way we should be applying 'ideal body' standards to our horses that we don't apply (and adhere to) ourselves. That is called incongruence.
When my veterinarian came out to castrate Makah-Mahpee he was astounded at the condition of the herd – especially Montaro. He said, "What do you do to keep these horses in such amazing condition? Do you ride them every day?" I heard him muttering later how these were like horses on steroids. Because here's the thing: he could tell the difference between fat and muscle.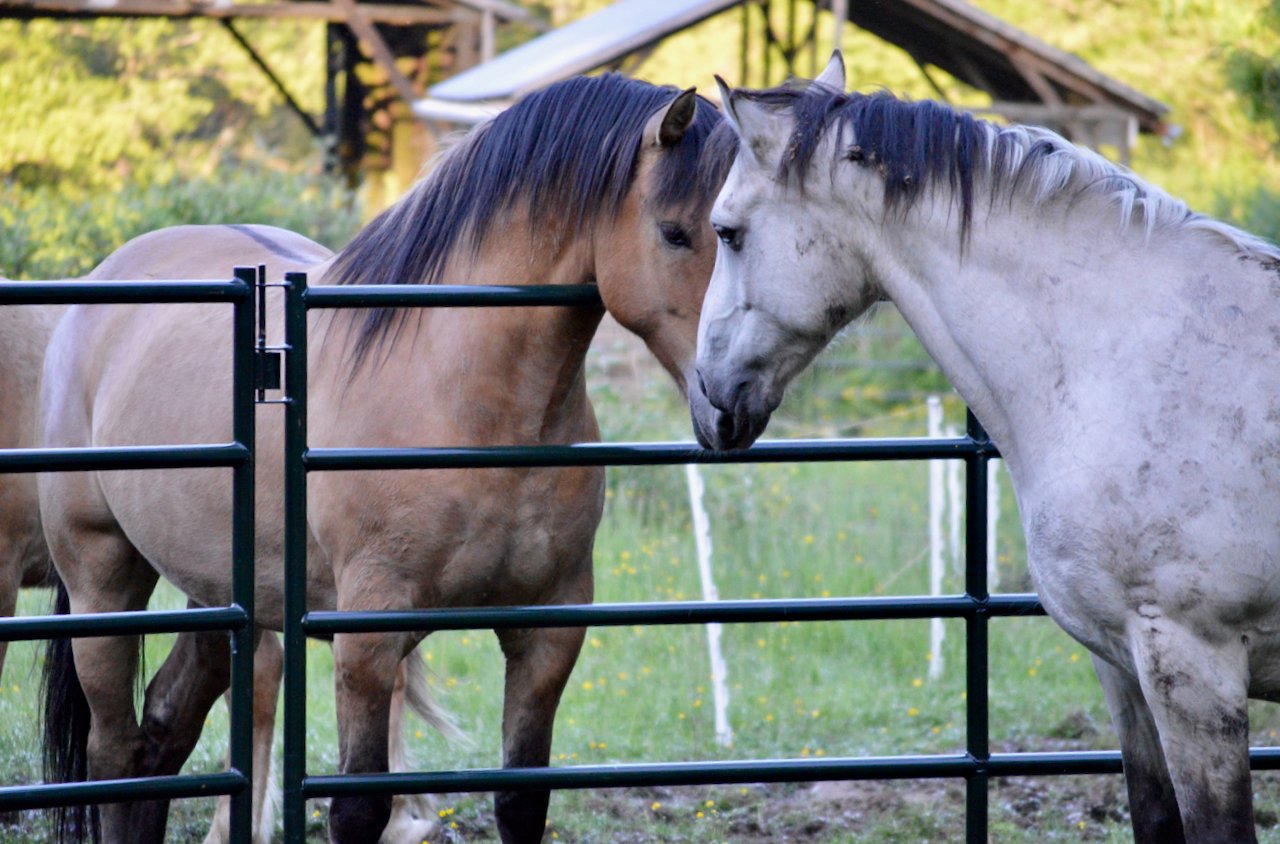 I keep an eye on a couple of horse track groups online, but I became very disturbed by the before/after pictures people were proudly posting. Yes, the horses are given 'ad lib' hay (hay available 24/7 in a slowfeeder) but the hay is often double or even triple-netted, with the smallest holes possible in the hay nets. I don't know what the protein content of the hay is, nor whether they are receiving a complete amino acid profile, so they can actually utilize the protein in their hay… but the before/after photos were truly alarming. People thrilled to have drafts and cobs with thin necks and bodies like an Arabian. They looked completely unbalanced and unnatural. Yes, these horses were a bit chunky in their before pictures, but how does it help the horse to swing madly to the other end of the spectrum?
So I posted a couple pictures of Audelina, taken soon after the vet had made his comments. I made sure one of the pictures showed her in movement, so people could see that her heft was muscle, not fat (she's a purebred Belgian). The comments her photos received were tragic: "If that were my horse, the first thing I'd do is put her on a diet!"
So this is not about health. Maybe it started that way, but how did things evolve to where the only thing people can see is not skinny = fat. Hmmm… and we're back to #3 – Body shaming & projection. Can you see Montaro's ribs in that photo above? No – because that's what a healthy, muscular Belgian/Fjord horse looks like. That's a horse that manages a herd of 11 active, empowered horses, with 2 young ones that require extra guidance. He guards that herd against coyotes, bobcats and the occasional bear. And yes, he's even faced off against a mama bear and her cubs.
The better question is: How is your horse feeling, moving?
If Cobra and Audelina have zero health issues, no lameness and are enlivened and happy, why would I even attempt to manipulate their weight? Or their muscle:fat ratio? Where do we honor the body wisdom of the horse? Is the horse allowed to own it's own body… and decide how that body looks, moves, functions, or is it my chattel?
Are we even honoring our own wisdom? Do we only eat when we're hungry… do we ask our belly what it wants to eat, or are we always asking our tastebuds… do we cook ourselves non-chemical, unprocessed food from scratch? How does my body feel and move? Am I injury free… am I at my ideal weight… how's my muscle:fat ratio… do I have any health issues?
When Zorra first arrived, she was quite obese – not that she was huge, but most of her mass was fat, with very little muscle. Her diet had been strictly rationed as she was such an "easy keeper". But we cannot just look at food intake. We have to look at movement (she had been on 3/4 acre with 3-4 horses), and we have to look at emotional issues surrounding food (she was bullied and the horses were rationed and schedule-fed, 3-4 times/day).
It has taken Zorra 5 years to arrive at her current stunning condition. And she did it all on her own. I merely set up her environment for success. But you know what brought her that last 20% from beautiful to stunning? My daughter Zara started spending regular time with her. That was the icing on Zorra's cake, that was what enabled her to blossom into the truest iteration of herself. She had freedom of movement and natural dietary choice (24/7 low sugar hay because horses' stomachs produce acid continuously) and she was fulfilled emotionally and spiritually.
I wish I had a better photo – but I wanted to show you Zorra (the dapple grey) in movement, so this screenshot from a recent video will have to do – she is agile, muscular, empowered and enlivened with thick healthy hair, coat, and hooves. Isn't that what really matters? And yes, her Andalusian body looks very different from Audelina's (Belgian) or Cobra's (we're guessing Fjord-cross) or Makah's (the mustang paint next to her). But any body that can move, spin, run, dodge and leap, is a healthy body, regardless of fat ratio.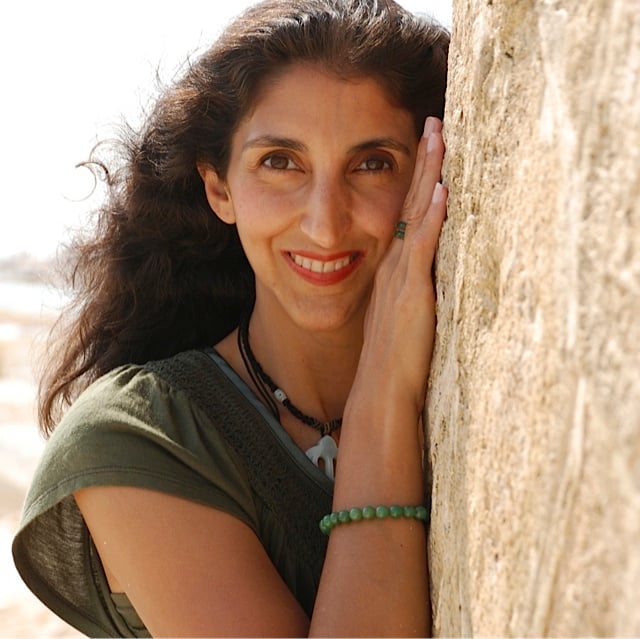 Jini Patel Thompson is a natural health writer and Lazer Tapping instructor. She began riding at age 2 in Kenya, and got her first horse at age 8 in Alberta, and so continues a life-long journey and love affair with these amazing creatures.