In my herd of 11 horses, it's relatively peaceful while the top 2 or 3 powerful horses are receiving their feed – because no one would dare push in on them, or challenge them. But after that, it can turn into a pushing, shoving, free-for-all. Maintaining calm and peace as I distribute the feed dishes is a top-level Ki challenge, for sure!
Unless you have separate stalls for each of your horses, where you can deliver their vitamin/mineral feed to each one individually. In a herd of four or more horses, supplement feeding time can get just a tad frantic.
When I had 5-6 horses, I could maintain calm using my energy and centered breathing alone. But when the herd jumped to 11 horses – with two babies – that's when I needed to carry a stick or a flag to maintain spatial safety, whilst getting all the dishes out to each one of them. The foals are actually the biggest challenge and the most dangerous. I remember one time, Xadaa had an older horse push her off her feed dish four times in a row, by which time she was so frustrated she just lunged at the nearest feed dish – which was still in my hands – and bit down on two of my fingers that were at the lip of the dish as I moved to put it down.
After that incident, I either don't distribute feed unless there are two of us there to carry the feed dishes out at the same time. Or, I give them some alfalfa first, so that each horse is already situated at their own hay box before I start distributing. This doesn't stop them from moving toward the feed dishes (i.e. me) but it certainly does slow them down.
However, even before the feed dishes are given out, there is the 15-20 minutes that it takes me to get 13 dishes ready. I always put out 2 extra for the horses that are pushed off their dish by a high-ranking horse that has already finished their dish. So that's where this video comes in…
Montaro, as lead/guardian horse, stands at the tack room door as I get the supplements ready. However, as the sounds and smells fill the air, he can start getting impatient. This can lead him to push or rub on the door – which will damage the chain, hook and door. Or he might stomp on the wood floor and kick the door – which again, will weaken or damage the door. Not acceptable. I don't like to close the door as that cuts off a lot of my light. Plus it makes the herd outside even more rambunctious, ramping their energy even higher for when I finally emerge.
So, at first, I would be stern with Montaro; using a stern voice, a "stay" hand gesture, or going over to ask him with a hand gesture to back away from the door. All perfectly reasonable and not too obnoxious on the pressure scale. But definitely a dominant, boss-man way to handle his unwanted (potentially damaging) behaviour.
This worked well, until Montaro began escalating his behaviour, making me set him back 4 or 5 times in a row. Then having to close the tack room door to get him to stop. Then he started pawing or biting at the closed door. Not an enjoyable energy or space to be in. That's when I had my a-ha moment and stopped to think about why he was escalating? Perhaps he was trying to communicate something to me? Perhaps he was asking me to find a better way? Something that felt better to me and was more congruent with our intimate, equal-footing relationship…
This video explains more and shows you what he taught me to do. I had no idea a super strong boundary could be set by this combination of fully opening the heart along with simple 'it is' or 'this must happen' energy. And of course, this works equally well with family, friends and teenagers! Namaste Taro.
After I published this video, I had a lot of comments on the YouTube channel from people who felt a bit miffed they didn't get to see the feed dishes being handed out to the horses! I guess the story felt incomplete – like a cooking video that doesn't show someone taking a bite of the finished meal 🙂 So here it is:
The Most Peaceful Way to Stop an Impatient, Frustrated Horse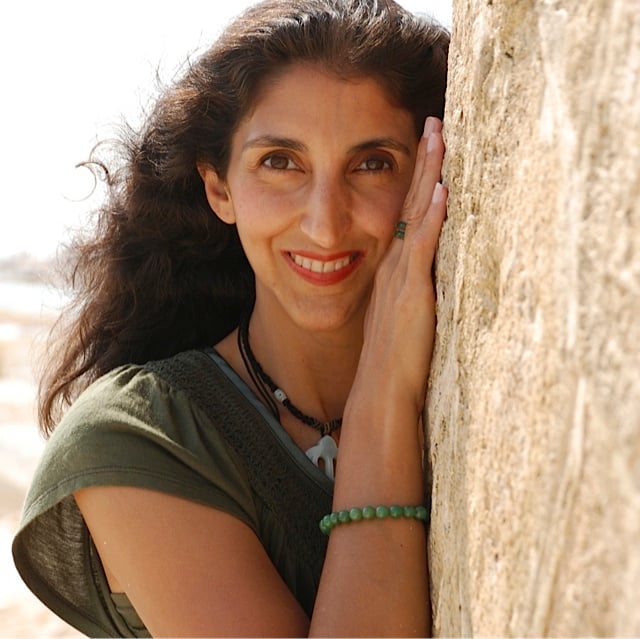 Jini Patel Thompson is a natural health writer and Lazer Tapping instructor. She began riding at age 2 in Kenya, and got her first horse at age 8 in Alberta, and so continues a life-long journey and love affair with these amazing creatures.