Let's take a look at a ground-feeding hay net called the Hay Pillow. I'm going to give you my review and what I think are the pros and cons of this slow feeding solution. And then, I've got a fun idea/contest for you!
Monique Warren, owner of the Hay Pillow, read my popular post on Slow Feeder Design Comparisons and figured I ought to try her solution. So she sent me the standard version (there are a few different sizes/models), to try it out and see what I thought of it.
Monique lives in Ramona, CA – which is a gorgeous place northeast of San Diego. So her climate is very dry and hot for most of the year. Since the Hay Pillow sits directly on the ground, it would not work too well in muddy climates like the Pacific Northwest, unless your horse was confined to a stall or paddock. But my fields get like this for much of the year, so the Hay Pillow would not work well for me during any season but summer: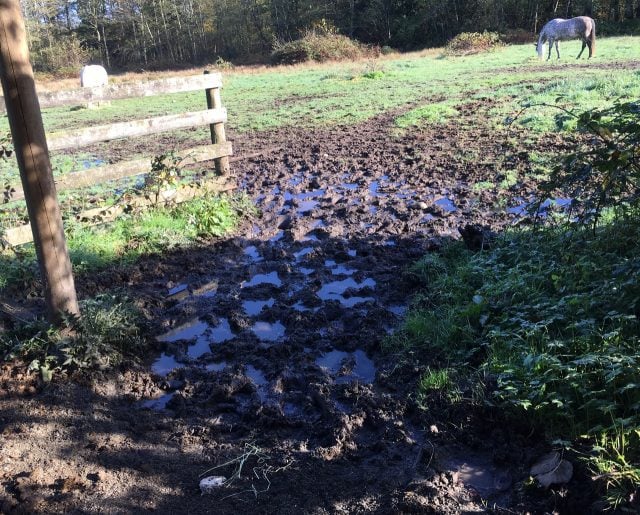 BUT if you lived in a hot, dry climate, or in a cold, snowy climate – basically anything but mud! – or if your horse was confined to a dry paddock or stall, I can see this solution working well for you.
I'm actually surprised how much hay packed into the pillow, compared to how small it looked! But again, not a good solution for me since I pack my 4'x4′ slow feeders only once every second or third day. If I used Hay Pillows I would have to re-fill them at least 2-3 times a day to keep hay available 24/7 for my herd.
What I do love about this slow feed design is how close to the ground the horse can eat: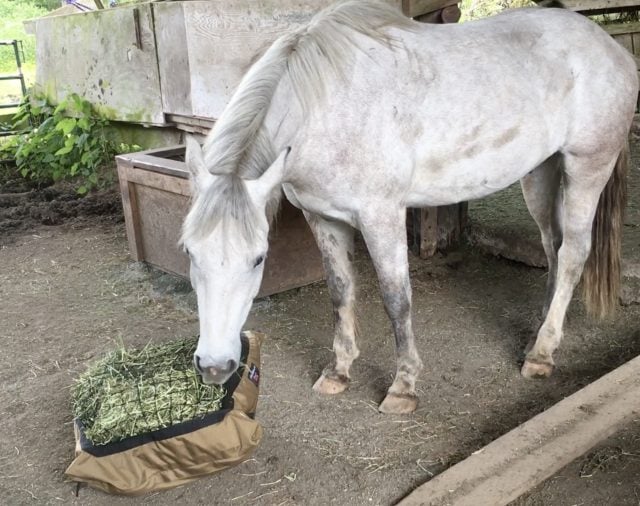 When most people use hay nets, they tie them like this: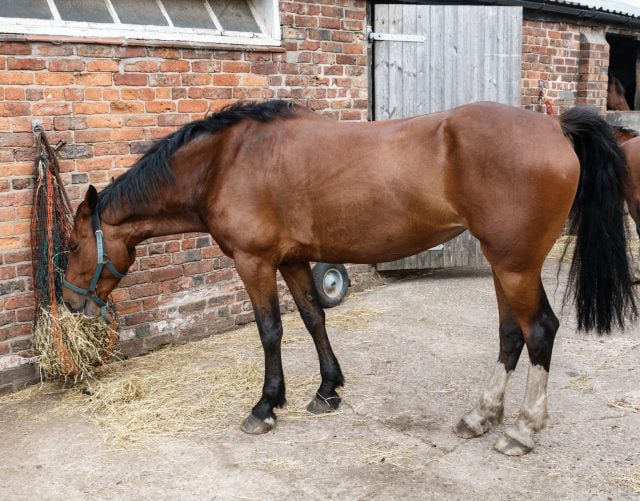 Or like this: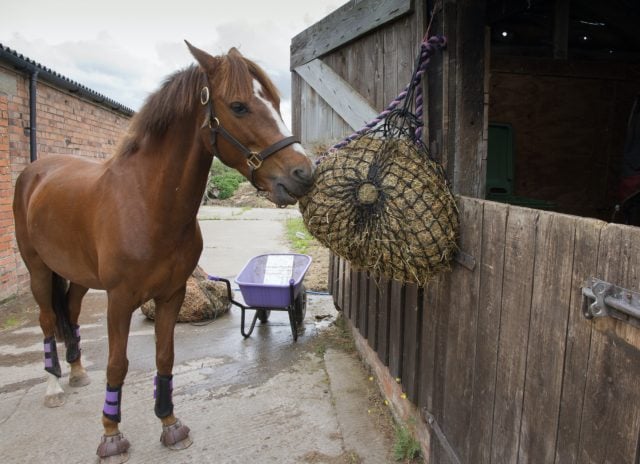 Obviously the neck and jaw position is much less natural/relaxed than when the horse's neck is fully extended to the ground; similar to when the horse is grazing
Although, in some cases this may be required 🙂 :
Unfortunately, I also cannot test the durability of the Hay Pillow since I only have one – my young herd would then compete for it and it would be subject to uncommonly rough treatment! Which would not be a good test. Since I have 5 horses, I would need to use 6 Hay Pillows to conduct a good test. Remember when feeding horses, you always need to put out at least one extra feeding station to avoid generating scarcity/competition/stress among the horses.
However, I did speak to a friend of mine, who is using them for her 4 horses near Kamloops, BC (hot and dry in summer, snow in winter) and she loves them.
So. I would like to pass this Hay Pillow on to someone who has just one or two horses in a suitable climate, who would like to test it out and give us feedback!
It would be especially good if your horse tends to be a bit rough on hay nets – to see how this holds up in comparison. My Belgian mare has torn through every hay net I've tried – she gets mad and just rips them apart with her teeth. She also gets mad at my metal grate slow feeders and stomps on them with her elephant hooves. Jeez I love her fierceness. Reminds me of my daughter!



Anyway, leave me some details about why your horse/setup would be a good testing environment – I'll select the best tester (I'll do a draw if needed), then I'll email you directly and ship it out to you. All free of charge. I only used it once for about 15 minutes – as shown in this video – so it's in practically new condition. Wot fun!
Reader Review
As you can see from the comments below, Kate Bremer was our contest winner and after using the Hay Pillow for 3 years with her horse and donkeys in Texas, here is her feedback:
"The Hay Pillow is excellent. Well made, sturdy and the donkeys and horses prefer it over some of my other haybags (it is easy for them to step on and may have a slightly larger hole diameter). It does not work well in wet or damp conditions as the moisture will saturate the wonderful heavy duty canvas backing. I don't use any haynets in really wet weather but especially not this one. It is still in great shape and I would recommend for dry use weather."
Hay Pillow – Ground Slow Feeder Review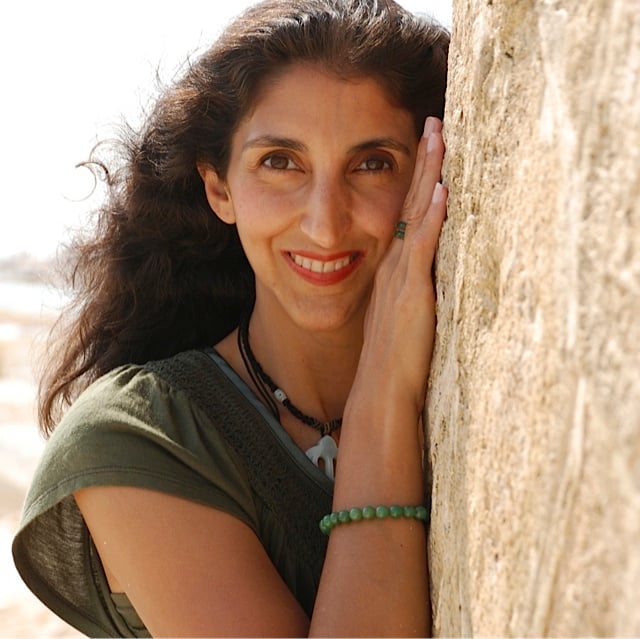 Jini Patel Thompson is a natural health writer and Lazer Tapping instructor. She began riding at age 2 in Kenya, and got her first horse at age 8 in Alberta, and so continues a life-long journey and love affair with these amazing creatures.