I stopped regularly riding my gelding, Spero, a couple years ago. I was using a bitless, treeless set-up with, I thought, pretty good results. We'd spent years riding trails together, and then spent some time in arenas trying to find that elusive connection – or, at least, I was trying. There were always moments when we connected as one, surging up embankments or curving beautifully around corners, or moments where he, not I, set the speed, and I found my rhythm and just let him rip.  There were those shots of energy that seemed to flow up his feet, through his body and mine and out our heads, and plenty of times when I could lay down the reins and we'd move off thought and body alone.
But these moments were few and far between, punctuating a persistent, pervasive hum of discontent that I tried to ignore. Because if I let it grow louder, where would I be? What would I have to admit to? What would I have to change?
When I was honest with myself, I knew he didn't actually enjoy our rides, at least 80% of the time. And when I was really honest with myself, I knew that I didn't, either.
For me, being with horses was never supposed to be about control. I had never wanted to just sit there and be obeyed, I had always glorified the fantasy of a horse that truly communicated, one that would be my best friend, that wanted to explore the world with me with courage and curiosity.  But as Spero matured and I fumbled my way along with this green-broke, highly sensitive Arab/Andalusian, I simply couldn't love our time together if he wasn't happy.
It took a lot of courage, process, permission, and time to let go of riding. I found myself a structure, a program called Friendship Training, that had the horse owner commit to not riding (in fact, not using any form of coersion or restraint) until the relationship was strong enough that the horse could feel safe. I needed that assurance that I would ride again to truly let go.
Of course, once I let go of the agenda I'd developed around my horses, nothing would ever be the same again. I was free to question whether horses actually should be ridden at all, biologically speaking, let alone forced to. I came around to believing that, in the right circumstances, riding could be fun for both parties, but that it couldn't be the basis of my relationship with horses if I wanted them to have any choice in the matter.
Since that time, I've done a whole lot of what looks like nothing. I have sat with my horses, taken them for walks on foot, tried some positive-reinforcement training and read and watched everything I could, trying to figure out how I want to be with horses. Once I let go of how I thought it should be, the infinite possibilities were completely overwhelming. I knew I wanted mutuality and choice for my horses. I wanted to have them want to ride, or I decided I wouldn't ride at all.
I'm not going to talk about the details of what we've done, because it's been a veritable mishmash of technique, feel, intuition, and total f*ckups, with a general curve trending towards closeness and mutual communication. I felt my way through restarting Spero, hoping to redefine riding as a game, a thing he could choose to do or not to do. And while he was receptive to this, I felt the real impetus was still coming from me.
New digs – 27 acres of pasture and woods!
Yesterday, I was in the enchanted forest with my little herd of 3, in their super-cool new pasture. Since they've moved there, I've done nothing in terms of "doing", just explored with them, doled out scratches and cuddles, and worked on my insides – meditating, letting go, and just being.
 Spero can only take so much stillness before something needs to happen, but I was still surprised when he picked up the halter I'd left on the ground and shook it at me. "You want this on?" I asked incredulously.
He dropped it at my feet and stared at me. I obliged, wondering at this horse who, short months ago, would speed-walk away when he saw me approaching with any kind of gear. Suited up, he yawned and looked at me again. He was standing next to a stump, on his preferred side for mounting (the right – too much discomfort associated with the left!). "You want me to…get on?"
Uh huh. Like it was so obvious and I was wasting his time asking all these questions. If horses could roll their eyes…
I stood on the stump, left him on a loose line, and swung up. He didn't move, protest, or inform me in any way that I was being delusional. Holding the lead rope bunched over his mane, no contact on his face, I said, "Okay, let's go."
He eagerly took me around the forest clearing, winding around stumps and trees with simple requests from me, intuitive vocal or body cues. When he got bored of that, he went and poked Amalia, who turned and poked her foal, Firefly, who obliged by taking off into the bush, her mother in hot pursuit. I took a deep breath and let Spero follow, reminding him that I was taller than him up there so could he please not clothesline me under any branches! Touchingly enough, he didn't, and instead found routes through the brush that left room for me. The three of them showed me their path through the woods, over logs and under cedars, til we emerged in another clearing and stopped for a grass snack.
This was on their time. This was their choice. I wasn't riding Spero, I was along for a moment in three horses' day.
When baby Firefly and Mama took off for the usual gallop around the bottom end of the field, I felt my nervousness flare up and slid of Spero before he joined them – his energy had ramped up at the prospect of a run, and I was not feeling ready to ride this out. I unclipped the line, expecting him to explode away from me, but instead he turned to stare at me again. I felt him ask, "aren't you coming with us?"
"I'll follow behind. Go ahead!" I assured him, and at that he leaped away to catch up to the others. They rounded the field and slowed at their favourite grazing spot, and turned to watch me making my slow, human way toward them. Spero walked up to greet me in his lovely, affable way, and then he and Amalia grazed while Fly and I flopped down for a nap.
I felt like I'd just been invited to hang with the cool kids, after years of wishing they wanted me with them. Better than that, I felt like I was actually considered a cool kid now, so long as I didn't do anything, you know, dumb.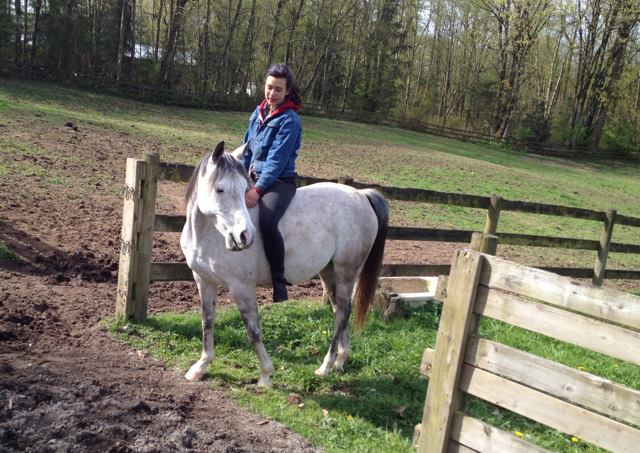 So this is what mutuality feels like, I'm thinking. The word means nothing if you try to make it so. You can fake choice, by teaching or forcing a horse to do the thing you want them to do without protest. It can look good, and it can even be pretty good, but for someone like me the question mark still hovers. Did he really want to do this? Or is he just humoring me?
Rather than my request to ride being granted, I was offered this pleasure out of the blue. It was truly Spero's choice – and mine, too. And that is a whole new feeling, and a whole new standard to strive for…and believe me – five minutes of riding like that produced more fun, joy, sharing, and communication, than hours of riding on my terms ever has. I have no idea if I'll ever experience this again, but man. What a trip.
True Mutuality: Choosing to Ride
A barefoot hoof trimmer, a singer/songwriter, an amateur farmer – these are some of the hats Kesia Nagata wears when she's not full to bursting with wondrous equine co-creation.