This video from Nicole Lampe in the Netherlands is a beautiful pictorial story of how one horse can teach each another useful skills, support him through facing his fears, and lovingly support his growth and expansion. Not surprisingly, horses don't just assist humans to heal, they also assist each other!
Nicole gives a bit of background on the brown horse in this video:
"The bay one came to us to gain weight and get less nervous. He was very afraid but had such a sweet and gentle character. But I do think he indeed had pretty 'bad experiences' with people because he had pretty strange marks of rope halters and was very insecure in the beginning. He has a great character and he was sold to a lovely Lady who is very happy with him, loves him and takes good care of him, she still sends me pictures of them. And every time he looks even better. So happy ending for both, the grey one also has a new home with a lovely Lady."
This is actually one of my favorite things to do with my herd – just watch how they interact, communicate and teach each other. I've been watching my wildies gradually teach my domestic Andalusian to be more of a 'natural horse' and how to communicate better in native horse body language. It's like Zorra is a bumbling thug compared to their much more subtle communication.
I've also been watching the herd school Jax – the second-youngest Belgian/Arab cross. Like most Arabs, he is highly intelligent, but also highly playful and mischievous. Respectful behaviour is not high on his priority list, but the herd relentlessly demand he behave respectfully.
And when little Juno was born, I was surprised to watch his daddy, Montaro, teach him how to listen and be directed by Montaro from Day 2 of his life. The first priority was not cuddling and bonding; it was, "When I ask you to move left, you need to go in that direction only and immediately." He would even rouse Juno from a dead sleep and get him to move as requested.
I realized that in a wild herd this is a far more crucial service than providing affection – imagine if the stallion needed the herd to run fast banking around to the right, to avoid a predator, and a new foal ran left!
After Juno had learned all of Montaro's communication/signaling, then Montaro began to show more affection and he quickly became Juno's favorite eating partner.
When you're a Horse Listener, you realize there is an entire world of fascination, wisdom and culture to be gleaned by simply watching horses and listening to their communication expressed through their bodies, expressions, energy and movement.
A Horse Teaches His Friend To Overcome Fear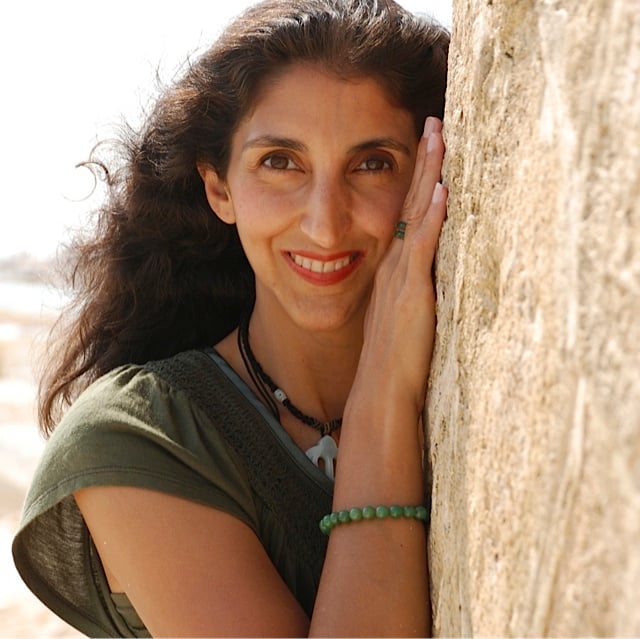 Jini Patel Thompson is a natural health writer and Lazer Tapping instructor. She began riding at age 2 in Kenya, and got her first horse at age 8 in Alberta, and so continues a life-long journey and love affair with these amazing creatures.