Well the dog conversation among us horse listeners continues! After my last post about how I relate to my dogs and negotiate boundaries etc., one of my long-term lovely readers asked how and what I feed my dogs:
"Just curious your observations on dog food health as my last two dogs died way too young (12) and I knew I needed to search for a better way to feed them!"
Well, first of all, let me tell you about my dogs' health, so you can decide whether it's worth reading any further! Tiah is now 7 years old and Kumba is 5. Neither have required any vet care to date beyond neutering issues. I don't vaccinate at all. I offered each of them a de-wormer once – they both took it – but followed with high dose probiotics (Natren's Caninedophilus). At one point, Kumba had a skin issue, with 1 or 2 sores that kept randomly appearing, so I treated topically with wild oregano/zinc and internally with probiotics and they haven't recurred for over 2 years now.
Tiah got really chubby earlier this year – she actually had a "fat tumor" on her chest and waddled when she walked. When I asked her why, she said I either need to breed her or get her spayed. So we went to the vet for a spay intake consult (hence the 'fat tumor' diagnosis) at which point I decided to look to breed her once first. She comes into heat in June so we'll see if the universe provides a sire by then! But as soon as the decision was made, the weight started dropping off her and she now looks just fine 1.5 months later – with no change to her diet. Neither of them have any joint or soreness issues (something else that seems very common in dogs these days). Kumba has only seen the vet for his vasectomy and then again for his castration. So that's the health report to date on both of them.
As with humans, I believe health is a balance of mind/body/spirit. You can see from my last video how I seek to meet their genetic requirements for mental and physical stimulation/balance. I also LISTEN to them ongoing and change conditions in the home when required. For example, we have a dog door so they can go in/out as they wish any time of day or night. They like to be fed in certain spots and not others. Lately, sometimes Kumba doesn't like to eat his food all at once, so he eats 2/3 of it and I put it up on the counter for him (where Tiah won't eat it) and give it to him again a few hours later. When I place a dog bed for them, I ask them where they want it, sometimes I think they'd like it moved, so I try that and they show me (by ignoring it) that "no, we don't want it there, please put it back." That's just one example of the ongoing dialogue between us so that they have input into their living environment.
What I feed my dogs…
Here are the staples that I feed my dogs daily:
Raw meat, bones, organs, skin (whole animal) – I feed whole chicken and whole duck from Carnivora. And ground pasture-raised lamb from a local butcher.
No antibiotics or hormones in the meat, pasture-raised if possible
Omega-3 and other good fats (cold-pressed flax, coconut, pasture-raised pork lard, beef fat, etc). This is a good oil blend. Be very careful with bottled salmon oil for dogs as most of it is rancid.
I feed 1/2 tsp mixed greens powder, rather than include veggies in their raw food. I have watched Tiah hunt rabbits etc and then eat her prey. She eats the entire animal first and saves the intestines for last. The intestines contain a TINY amount of FERMENTED greens. So if I had a dog that wanted/needed veggies, I would feed cooked veg for sure, not raw, unless I was willing to ferment the veggies.
I seek to mimic how they would eat if they were wild in nature. So I feed once per day and they like to eat in the evening – if I feed them in the morning or afternoon, the food will just sit there until night time. When Tiah was younger, she preferred her food 'aged' so would purposely leave it a day or two before eating it. I don't feed to any weight-based calculation, I let them tell me how much they want according to their body wisdom. Sometimes they want more so I'll get them a lamb neck in addition to their ground food if they're still hungry. I'll also not feed them at all here and there – again by feel (maybe twice per month average). A dog hunting is going to have days when they don't catch anything. So I feel for when they're not especially hungry and then I don't feed them – they've then never asked for food, so I know it feels good to their body too.
One of my readers asked about Rotational Mono Feeding (RMF). It seems to focus on the importance of only feeding ONE macro food group/type at a time (protein, carbs, fats) due to different digestion times for each. For me this is non-applicable. As discussed, a dog that is hunting for its prey would only eat a tiny amount of fermented carbohydrate (plant matter) and it would consume this along with the meat, bones, skin and organs of the animal. Hence the dog would also be consuming natural fat at the same time. Fat is also needed to utilize many vitamins so again, the way a dog/wolf/wild dog eats its prey in the wild is ideally suited to their health requirements.
Ask  your dog's gut for guidance…
I also have mixed-breed dogs – the more genetic variation your dog has, the closer they are to their wolf ancestors. If you had a very inbred (i.e. purebred) dog, then they may have genetically-determined limitations to their health and skeletal structure (joints). In that case, I would listen closely to the dog and follow their body wisdom – perhaps they would need a lot of variation in their diet because certain things would only work for so long and then you'd need to change it up. Or perhaps they would require a super simple diet, or lots of healing bone broth, egg yolks, and good fats. All animals know what they need to heal and function at optimal health, we just need to listen.
BUT make sure you're listening to your dog's gut/body and not their mind/tastebuds! Any dog will say YES to human food (tasty), or artificially-flavoured food. I actually have a theory on processed pet food… I think pet food manufacturers are actually putting addictive chemicals (drugs) into the food. There is a class of artificial flavoring agents that were developed about 20 years ago, that don't act on the tastebuds, they affect the brain. Food manufacturers are allowed to put these in human food and just label them "artificial flavors" and I suspect these chemical agents are a primary cause of fast food addiction and obesity in humans. I suspect they use the same substances in pet food and they literally cause the animal to become 'addicted' to the kibble or processed food.
So you can't ask the dogs mind or tastebuds what they want. You have to tune into your dog's gut and deep body wisdom. Even with 100% natural kibble, my dogs love the crunch and flavor and they would eat a lot of it if they could. But I'm not listening to their mind, I'm listening to their body.
I've also tested raw food vs. natural, organic grain-free kibble with cats. I saw my two cats go from fierce agile hunters who could jump 20 feet and land on a 1-inch strip, or climb a 50′ tree, deteriorate into cats who stumbled just jumping up on window ledge and could no longer catch any prey. Needless to say, I transitioned them back to raw food (meat, organ, bone). There are hundreds of these "funny cat" videos on social media. People don't realize their cats are actually severely physically and cognitively impaired.
Occasional foods…
As already mentioned, I occasionally don't feed my dogs for a day (a day of fasting to mimic a day in the wild where they didn't catch any prey). Some people do this one day per week. I prefer to listen to the dogs' bodies instead and that seems to be working out to fasting about twice per month.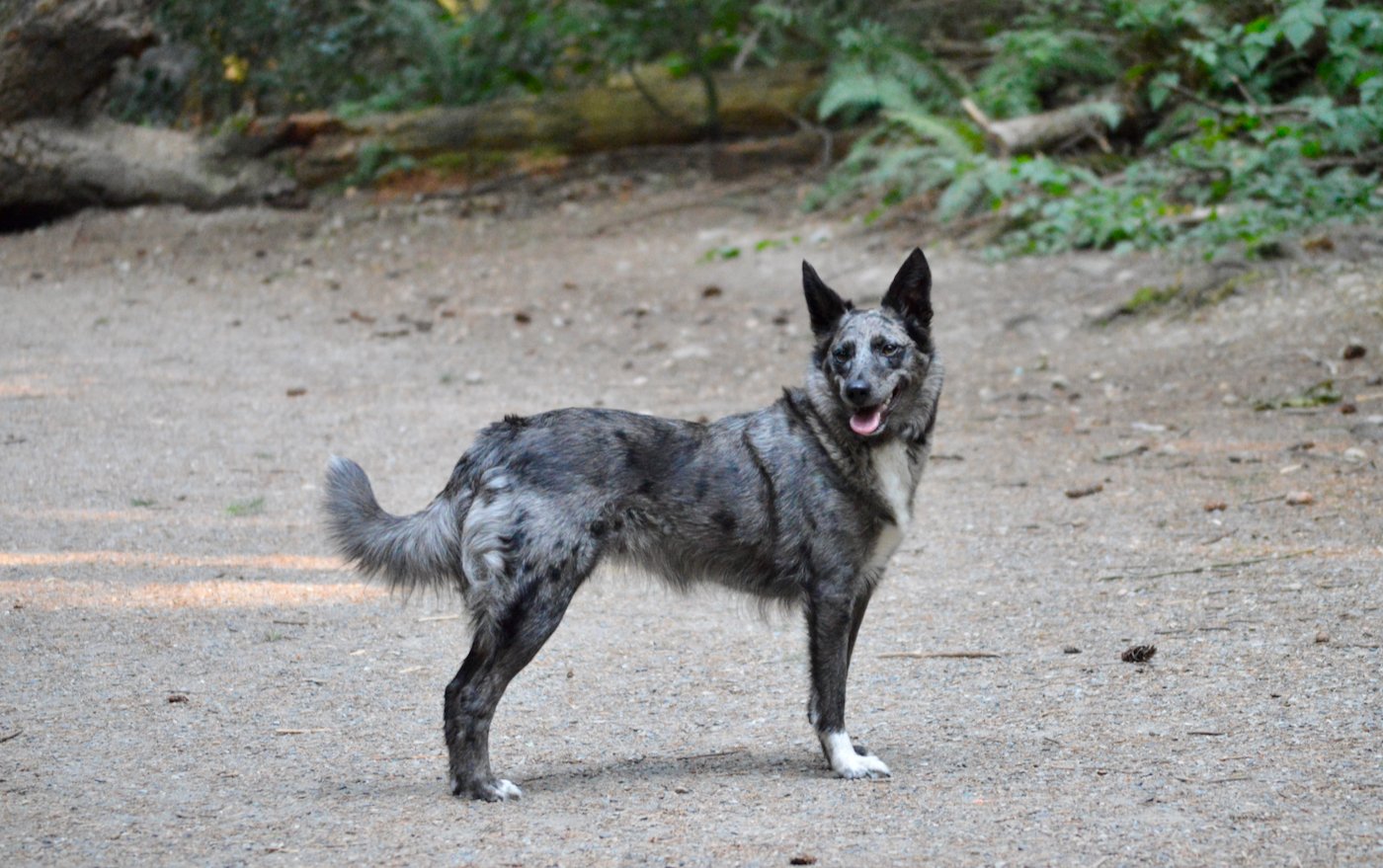 I will also feed them human food when we have lots of leftovers – but mostly meat/fat and only a small amount of cooked veggies. When I first started doing this, it would throw their bowels off (either loose stool or constipation) but as they adjusted it became easier. If I'm feeding a substantial amount of leftovers, then I don't feed them any raw that day. The digestion times are very different for raw/cooked meat, so this makes it easier on their bowel. But, if I'm cooking, or when we're done eating, I'll give them leftover bits of meat or fat. Small amounts don't cause any issue when they have their big raw meal later.
I also feed them the leftover carcass when I make chicken bone broth. YES you are NOT supposed to give dogs cooked bones! UNLESS you simmer them for 12+ hours until the bones are so soft they crumble at your fingertips. This gives you the best gut-healing bone broth packed with gelatin and minerals that have come out of the bones, and your dogs will LOVE the bones, meat, skin, cartilage, etc. I also pour some of the broth on top of the carcass for them. If I've cooled the broth already, then I skim off the fat and add that to their plate.
For dog treats – I keep these in my truck to dispense after they've waited in the truck for me for a long time – I feed raw dehydrated wild salmon skin, sardines, pasture-raised beef liver etc.
I keep canisters of seaweed powder and dehydrated raw liver powder on the counter that I'll occasionally sprinkle on the dog and cat food – whenever I feel like it, or they ask.
I also have a bag of Fish-based (sustainable wild, not farmed), grain-free, 100% natural kibble that I'll occasionally sprinkle a teaspoonful on top of their food, for a little bit of crunch. I keep this for the cat, who may need a tablespoon of kibble mid-day (if she hasn't hunted anything), since I feed her at night with the dogs.
Lastly, I give them Caninedophilus probiotics twice a week whenever I feel they need it – about 2-3 times a year.
Right now, we have a bunch of eggs that are past their due date, so I'm mixing the yolks in with their chicken or duck to use them up. Raw egg yolks from Certified Organic, free-range chickens are a fantastic source of key vitamins and DHA. Raw egg whites contain the anti-nutrients avidin (blocks B vitamin uptake) and trypsin (inhibits protein digestion) so you don't want to feed those. If I offer my dogs a whole raw egg, they will eat the yolk and leave the white.
A guideline that I use is: Would they eat this in the wild? How would they consume it in the wild?
The result…
The result of feeding my dogs this way is zero health issues. If they ever get a cut paw out on the trail, they heal rapidly. Sometimes Tiah (who's quite the acrobat) will sprain a leg, but recovers within a few days. Their teeth are in great shape and they have excellent stamina. Sure, they're only aged 7 and 5, so time will tell, but so far, so good.
The other result of feeding in alignment with their body's natural inclinations (how they would feed themselves if they were wild – and not city-based scavengers) and according to how much food their unique body requires (rather than a vet-dictated percentage of body weight chart) and when they prefer to eat, is that they have zero scarcity issues or anxiety around food.
I put their food down and sometimes they take a while to meander over when I call them. Tiah is a very sensitive, picky eater. She doesn't like anyone (dog or human) watching her while she eats. She'll delicately savor her food, stopping occasionally to lick her lips and look around the room. She eats leisurely and Kumba finishes in half the time she takes. Sometimes one or both of them are not hungry and the food will sit there (sometimes for hours or until the next day). They will not eat food just because it's available. They only eat when they're hungry. If Tiah's extra hungry, Kumba will give her his food. Then I'll give Kumba an extra lamb neck later, if he wants, to make up for his missing food.
Lately, Kumba is a bit bored with ground food. If he could have all his food as carcasses or chopped up chunks on the bone, he would! But this is far more expensive, so I'm not willing to do that. My solution is to give him a chunk of lamb neck most days – he likes it frozen and takes it outside to eat. Tiah won't eat hers until it's thawed and wants to eat it inside on her dog bed. Our negotiated agreement is that I put the lamb neck chunk on a plate, in her dog bed.
To be honest, I wasn't even aware this food scarcity/anxiety existed until I started seeing how other dogs behaved around food. I was stunned that the majority of dogs are psychologically starving. When we've had dogs stay with us, Kumba gets so concerned about them that he leaves his food for them! He's like, "Oh my gosh, you're starving, here have mine." Even though that dog is fatter than him. He's not looking/judging the dog's body, he's responding purely to the dog's emotion/energy and he's very concerned that the dog doesn't get enough to eat.
Tiah response is to ask me not to feed her until the dog goes to bed, or leaves the house. She's super sensitive and the 'starving dog' vibe upsets her so much that she can't/doesn't want to eat. So when a dog like that stays with us, I will usually feed them at midnight, when they can leisurely take their time and not feel any pressure or distress when eating.
So we're back to the same dynamic/consequences that happen with horses, when humans don't feed according to natural/wild diet and 24/7 access to forage, which then causes health issues, which then requires more interference/management, which then creates psychological and emotional issues and screws up the animal's metabolism. DIETING DOESN'T WORK. Not for human animals, or other animals. It just slows down the metabolism, creates scarcity-mindset (stress!) and then you're in an endless feedback loop of declining health.
OR the dog's scarcity/food anxiety issues are not due to physical elements at all! More on this in the next section…
If my dog were fat…
What would I do if my dog's obesity was causing health issues? Well, as I already mentioned above with Tiah and her 'fat tumor', I'd ask them what was going on. I'd address the issue they raised. I'd also communicate with them about the consequences of all this excess weight, just like I did with Cobra. And then I would do my own work on myself – my own evolution, healing, leaning-in to my own issues, knowing that my shit is always involved in my pet's health issues!
For example, people think that slowfeeding should resolve their horse's health issues, but, if the hay in those feeders is not low sugar (what they would be foraging in the wild), if it's sprayed with a drying agent, or the hay field sits next to a corn field doused in glyphosate… then their horse is not going to be healthy! Likewise, if they're feeding everything right, but the horse is not getting any/enough natural movement, the horses is going to have health issues. If they're feeding right, natural movement, barefoot, bodywork, but the owner has unresolved anxiety or stress around food, or is hyper-controlling, or has an eating disorder… the horse is not going to be healthy. The horse is going to mirror back to the owner her own dis-ease, or her own unresolved trauma. Because animals respond to energy and all our crapola is held/visible in our energy field.
When 'starving dogs' have stayed with me, or I with them, I've always had to do tapping sessions with them – at their request. But there's only so much I can do because that dog is like a spiritual evolution agent for their owner, so their owner has to be ready to acknowledge and then resolve their issues. Then the dog can be released from messaging/mirroring for the owner. Unfortunately, us humans can be very resistant about resolving our issues, or changing our behaviours.
Our dogs use their bodies to send us messages, when we aren't listening any other way. The physical body is a hard line, a last resort, and very difficult to ignore. What would change if we spent even 10 minutes, every other day, listening to our dog? You can communicate with a dog the same way you communicate with a horse – here's my method. You can also use oracle or medicine cards for information about your dog. Lastly, I strongly encourage you to turn off your WiFi, Bluetooth and put your cell in Airplane mode when you're out with your dog. BE with them, be fully present in nature with them, notice what they notice, point things out to each other – even just for 10 minutes.
And lastly, thank your dog. I thank my dogs for all the work they do holding space, processing, and assisting every member of my family. They have a big job! And their assistance is vital for the evolution of all of us. A tribe, a herd, a pack, is only as strong as it's weakest link. Right now, humans are the weakest link in the planet herd, the earth pack – it's no surprise all other species are working so hard to support us to heal and evolve. Namaste earth herd.
Aligning with Dog Wisdom – No More Food Anxiety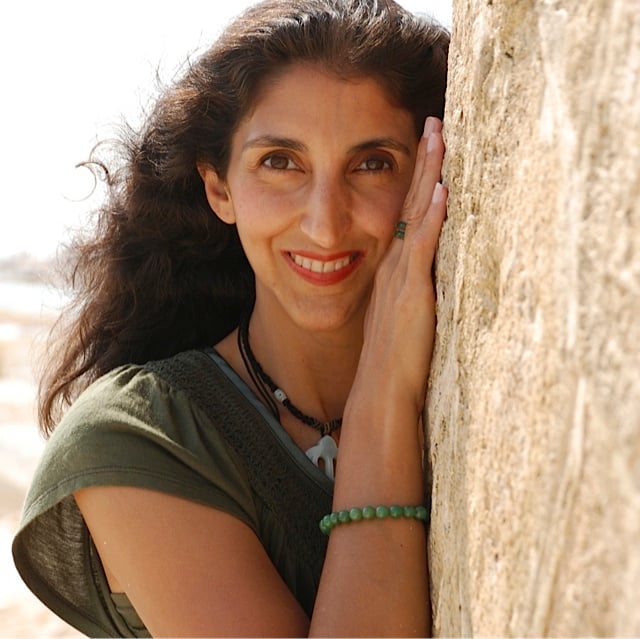 Jini Patel Thompson is a natural health writer and Lazer Tapping instructor. She began riding at age 2 in Kenya, and got her first horse at age 8 in Alberta, and so continues a life-long journey and love affair with these amazing creatures.