Note: If you missed Part 1, you can read it here.
So after finally getting all four of my horses into a trailer and moved 10 minutes down the road to our new place, we spent the winter settling in and strengthening relationship. It was too wet to get a trailer into their field anyway.
We continued heading out on the road for walks and progressed from a halter to a neck loop for all but little Jax. In fact, when we arrived at the new place, Jax asked to be almost completely left alone. He watched me like a hawk, but he did not want to do anything, nor have anything asked of him. No problem! I had plenty to keep me engaged with the other three.
It's times like this that I see how having a few horses can be so much better for the horse! There were a few years (in my youth) where I only had one horse and I now see the amount of expectation (pressure) I put on my solo mare. When you have two or more horses, if one horse doesn't want to be with you, or doesn't like an activity – no problem. You just hang with the other one. With 5 horse there is always someone interested in my ideas!
Field Trailer – No expectations!
As soon as the ground hardened up in the Spring, I hired Kevin Garecki to bring his light, open slat, stock trailer over and just park it in their field for an hour, then drive it away without anything being asked of them. My intuition told me that this was the first step in loosening the trailer-trauma they had suffered.
I expected them to run the hell away from the trailer and then eye it sideways from a good distance as they grazed. I felt the healing would come from the trailer being there, BUT nothing being asked of them, and then it drives away, and the whole experience is positive, zero pressure, zero expectation and it just re-wires some neural pathways and creates new body memories.
Well.
The minute Kevan drives his rig down the barn road, the horses are alert and jazzed up. They do not act this way when the hay truck, gravel truck, or excavator arrives! But they are snorting and side-stepping before Kevan even brings the trailer into view. The horses are completely at liberty, and not wearing halters.
Kevan drives his rig through the paddock, out into the field and turns the truck around (so that he can just drive straight out when we're done) and then parks and turns off the engine. From the second he drives into their field, they start tearing around like their tails are on fire!
They race up and down the field, around the thickets and back out the other side. As Kevan is parking the truck, they are racing, snorting, bucking and kicking. Even after he turns off the engine, they continue bolting around for a good 15-20 minutes. Kevan (bless him) takes this opportunity to shoot some fabulous photos:
Montaro and Jax stop their racing and bucking only to spar: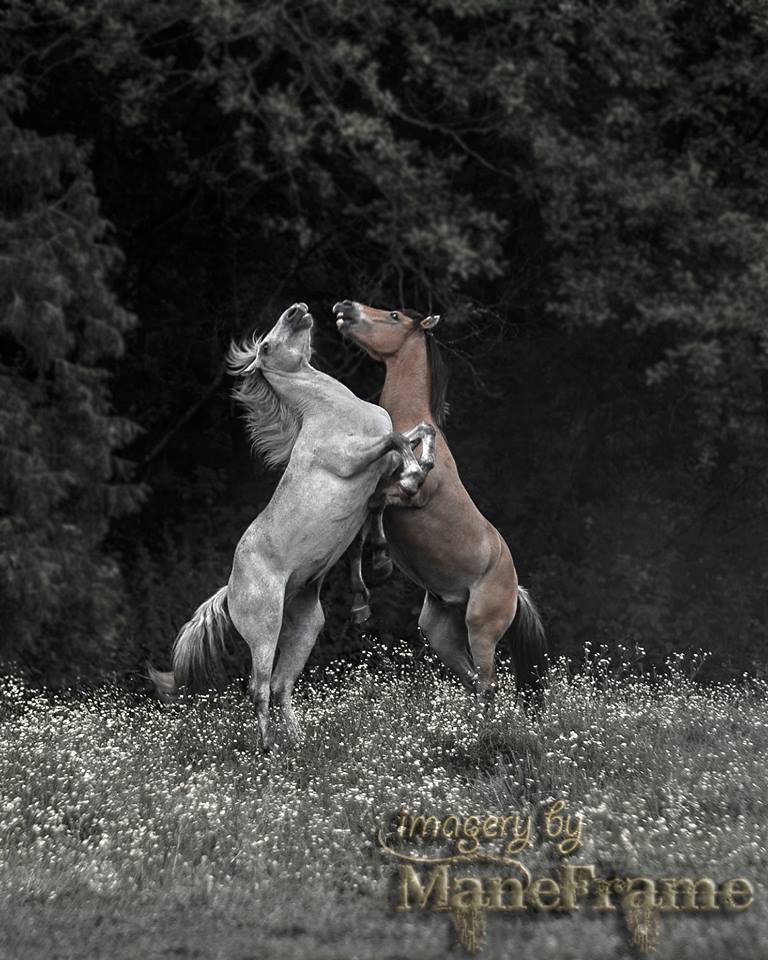 Even the resident coyotes come out to watch the spectacle: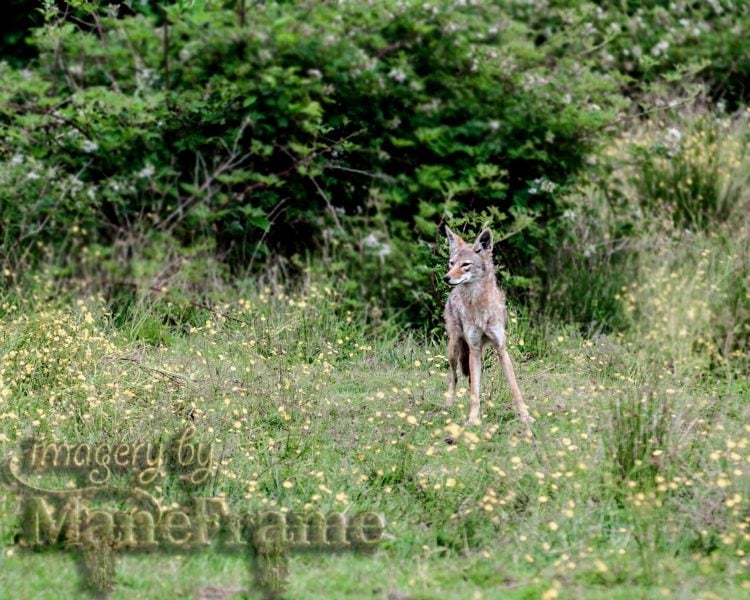 I realize they are finally engaging in the natural body response to discharge trauma that they were denied during previous trailer rides. You can hardly buck or race around inside a trailer, after all! As they flush out their crap (fear, trapped!, stuck, wrong!, terror, etc) their running slows to trotting and head tossing:
And then instead of grazing warily, whilst staying the hell away from the trailer, they come over to explore it thoroughly. Audelina slowly approaches and has a bowel movement about 6 feet away from the trailer, but it is formed (yay – no diarrhea or bowel spasming!). You can see I've put a ball here, further signalling that this is about play: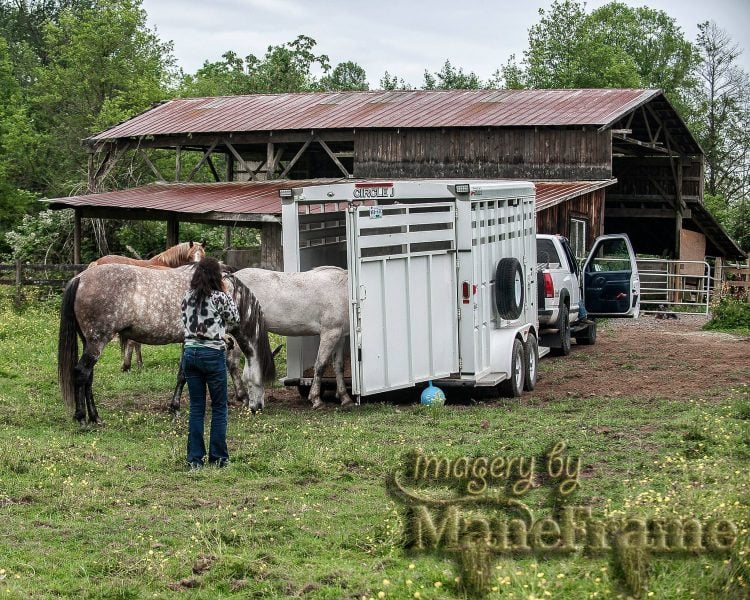 They look, sniff, touch, nuzzle, bop, and explore the trailer thoroughly. They are equally fascinated with the truck:
Jax gets inside the trailer and stands there proudly. Which seems to goad Montaro a bit and he comes up to the opening and puts a foot on the ledge. Then Audelina comes over and also peers at Jax, who is now projecting a combination of, "Hah, suckers!" and "Yikes, if they come in here, I'm screwed!" – because Jax is moved around by both Aude and Taro, so if they come in, he has to leave.
And then Aude and Taro move away, and Zorra comes in for a look. This goes on for a good half an hour with Jax coming on and off the trailer and the others slowly, tentatively, putting a foot of two inside the trailer, going away, coming back. Then I decide to go get some carrots.
I use carrots to lure Montaro up to the trailer door and then I put a piece of carrot on the floor where he can easily reach it – and he does – then I back up and put the next one down. I am using the carrots to get him to move closer and closer and see if he will come inside to get the carrots. I've started with Montaro, because Jax won't try to push past him. Nope. Montaro won't put more than 2 hooves up on the trailer ledge. That's fine, I give him the rest of the carrots and praise him for trying.
Over the next half hour, I do the same thing with all of them. Jax comes all the way inside no problem (and I actually have to shoo him out after a while), but none of the others will. Aude puts one foot on the ledge though – hooray! They are all rewarded equally for trying.
Unwinding The Body
At some point, they are all milling around the trailer and I am standing on the ledge just inside the trailer, and I see Montaro searching the ground just beside the right rear corner of the trailer.
What's he doing, is he… he's not! Yes, he LIES DOWN right next to the rear corner of the trailer. And then proceeds to flip onto his back to roll and scratch on the dirt. And then rolls onto his other side which, YES, traps his legs underneath the trailer!!
I am watching aghast as he struggles to free himself and these are the thoughts flitting at warp speed through my head:
Should I help Taro? Should I get a rope… and put it… somewhere…??
Shit! What if he damages Kevan's trailer. Jeez, Kevan probably already thinks I'm nuts, if he comes back here and sees this, he probably won't ever come out here again!
I wonder WHY Taro laid down and rolled right here?? This makes no sense. His body awareness and agility is like a Ninja – he wouldn't do this 'by accident'… what is really going on here?
Montaro's legs are fully underneath the back of the trailer and he is struggling like mad to free himself. The trailer is rocking back and forth. He is completely trapped. And then… he is up. He gives himself an almighty shake, snorts, and walks calmly away. Nobody but me saw anything or said anything. What the what?
And then I realize: he has re-enacted his trauma of being trapped by the trailer; from his current place of support and empowerment, and changed the story. He was trapped, but this time, he freed himself. He is no longer a victim.
I am reminded of the work of physiotherapist, John F. Barnes, who facilitates a very similar process for his human clients. In his book, Healing Ancient Wounds, John says that accident victims will often contort into unbelievable positions on his table as their bodies re-create the accident trauma and then unwind the damage. He teaches his students how to support this unwinding and assist the process the client's body wisdom has initiated as the pathway to their healing.
Field Trailer – Round 2
Kevan is then really busy as it's summer and he has clients all over BC and Alberta. The next time he can come out is October. By this time, Audelina has birthed Juno – who has never seen a horse trailer.
We do the same thing, but this time, I put halters on everyone (except Juno) before Kevan arrives. I want them to link up the idea of halter + trailer, without trauma and pain from having their face pulled on.
We do pretty much the same thing as before. The horses are excited when the trailer arrives, and run around a bit. But you can see from this video how intensely curious they all are. And how they are waiting for Kevan to open the trailer door so they can explore, and how quickly they put a foot or two up on the ledge. Jax wants to go inside continually, but Montaro decides it's "his" trailer and shoos everyone else away.
Juno has nothing but curiosity and after seeing Jax go in a few times, he just hops right on in there with Jax. Done! Juno's first trailer experience – totally relaxed, playful, and happy.
I'm reminded of a video I once watched where this guy had his trailer parked in the horses' field. He came out and called to them and all three of them came tearing over the field, from way at the back – where you could hardly see them – and straight into the trailer. He had trained them by putting their grain in there every day. In the video he is chuckling and talking about how none of them ever refuse to get on the trailer, ever. He has made the trailer their happy place – something they look forward to.
Here's some video I shot when Kevan first arrived on the second session of just parking the trailer in their field:
New Trailer!
You're gonna have to wait a month or more for Part 3 of this saga – as my new custom-built horse trailer is scheduled to arrive mid-September and then the games will begin! I'll take some videos and shoot some photos, so y'all can see what happens. Now that most of their trauma and fear about trailers has been cleared, it will be interesting to see how they progress with getting on and me driving them around – especially Aude. How fast will she progress from her previous sweat-drenched-dripping state? I am SO looking forward to being able to trailer out to wilderness areas and go trekking together!
Of course, being spatially-challenged, I'm going to have to practice my ass off to be able to back up and park a 20-foot trailer reliably 🙂
UPDATE: Click here for the next installment on Trailer Play with my brand new custom-stock trailer!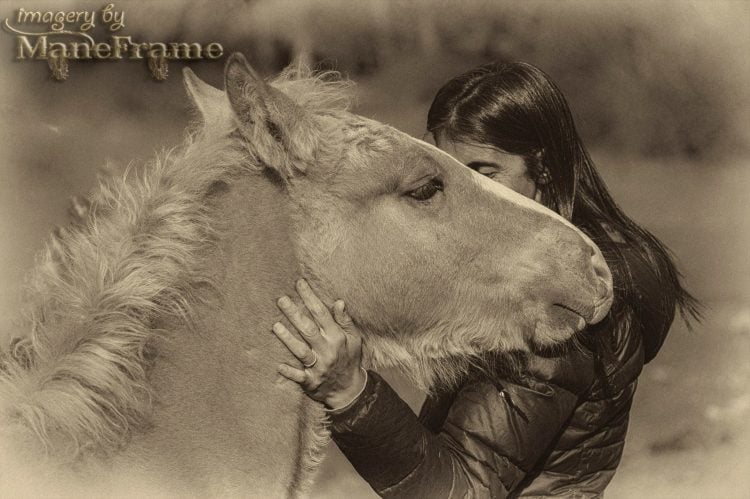 Adventures In Trailer Training – From Betrayal to Solidarity – Part 2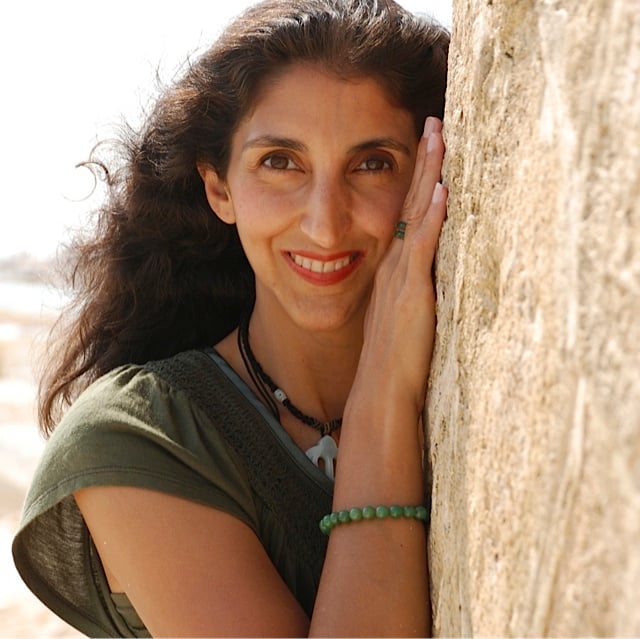 Jini Patel Thompson is a natural health writer and Lazer Tapping instructor. She began riding at age 2 in Kenya, and got her first horse at age 8 in Alberta, and so continues a life-long journey and love affair with these amazing creatures.