One sunny afternoon I was feeling thwarted and frustrated because my mare Zorra had injured her front leg. The injury came right when our riding was really getting fluid and we'd just begun to have adventures together. Aaaaarggh!!
I know, I know, all injury, illness etc. is not usually about the physical occurrence. It is about deeper, wiser things. And the injury or illness is simply the delivery service for the message. Having healed myself of a supposedly incurable disease, I understand this thoroughly.
Nonetheless, I was SO enjoying our riding, I was frustrated and upset when it was abruptly put on hold. By the time I had finished all my barn chores that afternoon, I was finally ready to detach just a little bit from my agenda!
After doing some sketching out in the field with the herd, with my dog Tiah lying at my feet, I was finally in a non-toxic enough state of being to allow myself to approach Zorra.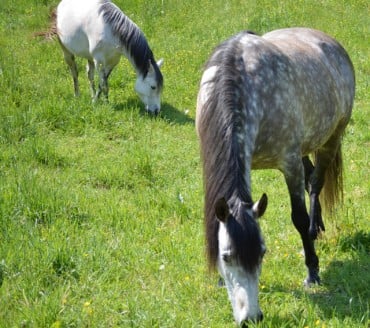 After stroking her and scratching her for bit, I placed my hand on her back – my hand didn't like that spot, so it moved to a different spot that felt better. And I just walked along with her as she grazed. I noticed that grazing is a very active endeavour! She changed direction, head position, footing, balance – sometimes her belly pushed into me, sometimes away – every few seconds.
As I was noticing this, a series of thought forms grew in my head – planted there by Zorra. She said to me:
Close your eyes
Feel into the movement of my body; my steps, my neck reaching, each hoof as I place it and how it shifts my balance and my entire body
As I minced and stumbled along with her, with my eyes closed, seeking only to feel the micro-movements, shifts, swings and balances in her body, yet stay alongside of her, she continued:
Now seek to align with me; merge your body with mine and seek unity
Don't worry that when I take one step, you may take 2 or 3 to stay in balanced alignment with me – that is not important. We do not have the same body, shape or size, so don't seek to match my movements.
Your body will move in its own way. Seek only the unity and alignment of energy and flow.
As I merged into her flow, keeping my mind out of the process and allowing my body to sync with her body, I began to move at the same time she did. And yes, sometimes I would take 2 or 3 steps to one step of hers – but my steps would carry me along in perfect balance and flow with all of the movements of her body. As the alignment of our two selves grew more and more fluid, there came a moment of perfect unity.
It was the same bliss one can experience through meditation. Or the alignment and unity with all that is, in flowing movement, that comes in snatches during martial arts practice. Where time ceases to exist and you rest, pause, suspended together in a pocket of source energy, outside the time/space continuum. I call this the stillpoint.
Holy shitskers!!
Who knew such a thing was possible – to be accessed in such a way?
Then she said:
Now change the position of your hand – feel for a new place
And do the same thing again
Feeling for a new spot that felt good/right for my hand, I placed it near her sacrum. Closed my eyes and began again. And everything was different! The movements, the place of balance, how her body felt to my body – all was fresh and new.
And so I began the Stillpoint Practice again; eyes closed, seeking only unity and alignment with her balance and flow. Removing my mind from the experience and letting our bodies speak with each other.
This new game that Zorra had shown me (perhaps she invented it on the spot) would have been interesting and thrilling enough just looking to sync our movements and place of balance, with eyes closed. But the fact that the seeking, responding, flowing led to the portal to Source connection, that experience of unfathomable stillness, was pretty freaking awesome!!
It's amazing what treasures are there to be discovered when you can't ride your horse! 😉
And by the way, if you don't feel safe/able to close your eyes, just look off to the side, or down, and allow your eyes to go soft-focus (like when you're daydreaming). It works just as well that way too.
I've also tested this practice with a halter and holding a lead rope – you can get the movement/balance piece, but sinking into the place of bliss seems to be hampered by holding/thinking about/managing the lead rope. Try it both ways and see what you think!
A Game Invented By a Horse: Stillpoint Practice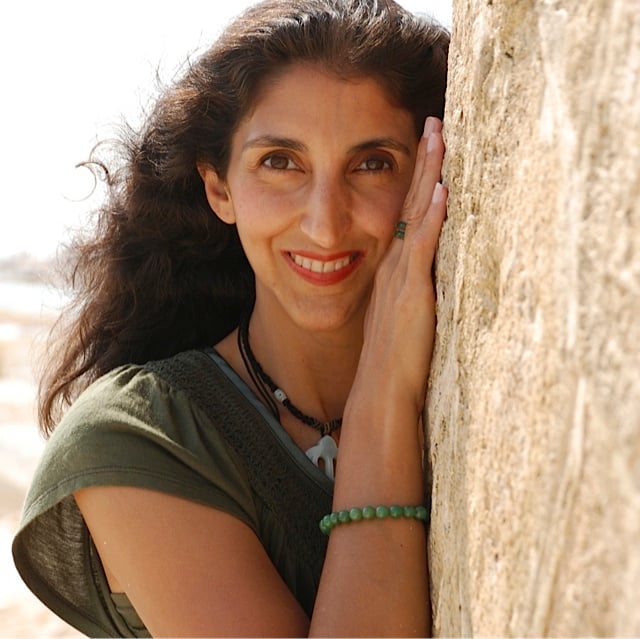 Jini Patel Thompson is a natural health writer and Lazer Tapping instructor. She began riding at age 2 in Kenya, and got her first horse at age 8 in Alberta, and so continues a life-long journey and love affair with these amazing creatures.