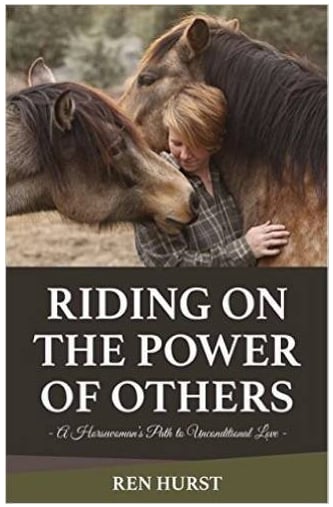 I'm working my way through my recent Horse Book Haul from Amazon – talk about combining two of my favorite activities: reading and horses! And I found Ren Hurst's book, Riding on the Power of Others: A Horsewoman's Path to Unconditional Love particularly thought-provoking.
The book is engaging as it chronicles Ren's early, difficult years as a child of abuse, dissociation and struggle – where she turned to horses (as so many of us do) as her life raft. It tells the story of how she morphs from a traditional dominance-based horse trainer, to a kinder natural horsemanship trainer, to a sanctuary-owner who feels that all horse riding is abusive.
"I want to tell you what a "horse whisperer" really is. I was labeled with such a term on occasion in my training days, and it's not a term I think of in a positive light any longer. To me, it simply means that you've become so good at manipulating and using subtle forms of psychological control that few can see that you're actually still using massive forms of coercion to get the result you want."
I find an interesting parallel here between her story and that of Stormy May – creator of the powerful The Path Of The Horse documentary. And sure enough, towards the end of the book, Ren and Stormy meet up.
But here's the parallel: Both were professional horse trainers who treated dozens of horses really poorly (i.e. the way most people treat horses; as subordinates here to do their bidding). In Ren's case, she bought, trained, and sold over 100 horses.
My feeling is that the psychic burden of this sheer volume of mistreatment gets so overwhelming – the more enlightened and connected the person becomes – that they feel they must do a form of penance. And they are driven to the other end of the extreme, to never require anything of a horse again.
I also wonder if Ren doesn't trust herself to be able to not dominate the horse in some way, if she leaves herself the option of riding a horse when/if invited by the horse to do so. She states quite categorically in the book that:
"Having specialized in starting colts for years and having trained so many, many horses, it was so clearly obvious to me that horses did not desire us on their backs. I had not met a horse who without any previous training or conditioning has walked up and invited me to hop on top of them like a predator."
Get On My Back!
However, in Carolyn Resnick's book Naked Liberty, she details how, after spending months hanging out with a wild herd as a young girl, the lead mare invites her onto her back. With no small amount of fear and trepidation, young Carolyn climbs on bareback (and no halter or bridle either of course). The mare parades her through the herd and then brings her back to the same rock to dismount. A few of the other horses in the herd than want to have a go at carrying Carolyn around. While others clearly have no desire. (pg 227)
I experienced a version of this myself one day when I sat on the fence and asked my horse Zorra – who was grazing with her herdmates – to come on over if she wanted me to get on. After a bit, she came over and I transferred my butt from the fence to her back. And yes, all horses were completely free, with no halter or tack, in a 5 acre field. Almost immediately, my friend Kesia's 2 horses started bugging us, and pretty much chasing us around. What the heck was going on? Why wouldn't they leave us alone? Why were they behaving so strangely?
As Kesia and I felt into the energy of her two, I said, "I think they want to be ridden too…" Sure enough, her gelding Spero (who, incidentally, has experienced a lot of past trauma around being ridden) stood quietly and waited for her to get on. As soon as she was on his back, he paraded around with her for a bit and all the horses quieted down – all was well in their world again.
I was gobsmacked – could it be that carrying a human was seen by the herd as a status symbol, a prestige, something to be proud of?? How bizarre is that? Then after Spero had enough riding, Kesia's very pregnant mare came over for her turn! Honestly, Kesia kept asking her, "Are you sure? How can this be a good thing?" But Amalia persisted until Kesia climbed on and she got her turn to parade around with Kesia.
However, as Kesia writes in her post, True Mutuality: Choosing To Ride, it is very common for people coming to the awareness of everything that's wrong with 'normal' horseriding, and wishing to create an authentic, sentient relationship with their horse, to go through a period of completely surrendering the need or pressure to ever ride again.
Most of us who have horses love riding so much, that we would need to go through a psychic/spiritual purge or cleanse to surrender the idea of riding AT ALL. Before we could feel our way to a paradigm of riding that is congruent and consensual.
And for some horses, yes, they will never give permission to be ridden again. And we have to find our way to a space of accepting and being at peace with that.
Truth vs. Storytelling
The other thing that jumped out at me from Hurst's book is that she spends about 3/4 of the book detailing how she thought each paradigm of horsemanship in turn was the 'truth' and the best way, only to find out later that it was wrong, or inadequate. And yet she ends the book claiming that now she knows the 'real truth' and the last 2 chapters are pretty much a lecture, attempting to convince you to believe the same.
Oh no… really? How is it that she cannot see the irony of the former evangelist claiming a new religion and becoming evangelical about that one?
I think this book would leave a greater impact if Ren had just stuck to telling her personal story. Storytelling is far more powerful than lecturing, facts, research, or stats. Her engagingly vulnerable story will linger in readers' minds far longer than her proselytizing.
However, this book is packed full of fabulous stories, insights, experiences that will resonate, vulnerability, compassion and clarity – for Ren, the horses, and your own journey. Riding On The Power Of Others is a riveting, entertaining read that will leave you with LOTS to think about.
Jini's Rating: 4/5 Stars – Excellent book, well worth the read!
Book Review: Riding On The Power Of Others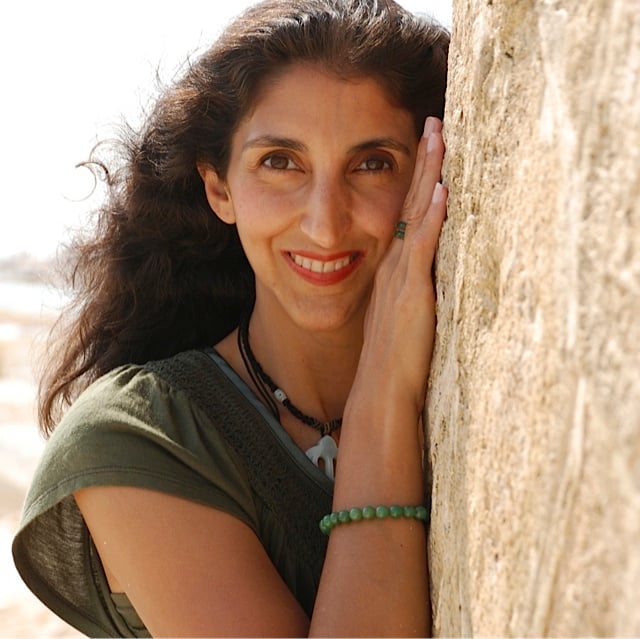 Jini Patel Thompson is a natural health writer and Lazer Tapping instructor. She began riding at age 2 in Kenya, and got her first horse at age 8 in Alberta, and so continues a life-long journey and love affair with these amazing creatures.