Guest Post by Melissa Bishop
In 2011 there was a terrible drought, the worst in Texas history. After several years without rain, the trees of the piney woods were dying. They were as flammable as gasoline. Then came a hurricane off the coast, 40 mph winds were blowing. Miles away in the forest, power lines sagged in the heat and swung wildly. They touched and sparks fell, and a 55 square mile forest fire started. I fought this fire and lost, wearing flip flops and a sundress.
It all started as an afternoon of beautiful rosy orange light. I thought, ah, it is the golden Autumn light. I was wrong.
An hour later I smelled the smoke. I walked out on the Park Road and up Bike Wreck Hill. It looked like stars were falling in the woods. Everywhere, little fires were landing on the dry pine needles. I went back to my house and called my friend Jarad and asked, "Where's the fire?" He said, "What fire?" A few minutes later he called back and said, "You better get out. It looks like its coming down the Alum Creek watershed."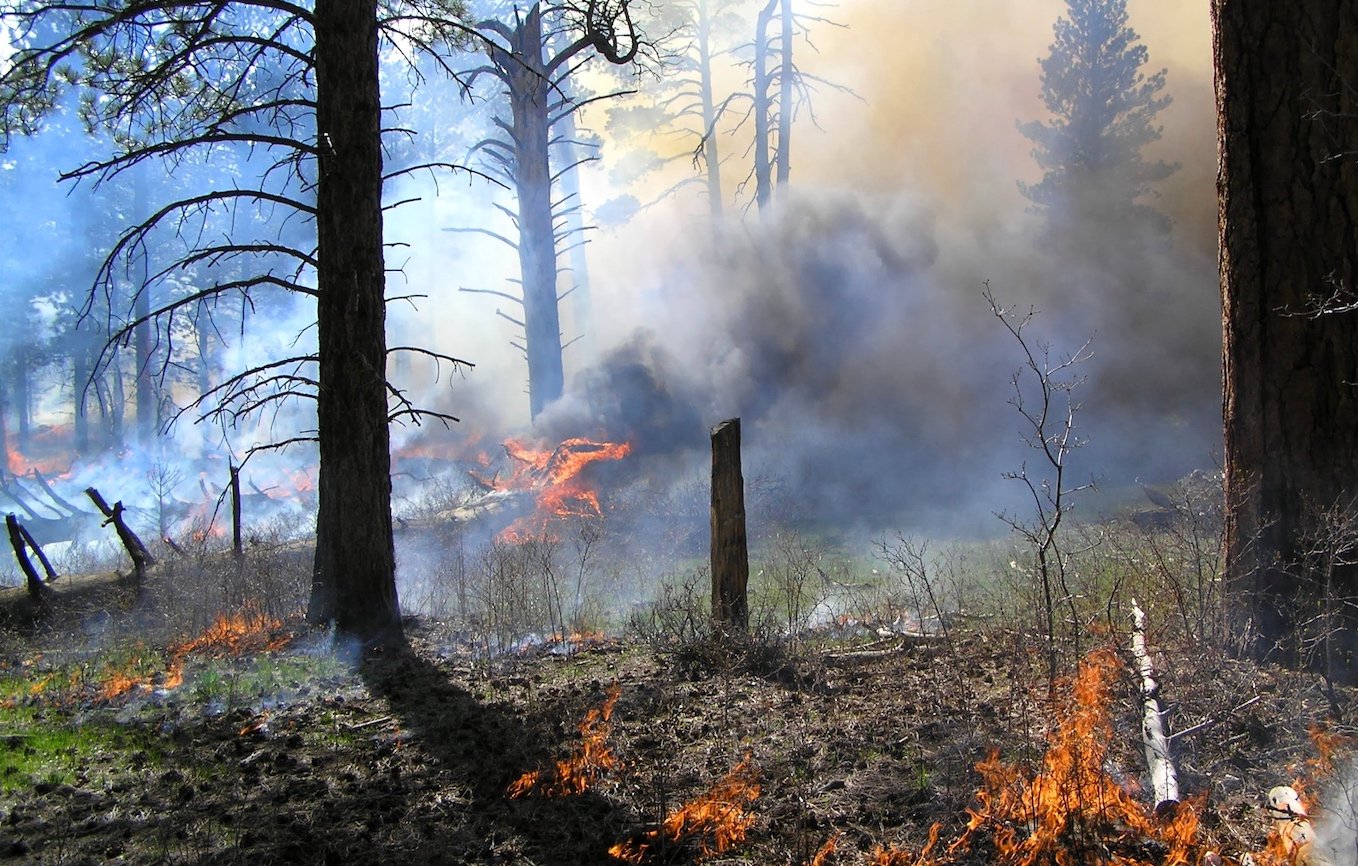 Jarad came with his stock trailer but the horses were too nervous to get in. As we tried to load the frantic horses, off about a quarter mile away we heard a strange hissing roar. We heard it go by like a freight train, from the north to the south. Later we learned that it was a crown fire running on a 40 mile an hour wind. A crown fire is a fire storm that rolls through the woods like a horizontal tornado. The heat from it explodes all the trees in front of it, and it travels faster than the wind. This was one of many crown fires, and it blew all the way to the river and jumped it. If it had been 1/4 mile further east, this tale would never have been told.
I told Jarad, "Why don't you go on back to the ranch, I will bring the animals." I loaded the milk goats into the goat carrier on my truck, and loaded the chicken cage on top of the goat carrier. I went to the lizard house and caught my giant carnivorous Water Monitor, BigAssLizard, and stuffed the hissing, thrashing creature into a king size pillow case. I took the two stallions and led them holding their lead ropes out the window of the truck at a gallop. I led them two and a half miles to the safety of Jarad's ranch, where I have known the family living there for 32 years. Then I went back for the remaining 4 birds. And the emus. But how could I load the emus? Papa, Mama, Kicking Bird and Diniwan? I could not. The poor emus!
I gathered 2 more hens from their coup, caught the raven and the songbird and loaded them in pillowcases. My brave little Whippet bitch was at my side. When I drove back up to the park road, night was falling, it was smokey and strangely dark. At the end of the driveway I drove straight into Hell. The fire had come over the hill and raged on both sides of the road. Tall pines were burning from crown to foot. Continuous showers of sparks flew off them like Roman candles. Tree trunks exploded with loud bangs, burning shards of wood flew through the air. The fiery wind was blowing hard as the heat increased. Flaming trees were falling across the road right and left. I could not go forward. I turned and went the other way. Same thing. So I drove back down to my place and got the chain. Going back into the fire, I wrapped the tow chain on burning trees and pulled them off of the road with my little red truck. And no I was not scared. I was mad. Mad at the fire. Mad at what it was doing to the forest. A chemical reaction. Not the wrath of god, no, just a reaction of physics. Starting from some idiotic little spark.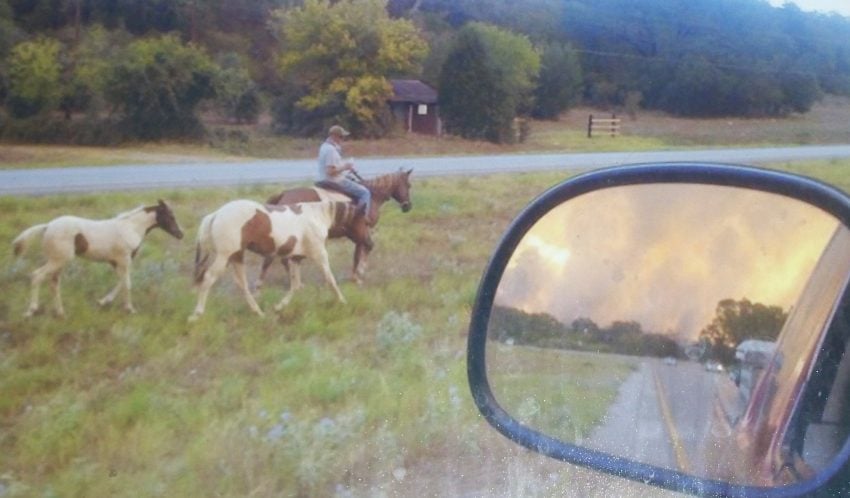 Eventually, I came to trees too big to drag. My truck could not budge them. The heat and smoke were getting intolerable. I got my cell phone, called 911 and asked "What do they suggest I do?" The lady said "Stay where you are, we will send someone to get you." I said, "No, that's alright, don't risk anyone." She said, "Stay there, don't worry, we will send someone." I said, "No thanks that's alright." and hung up. I simply could not stay where I was.
I went back to my house. It was still there! From the north a low line of fire was coming down the hill. So I went and got two buckets, and carried loads of water from the horse trough. I stopped that fire 20 feet from my house. Just then, lights came bouncing through the smoke. It was policemen, three state troopers and a sheriff. They said, "Come on! Come on! Lets go!" I went with them, but they let me go back to my truck. They said to go to Smithville to the 'Rec Center'. So I drove east down Hwy 71 toward Smithville. I appreciated what the police had done. They had moved flaming trees off the road that I couldn't move. But it seemed to me that the 'Wreck Center' was back at my place. I had been having such good results with those two buckets. And the emus! So I turned on KLBJ road went back on the park road.
After Alum creek I came to the end of the world. It looked like the land of Mordor in the last battle. Flames writhed in the forest like demons, like huge dragons in their monstrous fire. I could not drive through that tunnel of fire. So I parked my truck back at the creek where the fire had already burned through. I ran through a tunnel of fire back to my land. No I was not afraid then. I have been in forest fires before, as one of the ad hoc volunteer fire fighters. Or in controlled burns. But this was no controlled burn. I was cautious but made my way through, mostly on the road. Flaming trees fell in explosions of sparks. But if you see one fall, that means it hasn't fallen on you. And you go on. And my dog was still with me.
My house incredibly was still there. I could even see the flames of the fire reflected in it's windows. So I started in with the buckets again. But before my eyes, I saw the points of the flames change direction on the wind. And from the west and coming fast, was a wall of fire 20 feet high. I cannot handle this I said to myself. But then, a crazy thought took over. People are not in their right minds in a fire. We are like horses running back into a burning barn. I turned to face that wall of fire with my two buckets, narrowed my eyes and said, Bring It On.
Just then, the lights came running though the smoke again. It was those same policemen! How did they know? They said, "Look! There's her dog!" I said "You again!" They said "You Again!" I said "Its OK, I was doing fine." The trooper looked into my eyes and said "No you're not, You're fixing to die." I ran with them up the hill, but stopped and bent down and held my knees. I was so tired, I could not breathe. There was no oxygen. They came back and stayed with me and told me to run. That wall of fire was coming fast from the west and right next to the road. There were more police waiting on the road and they ran to their cars. They would not let me get back in my truck this time. I said, "Wait! I have animals in my truck!"
"What kind of animals?"
"Birds" I said.
"We don't allow birds in the police car."
I thought of all the jailbirds they had had in that car. I said, "They are chickens! They are in pillow cases! If this was a police dog you would let him right in!"
Sometimes you get a view of yourself from the Universe, arguing with police in the middle of hell. So I just got in with the birds.
They took me to Smithville Hospital, and got me evaluated for smoke inhalation. I am a nurse. I had already treated the burns on my legs while I waited for the doctor, and the other nurses approved of this. Then the police took me to that shelter. The people there had to document everything, what kind of animals I had, what were their names. I told them the names of the chickens, and that the Raven was a chicken. They did not check. They were very kind. They gave me food and water and gave me my own little room and gave the birds upside down laundry baskets to stay in. They gave me a cot with soft clean pillows, how precious.
The next day, the highway and all the roads were closed. The fire had moved south but was still out of control. My truck was 10 miles away, so I snuck around the police line and walked back. I got a ride part way from a news photographer. Of course my place was burned up. But the emus were still alive! And not even hurt! How could they live? Then I saw where the wall of fire had come through, ash and bare black sticks that used to be massive tree trunks. It looked like an atomic bomb had gone off. Then I realized, how could I have lived?
So I went to the ranch where my animals were. Boiling black clouds like a huge storm front were behind the hill. The family was in a panic. The brothers had a crazy theory that the fire would not get the ranch buildings. The grass on the hill was all gone from the cattle grazing and the drought and the fire would go around. Yet they drove off in a hurry. Jarad told me, "Melissa, maybe you should get out of here." But I said, "I'm not leaving you, Jarad." Jarad had been my friend for 32 years. He had once taken care of me for months when I was hurt so bad in an accident and got out of the hospital. He had been a gallant horseman who helped me with my animals as long as I had known him. No way would I leave him there all alone – although I had my doubts about their theory. I went into the house and retrieved my giant lizard out of the shower where I had stashed her, just in case. We took refuge in Jarad's truck and pulled it out into a graveled area.
My suspicions were well founded. Because what came over that hill was a monster of fire, a crown fire said by distant witnesses to be 80 feet above the trees. It raced across the pasture. Tornadoes of fire twisted and ran eerily along the fire line. The stored hay crop on the hill went in an explosive flash. The wall of flame roared through the corrals and burned the very soil. It burned down to mineral soil. Oh yes, it took the whole ranch, killed my milk goats when the barn was destroyed, burned the ranch house and the tractor and all the out buildings. When the smoke shifted for an instant every single thing we could see was on fire. I wanted to get out of that truck. I wanted to save things. Set the horses and animals free to run, to save the painting of the bull that hung in the house, and Jarad's guitars. And where was my dog? But I was afraid. That's when I was afraid. The smoke was so thick we could hardly see the windshield wipers. There was no oxygen. Neither of us could easily draw a breath, but we both pretended like nothing was wrong. There was nothing we could do. The horses, my beautiful black stallion and his pony friend, and Jarad's cowhorse and his old red horse… The fire had burned through their corrals, they must have died a horrible death. I was crying. But when the wind shifted the smoke, there they were, still standing up! They had burns on their feet, and their tails were shorter. Later, in the evening, my chickens started to come from everywhere. How did they live?
Jarad and I slept that night, with the fire still burning in the woods here and there, on saddle pads on the sidewalk of the smoldering ranch house. Later, we fixed the calf hospital to be a sort of a house. There was nothing else. Not even a hollow tree.
My friends showed up from south of Houston within 3 hours the next day, and brought a generator, a field kitchen, cooked huge meals and fed us like kings. They built an outhouse over the septic tank with a flush toilet and even a shower. They pulled the still smoldering tree trunks off the roof of the calf hospital. I went to town on a 100 mile round trip for supplies and hay. Because country people know the back roads around the roadblocks. And we have livestock to feed and care for, we will not leave them.
I came back with bales of hay stacked above the cab and groceries for the people and pain medicine for the horses. And that deputy dog at the Antioch road intersection would not let me pass. "But that is the ranch right there!" I said, pointing to the blackened corner. "This is hay for the cattle, and pain medicine for the horses!" That cop would not let me pass. He said to go back the way I came. Then I did something I had never done in my entire life. I narrowed my eyes like a bead and said, "Fuck You!" Drove a short way down the road, got out with wire cutters and cut the fence. And I took other people who followed in their cars with me too, so they could get to their places. It was like a caravan across the blackened landscape. Later this well worn track would come to be known by the local population as The Scenic Route.
People of the countryside helped each other. Everyone was covered in soot. A cheerful woman showed up on a four wheeler with a tiny dog in a crate that was tied on the back. She had a plastic rake, she said she used it to put out spot fires. She loaned us her chain saw. People who had food and clothes gave to those who did not. I made bird and deer feeders and water stations. I found cut up apples and vegetables left on the feed by unknown benefactors. People showed up from out of state with truck loads of hay and fed entire cattle herds. Semi truck loads of donated horse equipment, buckets, halters and saddles were given away.
Weeks later, the forest is still on fire here and there but they put it out with helicopters. From here on this hill we could see 4 or 5 columns of smoke. BigAssLizard had a new house. The horse's feet were all healed up. All my chickens were running loose and the little outhouse was now their chicken house. I was grateful to those brave policemen who saved my life. My timid little Whippet bitch had shown she has the courage of a lioness.
And all in all, what was lost was just stuff. Things come and go in life. My mother, when she retired from her career as a classical pianist, used to periodically give everything she owned away and go off with her dog and start a new life. And unlike me, she did this on purpose. I can learn from this. Actually, it is quite liberating. My next house will be a treehouse in some other green wood. Not a crummy treehouse nailed to a tree, but a nice house up on telephone poles in the trees. Yes, treehouses and forests can burn down, but so what? All this is part of Life on Earth. Part of the Entertainment.
Melissa Bishop is a Vet Tech and ICU Nurse. Since childhood, she's had a recurring dream of being an invisible spirit, flying along the coast and seeing a seal ooching along the beach. She flew down there and entered her to be born as a seal… but it turned out it was not a seal, it was her newlywed parents wrapped in a blanket. Melissa's mother told her when she was a teenager that she was conceived on an isolated beach at Big Sur. She has been blessed to know and care for 12 horses in her life – along with chickens, emus, lizards, cows, and more!
Horses, Chickens, Lizards and the Wall of Fire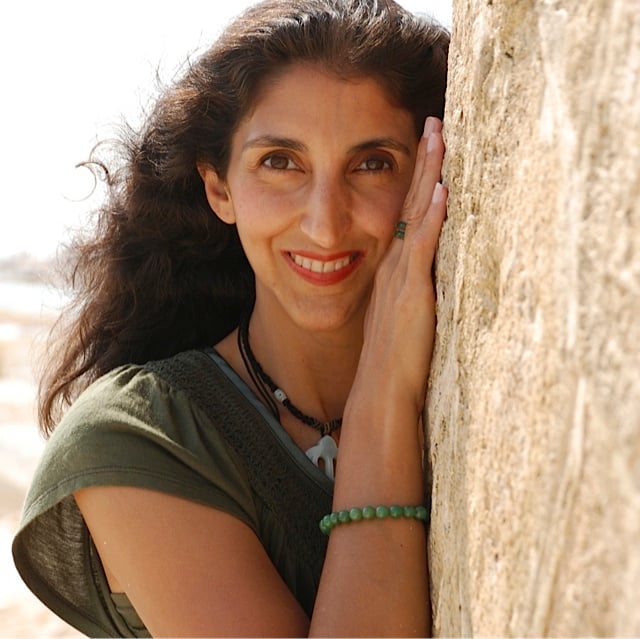 Jini Patel Thompson is a natural health writer and Lazer Tapping instructor. She began riding at age 2 in Kenya, and got her first horse at age 8 in Alberta, and so continues a life-long journey and love affair with these amazing creatures.