We live in a world obsessed with 'safety'. Even at the cost of joy, connection, vigor and vitality. I view things a little differently.
Why would I throw someone who's never been around horses, into the middle of my herd of formerly wild and semi-feral horses? Did I mention he's barefoot? Take a look at what happens…
I've watched a similar situation unfold with numerous people at my barn – and it's happened to me a few times too. The most common response is to try to run, to get out of the way. Keep in mind, none of this is conscious. The horses move so fast your conscious mind has no time to analyze or decide anything!
When a herd of 8 or 11 powerful horses bolt into flight and whirl around/at you, your reflexes and subconscious take over entirely. This recently happened with my cousin Katrina. First she dove left, then she ducked right, then she planted both legs and threw both her arms up in the air, her body declaring, "I'm here!! And I'm not moving!" and the horses jumped nimbly around her. She was shaken, but unscathed.
This response is consistent with Katrina's character and her ability to set strong boundaries. She manages multiple emergency spill response teams (environmental disasters like oil spills) across Western Canada. These are high stress, emergency, potentially devastating and hugely expensive operations – and she's in charge.
Just like you see in the video with Dainis – if you spend decades training your reflexes to block, avoid, or re-direct bodily aggression, then your body automatically plants, rotates, or flows with the action. And it's no big deal.
The exact same thing happened to my husband Ian a few months ago. Amazingly, he was in exactly the same spot as Dainis – right up against the arena panels. But this time, Aude drove Xadaa into Ian.
Subconscious aspects made conscious
Ian is already scared of horses and he hasn't had any martial arts training. If he had stood his ground and pushed Xadaa (with body or energy) around him, he would have been fine. If he'd jumped up a rung on the arena panels, he would have been fine. Instead, he did the worst possible thing; he tried to run away – in front of Xadaa. In his panic, and because she was pushing into him, he tripped, went down in front of her, and she then scrambled/leaped to avoid trampling him. He injured his thumb and his knee. He was terribly frightened, angry, stressed, and shook up.
However, the interesting thing about Ian's situation is there were only 2 horses on the barn road when this happened. And I was standing right beside him. Was it entirely random? Or were Aude and Xadaa facilitating an experience for Ian that contained important messages for his growth and well-being?
As Ian unpacked the reasons for his experience (and took multiple photos of his thumb – which he insists I include here) he identified two important messages contained within Aude and Xadaa's action. Ian says:
1. "The horses were telling me to be more powerful, be more assertive and go for what I want. I had been very angry at the injustice of covid – the way it removed my joy and freedom. All my travel plans to expand the UK business got put on hold. I couldn't move forward with any of the soccer stuff I had planned for the UK and also to bring Premier League coaches here. Likewise, I got shut in with the horses. But they were saying, 'You didn't need to get knocked down. All you needed to do was stand firm and carry on with what you were doing.' So with this whole covid thing, you don't need to give away your power. Just keep doing stuff and moving forward. You may have to shift plans, or do things differently, but if you stand in your power, you can make things happen."
2. "I find horses really powerful and so I held a fear of being knocked down. Then guess what, the energy of my expectation pulled that experience into existence. I stood right in the middle of the flow, instead of moving to the side. So the message was to be mindful of the energy/expectation you're holding! If you don't want that to manifest, then change your energy/expectation."
The horses' method of physically messaging humans is something I've seen over and over again. Sometimes the horses will physically hurt someone in order to teach them. But the person always comes to realize that the intensity of the physical message is proportionate to the seriousness of the lesson or issue. Afterwards, the person also asserts that they probably would not have learned or understood this teaching any other way. Oftentimes, the person is already aware that this issue is wrecking or sabotaging their life, but they have not taken action. So the horses show them, "Enough! This is how serious this issue/behaviour/saboteur is and you need to take action NOW."
The Singing Horse herd will not tolerate incongruence – they are not just 'nice horses' to be pet or cuddled. They are powerful teachers and facilitators of transformation – always advocating for your highest good; your truest self.
Your energy creates your reality
The last time this happened to me, Aude had just been stung and leaped towards me, but as she turned right to avoid me, I also sidestepped right, we both then reversed directions and went left. You know how when you meet another human in a narrow hallway and you do a little side-shuffle dance to try and get out of each other's way? Try that with 1800 lbs of Big Mama barrelling towards you. Of course, she was running as slowly as she could – not wanting to run me over. And I was running backwards and sidestepping as fast as I could. After two simultaneous dekes, my panic rose as I realized this could not continue or I would go down soon, so I shoved her to the right with both my arms, "You go THAT way!" and she gladly veered right and bolted away, kicking out at the insect as she ran.
We were in the middle of a huge field – with no other horses around us. Why did Aude leap towards me when she got stung? I stood there with my heart pounding, waves of stress and anger rolling off me… and I acknowledged that Aude was simply responding/mirroring back to me my emotional state. The vibration of my energy field was like a magnet pulling disaster towards me.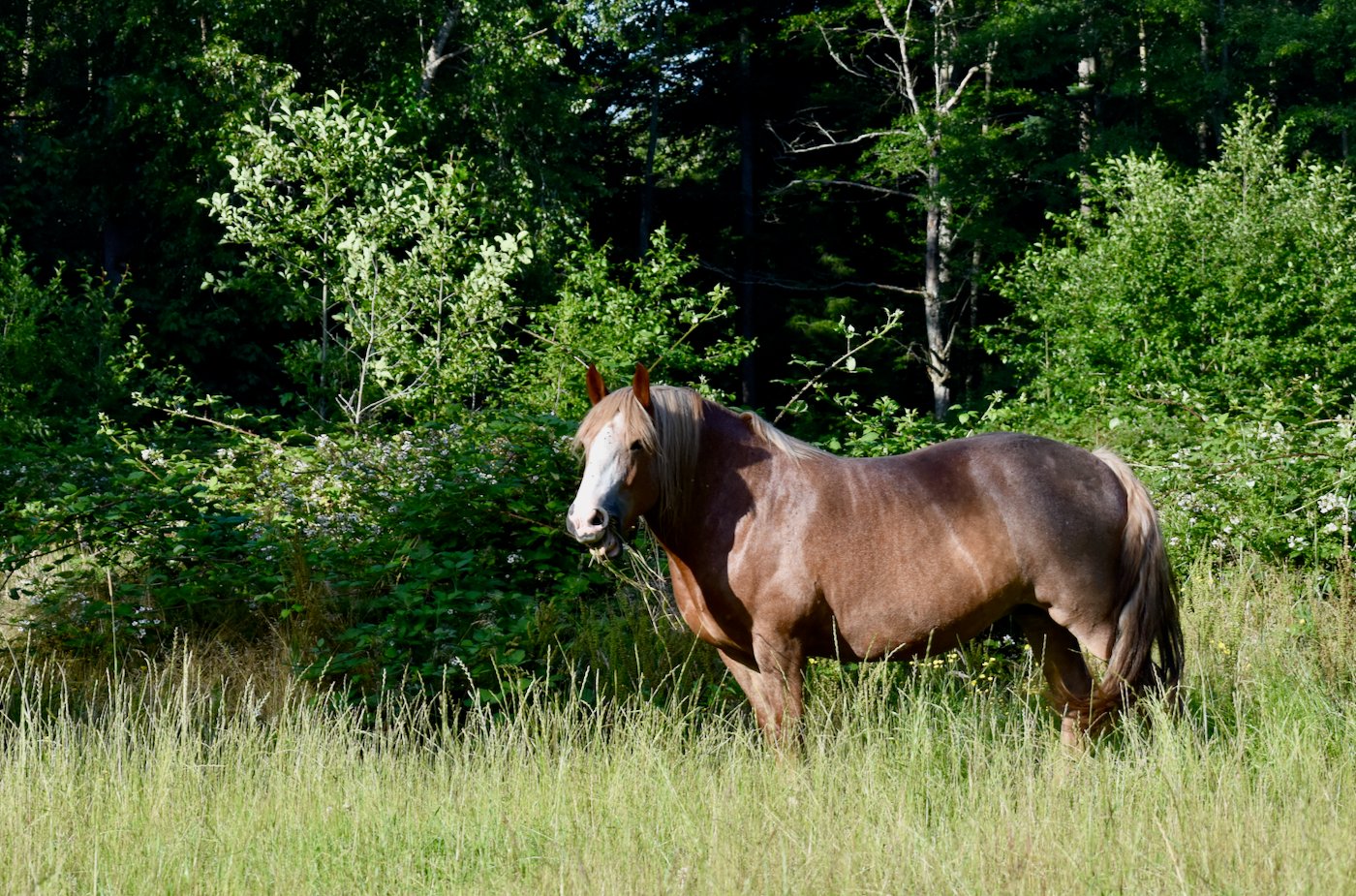 Horses are ALL about energy – that's how they know whether the cougar at the edge of their field is a danger, or not. That's why Montaro faced off against the mama bear who'd already sent her cubs up the tree in preparation for battle.
As I contemplated the toxicity of my energy/emotional state, I went over to stand on my Montaro-rock and debrief myself. This is a rock that Montaro told me to stand on a few years ago – the left side of the rock is lower than the right and he told me this would help correct the remaining curvature/shortening in my spine (I have spent the last 25 years straightening an S-curve scoliosis – it is almost straight except for the thoracic region which is now only 1-inch off center). I had my functional movement therapist come out to check what happened when I stood on the rock and he said that, yes, standing there balanced out my hips and made them even.
So I stood on my Montaro-rock and sought to balance my mind/body/spirit. I cried for the 3 lads, who I missed terribly. And I released a bunch of other stressors I was unaware that I was holding. It was a blessed time – one that would not have happened if Audelina had not shaken me out of my pseudo-equilibrium.
Each time the horses have used shocking physical methods to deliver a message to me (or others) I'm grateful for the teaching… but I can't say that I would ever consent to it, if they asked me ahead of time!
It also makes me very careful about who is allowed to be with the herd. I always ask the herd ahead of time whether someone can come to visit, or not. And sometimes, when people have just shown up, the horses have either said they cannot come into their space, or, they have physically pushed the person back through the gate!
This is an aspect that gets negated or switched off when horsepeople demand/assert dominance over their horses. I have hardly/barely been injured – my injury rate compared to traditional horsepeople is miniscule. A friend's daughter worked at a jumper/eventing stable for a few years and the injuries to both horses and humans was constant. In 5 years, not one of my barn helpers has been injured. So although people claim their dominance keeps them 'safe' – it actually does not.
In my experience, the safest place to be is in deep listening with your own body, whilst simultaneously listening to your horse – and having a healthy respect for both.
Has your horse ever physically hurt you as a way to deliver an important message? I'd love to hear your stories…
Safety Rules for Horses… and Wild Horses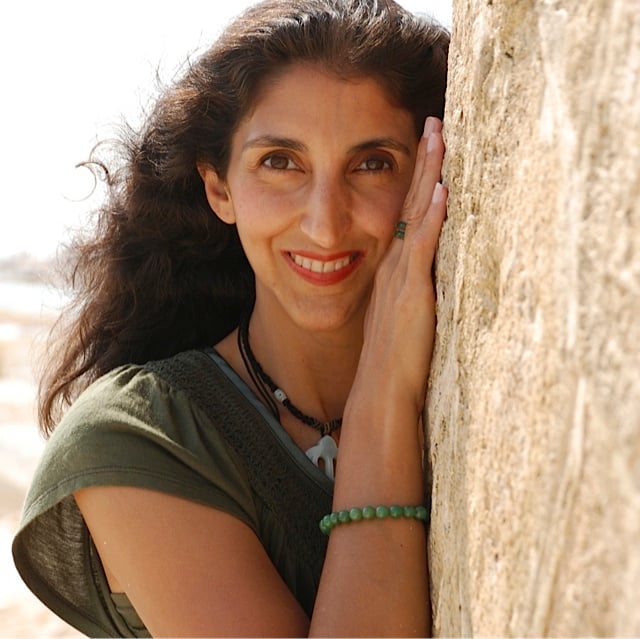 Jini Patel Thompson is a natural health writer and Lazer Tapping instructor. She began riding at age 2 in Kenya, and got her first horse at age 8 in Alberta, and so continues a life-long journey and love affair with these amazing creatures.