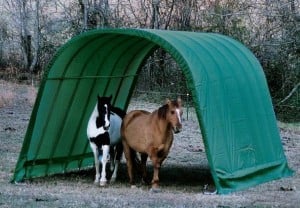 Although I have 2 stalls as part of my barn, I also wanted to get a portable shelter to put out in the horse's field in case they wanted to lie down out there – since we live in the rainy Pacific Northwest. But then I added another horse to the herd (with a 4th on the way) and the need for a covered eating space to put the slow feeders under became top priority!
Now, the interesting thing about portable plastic/vinyl shelters is that the ones sold on horse sites, or marketing directly to horse owners, seem to instantly go up in price from the ones sold to truck and RV owners – even though the specs are the same! So be sure to check pricing on RV sites and places like Canadian Tire or Home Depot. You may also find a secondhand portable vinyl RV shelter on Craigslist – but act fast as the good ones are snapped up. If you are getting one of these vinyl portable shelters, then it's nice to get one 9 or 10 feet high, so it feels spacious and not claustrophobic.
However, after much searching – and visualizing what it would FEEL like for the horses during wind, rain, etc. – I decide to go with a wood-built portable shelter. It has a metal roof, so I ask the builder, John, if he can sound-proof the roof; he uses a layer of board, then tar paper, then the metal roof and it cuts the hammering sound of rain right down to almost nothing! Ahhh… who wouldn't prefer peace when they're eating?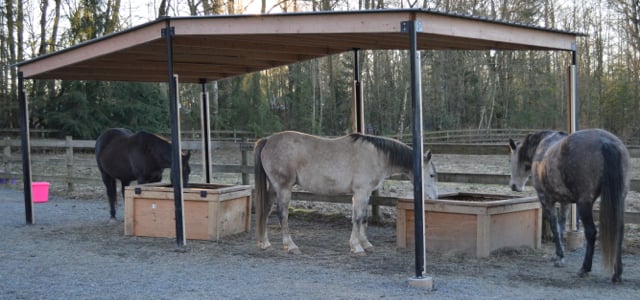 I also get John to build it so that I can add walls later if I wish – so the poles are welded with brackets and then he just screws in 1×2 inch strips of wood for now. This will give me greater flexibility for when I move to my own land and whatever I might need there. As you can see from the photo, I can add walls or a door anywhere I like and can divide the shelter into two halves if I wish. It's 12×24 feet so plenty big enough – even with the two big 4×4 foot slow feeders under there.
Because there are no walls, or even side bars, John has to anchor the posts by bolting them onto concrete blocks dug into the ground. If I want to move the shelter, I just undo the bolts. And pour new concrete anchor blocks as I can't see myself digging those out of the ground – but ya never know!
Yes, it can be more expensive to go with a wood portable shelter, but it depends on what you want; what size, and do you just need a roof, or 1 wall, or 4 walls, etc.? For example, a basic 10×12 foot shelter like this one from Rainforest Sheds is actually cheaper than a plastic or vinyl portable shelter. Not to mention how much easier it is on the environment, and quieter and more enjoyable for the horse too: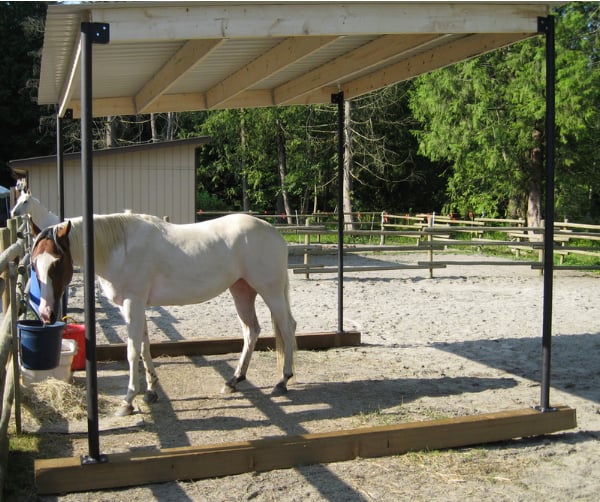 If your field has no natural wind break (a line of trees, or a building nearby), then you may want to consider getting at least one wall on your shelter. You may assume that if you live in a very cold, snowy place, that your horse is going to need/want an enclosed shelter with only the doorway open. However, I had horses for 10 years in Alberta (weeks at -40 degrees Celsius) and my horses rarely chose to be inside the barn. As long as they are regularly kept outside and allowed to grow a thick winter coat, the snow and dry cold doesn't seem to bother them much.
My horses here on the rainy coast of British Columbia got much colder when wet (shivering and shaking with cold) than I ever saw my Alberta horses get, even though they too had thick winter coats. Since we put up the new portable wood shelter, along with the walk-in barn stalls, there is always enough room for all of them to get out of the rain, no matter how cranky one of them might be. And so even on the coldest, wettest days, no one is shivering. They just munch away at the slow feeders and wait for the downpour to abate so they can go roll in the mud or crusher dust. Meanwhile, this is what I'm doing in the manure pit – but that's another story!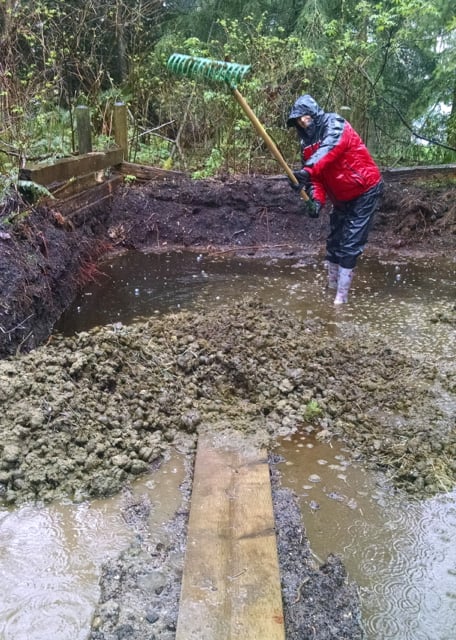 Best Portable Shelter for Horses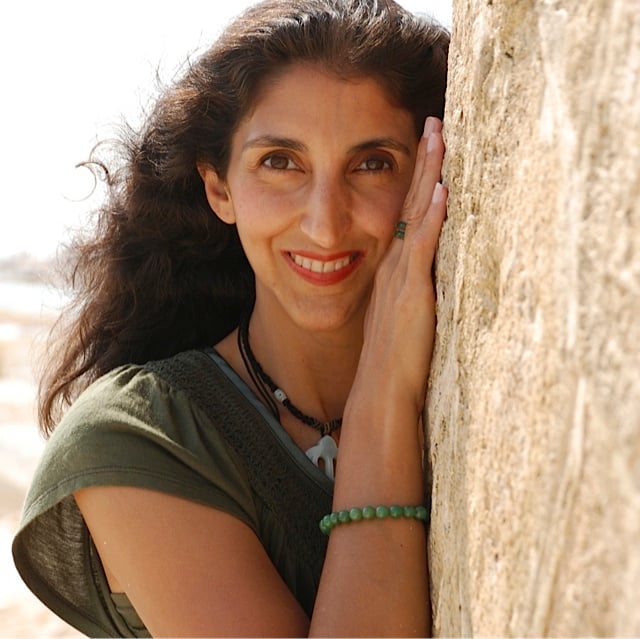 Jini Patel Thompson is a natural health writer and Lazer Tapping instructor. She began riding at age 2 in Kenya, and got her first horse at age 8 in Alberta, and so continues a life-long journey and love affair with these amazing creatures.