A YouTube subscriber recently asked to see more of how the dogs interact with the horses – and do I treat my dogs with the same respect for their sentience as I do the horses?
In some of my videos you'll see the dogs chasing or running along with the horses. You may see the horses kicking out at the dogs. I have also seen how the horses react to neighbour's dogs, friends' dogs, and even coyotes.
Both my dogs – Tiah and Kumba have been raised around the horses. Kumba even gallops like a horse and I'd love to know whether this is his breed, or whether it's because he was raised with the herd!
In this short video, you will see something I've never seen before…
I've watched this video in super slo-mo and freeze-framed it and I suspect that Posa actually came down on some part of Tiah's leg. If so, Posa obviously realized it and did not put any weight on Tiah's leg. Horses can kick with extreme accuracy – I once had Montaro kick a rope away that was bugging him, and dangling less than an inch away from my leg. He got rid of the rope and left my leg unscathed. If they are unshod, they also have incredible sensitivity in their hooves. Have you ever watched your horse scratch, oh so delicately, behind their ear with a hind hoof?
Tiah was completely unhurt by this bizarre altercation. And I believe she wanted to send a message, or make a point, to my friend – who was very afraid of her dog getting hurt.
I think Tiah was inviting my friend to face into her worst fear and then see that all was just fine. My friend has watched this video about 25 times, by the way. I believe Tiah is inviting her to consider that there just may be an intelligence at work with even seemingly random events or 'accidents'. The invitation is to look at the energetic reality, not just the physical layer.
Because dogs are so easily controlled by humans (they so willingly, lovingly obey us that we often don't even realize we're dominating them) their energetic/spiritual relationship with us is more like that of children. So not only can they push our buttons and trigger us (to show where our pain/unresolved trauma lies) they are also excellent mirrors. If your dog has a health issue, it is pretty much always going to involve you. If your dog has an 'undesirable behaviour' issue… yep, look in the mirror.
Sometimes the mirror can be really obvious: For example, you have a dog that won't stop barking. Then you observe yourself and realize that you never stop talking.
The next layer or subtler message could be that you observe that the reason you talk continually is because you have a lot of anxiety, or you're hyper or stressed most of the time. Well, guess what? If you learn how to down-regulate your own nervous system, reduce your anxiety or stress, or resolve the situation or relationship that's at the root of your imbalance… notice how your dog barks so much less.
A couple of months ago, Tiah developed a wiry, greasy coat, with masses of dandruff from head to tail. She has no physical conditions that would cause this – she's fed raw (bones, skin, organs, meat) with extra Omega-3 oil, probiotics, and a greens powder for vitamins/minerals. Her coat is normally soft and lustrous. When I tuned into Tiah to ask her "What's up?" She replied that this was between her and my daughter, Zara.
So I relayed the message to Zara and requested she have a chat with Tiah to find out what was going on. Zara reported that Tiah was upset that Zara kept going camping without her. It wasn't just that Zara wasn't taking her – there was a bigger issue underneath, involving Zara's willingness to stand in her power. You see, Zara's friends would choose locations that didn't allow dogs – because it wasn't a priority for any of them. As soon as Zara said, "If Tiah can't come camping, then I won't be joining you." That's all that was needed to change the entire situation.
The very next camping trip happened a couple of days later. Zara reported that every one of her friends (they go camping in large co-ed groups) was smitten with Tiah and gobsmacked at the relationship they witnessed between Zara and Tiah. They couldn't believe that Zara never had to leash Tiah, that Tiah understood every thing that was said, and that Tiah was not only fully conscious, but actually wise – and had good ideas. They had never seen/understood a dog in this way before. Can you say, "consciousness shift"?
Turns out the other girls' mothers were also much happier knowing that Tiah was with them for protection in wilderness areas. And for the rest of the summer, Zara's friends requested that she bring Tiah along on every trip because they enjoyed her so much. Of course, within 3 days of Zara receiving and actioning Tiah's message (delivered via her wiry, greasy, dandruffy coat), her coat was once again beautifully soft and lustrous, without a trace of flaky skin cells. This is the power of an integrated mind/body/spirit.
If we had just looked at the physical condition of Tiah's coat, and took her to the vet, or gave her supplements, changed her diet etc. do you think her coat would have returned to perfect health in 3 days flat? Tiah had asked Zara to take her camping many times before, but Zara refused for what she thought were 'good reasons'. Zara was also under the mistaken assumption that if she took Tiah, she had to take Kumba too – and that just felt too difficult. So Tiah developed an imbalance (dis-ease) that was impossible to ignore, that got both our full attention, and forced us to lean in with deep listening.
As I write this, Zara has an issue with her right forearm, I have an issue with my right shoulder and Tiah just damaged the sole of her right paw… hmmm… I've been trying (unsuccessfully) to discern and resolve the pain/restriction in my right shoulder for months now. So perhaps Tiah is going to provide me with another pathway in to this conundrum. All 3 of us female, yet all injuries on the right side (masculine) of the body, and in the arm limb. This process of co-evolution with our animal compadres never stops. The question is: Are we willing to lean in? To enter into deep listening? To hear and receive whatever the message is? And then to take action on the wisdom received. It may feel scary, threatening, or challenging. But it is always liberating, and for our highest good.
Dogs and Horses – Safety, Control and Mirroring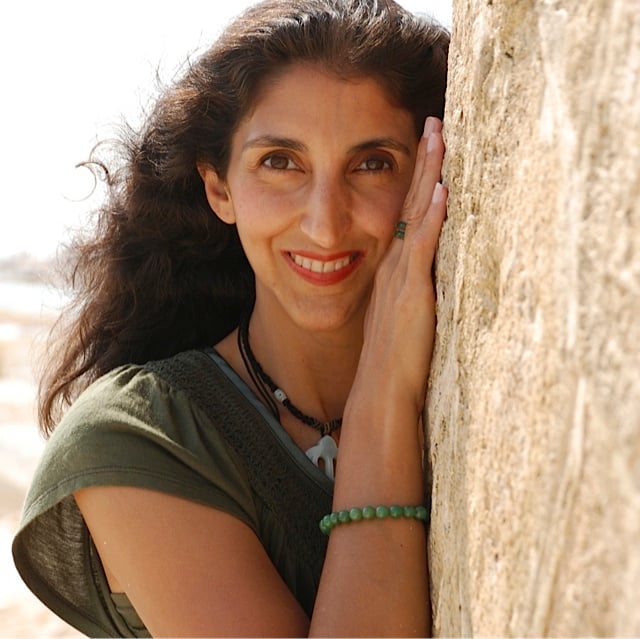 Jini Patel Thompson is a natural health writer and Lazer Tapping instructor. She began riding at age 2 in Kenya, and got her first horse at age 8 in Alberta, and so continues a life-long journey and love affair with these amazing creatures.