If you've been following this blog for any length of time, you'll know that I periodically write about the phenomena of Horse as Mirror. Of course this mirror function can be provided by any animals that live with us, and if we're parents, the mirror role is often played by our children – especially when they're young.
Animals and our young children are intimately involved with our energy field and are also major figures in our spiritual path. Of course the entire equine-assisted therapy field is built on this premise: that the horse will mirror back to the client what is happening in their energy field (their thoughts, body-trauma, beliefs etc.).
You may remember a few weeks ago I wrote about how Big Mama developed a growth/tumour on her chest – directly under her heart – which led to a powerful lazer tapping session about losing a child. That tapping video helped literally hundreds of people process their trauma around losing a child (to miscarriage, drug addiction, moving away, etc) and also around being the child, or mother, who left.
Well, a couple of weeks after Mama Audelina's tapping session (by which time her lump was almost gone), her son Juno became dead lame in his left front leg. Remember: the left side of the body is feminine, the right side is masculine (in the brain it's reversed).
So Kesia isolated Juno in a pen with the goats so he could rest his leg. But after a few days, Juno's leg still wasn't getting any better. When I tuned into his injury, I immediately felt Juno was mirroring with my son Hugo:
Can Juno/Hugo not move forward because he has guilt over causing mama pain?
Is it because a big part of him didn't/doesn't want to leave his mum?
You may remember that my son Hugo was scouted by a few Premier League teams in the UK and so was supposed to attend boarding school in England and begin playing with a professional academy last year, having just turned 14. But when we flew him over there and I unpacked his things and made up his bed in his room at Royal Russell boarding school, something powerful and dead-certain rose up in me and I said, "Nope. We can't do this. He's too young."
It was a terribly stressful time for Hugo and my husband Ian, but neither of them fought me on the decision to pull Hugo out of the school, as they both felt in their own gut, the wisdom of my decision. Hugo decided to stay the rest of the week, to experience what it was like, and by the third day he said to me, "Something inside of me is dying, if I stay here, I won't be Hugo anymore."
He was experiencing what most (all?) children go through when separated from family before they're mature enough. A part of them has to dissociate to cope with the pain of the separation. Ian and I visited him at boarding school every day that week and I was mystified as to why Hugo was forcing himself to stay when it was so difficult. But by the end of the week, he had made a place for himself at the school and connected with both staff and students. Hugo's wisdom was that this was something he had to gain some fluency in, even though it was very difficult.
The principle at the school was a real gem and did not argue with my gut wisdom at all. At the end of the week, he told us that they all loved having Hugo there and would guarantee him a spot if he wished to return within the next 3 years. So although I pulled the plug on Hugo's separation last year, when Juno also left his mum and went far North with his dad to Kesia's place, I knew it was a parallel to our human family, and that Hugo would certainly head back to the UK when he was ready.
So when the lump on Aude's chest led to a tapping session about her losing her son Juno, and then shortly after that Juno became lame in his left leg (feminine side), I immediately looked to the parallels and messages that mama & son were mirroring to us humans, about Hugo and I.
At the same time, I was wondering about the inconsistency Hugo showed in his playing performance here in Canada, whilst he is consistently good in the UK or Europe. So my attention was called to 2 things:
1. When he plays with a crappy team in Canada, why does he not rise and outplay them all? Why doesn't he use his voice and power to rally that team to be the best team they could be? Why doesn't he show himself to be a game-changer on the pitch? He certainly has the charisma and personal power to do so.
2. Why is he inconsistent with soccer here? He is not inconsistent in ANY other area of his life. He does very rigorous, advanced personal training with 2 other coaches – one who's been to the Olympics and the other who's played pro soccer in Europe – he trains twice a week with them, every week and has never had an off-day. He also does his own training in the park, rain or shine. With school/grades, drama, dance, anything you ask him to do around the house – he does it brilliantly and with focus/excellence. So why the yes/no with soccer in Canada?
Which brought me back to Juno… and the message of his body; wanting to move forward and be free with the other horses, yet held back by his lame left leg. Where is the corresponding yes/no in Hugo's body or energy field/consciousness?
I felt that this was Hugo's process – that Juno was sign-posting for Hugo and the insight/answers/illumination had to come from Hugo. So Hugo and I sequestered ourselves in my room at midnight (for some reason all 3 of my kids like to do deep dives after midnight!) and Hugo went into what the message could be: Of not moving forward, not being able to step forward, and it is the left leg, so it's related to the feminine – and because Aude had the chest/heart lump issue, pretty sure it's related to Mum.
What emerged was Hugo and I saying, "Wait a minute, WHY have we been taking on everyone else's reality about Hugo's soccer and his ability/potential to play Premier League?" We had been listening to everyone (including dad) who was saying, "If he's not in a pro academy by age 14, he won't make it. He'll get too far behind. He'll have lost his chance."
But Hugo's OWN wisdom – connected to his higher self, his destiny, his deeper wisdom – is that he is not restricted by age. Speaking from that place, he said, "Honestly, I could go to the UK at age 20, train my ass off in an academy for 5 years and make Premier League by age 25." So then once we'd removed that false limitation/projection, we then both felt into what age each of us felt was RIGHT for Hugo to leave mum and head to the UK.
I felt the same thing I'd felt that day in the boarding school at Royal Russell; that the minimum age that I would be okay with him going and that I felt HE would be alright without me, was 16. Hugo said that he could go at 16 – "maybe" 15. But that he would need to come home every 1.5 to 2 months maximum.
So we agreed that he would not live in the UK (visits no problem) until age 16. Which is the year the Royal Russell boarding school suggested he come. Because then he will be able to ride on the tube/bus with no restriction from the England Football Association, and GCSE academic exams are finished, so he won't have to be so hardcore on academics, and can focus on football. OMG the relief!!!
Of course, it will still be very hard for me to have him leave home at 16. And I'm willing to have him go at 15, for a month or two at a time, as long as Dad goes with him. But the horses have spent the last year preparing me and I still have a year and a half to go, so I feel I'll be okay by the time our separation comes. I wouldn't have been okay to let either of my other two kids go at 16, but Hugo has always been super mature/advanced. As Hugo says, "I'm just built different." AND I look forward to him crafting his entire football career from this perspective of ignoring the way it's 'always been done' and forging his own path. He absolutely has the lifeforce energy to rearrange his universe, if he wishes.
Hugo and I came to all these realizations/conclusions by 2 a.m. And when I woke up late the next morning (or later that same morning!) I texted Kesia and found out that Juno was back in with the herd – not entirely healed, but moving with the herd. The next day he was running and even wrestling with Falcon. In the next day or two (issues take a bit longer to lift out of the physical body) Juno was 100% healed.
That's how mirroring works. The animal/horse only holds the injury or illness until we receive all the messages and have taken the requisite action. Then the injury or illness can be released, very quickly, because its work is done.
Ian felt a tremendous relief when we told him of Hugo's realizations. The next step was Hugo coming to me a month later to do a tapping session on his inconsistency playing with his local team. Remember, he would play brilliantly one day and crapola the next – evidencing that there was a Yes/No happening within him. We did a tapping session on Hugo's fear of making mistakes and beating himself up for not being perfect. Bless him, Hugo allowed me to record the session so that I can share it with members of my Lazer Tapping course who have a similar struggle.
Although I didn't expect Hugo's inconsistent playing to resolve with just one tapping session, that's exactly what happened. Ian is no longer frustrated or worried that Hugo will fall behind. We have ALL just relaxed and exhaled – Hugo (and we) have taken our power back and joined that intention together with Hugo's intention for his destiny/path – and so we all feel completely solid and RIGHT.
One day, on the way home from a soccer game, Ian and Hugo stopped by the barn, when I was not there. Hugo told me later that he had gone into the tackroom to get boots and Big Mama Aude came up, blocked the door, and wouldn't let him come out.
Hugo said, "I asked her to move and she wouldn't move. So I picked up a wooden spoon I found and waved it at her, and she still wouldn't move. She told me, 'Use your energy.' So I brought my energy up about 30% and it didn't work. So then I brought it up to about 60% and she just stood there looking at me. Fine! So I brought it up to about 80% and she took one step back. Then I was like, that's it! So I brought it all the way up and she just calmly moved right out of my way."
Once again, this herd supporting and facilitating brilliance for all of us! Hugo has been talking about his next challenge: Feeling confident taking on much bigger players. He recently played a game against guys 2 years older – which at this time of life can mean a head and shoulders taller and an extra 80 lbs of muscle coming at you. I guess if he can move a 2,000 lb horse using only his energy, that's going to help him feel a wee bit more powerful out on the pitch!
I leave you with a quote from Oprah Winfrey:
"…the dream cannot come to you unless you're willing to meet it energetically in the same place."
Spend some time really thinking about what it looks/feels like to meet your deepest desire, your destiny, energetically. How do we align ourselves in spirit, intention, action and imagination with our highest good – TODAY?
The whole quote from Oprah is:
"Life has dreamed a dream for you. And your goal, your number one job, is to figure out what that dream is and align yourself with the dream. Because the dream cannot come to you unless you're willing to meet it energetically in the same place. So if your energy is off, if you are not in flow with God's dream for you, with life's dream for you, if you are out of sync – it cannot come to you."
Horse-Human Mirrors: 2 Mamas 2 Sons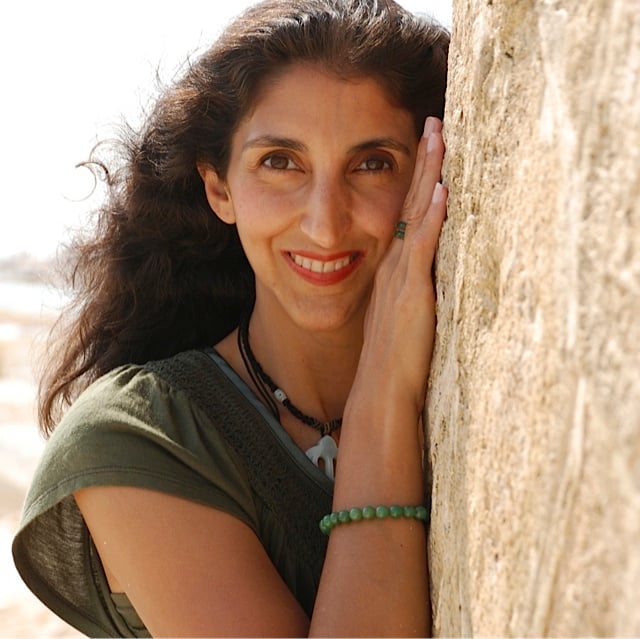 Jini Patel Thompson is a natural health writer and Lazer Tapping instructor. She began riding at age 2 in Kenya, and got her first horse at age 8 in Alberta, and so continues a life-long journey and love affair with these amazing creatures.