Acupressure tapping (a mind/body/spirit integrated therapy) is very helpful for horses with complex, multi-layered issues, like laminitis. This is because physical malfunction, or dis-ease, is rarely just about the physical body. As I say in my book, Listen To Your Gut:
"We've been trained by the medical system to expect instant relief (suppression of symptoms) and when we don't get it, we think the natural treatment method isn't working. But a pathway of natural healing involves many twists and turns, especially since true healing involves healing the mind, body and spirit.

When a symptom comes up (or reappears), instead of just finding out how to get rid of it, you need to first ask yourself, "Why is this symptom here? What's my body trying to tell me? What is the message here for me?" The answer will form part of the treatment to heal that symptom. As your body sends you messages (symptoms) for what needs healing next, try to stick with your body and continue to support it and heal it, rather than just using a drug to suppress the symptom. Replace words like 'flare' and 'symptom' with the word 'message' and see how that alters your feelings and attitude towards your body.

Instead of saying, "The erythema nodosum have reappeared again, how do I get rid of them?" Try saying, "My body's developed swollen, painful, nodules… what does that mean… what's my body trying to tell me?" The answer will probably be a mixture of physical and emotional reasons, and only you will be able to decipher the message from your body telling you what it needs you to do next."
You might be wondering what that has to do with your horse's health issue? Well, when we are in a fully sentient, intimate relationship with our horse, their physical issues can not only involve their own emotional trauma, but, our horse is often mirroring back to us our own issues. So the physical malfunction/symptom becomes a powerful opportunity for healing for both of us.
One of the members of my Lazer Tapping program asked:
"Is it common to have stuff come up in your life that have been major triggers for panic when you are uncovering things? Like my mare's laminitis – I had a horse that was misdiagnosed for laminitis and then when the vet figured it out he prescribed so much painkiller that my horse died. It was really awful. Is it coming up again or just coincidence? I don't believe in coincidence. I know I buried that experience deeply."
Oh yes, as you walk a pathway of opening to all the trauma, stressors, negativity etc that you have 'buried under the rug' for years, and bringing those things out into the light for healing – yes, often dealing with one stressor can trigger a repressed memory of another big stressor.
This may feel like you're falling apart a bit, but it is actually you moving toward wholeness. As your body/mind/soul trust you more – because you are actually walking a pathway of healing – your body will offer up more areas for healing. This is why you don't want to look for the easy fix, or which drug/herb to take to just make it all go away.
Your body is always advocating on your behalf. Our bodies work together with our mind and our spirit to move us into greater wholeness, to heal dysfunctional beliefs, patterns, or behaviors. It's up to you to decide what to do with the messages and opportunities your body brings you. Do you want to ignore the messages, the opportunities for wholeness, and just drug them away? Or do you want to receive them with gratitude as the pathway in to the greater healing of you; of your life, your relationships, the way you move through the gift of life on this planet?
This paradigm applies to your horse as well. Their health issue may be solely or mostly about their trauma, or elements missing from their diet or environment, or it can be mostly about you! Sometimes it's a mix of both. So when we're seeking healing for a horse with an issue like laminitis, we really need to delve in and examine all the possible contributors.
Aude recently went lame in her left front leg, because she wanted to use the issue to teach a young person who had been visiting. The first time this young man, Ben, came out to the herd, Aude had spent 15 minutes focused intently on his solar plexus chakra and working with his energy body. By his third visit, we showed up and she was lame (the day before she'd been fine). Dr. Juliet was also there that day and so we went into a session with Ben and Aude. Throughout the session, Aude used that injury to teach/show/reveal a key issue (and childhood trauma) in Ben that was ready to be healed.
By the end of the session, Ben could also feel into what physical remedy Aude needed and he applied the DMSO to her stifle himself. He applied the remedy again 2 days later, and then she was healed by the next day. Because her leg injury was never about her leg! She manifested the injury as a way of messaging Ben and leading him into the healing he needed. Yes, I filmed the session, so watch for the 2-part video coming soon 🙂
There's a kind of magic that's possible when we choose to view symptoms as messages from the body, from our deeper wisdom, our higher self. I believe the body is the densest part of the soul. Not separate from the soul, not the 'vehicle my soul is carried around in' but the densest part of the soul. In my experience, animals' bodies work the same way.
It is my life's work to pull this integration of body/mind/soul through all the levels of Self, into the very tissues and cells of my precious body.
My body is speaking to me… what is is saying?
My Lazer Tapping member also wrote:
"My mare is experiencing laminitis. If I tap for her she seems better. I believe it has to do with underlying experiences of hers that have to do with her being forced against her will. I also feel that she resented that I would spend time with other horses when they had health issues, and not be spending time with her."
It's an interesting parallel to think about… if a horse was forced to do things against their will, then a great way to avoid that would be to develop a condition that made even walking difficult. Can the horse now be forced to perform in ways the human wanted? Or is the horse now 'safe' from human pressure, expectation, and punishment?
Your mare's body is speaking to you, and speaking for her… what is it saying?
So as she feels into the messages her mare is sending – via her body – she might want to surrogate-tap for her mare on:
Even though I was forced to do horrible, painful things…
Even though my feelings or opinion were never listened to…
Even though I felt terrible each time I was forced and no one cared…
Even though I'm so angry I was abused this way…
Even though I've kept myself safe, the best way I know how, maybe just maybe I'm willing to consider a healthier way of getting my needs met…
and so on.
The second part of her observation is equally astute, "I also feel that she resented that I would spend time with other horses when they had health issues, and not be spending time with her." You will see this happen often in human families where one child has a chronic or serious illness. The other children observe that sick-sibling gets all the attention and more than a fair share of mum's love and preferential treatment. So what's a logical response from the other children to get their needs met? Some children misbehave to get more attention (love), some also become ill, and others turn their pain inward and become stoic or shut down. Sound familiar?
The solution to this is to make sure you spend plenty of time with your healthy horses! Reward your horses (with love, attention, herbs, massage, etc) for being healthy. Your ill horse will observe this behaviour and realize that perhaps they don't need to develop health issues to gain attention and special treatment.
"This mindshift of listening to your horse and respecting their opinions has been wonderful and difficult. I love knowing what they want, but erasing 50 plus years of humans "knowing what is best" without listening is mind blowing. Thank you so much for showing a different way."
And thank YOU – thanks to all of you – for joining me on this beautiful, amazing, magical journey of listening to our equines; mind, body, and soul.
p.s. If you haven't already, head on over to my Lazer Tapping program and experience a free session for yourself. I truly believe this is one of the most powerful healing tools you can have in your toolkit.
Lazer Tapping For Mare with Laminitis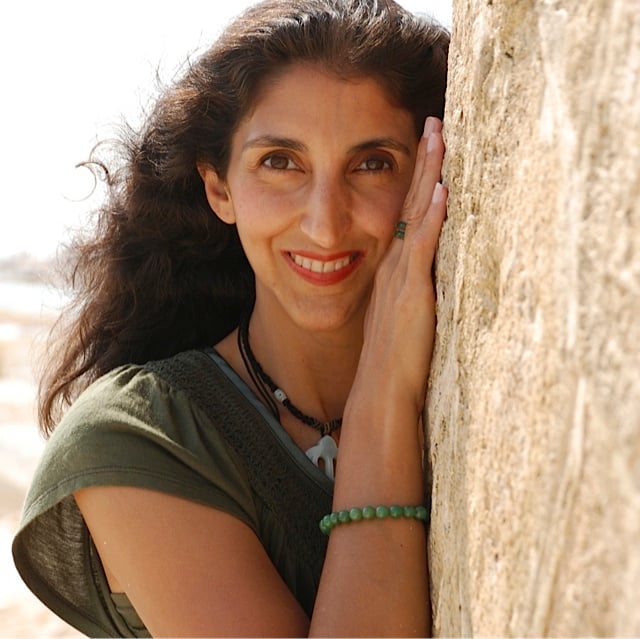 Jini Patel Thompson is a natural health writer and Lazer Tapping instructor. She began riding at age 2 in Kenya, and got her first horse at age 8 in Alberta, and so continues a life-long journey and love affair with these amazing creatures.