By Mary Walby
Rehabilitating the senior horse is a bit of science, with a whole lot of art (and heart!) thrown in the mix. But these same protocols of training, communicating and healing, can work incredibly well with all horses in distress, pain, boredom, or dissociation.
This is the story of my ongoing learning, through rehabbing horses, senior horses in particular. The more I learn, the more I fine tune my methods. I know there will be several hot button topics for some people in this story; from natural horsemanship to round penning, to riding, to what kind of halter to use, to pretty much anything we humans do with horses. I would not be where I am today without all of those hot button topics, and I am thankful, because it is through all of them that I found my life's calling: rehabbing senior horses.
Thank you to all the riding instructors, horse trainers, and students of the horse – that I may not even always agree with today – but who gave me the best that they knew, and a starting place for my own exploration with the best teachers I now know: the horses themselves.
HORSE #1 – Eclipse
I have always loved horses, and as a child dreamed of owning my own horse. As an adult, when I moved to a new city I had the opportunity to be around horses again, volunteering for a horse therapy program for at-risk kids. Over the next several years my experience around horses grew so much that I began to notice that the kids were getting better, and the horses were burning out.
My curiosity got the better of me, and I started asking questions and experimenting with ways to help the horses. My first rehab case was a 21-year-old Tennessee walker. He had been rescued out of a poor living situation and became a therapy horse. It was at the therapy program that I first met Eclipse. He had an old injury to his pelvis, but the therapy program only did light riding, so it seemed a good fit for him.
One winter he had a flare up of pain in his hip and the "treatment" was stall rest. Since there were no stalls, just paddocks on this farm, they created a stall by closing off part of the shelter. Eclipse was in the dark alone for over 24 hours.
I was still somewhat new to horsekeeping, and I had never had my own horse. I couldn't see how being locked in a dark space was going to help. If I had injured myself and had a flare up of pain, I would be going to a physical therapist. I made that suggestion to the farm, and the first miracle happened. They agreed to have a physical therapist vet do an evaluation. I was thrilled.
When the physical therapist vet came (Dr. Christine King) she gave an evaluation of Eclipse on all levels: physical, mental, emotional. She confirmed that he had probably separated his pelvis years ago, and that was where the flare up of pain was coming from. She recommended a devil's claw tincture for pain, either topically on his spine at the sacroiliac joint, and/or in his food.
What really caught my attention was the simplicity of the physical therapy exercises she prescribed:
1. Let him out in a large area and imagine how he would be moving if he were young and healthy, before any injuries happened. Practice feeling that in your own body, while you gently asked him to move a little, thereby encouraging him to move more freely.
2. Stand at his hip, relax, connect, and then introduce a small rocking motion laterally, and then diagonally, front to back, side to side. Do this at each hip and shoulder.
3. Spinal stretch. Put a treat at ground level at his front feet, or behind as he improves in flexibility. The goal is to have the entire top line engage in a rounded stretch.
That was it. It took about 15 minutes per day. I organized a team of five volunteers and had every day of the week covered. We all kept a notebook to chart our progress with helping Eclipse and to compare notes with each other. He never did have another flare up of pain in that hip.
In six months, he became a pro at the spinal stretch. He could activate his top line like a dressage horse. In addition, his hips became more integrated with the rest of his body. It was amazing to witness, and all it took was 15 minutes a day of a specific protocol.
I was hooked. I couldn't wait to see what he was capable of next.
On an emotional level, Eclipse was also a fearful, nervous horse. Once when he was new to the farm, someone left him tied alone in the barn one evening. I remember seeing the white of his eyes as he stood there, clearly worried. And then someone came along and asked if they could untie him and give him something to do. In 20 minutes this person gave him a level of security he did not have before, just by teaching him a series of ground exercises. The whites of his eyes were gone, and he could relax. I was amazed.
I remember calling this person up and saying, "I want to know everything you know."
And so began my training in natural horsemanship. For the first time I learned about how to read the eyes of a horse, and how the energy of my presence can affect a horse.
I also took some Pony Boy workshops that really helped me with how to read a horse's body language. One class was on round penning. I returned home and tried it with Eclipse. Initially, it really triggered his fear and he would go into a gallop from the tiniest request from me. My goal was just a calm walk or trot, no need to be running around, but if you want to run around, okay. So I would respond by walking across the round pen to cut him off, so he would have to turn. I knew within a few turns he would clue into the fact that I was not asking him to run around like crazy, I was just asking for calm movement going forward.
Over the next several weeks, he improved tremendously. His anxiety lowered. Gone were the full out gallops and instead a calm, secure horse emerged. Kids even had an easier time connecting with him. He was so sensitive and tuned in that I once taught a teenager to lead him, through monitoring her breath alone…
This teenage girl in drug and alcohol recovery was having an okay day with Eclipse. I noticed her body language and could see that she wasn't at her fullest, energized self, and neither was Eclipse.
As she was about to leave I stopped her and asked, "Would you like to try something as you lead him back to his paddock?"
She agreed. I told her to not worry about the lead rope. Let it out several feet and don't do anything with it. Instead, breathe in to go and then start walking. To stop, breathe out and bring your feet to a stop. She tried this a few times, and soon Eclipse was perfectly in tune with her breath, stopping and starting whenever her breath indicated it. She was amazed and beaming ear to ear.
These were the kind of moments I was discovering about horses, and I wanted others to discover them as well.
HORSE #2 – Carro
My second rehab case was a quarter horse gelding in his mid-twenties. Carro was also part of the therapy program. Unfortunately, his claim to fame was being a 24/7 cribber. It worked well for the program drawing the analogy between his "addict" behavior and that of the kids in drug and alcohol rehab. That is, until he started to bite clients. Then there was talk of putting him down because he seemed so unhappy. "Grumpy" was a common word used to describe him. The fact that he was a hard keeper, and therefore heavily grain-fed, did not help matters.
When I looked at Carro, I instinctively knew that his needs were not being met, and he did not need to be put down just because no one knew what to do with him. I suggested that perhaps a regular exercise routine might help him. This was the first of many miracles. The therapy program agreed to let me work with him and see what I could find out.
Since he had already bitten someone who interrupted his cribbing to halter him, I gave him a lot of room when I entered his paddock with a halter in hand. He was busy cribbing, so I walked 30 feet away from him staying out of his space and facing his tail.
I just stood there observing, doing nothing, not even an intention to get a halter on him or anything. My mind was clear. He just stood there and cribbed. After quite some time, he stopped cribbing and craned his neck almost 180 degrees to look at me 30 feet behind him. I did nothing. He went back to cribbing.
Several minutes passed and he stopped cribbing again and looked at me. I did nothing. He resumed cribbing.
This dance went on for quite some time. Then I got the sense that I could come closer to him without getting a negative response. I came to just off his hip, but clearly out of his kick zone. I was curious to know if I asked him to move his hip over, if he would. I asked, he did nothing, so I left it alone.
Eventually I made it to his shoulder, and I felt comfortable and confident that I hadn't crossed any of his boundaries. Then I tried something I had never done. I put the halter out straight in front of me, so about 1-2 feet away from his nose. I wasn't trying to put the halter on him, nor even have it pointed in his direction. He'd have to stop cribbing and turn his head to be able to put his nose in the halter.
I wanted his buy-in. It was the only safe way to interact with him and not get hurt. I really didn't know what he was going to do. After a moment, Carro stopped cribbing, tipped his nose toward me, and dropped his head into the halter.
I was overjoyed. He was in there, and he gave me a little glimpse of himself. I was also in disbelief. I kept my calm, secured the halter and then happily led him out of his "prison".
I did a few ground exercises with Carro that I learned from Eclipse. I found him to be quite responsive, much more than some of the other horses on the farm. He led like a dream. Whatever problems other people were having with him, they weren't there when I was working with him.
I reported back to the office of the therapy program: Carro doesn't need to be put down, he needs regular exercise.
Over the next several months I worked with him a few times a week. One day, I arrived and saw him in his paddock, and to my surprise he wasn't cribbing. I was shocked. I had never seen him not cribbing. The only thing that had changed was the addition of the exercise program.
I also teamed up with another volunteer who had much more riding experience than I did to find a saddle that fit him. Since his shoulders were uneven, every western saddle pinched them. We found an English saddle that cleared his shoulders. We got rid of the snaffle bit since he tuned it out, and found a bitless bridle instead. He neck-reigned beautifully, and at the slightest cue he would take off running, not out of fear, but the joy of feeling better. His shoulders could move freely, and there was nothing in his mouth. To bring him to a stop was a simple exhale. It was amazing. This horse that everyone was ready to give up on was coming back to life.
When we were fitting the saddle, we checked along his spine for sore points. We found a few, especially at the shoulders. What I also noticed was that there were other places along his spine where he would close his eyes. I soon began experimenting with looking for the places to touch him where he would relax.
One day I took my experiment a step further by accident. I was at his hips with my hands resting on him, and in my mind I expressed how much I appreciated him. To my surprise, his eyes closed right in sync with the thought in my head. Intrigued, I kept going. How much appreciation could I feel in my body for him? Carro was a horse that worked so very hard for humans, and it seemed that there wasn't much appreciation for everything he had given and was still being asked to give, even though his tank was dry. He soaked up every positive thought from me. I felt amazing. I had never intentionally maintained that level of positive emotion in myself before. It also felt good to be able to do that for him, and to see his positive response to it. We were both easily there for an hour, just hanging out in his paddock.
Once again, I was hooked. What else was possible?
As I began to have these wonderful discoveries with both Eclipse and Carro, I began to see the pitfalls of trying to run a therapy program and also keep the horses healthy – on all levels – all while the horses are aging. Eager to discover more ways to help horses without having to also help kids in therapy, I decided to leave the program.
I told them, "When you're ready to retire a horse, call me. I'll take them."
Carro was retired to me 5 months later. It was a straight-up learning curve about how to feed and manage a 26-year-old cribbing gelding. I knew horses needed a lot of space to move, so I found a several-acre pasture with another horse for company where he would be free to come and go as he pleased 24/7.
I removed all grain from his diet. I had discovered while at the therapy program, that he would be fine eating hay, but within 10 minutes of being fed grain, he'd leave the still half-full grain bucket and go find a place to crib. I removed all treats from his diet. No carrots, no apples. The simple sugars in them also triggered him to crib almost instantaneously.
He had access to food at all times, and therefore, could generate his own heat in winter, so a blanket wasn't necessary. He was already barefoot and doing fine, so shoes never became a part of my paradigm. However, I did use Easy Boots for him on trails over rocky ground.
I found the best hay I could. I found a vitamin/mineral supplement. I read everything I could get my hands from a holistic perspective: Dr. Eleanor Kellon and her nutrition classes, Katy Watts and her research on sugar in grass, Pete Ramey and the evolution of his barefoot trim, equine dentists, etc.
I even found a chiropractor that used an activator instead of his bare hands. Carro gave it a thumbs up since an activator is faster than the pain response, while even the best hands are not. So despite this horse being in chronic pain, he loved the chiropractor because it didn't hurt to be adjusted.
Slowly, the amount of time he spent cribbing decreased. After a few years, he only cribbed when the grass started growing in the spring. Several years later, when my hay choices rubbed off on the owner of the other horse he was housed with, I was able to switch to feeding free-choice hay 24/7. That is when the residual cribbing ceased completely.
HORSE #3 – Soleil
About 4 years into Carro's retirement with me, Soleil arrived. He too was retired from the same therapy program. Like Carro, he had been a therapy horse for about 8 years. In year 8 is when he began a pattern of biting people (when he had never bitten before), very much like Carro. That is when the retirement discussion began. But no decision was made until Soleil cornered and kicked, on more than one occasion, the lowest horse in the pecking order who just so happened to be the poster child for the program. I have to hand it to him; he chose the right time to stage the event, right in the middle of "circle time" with the kids in the adjacent room in the barn. Everyone, kids included, heard and saw the commotion. Soleil was promptly retired within 3 weeks to me.
I was a bit shocked that this fun loving, low-key, gentle horse that wouldn't even hurt a baby, had become an aggressive, biting horse. Before I agreed to take him, I went to go see him. I can't help a horse if they don't want my help, and I have no intention of forcing them to do anything, even rehab for their own benefit.
The evening I saw him, it was feeding time. I stayed outside of his paddock and discussed his situation with the owner. It was clear that he needed to retire, and needed a new home. I did not have an emotional attachment to this horse, so I was hoping that someone else did and would step forward to help him. No such thing happened. It seemed I was the only one who even knew where to begin to help him.
I also learned that he had chronic diarrhea so his hind legs were washed frequently. No vet had been able to determine a cause, nor solve it. After finishing my discussion with the owner of the therapy center, I went into his paddock – to the farthest corner from him – and sat down on the mats facing away from him. My eyes searched the paddock floor for evidence of the diarrhea. Then I saw it. Rather than manure balls there was manure the consistency of spread peanut butter. Then I heard this loud splashing noise. I looked over and it was like someone had turned a faucet on. A large amount of liquid came out of this horse, where manure balls were supposed to come out. A little while later, he urinated.
"Ok, then, that's how you poop and pee," I thought to myself. That was important information for me if I decided to take him.
I must have sat there for about half an hour, just being in his presence from afar, observing everything around me. He didn't seem opposed to me being there, but he wasn't exactly running over to me to say 'hi' by breathing on me. I took that as a neutral response, which is not a "no". So I told the owner I'd think about it and get back to her in a few days.
As I drove home, I knew God was calling me to help this horse. I knew he'd be coming to live with me. But one step at a time. I needed money to fund this project.
I told everyone I knew what was happening, how this horse needed help, and how much it was going to cost up front just to get a baseline on him and to determine how best to help him. I gave God the ultimatum that I needed money. If there was money, then I would take him. Within two days enough money appeared from donors to take care of him for 6 months. A little part of me was hoping God would find someone else, but I kept my word. There was no going back now. I called the owner and arranged to pick him up.
Integrating a gelding into a herd of 2 geldings and a mare took a few weeks. Thankfully there was plenty of space for the horses to get away from each other and be nowhere near each other. I had a front row seat to how horses work it out themselves. It was during this transition that many times this new horse would stand near the edge of the property and just look down the road on which he came. I got the sense that he missed the friends he had left.
While I had hoped for a smoother transition, I couldn't ignore the fact that he seemed to be pining for his old home, no matter how much he needed to retire. When this went on for a few weeks, I remember telling him, as hard as it was for me to say, "If you'd like to go back, I will take you back."
Never mind that I knew they could not take care of a senior horse and his changing needs, but if that's what he really wanted, then I would honor it.
A short time later, things changed for the better. I was able to solve the mystery of the chronic diarrhea. Within 2 weeks of his arrival, the yearly visit from the equine dentist had I found for Carro rolled around. It was perfect timing. The dentist told me that his teeth were completely worn out and incapable of chewing hay. I told him about the diarrhea, and he said, "If large unchewed pieces of hay get all the way to the colon, they can irritate it and cause the diarrhea." I was thrilled. Perhaps all I had to do was remove the hay from the diet, find something else to feed, and maybe the diarrhea would disappear.
Being a traditional western vet, in addition to a cutting edge equine dentist, he recommended going to a senior horse complete feed instead of hay. But I had already been through the grain issues with Carro, and all the damage it did to his gut. There was no way I was going to feed grain to this horse. Thankfully, I had a holistic vet to consult with, and she recommended feeding soaked hay pellets or cubes, weighed and fed in the same amount you would weigh hay.
For variety in the diet, I found timothy and orchard grass pellets, and then a few pounds of alfalfa pellets for protein. He maintained his weight on pasture and 1% of his body weight in pellets in the growing season, and then 1.5 % of his body weight in pellets in the winter. It cost more than feeding hay, but I knew he'd be healthier for it, and that was the whole point. The bonus was that I had no more vet bills after that!
I'd often put some of the soaked pellets in a feed bag and go out into the field to give him an extra helping. When the other horses tried to get the feed bag from him, it was impossible. He just took a step away and the other horses would stand there looking at him and his feed bag. Not knowing what to do to get some of his food, and they eventually just decided to leave him alone, even though he was the low man on the totem pole. We soon had a communication worked out. I'd arrive and walk to the gate and stare at him. He would stare back with both eyes, and then it was just of question of "Am I going out to you, or do you want to come up here?"
He was improving in health with space to move, healthy food to eat and friends that he eventually made with the other horses. He even teamed up with the mare in the herd. They often hung out together and even started mutually grooming each other. It was beautiful to see.
Within two weeks of his new diet, the diarrhea was gone, never to return. If that was all I could do for him, I would call that success.
With his physical issues and needs on track, I turned to what would be the biggest gift this horse gave me: an understanding of who a horse is from their point of view. When that is honored, emotional health returns.
You see, Soleil was such a well-trained 4-H horse; with the slightest cue from a rider, he would perform the request effortlessly. He had won many blue ribbons before becoming a therapy horse. However, he was so well-trained that I had no idea of his personality, or who he was. He would do anything you said, and waited to be told what to do.
After he settled into his retirement home with me and the other horses, I started taking him on grazing walks down the road with Carro to increase the variety of plants in his diet. I noticed that he loved dandelion, and sought them out. I learned that dandelion is a liver detoxifier. I made a point each time I was out to let him eat dandelions for 15 minutes. He knew better than I did what he needed, so I was glad to see this piece of information from him. Another time, he ate the cracked dirt right out of the ditch on one of our walks. I heard this chomping noise and looked over to see him munching away. I let him do what he needed, even though I didn't fully understand the purpose of eating pebbles, dirt and sand.
I also toyed with the idea of letting him lead the walks, but after a few times of me ending up in an unsafe position I decided to make one rule: You can be anywhere you want, but your eyes must stay behind me. I had learned from Mary Ann Simonds who has studied wild horses for over 30 years that whoever has their eyes in front is the leader. When wild stallions take their foals on patrol, the foal's eyes are clearly behind the stallion's eyes.
I adopted this technique with Soleil, and he relaxed, and I felt much safer. When something did spook him, like a deer sitting down in the adjacent field, he backed up 10 feet. I felt the lead rope running through my hands, fully aware that he was backing away quickly. I let him go without hesitation and without looking back. I trusted that he would take care of himself. There was no need for me to stop his backing up. I had 15 feet of rope, and I knew if I let him move he would feel safe again probably at about 10 feet out. Sure enough, that's exactly what happened.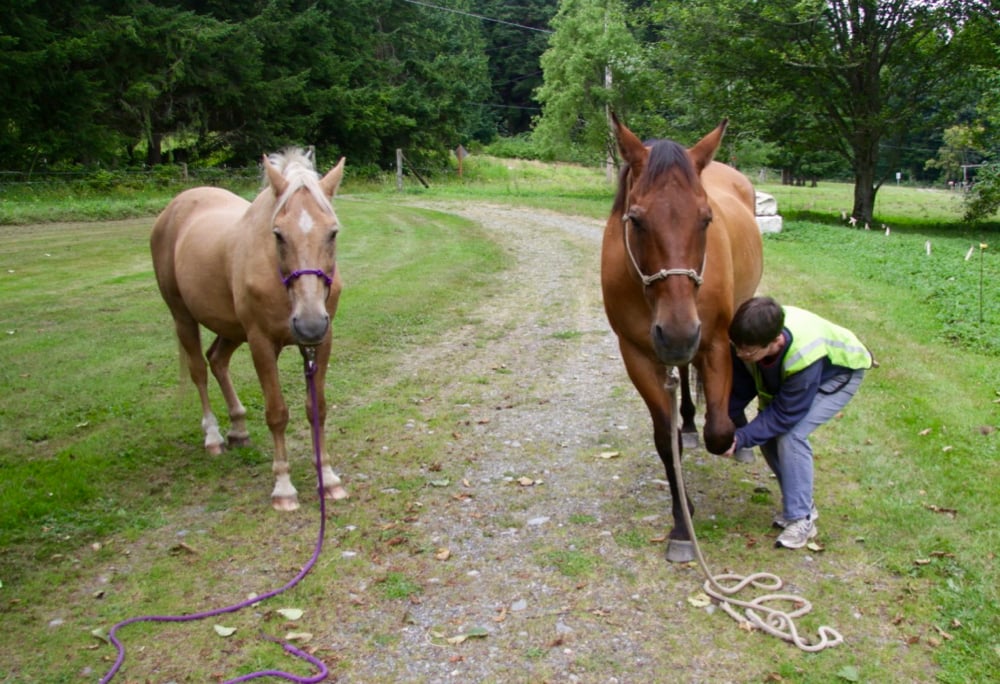 Once he got used to the routine of our grazing walks and being behind me when I led him, I started asking him to walk in front of me. Soon he was looking for plants to browse and making decisions on where to stop and eat.
In the first few weeks of owning him, we encountered a neighbor on our walk. Carro, who'd been in my rehab program for four years, greeted the neighbor, while Soleil looked past the neighbor, focusing on something in the distance. Any gesture by the neighbor to touch him, or try to connect in a typical human way, was not only not reciprocated, but Soleil was checked out of the entire scenario. Even the neighbor commented on the contrast between the two horses.
Initially, Soleil also would bump me with his nose right in my solar plexus when haltered if I was too close to his head. It did not feel good. I resisted "correcting" him. It only happened twice, but I quickly realized he needed more space. I gave him a bigger bubble of space, and it never happened again. I had also learned from my aikido training that I was in control of how far away my body was from his, and being just outside of his reach served two purposes: 1) It respected his sense of his personal space, and 2) I didn't get hurt.
On another walk, just he and I, we went to the cul-de-sac to graze and I started talking with the neighbor there. I was hoping Soleil would start making his own decisions. I put the lead rope over his back and let him do whatever he wanted. He dutifully stood there not moving while I talked to the neighbor for about 10 minutes. I even said to the neighbor, "He's so well-trained that he'll do anything I say, however, I don't know him and what he really thinks. I'm hoping he'll make his own decision and just start walking off somewhere."
A few minutes later, Soleil decided to amble forward. Not holding onto him in any way, I just stood and watched. I was witnessing one of his first decisions. I was wondering what he would do. Would he walk all the way home? Would he go find some dandelions to eat? I knew if I just stood there long enough and watched I was going to see a whole new side of him.
He started walking down the road at a nice pace. When he was a few hundred yards away, I realized, "He really is going home." I said goodbye to the neighbor and walked as quickly, and as relaxed as I could, to catch up to him. I did not disrupt his flow, or his intention, but I joined him in his determined walk home, thrilled that I just got a glimpse of him and what he really thought.
Early on in his retirement I tried long-lining as preparation to teach him how to drive, and maybe that would be something fun we could do together. However, after a few sessions and a few mini battles, I realized that was not what he needed, nor wanted, so I dropped it.
Instead, one day we went for a walk through the woods and rather than encourage him to keep up with me, I decided to match his pace. It was so slow, like an amble through the woods. Determined to understand him, I let go of my preconceived notions and matched his pace. He would take a few steps and then stop, and then nibble some grass, and then walk some more, and then stop for a longer time to eat some salmonberry bushes.
It was in this other worldly pace of start, stop, amble, graze that a whole new world opened up to me. I noticed two white moths with a faint blue streak on their wings darting in and out of the salmonberry bushes. The sunlight was streaming through the green foliage in an electric green display. For the first time I realized that this was Soleil's home: the trees lining our path, the gentle breeze, and the beauty of creation all around us. No wonder he wasn't in a hurry. It was so beautiful, peaceful and energizing I didn't want it to end. I enjoyed every moment of that walk, as did he. It became our new normal.
Back at the pasture where I kept Soleil with the other horses, I began an experiment with letting him decide if he wanted to go on a walk. I would hold the halter out straight in front of me, like I had done several years earlier with Carro, and wait to see if he would tip his nose into it. Usually, he would just stand there, not changing what he was doing before I arrived. I took that as a "no" and then said out loud, if you change your mind come to the gate before I leave with Carro.
Many times he said "no" to the halter. I honored it, and left him alone. Every once in a while he would appear at the gate just before I left with Carro. I'd put the halter out straight in front of me, and he would put his nose In.
The other area where I let him call the shots, was when it came to brushing him. He disliked being touched, petted or brushed. He had been touched so much as a therapy horse for 8 years that I could see how he was done with being touched. I so rarely touched him that people thought I didn't love him. That couldn't have been further from the truth. I cared so much about his well-being, that I was willing to forgo my desire to touch him if it meant that he might fully come back into himself. At the time, I had no idea if that would happen, but I was willing to try my experiment.
However, I was a little concerned with not brushing him at all because he was not in the best of nutritional health, and I knew things could start growing in his coat if left unchecked. I made a deal with him that I would only brush him once a week. Even then, I was only really checking for issues in his coat.
When I went to brush Soleil, I always did it with him completely loose and free to walk off. I don't remember the last time I tied a horse. I began to realize that it was much safer if a horse was free to leave if they deemed it necessary. Restraining a horse who wants/needs to move is a recipe for getting hurt.
What I noticed over the next several months is that he would be ok with me brushing his legs, but if I touched his belly, he would walk off. I let him go, encouraged by the fact that he did have an opinion, and he was expressing it.
Months and years went by of letting him walk off, of letting him decide if he wanted to put the halter on to go for a walk. One day I took both Carro and Soleil for a walk. When we got to the top of the driveway I let Soleil decide which way to go. He decided to go right. He led the way down the road and stopped to graze by a house with horses in the pasture, who all came over to say hello. After a while, he decided to walk back home, so we all followed, except he didn't turn into the driveway towards home, he kept going past it. We all followed until we reached the cul-de-sac and the horse that lived there. He stopped there to graze and say hello to that horse. After a while, he led us back home, and this time he did turn into the driveway of his home.
I was fascinated. Given the choice, he did have thoughts about what he would like to do! I asked myself, "How can I do less, so he can initiate more?"
One morning, after I had finished feeding all the horses, I realized I was tired and really wanted to take a nap. I was about to drive home to do that when I remembered I had a foam camping mat in the trunk of my car. It was a beautiful day, and I saw Soleil taking a nap under the trees. I got my foam mat, and headed to the same grove of trees.
So as not to inadvertently put any pressure on him, I kept my distance and ignored him as I walked by to find a tree off the beaten path for my nap. As I set up my mat, he left his own napping spot and started walking toward me. I continued to ignore him, curious to see what he had in mind, without any interference from me. To my surprise, he stopped 15 feet away (10-15 feet is a horse's sense of personal space). Facing me, he cocked a hind leg in relaxation and took a nap.
I was honored.
He didn't want to be touched, but he did want connection. For months, he taught me about all the communication that goes on among horses, before they ever physically touch each other, which, by the way, they rarely do. It was a whole new experience. Then it dawned on me, this horse that didn't want to be touched, was sharing his experience of the world with me.
Hanging out with him became another new normal. Instead of hugging him goodbye, or touching him in the evening when I would leave, I would find a place under the trees where he was taking a nap. I would face out the same way he was, a little ways distant from him, breathe and relax. The stars were out, and it was quite beautiful. These were some of my favorite times with him.
A couple of years into his retirement, he began to initiate with me. He'd see me arrive, and then look at me with both eyes. I would enter the field and walk right past him. Yes, I'd acknowledge him from a great distance away, but as I got closer I switched to "ignoring" him. I did this to keep the pressure off of him, and if he really wanted something from me, then he would need to go out of his way to request it. Sure enough, the next thing I knew he was following after me. I stopped. He came up and parked, asking me to itch his belly. For a horse that was so well-trained that he only did what he was told, I was thrilled with the transformation. For him to actually request something from a human was huge.
Three years and 9 months into his retirement, he laid down one morning in his favorite napping spot by his favorite tree and died. It was a quick and painless death, a ruptured aortic aneurysm. I read that copper is responsible for the integrity of the blood vessel walls. Given how meticulously I had monitored his nutrition and diet, I was perplexed.
After months of research I discovered that sulphur and many other things can interfere with copper absorption. I had started a joint supplement (containing sulphur) 6 months earlier, because of increasing difficulty with picking up his feet to be trimmed. Some joint supplements have additional copper in them, however, at the time, I didn't realize the potential interactions with the ingredients in the joint supplement, and neither did the vet I consulted. I don't know anything for a fact, but I do know if I ever use a joint supplement again, I'll be looking for one with supplemental copper in it.
When I look back at the before-and-after pictures of his eyes, I see the transformation of his emotional well-being and his coming back fully into himself. My crazy experiments of letting him walk off, letting him decide if he wanted to put on the halter, letting him decide which way to go on our walks, letting him decide the pace of our walks, not touching him, etc, etc. – anything I could do to put the decision-making power in his hands – had paid off.
After the death of Soleil, I did what I would do if a person had died: I held a horse funeral. It was the first one I ever attended or created, and it was a first for everyone who came. In my experience of losing family members, funerals were a celebration, and horses were no exception. We sang songs and read readings that were meaningful to me. I made a movie recapping his retirement, gave a eulogy, and invited everyone to share their experience of him. It was one of the best things I did for myself.
My other favorite tool for processing any kind of loss, including losing a horse is, The Grief Recovery Handbook. Without it, I would not have been ready to open my arms one more time to the next senior horse that came my way.
Two and half years later, Horse #4 knocked at my door, and I was ready.
HORSE #4 – Prima
Prima was beyond anything I had ever attempted rehabbing senior horses. A 21-year-old Trakehner mare, not only did she have the usual muscular/skeletal issues, along with some emotional shut-down, but she had internal issues that were a ticking time bomb: urinary incontinence with no known cause. With her uterus also full of urine, the constant threat of infection loomed. The vet also discovered low-grade kidney failure. Western veterinary medicine had no solution. Worst case scenario, it would take her out. Prognosis was poor and the previous owner was going to euthanize her.
She too was retiring from being a therapy horse, not so much because of emotional issues, but because her urinary incontinence started dripping onto her hind legs and the daily care increased significantly. The problem had been there for years, but not until it started to affect the human's work load did it move up in the priority list. Coupled with her non-rideable status from hind-end instability, retirement was an easy choice.
When I was contacted about possibly taking her in retirement, I contacted my equine chiropractor to see if he had any ideas. He mentioned that there is a nerve that goes through the sacrum to the bladder. If it is infringed upon, that can cause incontinence. From his experience, it is worth trying chiropractic to see if it helps solve the incontinence. I was hopeful. If he was willing to try, then so was I. I made the call to pick her up.
When I picked up Prima, I had known her for all of one hour. Out of respect for her I let her initiate the first contact and the first touch. With all of the change going on, I didn't want to add any more than necessary. When I arrived to pick her up, I let her finish eating her hay with her herd of horse friends. This was the last time she would be with them, and with horses being very social animals, I wanted her to have that.
When it was time to load her in the trailer, I had someone she knew load her. When she arrived at her new home, I had that same familiar person unload her and set her free. I spent a lot of time just observing from afar. It was hours before I ever touched her and that was to give her a little massage as she took a nap under the trees. Her favorite spot that day was her butt muscle right alongside her tail. When she was done with the massage, she walked off. I was glad to see that she had no problem letting me know when she didn't want anymore.
The next day she approached me on two different occasions asking for her head to be scratched. This was a first, so I happily obliged. It was also confirmation for me that I had not overstepped the day before. The next day, she asked for another head scratch.
Relationships with horses, or even with people, are built slowly over time, with mutual respect of the other person's or animal's space. With this as the foundation, I knew I would eventually be better be able to read the fine nuances of her body language, which in turn would help me be more effective in her rehab.
I also knew Prima was not a problem to be fixed, but rather a living, sentient being with a personality all her own, with her own likes and dislikes that I would come to learn. Yes, there are serious health issues I was addressing, but I never wanted to lose sight of the gift of her presence at any given moment. And despite the health challenges, she was one happy horse in retirement, free to come and go as she pleased in a herd, with no human expectations.
When Prima arrived, I put her out to pasture with the herd and never thought about her hind end stiffness again. Just 24/7 movement would help her immensely. Since she was coming from a small paddock, with just the additional pasture alone, she would begin her own rehab of regaining flexibility throughout her body.
She instantly hit it off with Carro when she arrived. They became immediate friends. She happily took the #2 position in the herd, and yet Carro gave her tremendous leeway, more than he had ever given any other horse before. When I saw them drinking out of the water trough in unison, I knew they had a special relationship. She was one happy horse, and Carro who was now 36 years old and in great health, emotionally and physically, had a new spring in his step. Looking back, I'm so glad that Carro was so healthy. He could handle taking care of her right through to the end – and wanted to.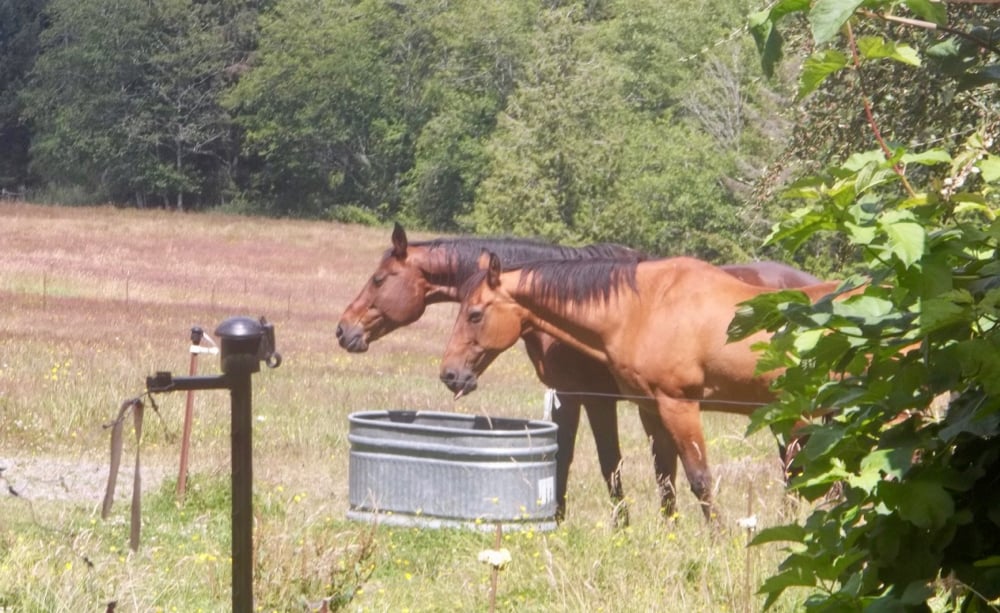 Was the stiffness still there, to some degree, in her hind end? Yes, I saw it when she went to lie down. She had a difficult time folding her hind legs under her, to bring her body closer to the ground, so instead she would have a bit of a clunk getting her body down. But she still laid down and got up on a regular basis. I soon realized that the instability in her hind end, was the least of our problems, as was the urine on her hind legs. The chronic internal infections coupled with kidney failure would become a matter of life and death.
Knowing that time was of the essence, we started chiropractic within days of her arriving. We did see an improvement in urination. We began seeing "medium urinations" as opposed to the usual dribble. This was cause for celebration. In addition, I did TTouch on her left hip one evening and about 10 minutes in, she had a big release and urinated with a medium flow. I was so happy… to say the least.
Meanwhile I found a homeopathic/Chinese medicine vet who had many options for treating the incontinence. There was tremendous hope for solving this puzzle.
An interesting aspect of homeopathy and Chinese medicine, is that the patient is taken into consideration. Knowing the patient is paramount to selecting the appropriate remedy or treatment. For me, however, I did not know her. She had just come, and I did not know her in her new holistic environment where she did not need to meet any human expectations. By the time we started the homeopathy and Chinese medicine, she had started having weekly health issues show up from an allergic reaction to a bloody discharge. Every week I was on the phone with the vet, just trying to keep her well enough to even try the homeopathy and Chinese medicine.
On an emotional level for me, I began to dread going out to see Prima, afraid of what I might find. Would she be alive? What new health issue would happen? I told her I was afraid of her dying. One day she looked at me with both of her eyes. I always make a habit to stop, breathe and feel when a horse looks at me like this. When I did this with her, what came to me was, "You don't have to do anything. You don't even have to do your best. Just show up and be. That is enough." Little did I realize, that would become the theme of her 3-month rehab right through to her death. All of her health issues began years ago, and I had arrived on the scene hoping to plug the drain as I watched a tsunami approach. No matter what happened, yes, I could show up and just be.
The primary sign I was monitoring, along with vital signs, was "going off feed". If that happened, then I knew the worst-case scenario would be unfolding. The problem was, she was never really "on" feed, right from the beginning. For almost two months she'd had a pickiness in eating. She would eat hay and pasture grass, however, her supplements were a different story. She wouldn't even eat molasses, not that I wanted to feed it, but mixing it with the nutritional supplements did nothing. She wasn't going to touch it.
Knowing what I know now, she was actually "off feed" from the day she arrived. There were so many variables with her moving to a new home, new herd, new routine, new food, new everything, that being picky about food could have been any of those things. Now when I see pickiness in a horse, I know infection is another cause to consider.
It all came to a head when she spiked a fever for the first time, and went on antibiotics. When the vet examined her, we discovered her uterus was no longer full of urine. That was cause for celebration! Overnight she perked up and started eating the supplements I had been trying to feed her for the past several weeks. She even happily ate the soaked hay pellets that I had been wanting to feed her, to help her gain weight. For the first time, I had clarity in what was going on. What a relief! However, the blood work that came back from the vet confirmed significant kidney damage. He was surprised she was still standing.
There is nothing like the present moment when rehabbing a senior horse. Over the next several weeks I walked the tightrope of treating ongoing infections, while trying not to tax the kidneys, and trusting that she would be alive each time I went out to see her, which became daily. She was a fighter, and I was going to fight right along with her, as long as she was still in the game.
During her brief three-month rehab, I let Prima call the shots. I washed her hind legs from the urinary incontinence, less and less. I preferred to leave her loose when I did it, so she would be free to walk off. She regularly did. Only once in three months was there was a lesion on her leg, but by the time I got to it, she had already taken care of it and it was well scabbed over. In the last weeks of her life, I may have treated just a few spots. It was rare to even use Desitin (yes, the baby diaper rash cream works wonders for protecting skin).
I trimmed her front feet once. She let me. It was very clear to me that she was cooperating with me, but the moment the thought entered my mind to roll the edge of the hoof wall to finish the trim, she immediately took her foot back.
I never did pick up her hind feet. She wasn't interested. Although, I did watch a flare grow out, when I asked for her foot to trim it, she refused. I said, 'okay, and if you want help later with it, let me know.'
Later came in about 2 weeks. Prima found me, parked, and cocked her right hind leg. My eyes immediately went to her foot with the flare. By this time the flare was half-way worked off and sticking out about a half inch.
I asked out loud, "Do you want me to nipper off the rest for you?"
I went and got my nippers, and did the job without needing to pick up her foot. She was satisfied and walked off when I was done.
A few weeks later, I was trimming Carro in the field loose, and she came over and parked again at his hind end where I was trimming, and cocked her right hind leg.
I'm thought to myself, "I'm not touching it. You've been doing a fine job yourself taking care of it." But she didn't move, despite me ignoring her stance.
Finally, I said, "Do you want me to look at it?"
Ok, ok, I'll look at it.
With complete ease from her, (no issues with hind end stability here) I picked her right hind foot up for the first time, and saw the handiwork of how she was maintaining it. Where the flare had chunked out, she had grown a massive sole to take the place of the heel triangle that must have gone with the flare. It was working quite well, and she was sound. I didn't dare take anything off.
I put her foot back down and said, "If you want me to trim it, you're going to have to cock it again."
I went back to trimming Carro. A moment later, I looked over, and saw her cock her right hind foot again.
Ok, ok. I picked her foot up again to see what I might trim. Everything looked pretty good. On the inside heel there was a tiny flare, so I did two small nippers to remove it. As I did it, I noticed that the integrity of the hoof wall was already starting to go. We were both on the same page.
I never did trim her feet again after that. On occasion if I could get a little bit of a flare from the outside with nippers, then I would.
I also discovered that walking through pea gravel was a great way to pick out her feet. I rarely picked up her feet to clean them.
This experience of letting her call the shots to this degree (rarely trimming her feet, not washing her legs, etc.) contradicted my rational mind and how one is measured by society of giving 'proper care to a horse'. But I've come to realize that my ultimate teacher is the horse themselves. Who am I to argue with them?
So when it came to dying, I really wanted it to be in her hands, not mine. The last week she was alive, her health issues started to pile up, and yet she was still standing, looking at me saying, "Ok, what's next?"
The last morning she was alive, the infection we were trying to treat went septic. Death was inevitable. Yet, I couldn't ignore her pain and struggle. It was only going to get worse until she died, and she was in respiratory failure. And the pain killers weren't helping.
This was the line in the sand for me. I thought if we could just make her comfortable, she could die on her own, but I soon realized that was not going to happen. To my disappointment, there is no palliative care in western veterinary medicine for this situation. It was respiratory failure; it was tremendous pain (it has to be huge for a prey animal to even show pain), and it was a struggle to get up. Yes, she was dying, but it would probably take hours in this state. Without the ability to make her comfortable, or at least take the edge off, I didn't want her to suffer.
In that moment I had clarity about the decision to have the vet euthanize her, but how I wished there was some other way. I had let Prima make all the decisions to this point, and this last one, I was making for her. I knew she was incredibly happy with Carro and her new home, free to come and go as she pleased, day and night. What horse would want to leave that? Certainly not her. She was a fighter, and she was not going to go without a fight.
As I look back on euthanizing her, one of the things that bothered me was that she did not want to go. If I had let her make the call, she would have died on her own. I've known many people who have euthanized their animals when the animal "told" them it was time. I had never heard of the opposite happening, until it happened with Prima.
In my research so far, what I've learned is that when she was in pain and no veterinary medication could help it, she was in the sympathetic nervous system state. That is the fight, flight, or freeze reaction.
Then I read about someone's experience massaging above the eyes of a horse in a similar situation. She was able to slow the horse's respiratory rate; the horse stopped thrashing around and closed his eyes. What I find fascinating about this is that she was able to help the horse move from the sympathetic to the parasympathetic nervous system (which is the rest state).
I also learned some acupressure points after her death that would be worth a try in that scenario, as well as adding Lavender essential oil for a calming effect to my "death and dying" tool box. What's coming into focus for me, is that while veterinary medicine could provide euthanasia, it could not provide the transition to the rest state in the dying process for Prima. What gives me hope is that through natural remedies that transition is possible.
Every death is unique and has its own set of circumstances, and there are no guarantees. Would I have still euthanized her? Perhaps. But I now have more tools to help a horse to come to a rest state before they take their last breath.
From my martial arts training, it is in the rest state that there are a myriad of options that are not known to the rational brain. There is great hope there, and it is in that place that I most clearly hear the horse's voice.
My entire purpose in rehabbing senior horses is to see them thrive on all levels. What has become clear to me over the years is that listening to their voice does wonders for their emotional health. A gentle, curious horse comes forth.
Prima certainly challenged my idea of what listening to a horse looked like. She took it to a whole new level where I did not want to share that I was rarely trimming her feet, nor washing her legs very often, or even now considering letting her die on her own when in pain. What person in their right mind does such a thing? The answer… someone who loves so much that they are willing to be judged or misunderstood. And they see that as a small price to pay for honoring the voice of another being, even when it goes against the rational mind.
I know that this is so far out there it may be incomprehensible for some people. That is okay. What I know is that we all have the power within us to make a difference in our own unique way. No matter what your beliefs are, there are plenty of horses in desperate need of you and your expertise.
I had no intention of being this far out on the fringe when I began rehabbing senior horses over a decade ago, but that's where the horses have led me. I don't know where they will lead me next, but I do know it will be beyond my imagination, and it will most likely blow my mind, right along with everyone else's.
A special thank you to these four horses and what they have taught me:
HORSE #1 – Eclipse: the power of a simple physical therapy regiment
HORSE #2 – Carro: the power of diet/nutrition and touch
HORSE #3 – Soleil: the power of "no touch"
HORSE #4 – Prima: the power of listening even when the rational mind does not understand.
And to all the future senior horses that will come my way, I look forward to the continuing journey.
Mary Walby began rehabbing senior horses by accident over 10 years ago at the same time she started training in the martial art of Aikido to learn how to fall off a horse. Little did she realize that the essence of Aikido would permeate every aspect of her life and make it better, from performing and teaching piano, to rehabbing senior horses. She recently founded God's Window Senior Horse Rehab and Sanctuary, a non-profit organization committed to promoting the health and welfare of all senior horses from a holistic perspective.
Rehab Tools for the Senior, Distressed or Dissociated Horse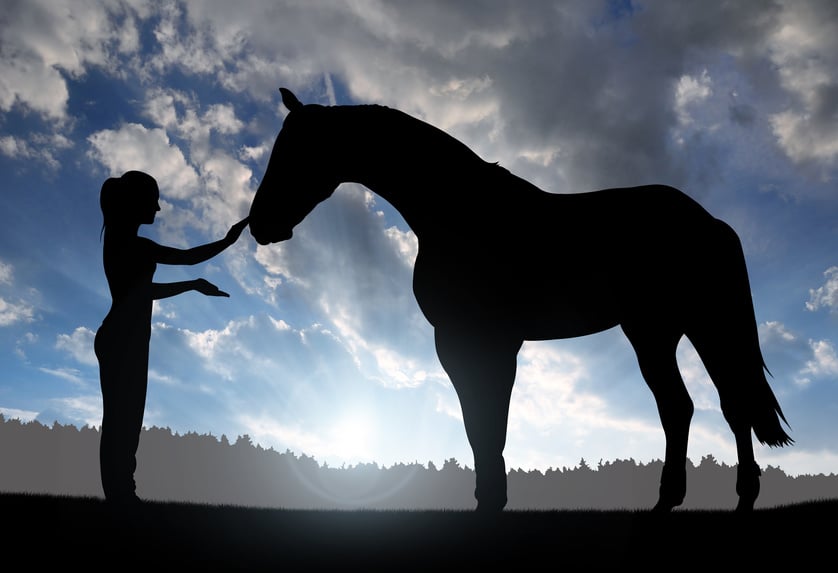 Special stories and experiences from fellow horse listeners