Lying down with my horses is something I've done since I got my first horse at age 8. Some foals especially love to snuggle (others, not so much) – here's a photo of my friend Kesia with little Firefly: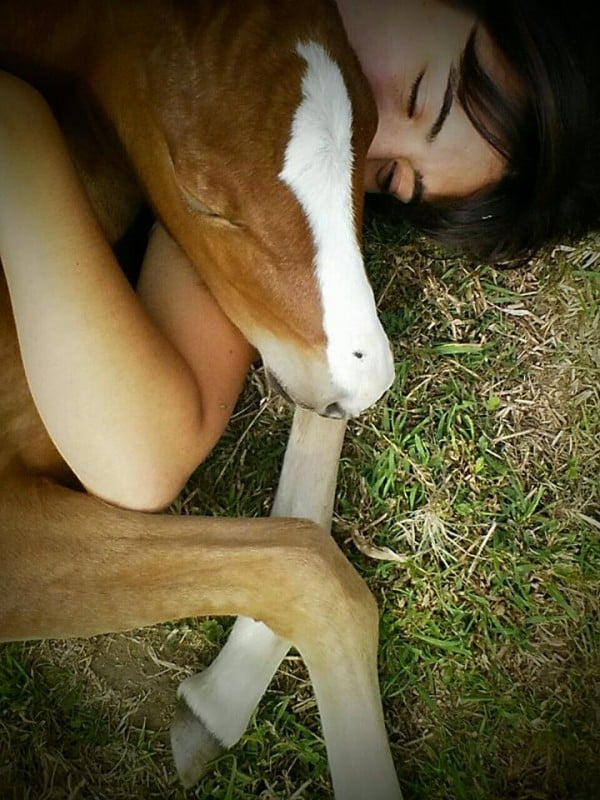 Of course, I didn't realize how unusual or 'special' this was until I got older and out into the 'horse world'. In fact, people were so taken by images of James French lying down with horses that this video went viral on Facebook (over 3.5 million views):
But it doesn't change the fact that if your horse trusts you and feels peace in your presence, then your horse will enjoy resting or napping with you. Just like your dog or cat would.
Of course, if your horse is boarded at a busy stable or some other environment where peace is hard to come by, then that would make it pretty difficult to carve out a place to lounge around with your equine. But not impossible. You could either come really late at night, or super early in the morning – when people and activity will be at a minimum. Or, you can learn James French's Trust Technique.
I purchased a membership to his online course (video tutorials) because I was curious to see how his technique differed from meditation. I would say the main difference between doing Trust Technique in the presence of your horse, and meditating, is the intention you set. When I meditate, my default intention (that I don't consciously think about) is to descend into stillness, peace, and connection – with the Divine, earth, prana/chi.
With Trust Technique, the intention is to be fully in the present moment and to create a space where the animal can be fully present. The theory being that past trauma, abuse, etc. existed back then, but does not exist in the present. So if you can exist and the horse can exist fully in the present, then that is a healing space, where the past trauma can be released. And the way you do that is:
Sit down in a place and position in which your body can be absolutely still and sit without moving, only breathing, for a couple of minutes.
Then, focus your eyes on something near the horse, but not the horse's body. Keep your eyes on that spot and let them go soft-focus (like when you stare off into space, or daydream). Do this for a couple minutes, along with remaining absolutely still in your body.
Next, keep doing the body stillness and eye-focus, and now choose a sound to also focus on. It could be the wind, or a clock ticking, or birds chirping, etc. And focus only on that sound. Stay like this for as long as you can: your body absolutely still, your eyes soft-focus on a point or object, listening only for the sound you chose.
So you are not watching for your horse or his/her reaction and your horse may even walk away from you. Don't worry about it, just keep practicing the technique until you can become fluent with it. And you may need to come out and do the Trust Technique with your horse numerous times before you are able to hold the present moment strongly enough, or your horse is ready to join you there.
I think the salient point to keep in mind here is that if you want to experience deeper intimacy and trust with your horse, rather than focusing on your horse, or working on your horse, you should focus on yourself. If you are a frantic energy, or stressed-out person, then horses aren't going to want to come close to you – no matter how much time you spend sitting in their field.
Remember that horses are extremely sensitive to energy. So sitting quietly is not enough. You have to actually BE quiet – in your mind and your soul.
A trainer once told me about a woman who brought her mare in to be worked on. The woman had spent 6 months sitting in the mare's field, waiting for the mare to come over and make contact, or connect with her in any way. Finally, she gave up and brought the horse in for natural horsemanship (pressure-release) training. The trainer's point was that this horse was never going to choose to connect with the woman, so for some horses, force or pressure is needed.
Well, let me tell you, I boarded at the same facility as this woman for a few months and she was pretty frantic (energetically). A really nice, friendly woman, but her nervous system was cranked on high all the time. She was really stressful to be around! No wonder the horse didn't want to come near her.
However, if this woman had learned how to meditate; how to down-regulate her own nervous system, release her stress, and begin to heal some of her own trauma, I'm pretty sure her mare would have connected to her in that field.
So if you find yourself in a similar situation. Pick a meditation technique, or use Trust Technique (get their online video course if you need more guidance and to see the process really broken down, step-by-step, along with interesting case studies), and go do it in your horse's paddock or field. Forget about your horse and just learn how to enter stillness yourself. When you become – in your core – a grounded, peaceful person, your horse will trust you more and your relationship will naturally deepen and strengthen.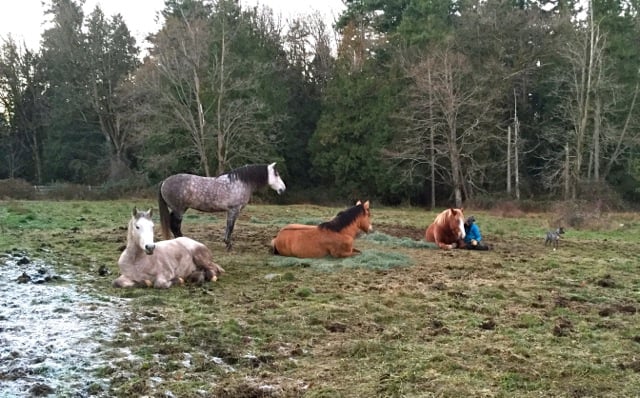 Also, note that when natural, empowered horses lie down – like the formerly semi-feral herd in these pictures – they do not lie close together, or touching each other. This is a family herd (same father) so they are very bonded, but they know that if a pack of coyotes, or a bobcat, comes out of the woods, they need to get up fast and they need space to rock and leap to their feet.
So then why would they enjoy a human lying on them, or smushed up against them? Some of mine don't mind me being close, but unless I'm scratching their itchy bits, they are often more comfortable if I get my own spot and rest with them like a normal member of the herd. At times they have shown me the ultimate trust – by the entire herd lying down flat out in R.E.M. sleep, while I am entrusted to stay alert to keep the herd safe, and alert them to any danger. I take that trust very seriously.
So again, techniques and tools are good and can be fun, or interesting, but nothing beats simply listening to your horse! Each horse is different, with different likes and differing sensitivity levels – tune in and listen to your horse for their individual cues. If you ignore their cues, or you put the technique before the horse, you may end up with some problems like this woman.
Lying Down with Horses – Trust Technique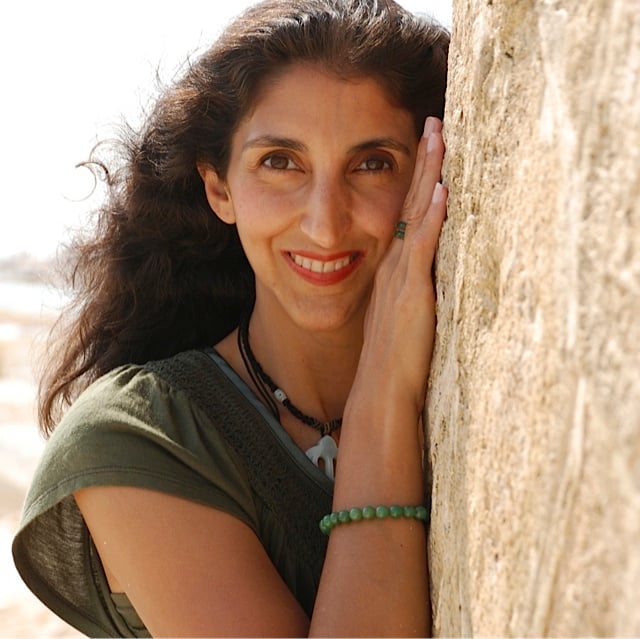 Jini Patel Thompson is a natural health writer and Lazer Tapping instructor. She began riding at age 2 in Kenya, and got her first horse at age 8 in Alberta, and so continues a life-long journey and love affair with these amazing creatures.